2
min read
We are delighted to be the official Drupal quiz maker for Thunder, the Drupal-based system created by Hubert Burda Media. Riddle joins other big names like Facebook, Instyle.De, Playboy.De, Acquia and nexx.tv in this venture. Riddle is providing our quiz maker creation tools for this novel way for professional publishers to work together to make publishing both better and easier.
Drupal quiz maker: Thunder CMS overview
Thunder is unusual in that it was created by one media company to benefit ALL media companies. The service is free of any licence or maintenance fee. The tool itself is a Drupal 8 distribution for professional publishers. It consists of the current Drupal 8 functionality, lots of useful modules from publishers and industry partners, and an environment which makes it easy to install, deploy and add new functionality.
Riddle offers its basic Drupal quiz maker version for free for Thunder users. However, just like the services from our web site you can pay for extra features to streamline data gathering or to remove our branding. You are free to add adverts to your content and you retain all revenue. We NEVER add any of our adverts to your content.
No coding or development resources needed – you just copy our embed codes and paste into any Drupal page or post. Your editorial and marketing teams can be creating quizzes, polls, and ten other types of interactive content in minutes.
Here's some more information how Riddle can help you with our Drupal quiz maker: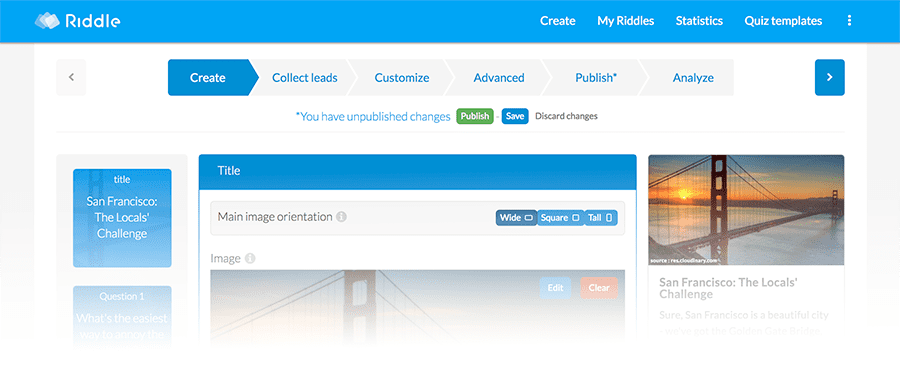 Drupal quiz maker – here's the back story behind the Thunder Coalition
The Thunder Coalition has a number of key goals:
Enable publishers to deploy rich functionality for their products very quickly and at reasonable cost
Share functionality among publishers, fuelling the industry and providing excellent user experience with the individual content.
Enable industry partners to spread their outstanding services amongst publishers and to charge for premium services as the publishers grow
Enable implementation partners to gain knowledge about Thunder programming and implementation in order to provide services to publishers and industry partners.
More information about Thunder
You can find out more information on Burda's Thunder here. Feel free to ask questions and maybe even contribute some new modules of your own!