4
min read
Want to see how to use Riddle quizzes to automatically build your email list? With Riddle, it's easy to build a fully automated email marketing chain. Create a fun quiz, and before showing their results, ask the quiz taker to leave their name and email to receive their result – simple, quick, and effective.
Imagine you're a car dealer… You could write a quiz like "What is the perfect car for you?" and follow up with an automated email sending out their quiz result ("You deserve a convertible!") along with a list of matching cars from your inventory.
This feature is available to all of our Riddle users – our plans start at $29 per month, all with unlimited leads and quizzes.
Learn how below – I'll walk you through all the steps to automate your email marketing.
Step-by-Step setup
1. Create a quiz on Riddle
Create your quiz on riddle and then just add a simple lead form (capture at least the name and the email). Make sure to create proper language to have your readers agree to get their quiz results via email that apply to your countries legal framework for email marketing.
2. Set up zapier.com to process the quiz data and send out the email
The basic services at zapier are free of charge and should be sufficient to get you started. After you logged in to zapier make sure to add the Riddle App to the zapier services by clicking on this link
Then go back to Riddle and create your access token on our plugins page. You can find this in our main menu after clicking on Plug-ins. If the token field is empty, just hit the "Reset" button to create a token. Copy the token as you will need that in zapier now.
Back in zapier click on "Create ZAP" and search for Riddle. The Riddle app should show up (if you have clicked on the private invite link beforehand).
Connect Riddle by entering the access token from your riddle.com account page and make sure to test the connection.
3. Configure zapier to send the email
After picking the Riddle quiz for which you added the lead form previously create the next step in your zap and configure the email text.
Select email as the next app to use. You can of course select any other zapier app other than the built in email app to send your email. You can configure your own email servers or connect to hundreds of CRM systems to kick off email automation, but to keep this example simple, I suggest following along using the simple email app from zapier.
Map your Riddle data as shown in the screenshot below to compose the email and also to add the email from the lead form to the to: field in zapier
When you are done, please click on SKIP TEST. The data needed to send the email is generated dynamically by Riddle once someone takes the test, therefore any test at this stage will fail.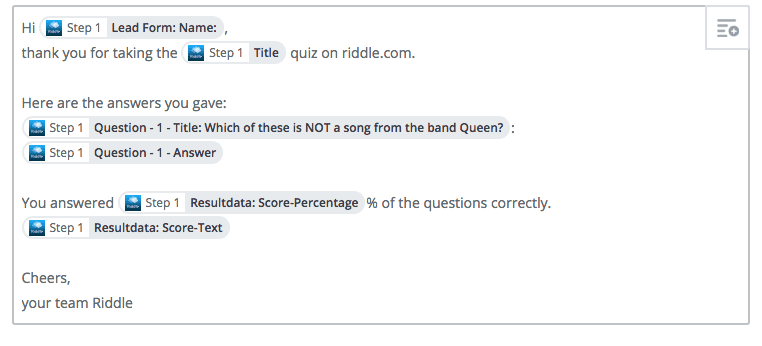 Once done, skip the test, give your zap a name and turn it one.
That's all there is to it. Going forward the quiz will send an automated email to the mail address entered into your lead form.
Email automation is easy on Riddle using Zapier.com's built-in email tool. But Riddle works with any data system – you can also use AWeber, ActiveCampaign, Marketo or MailChimp. But to be honest, using Zapier.com is by far the easiest solution and unless you are generating loads of leads every month, the free zapier service will do the trick.
Read our blog posts on how to work with these services:
Want to dynamically change the emails based on each user's results or other info you capture through the Riddle lead gen form and develop your own custom email solution? No problem – we've got you covered as well.
Customize e-mails based on quiz results
Option 1 – Riddle's email results feature
Nice and easy, you can use Riddle's new 'send quiz results' feature – create your own customized quiz result reports for each lead, no coding or other software required.
Option 2 – for MailChimp users
If you are using MailChimp to process your leads, you can use the conditional merge tags in MailChimp to highly customize any email you sent out. Combine this with the MailChimp automation feature and you can easily set up an automated email flow based on quiz results. Check out our blog post with sample video on how to do this here.
Option 3 – customized emails using Zapier.com
This is by far the easiest route to customized emails. Use the tools that come with Zapier to customize outgoing emails based on quiz results. Just follow the steps in the detailed video tutorial below to learn how to set this up. Absolutely great if you do not want to touch any kind of conditional logic or PHP code.
Option 4 – for geeks and coders
Riddle provides you all the quiz and lead form data via webhook. Using the webhook, you can write your own PHP scripts to process the data or use our custom result page option to which we pass all the quiz data via POST variables and create your own email scripts on that page.
We give you a head start with sample code on GitHub here and a detailed overview over the inner workings of the webhook in this post.
Wrapping things up
And as always, if you need a helping hand, just reach out to us via hello@riddle.com. (We're big customer service geeks – so often race each other trying to answer emails first.)
Want some free press? We would love to see how you automate your marketing with our tools. If you tweet about what you build, make sure to mention @riddleapp so we can retweet to our community.