3
min read
Connecting Klaviyo with Riddle is super easy. You can quickly use Riddle's quiz maker to collect emails and quiz responses from your audience.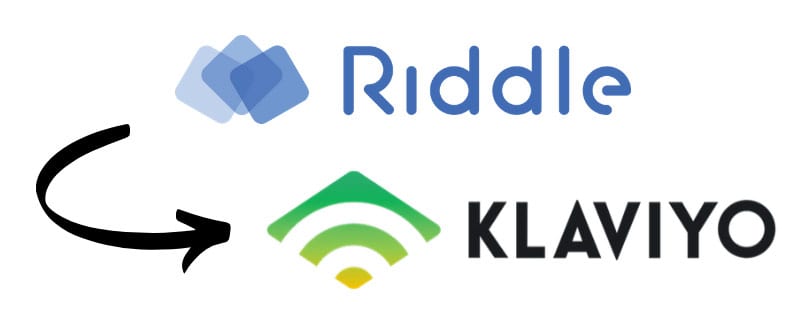 We'll show you how to get started. This post will show you how to use a nifty software service to sync between Riddle's quiz maker and your Klaviyo account.
The best part? no coding is required – they make the process nice and simple for non-techies.
But if you do have some coding experience, take a look at our webhook – it's a free service that will do the same thing.
We include code samples as well – you'll just need to make some small edits.
Connect Klaviyo with Riddle – using Zapier
Right – let's crack on.
We'll take you through our Zapier example below – leveraging our free Zapier app. You'll see all the steps – from creating a Riddle quiz with a lead generation form to sending each lead's data and quiz responses on to your Klaviyo account.
Create a quiz with Riddle
First up? Create any of our 14 types of interactive formats with Riddle's quiz maker (quiz, personality test, poll, etc.) and add a lead generation form.
You'll need to include at least 2 fields (email and name).
We'll be sending that info to Klaviyo – and Klaviyo will use that to create a new subscriber in your list.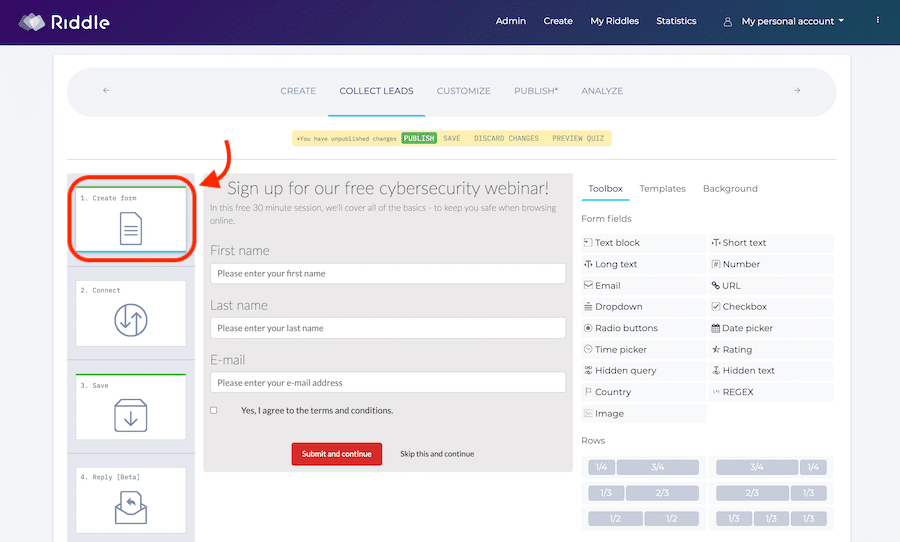 Sign up for Zapier
Go to the 'Connect' step to connect your Zapier account.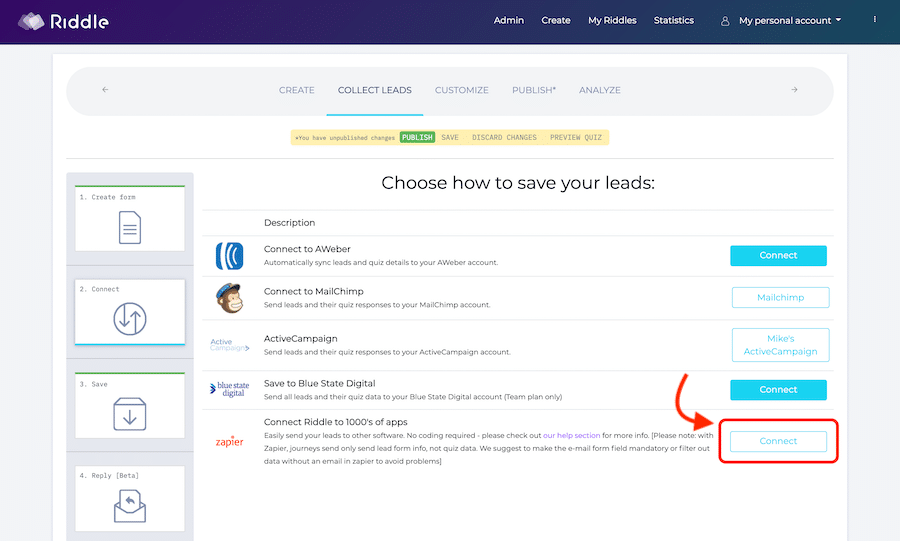 Don't have a Zapier account? Sign up for your own account at zapier.com.
Zapier is free for basic uses (5 zaps and 100 tasks/month) – like sending leads directly to most apps (including Klaviyo).

More complicated use cases will require a paid subscription, involving 2+ steps (e.g. Send leads from Riddle > use Zapier formatting tool to change data structure > send to SalesForce > also send to Google Sheets).
Make a Zap in Zapier
Right – now you'll want to 'Make a Zap' to start.
Connecting Riddle to Zapier
Choose which will be your 'trigger app' in Zapier.
In this case, you'll want to type in Riddle – and click on our 'Riddle Quiz Maker' icon.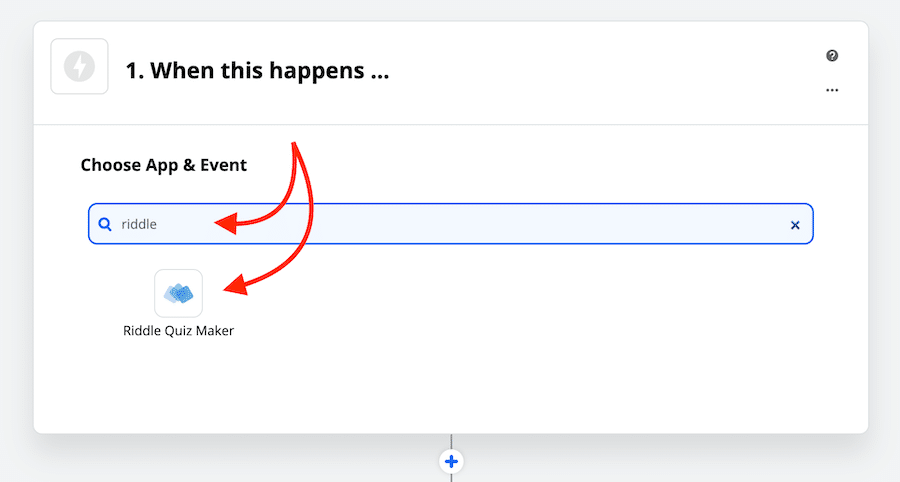 Connect your Riddle account.
You might need to grab your 'plug-in token' from Riddle first.
Click test – Zapier will then make sure the connection is working perfectly.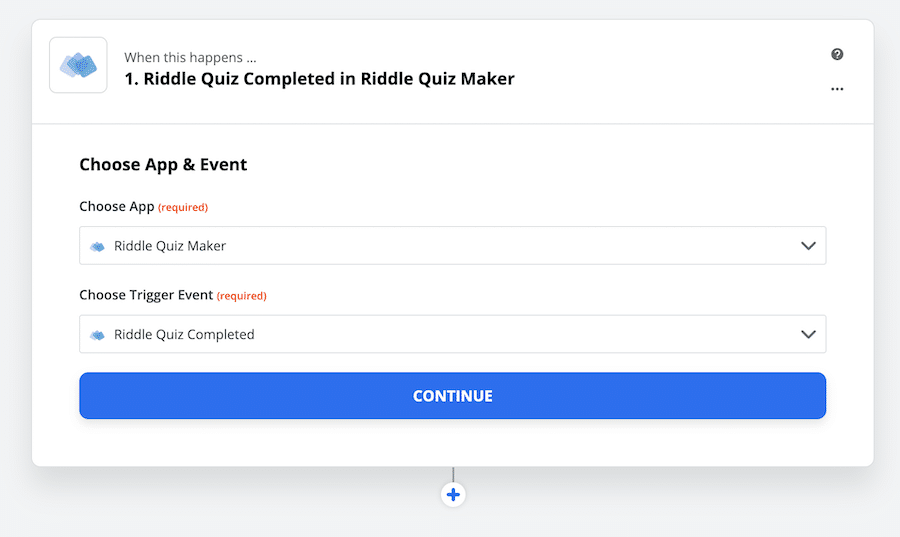 Connecting Zapier to Riddle
Next up? Confirm your trigger app selection by clicking 'Save and continue'.
Step one is almost complete.
Each time your users finishes your quiz and completes your lead form, Zapier automatically will (ahem) 'zap' that lead information and their quiz results to your list on Klaviyo.
Next, you'll tell Zapier which of your Riddle quizzes to connect to.
(Using Riddle's multi-user team feature? Select your team here.)
Click on 'Riddle' to call up a list of your quizzes.
Select one – then 'continue'..
Connecting Zapier to Klaviyo
Next – you'll want to tell Zapier which app to send your lead to.
In the 'Action app', simply type 'Klaviyo' – and pick that icon.
https://www.riddle.com/blog/wp-content/uploads/2019/10/zap-step-5-klaviyo-600×419.jpg
You can click 'skip' for 'Test This Step'.
Next – you'll want to tell Zapier which app to send your lead to.
In the 'Action app', simply type 'Klaviyo' – and pick that icon.
Now you will tell Zapier what to do with each lead's data in Klaviyo.
A good default is to select 'Add subscriber'.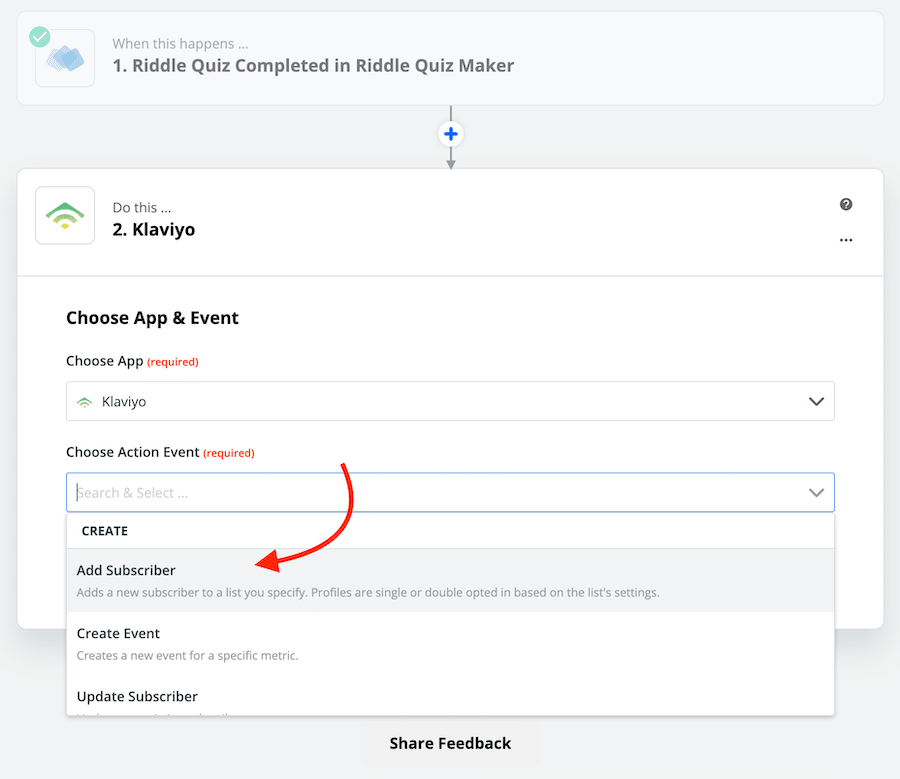 Connect your Zapier account – then press 'continue'.
Here's the fun part – you get to tell Zapier which data to add to each Klaviyo subscriber.
To map the data to Klaviyo, under each Klaviyo field name, select the matching field name from your Riddle lead generation form.
Please note – the fields and their names will vary a bit in our 14 interactive content types.

For example, our quizzes are based on right/wrong answers – so show a 'Score percentage' field.
However, personality tests don't have correct answers. Instead they return one overall result from all the user's choices – so they will show 'Result description'.
Whew! You're almost set. Next, click 'Send test to Klaviyo'.
Zapier's data elves will check that everything is all set.
However – we can't recommend this enough… you should taking your quiz yourself. Complete your form – and confirm that the data is being sent to Klaviyo as you intended.
Connecting Klaviyo to Riddle – last steps
Woohoo! You're just about set.
Name your ZAP – and activate it.
Once active, Zapier will send each lead to your Klaviyo account.
Zapier is great – but they can take up to 15 minutes to send a lead to your Klaviyo account.
Now you can set up your own marketing funnel in Klaviyo – sending personalized messages to each lead, based on their results.
Klaviyo and Riddle – summary
Crack open a beer – you have more than earned it!
Do you need help configuring sending Riddle leads to your Klaviyo account?
Just give us a shout – you can use Riddle's support chat on our site or this blog, or email via hello@riddle.com.
Don't be surprised by our fast responses. As big customer support geeks, our CEO Boris and all our team will race each other to respond first.
(We're averaging under two minutes to respond to every message – how's that for fast?)