ConvertKit Lead Generation with Riddle
ConvertKit is an awesome email marketing tool. Now you can connect Riddle's quiz maker – so you can easily gather the emails and names of each quiz taker. Here's how you can connect ConvertKit with your Riddle quiz – so you can use a user's quiz results to seamlessly send out personalized marketing emails for more conversions.
Not a coder? No worries – it's simple to set up.
Check the post below – it will walk you through how to use a slick app called Zapier (Zapier.com) to connect your Riddle quiz with your ConvertKit account.
(Side note – if you do have experience coding skills, you can do the same thing using our webhook. Here's our blog post that talks about this in more detail.)
ConvertKit Lead Generation with Riddle: Step by Step
Right – so let's crack on. I've included an example below around Zapier email collection. You'll see how to create a Riddle – then add a basic lead capture form and sync the data to your ConvertKit account.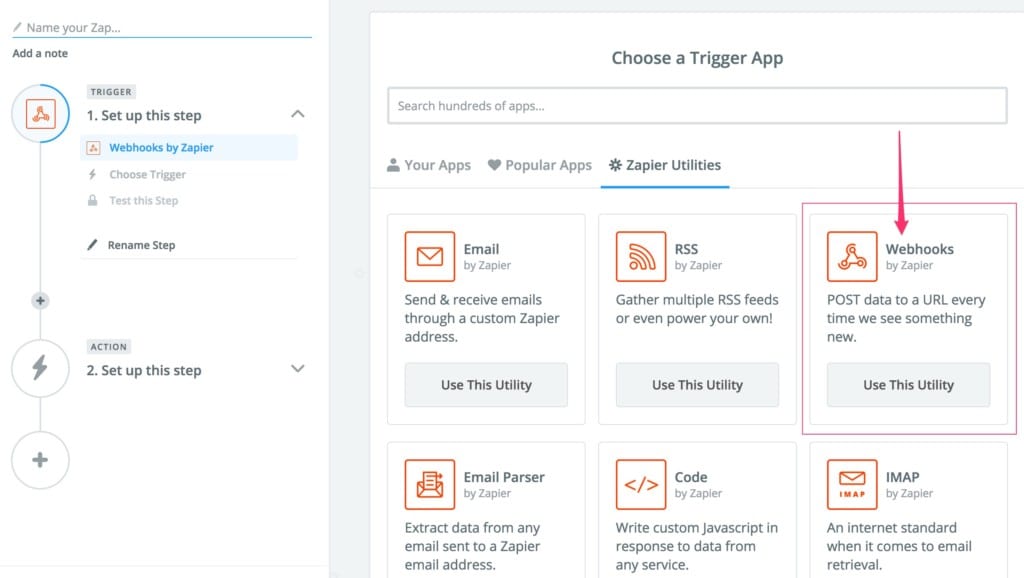 Pick 'Zapier utilities'
And select the 'Webhook' choice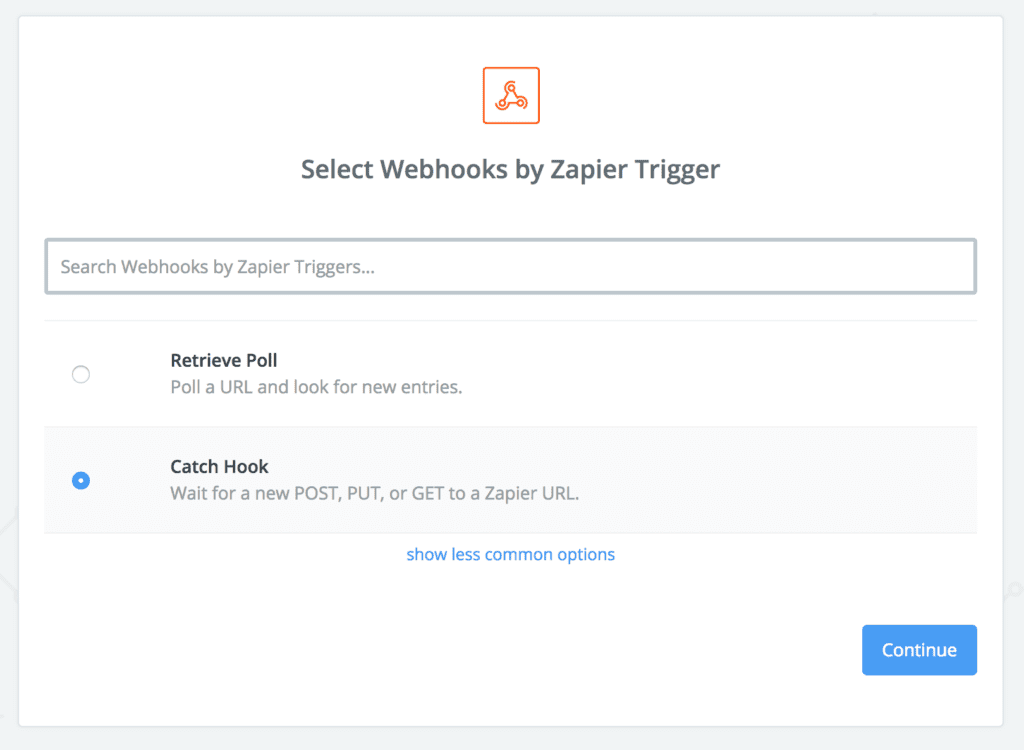 Next up – select 'catch a webhook'.
Now, fear not – the next screen on Zapier seems a bit complex. You can skip this one – it's for advanced users in case they need to include advanced details.
Zapier will then create your webhook's URL
Copy this URL
Scoot over to riddle.com – then click 'Create' to start your own type* of Riddle quiz to use along with your Zapier webhook
*Almost all types – just not reaction polls – which do not feature lead generation forms (yet!).
Create a Riddle – and select 'lead gen form' in the 'Collect Leads' step.
Okay – one important detail: neither MailChimp or our In-Quiz iFrame function for this step. Please select our Riddle lead form – so our system can 'catch' your quiz data. These other choices end up with data not going to Zapier – so won't be passed to your ConvertKit account.
Two fields: we recommend adding at least 2 fields (Email and name) to your form. We'll send this data with each of your quiz leads to ConvertKit.
Pop over to the "Advanced" tab in Riddle  – and paste in your Zapier webhook URL.
Next – click 'publish' and then open your Riddle quiz in a new browser tab or window.

(VERY important) You'll need to play your entire quiz at least once – including completing your lead gen form with data.

Zapier's picky – and it will not work if you skip this part.

Okay – now head to Zapier, and tap on "OK, I did this".
(The back story? Zapier's making extra sure that the ConvertKit lead generation connection is set up before you proceed.)
Okay – now Zapier will test everything out, and (fingers/toes crossed for luck) should show this success message.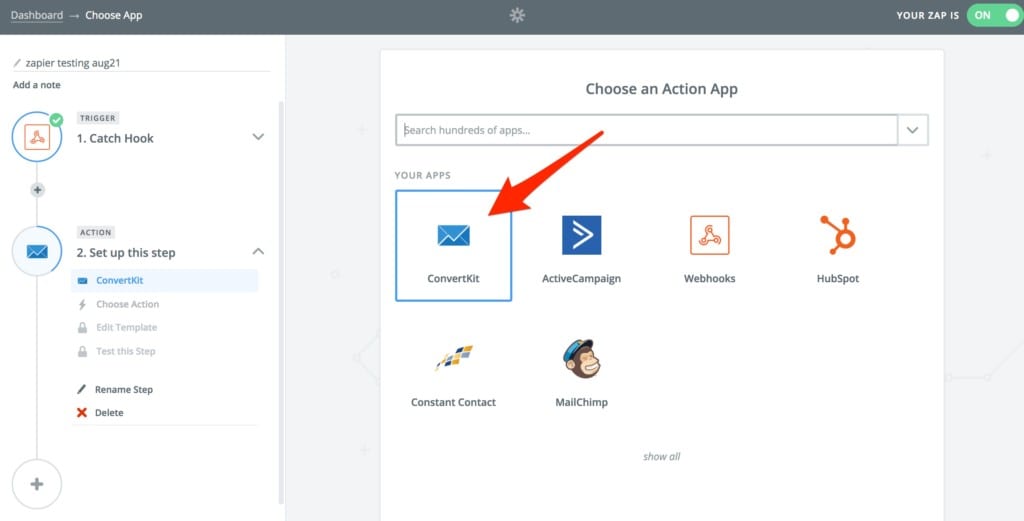 Pick where the information from your Riddle quiz should go. Zapier's awesome – they already have 700+ tools set up you can send data to.
Choose ConvertKit then 'continue'.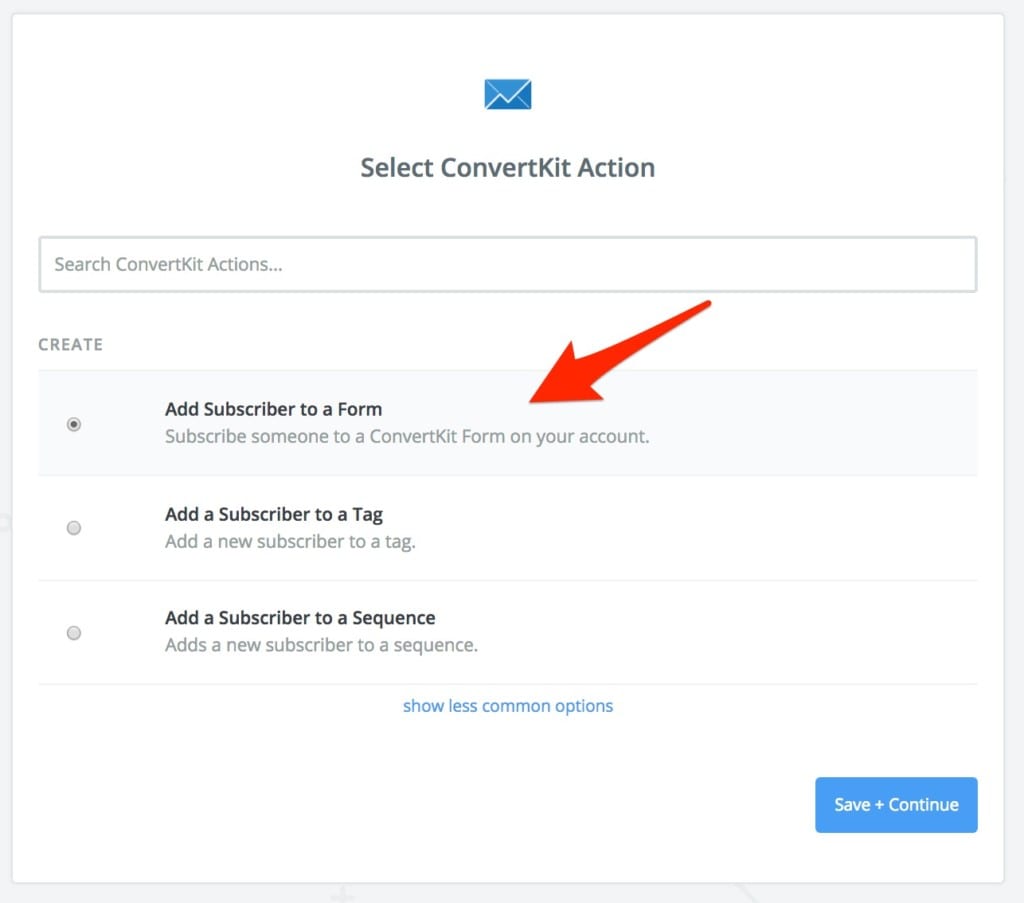 The action you want to use with ConvertKit is to add new subscribers from your Riddle lead gen form.
Please select the option 'Add subscriber to a form' and click continue.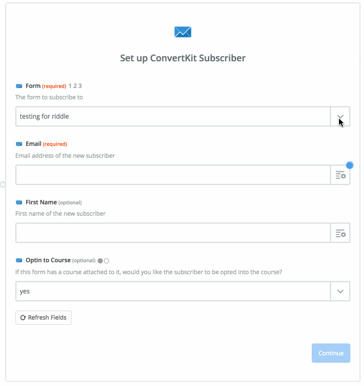 (We're almost there – hurrah!) Now we just need to tell Zapier how to map the entries from the Riddle to a corresponding ConvertKit form.
First you need to select one of your ConvertKit lists (I would suggest to create a test list in ConvertKit for this exercise).
Next you need to match the fields from the Riddle to corresponding ConvertKit fields.

Email -> Lead Email
First Name -> Lead Name
When you are done with the matches click continue.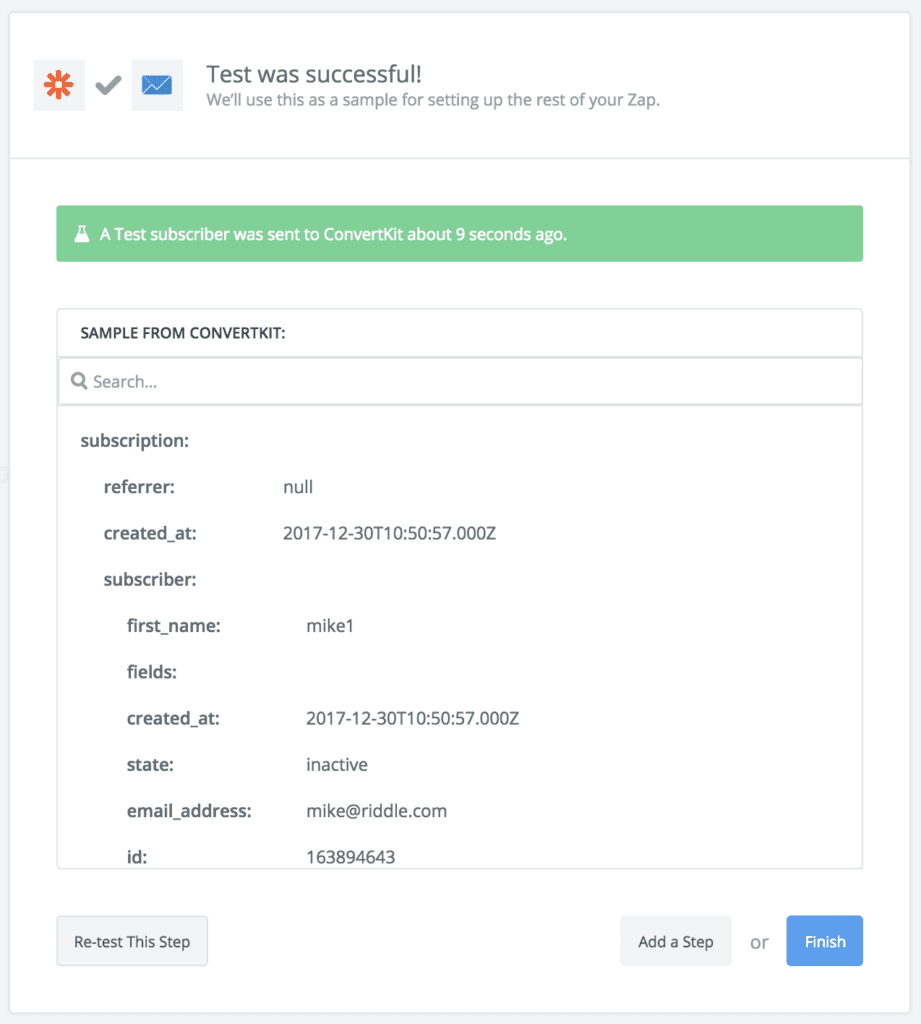 Yay – you've done it! Your ConvertKit lead generation zap is good to go.
Give your new ZAP a name and activate it.
Now, when you go through your Riddle again and submit a lead, Zapier will enter that lead into your ConvertKit account.
Please be patient when you are testing this, we've found that Zapier sometimes takes up to 20 minutes to process these requests.
After that, you can set up automation rules – so that contacts tagged with a certain result get a personalized, relevant follow up message based on their results.
Definitely time for a coffee/beer/other beverage of your choice – you've earned it!