3
min read
Riddle's quiz maker and ConvertKit are a powerful tool for effective quiz lead generation. From small start ups to large Enterprise teams, our quiz marketing platform lets you to easily gather the names, emails, and quiz responses of the people who take your quiz. Learn how to set up ConvertKit quiz lead generation to automatically send personalized follow up messages based on each lead's quiz responses.
Sound tricky? Don't worry – it's easy to do, with no coding required. This post will mostly cover how to use a cool service called Zapier (zapier.com). They specialize in connecting different web services together – in this case Riddle and ConvertKit.
However, if you are a coder – you can also use our free quiz webhook to do the same thing.
ConvertKit quiz lead generation: step by step with Zapier
Check out the Zapier example below – using our free Zapier app (with no coding required). I'll show how easy it is to do ConvertKit quiz lead generation – you'll make a quiz with Riddle's quiz maker with a built-in lead generation form, then push the captured data to your ConvertKit list.
Don't want to read the post? I whipped up this handy video walkthrough that takes you the various steps to get ConvertKit quiz lead generation up and running with Riddle's quiz maker.
(I'm a bit sheepish for the background noise; you caught me getting my caffeine on at a local cafe.)
Create a free account at zapier.com
Then click on 'Make a Zap' to get started.
Choose the 'trigger app' for Zapier – by typing Riddle Quiz Maker
Click on the Riddle Quiz Maker icon
Connect your Riddle account.
Click test – Zapier will then make sure the connection is working perfectly.
Next, you'll tell Zapier which of your Riddle quizzes to connect to.
(Using Riddle's multi-user team feature? Select your team here.)
Click on 'Riddle' to call up a list of your quizzes.
Select one – then 'continue'.
Under 'Test This Step' – click on 'skip'.
Then under the 'Action app', you need to type 'ConvertKit' – and select the ConvertKit icon.
Create any Riddle (quiz, list, poll, etc.) and add a lead gen form to it.
Be sure to add at least 2 fields (name and email) that we'll collect and send as part of our ConvertKit quiz lead generation.
Next up, you'll need to decide what to do with each lead's data in ConvertKit.
A good default is to select 'Create or update contact'.
Connect your Zapier account – then press 'continue'.
Now you're going to tell Zapier how to add data to your ConvertKit account by 'mapping' your Riddle lead generation form fields.
Under each ConvertKit field name, select the field name from your lead generation form.
Want to add quiz results or answers – so you can send follow up messages based on how each user answered? You'll need to scroll down to find the right ones.
Fields might vary among our 12 quiz types. For example, pop quizzes have right/wrong answers – so show a 'Score percentage' field, while personality tests that return one overall result will show 'Result description'.
(This is a screenshot from ActiveCampaign – but ConvertKit is very similar.)
Almost finished – now just click 'Send test to ConvertKit'. (Here's a screenshot from our HubSpot quiz lead generation example.)
Zapier will make sure everything's connected properly.
You're just about set – yay!
Now, as one final check, we highly, highly recommend taking your quiz yourself. Fill in your form – and make sure that the data is like you want in ConvertKit.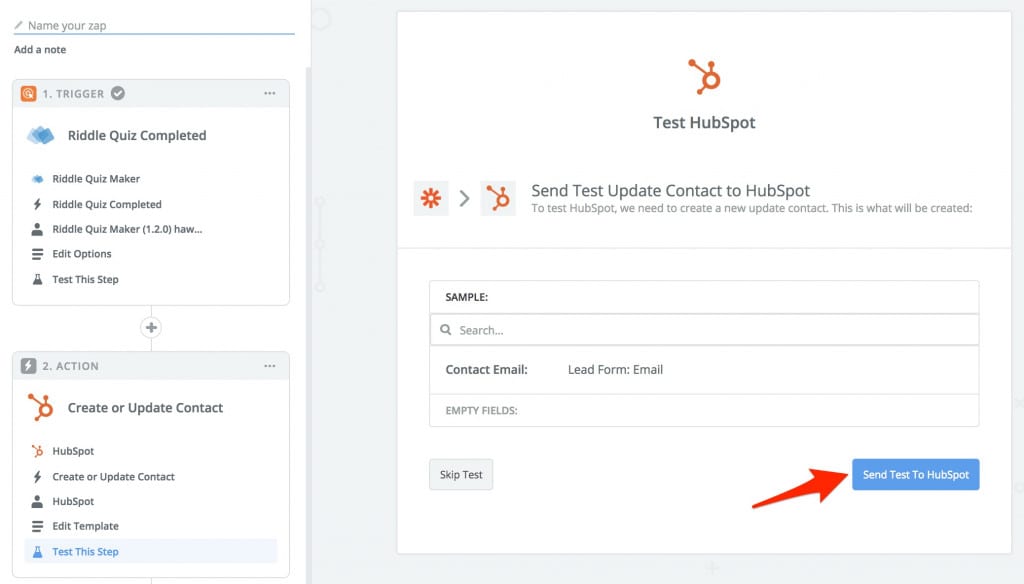 Awesome – you've done it!
Give your new ZAP a name and activate it.
Now, when you go through your Riddle again and submit a lead, Zapier will enter that lead into your ConvertKit list.
Please be patient when you are testing this, we've found that Zapier sometimes takes up to 20 minutes to process these requests.
After that, you can set up automation rules – so that contacts tagged with a certain result get a personalized, relevant follow up message based on their results.
Definitely time for a coffee/beer/other beverage of your choice – you've earned it!
Any questions about setting up ConvertKit quiz lead generation? Let us know – either through Riddle's support chat or at hello@riddle.com. Don't be surprised by a fast answer – we're customer support geeks, and our entire team races each other to respond first.