3
min read
We're big fans of Kartra at Riddle – it's a full-featured marketing toolkit that lets you easily build email drip campaigns, custom landing pages and everything else you need to convert more leads into steady customers. Combined with Riddle's quiz maker, Kartra becomes a super powerful tool to qualify and convert your leads into customers – using their quiz answers to send them the perfect follow up email messages.
(New to Kartra? We recommend checking them out and sign up for their $1 trial – their onboarding tutorials and intuitive interface make it easy to get started.)

Connecting Riddle and Kartra
Riddle's quiz maker supports Zapier – brilliant software that lets you collect leads and quiz responses and send them to 1100+ software tools, with no coding required.
At the moment, the Kartra Zapier app is still in private beta, but you can easily get access to it here.
Sign up for a Zapier account and the Kartra app
Connect your lead form to Zapier by selecting the option shown in the screenshot below:
https://www.riddle.com/blog/wp-content/uploads/2019/02/connect-riddle-zapier-kartra-300×181.png
Next up is setting up your zap – head over to Zapier.com.
Click 'create a new zap'.
Select "Riddle Quiz Maker" from the list of available tools
Connect your Riddle account using the token found here.
Pick your Riddle from your list of published quizzes
Continue below to add a new step in your Zap – adding Kartra.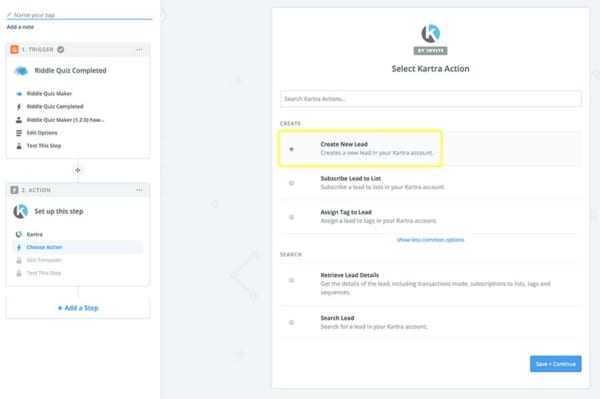 Two steps for Kartra's zap
The Kartra Zapier app is still in beta – so they might change things a bit in their 'live' release. But for now, you will need to add these two steps to get your leads into your list on Kartra.
Step 1 – add lead
First, select the 'Create new lead' action for the Kartra Zapier app.
There is no way to specify a specific Kartra list right now (after all, they're still in beta).
You can only add a lead and map all the Riddle fields to Kartra – check out our screenshot below for an example.
https://www.riddle.com/blog/wp-content/uploads/2019/02/add-riddle-kartra-step1-300×183.png
Step 2 – send lead to list
Now you need to add the newly added lead to a list.
Select the "subscribe lead to list" action from the Kartra Zapier app.

You should now have three steps to your zap – Riddle => Kartra (add lead) => Kartra (subscribe lead to list).

In this Zapier step, just map the email from the Riddle connection to the e-mail field.
You can leave the ID field empty.
Select your list from the dropdown and publish your zap.
https://www.riddle.com/blog/wp-content/uploads/2019/02/add-riddle-kartra-step2-280×300.png
Riddle => Kartra – advanced steps
Awesome – you have now have your leads from Riddle showing up in your Kartra lists.
Next up? You should create email sequences – a series of emails that are automatically sent to users who match certain criteria.
Since you can send each lead's quiz info from Riddle to Kartra, you can build an email sequence around their quiz results or even a specific question's answer.
Let's walk through an example.
Imagine you're a travel site, and you've created the personality test "What is your dream weekend getaway?", with "City" or "Countryside" as your two quiz result options.
You can use these quiz results to send out email sequences – with 'city' leads getting an offer to visit London, and 'countryside' folks receiving a discount for a trip to the Scottish Highlands.
Another option – you can target down to the question level. Let's say question #4 was 'How often do you go on holiday?' You could tag users who answer 5+ as 'frequent travellers' – and send them different messages than, say, people who answered '0-2 times', or '3-4 times'.
Got questions about connecting Kartra to Riddle?
We're big quiz marketing geeks and love to help out.
If you have questions about getting started, please let us know via our support chat on Riddle.com or via email. We're super fast to respond – when we're awake (7am to 10pm UK time / 2am to 5pm EST).
Happy Riddling!