3
min read
Quiz Maker meets Blog Post
(Update to the update: June 9, 2020 – we've added a new Riddle quiz type. Now, with our standalone lead form format, you can avoid our little hack below using the story for the same functionality.)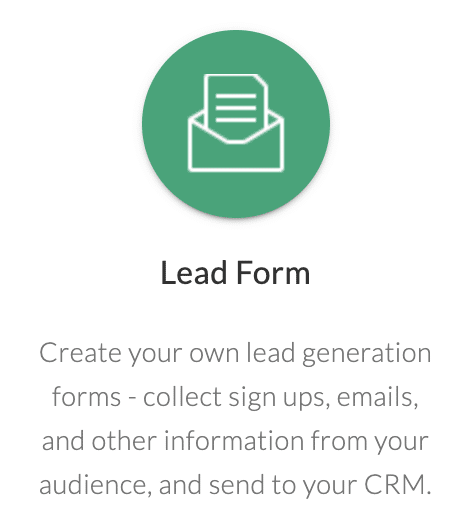 (Updated: November 20, 2019 – we followed our community's suggestions and have simplified the name of this format… from 'social story', it'll now be called simply 'story'. We agreed with our partners who pointed out the main use case is as a free-form story builder. Who are we to argue?)
We're pumped at Riddle… we just rolled out our new social story for our quiz maker. Think of it as 'quiz meets blog' – you'll be able to create a rich long-form text story, full of social media, images, and even your other Riddles.
Ideal if you want to create a longer or more varied experience than a standard quiz – each social story can be completely free-form. Instead of a quiz or poll's set format, you can mix and match content types however you like.
Check out this social story example below around picking the perfect autumn holiday – it includes text, animated GIFs, quotations, and even tweets from Twitter.
(And yes – the story topic isn't a coincidence. Living in Manchester in the rainy UK, the sun isn't something I get to see very often!)
Social story – when to use:
Real-time reporting – Are you covering a sports match? Blogging about the latest Apple release? You can just keep adding mini-chapters to your social story. Press 'publish' and your latest version will be pushed live – no need to reembed each time.
Long-form content – Quizzes and polls are great, but their format means you're a bit limited in terms of flexibility. Social stories are ideal when you want to explore a topic – and keep your readers engaged with social media and other types of Riddles.
Evolving articles – Social stories let you keep adding new chapters – so you can easily include new content as it becomes available. For example, if you were writing a review of the best pizza joints in New York, you could keep adding chapters as you review each new place.
Social story – how to create:
Just like any good book, each social story can be organized by chapter.
Each chapter can include a title, text, and a main type of media.
Unlike other Riddle types – you can also choose to embed any of your other Riddle quiz types.
Your first chapter of your social story will be like the cover of your book – this is what your audience will see on your site – or when shared on social media. Create a title and pick an attention-grabbing picture. Images work best – as they display best on Facebook and Twitter.
We recommend saving the GIFs, videos, and other content for Chapter 2 or later.
Use our quotation feature for emphasis. Check out how you can use any color background or an image – and make your quote really stand out.
Social Story: Standalone lead generation form
Sometimes – you might want to gather leads using Riddle, but outside of a standard quiz or other interactive unit. Now you can – using our social story.
Create a social story
In Chapter 1′, put your call to action and supporting text.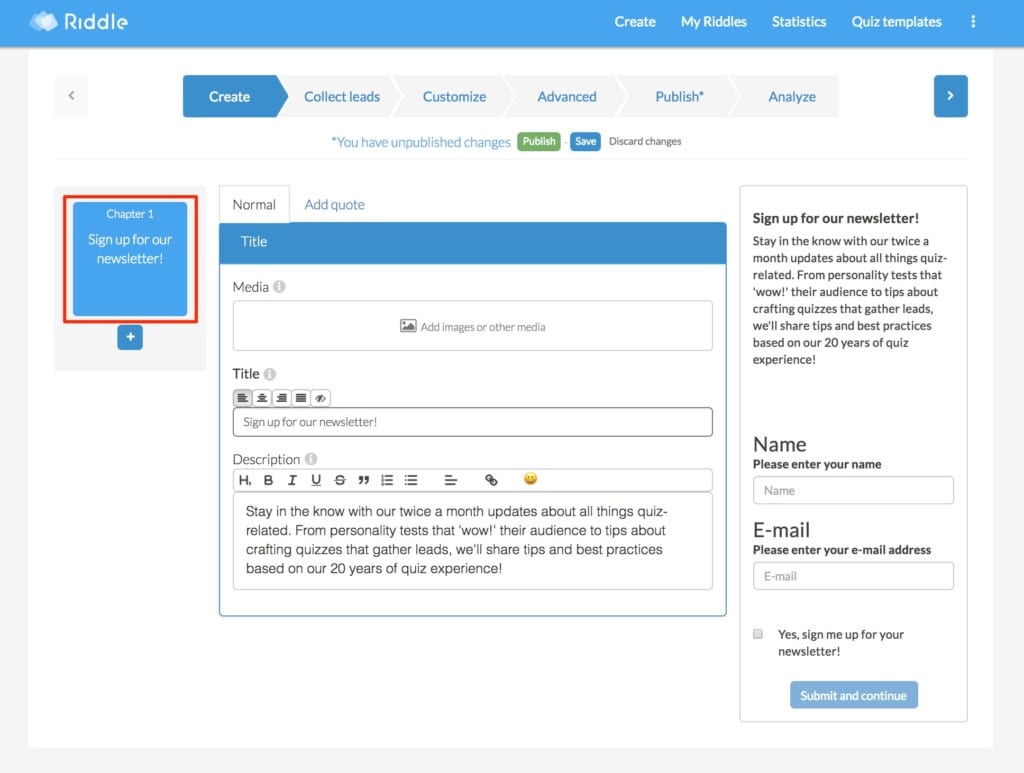 In 'Customize', add your lead generation form – and choose to:
Press 'Publish' and embed on your site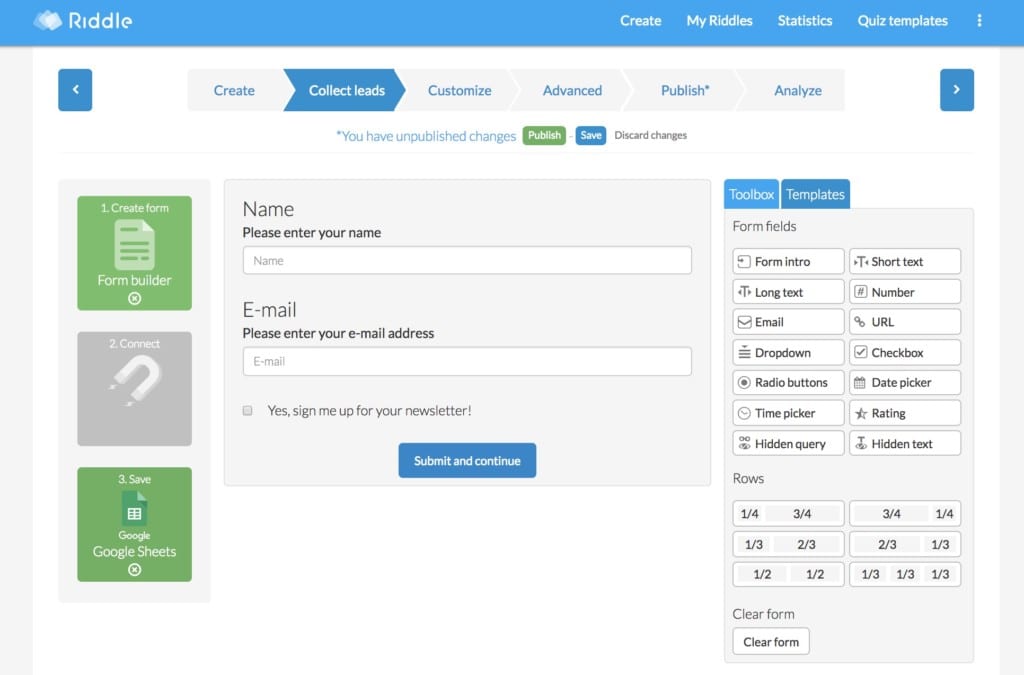 Back story: We know this social story is a bit of a workaround – we'll be introducing our own standalone lead generation form, along with more formatting options, CSS skinning, and more to match your site's branding. Stay tuned! 🙂