4
min read
Quiz Maker meets Blog Post
We're pumped at Riddle… we just rolled out our new social story for our quiz maker. Think of it as 'quiz meets blog' – you'll be able to create a rich long-form text story, full of social media, images, and even your other Riddles.
Ideal if you want to create a longer or more varied experience than a standard quiz – each social story can be completely free-form. Instead of a quiz or poll's set format, you can mix and match content types however you like.
Check out this social story example below around picking the perfect autumn holiday – it includes text, animated GIFs, quotations, and even tweets from Twitter.
(And yes – the story topic isn't a coincidence. Living in Manchester in the rainy UK, the sun isn't something I get to see very often!)
Vacation planning guide – autumn 2017
From bustling cities to beaches, there are so many options for anyone seeking a cheeky autumn getaway before winter is well and truly upon us.
We'll walk you through our 'best of' guides – with tips and tricks to find the perfect trip to suit your tastes, and your budget.
Passport packed? Let's go! :airplane::beach_with_umbrella::grinning:
Okay – first, some ideas to keep your trip from being stressful, so you can actually relax!
It's funny how much planning and effort people put in to their trips – only to find that they are so worried about making the most of their limited time, they don't actually relax.
We've put together some good tips – from packing to itineraries – to help keep you nice and chilled out. :desert_island:
To beach or not to beach – that 'tis the question…
Beaches are classic getaways for a reason.
Idyllics views, warms sands, and cold cocktails make for a winning combination!
But they're not for everyone – some folks find the thought of just sitting doing nothing as excruciatingly boring.
How about you?
reaction poll
Don't be this person…
Don't be this person…
Okay – and most importantly… have fun, don't stress – after all, you're on vacation!
Social story – when to use:
Real-time reporting – Are you covering a sports match? Blogging about the latest Apple release? You can just keep adding mini-chapters to your social story. Press 'publish' and your latest version will be pushed live – no need to reembed each time.
Long-form content – Quizzes and polls are great, but their format means you're a bit limited in terms of flexibility. Social stories are ideal when you want to explore a topic – and keep your readers engaged with social media and other types of Riddles.
Evolving articles – Social stories let you keep adding new chapters – so you can easily include new content as it becomes available. For example, if you were writing a review of the best pizza joints in New York, you could keep adding chapters as you review each new place.
Social story – how to create:
Just like any good book, each social story can be organized by chapter.
Each chapter can include a title, text, and a main type of media.
Unlike other Riddle types – you can also choose to embed any of your other Riddle quiz types.
Your first chapter of your social story will be like the cover of your book – this is what your audience will see on your site – or when shared on social media. Create a title and pick an attention-grabbing picture. Images work best – as they display best on Facebook and Twitter.
We recommend saving the GIFs, videos, and other content for Chapter 2 or later.
Use our quotation feature for emphasis. Check out how you can use any color background or an image – and make your quote really stand out.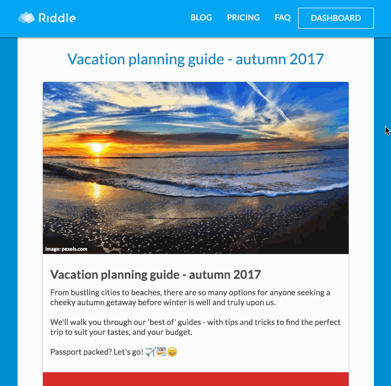 Social Story: Standalone lead generation form
Sometimes – you might want to gather leads using Riddle, but outside of a standard quiz or other interactive unit. Now you can – using our social story.
Create a social story
In Chapter 1′, put your call to action and supporting text.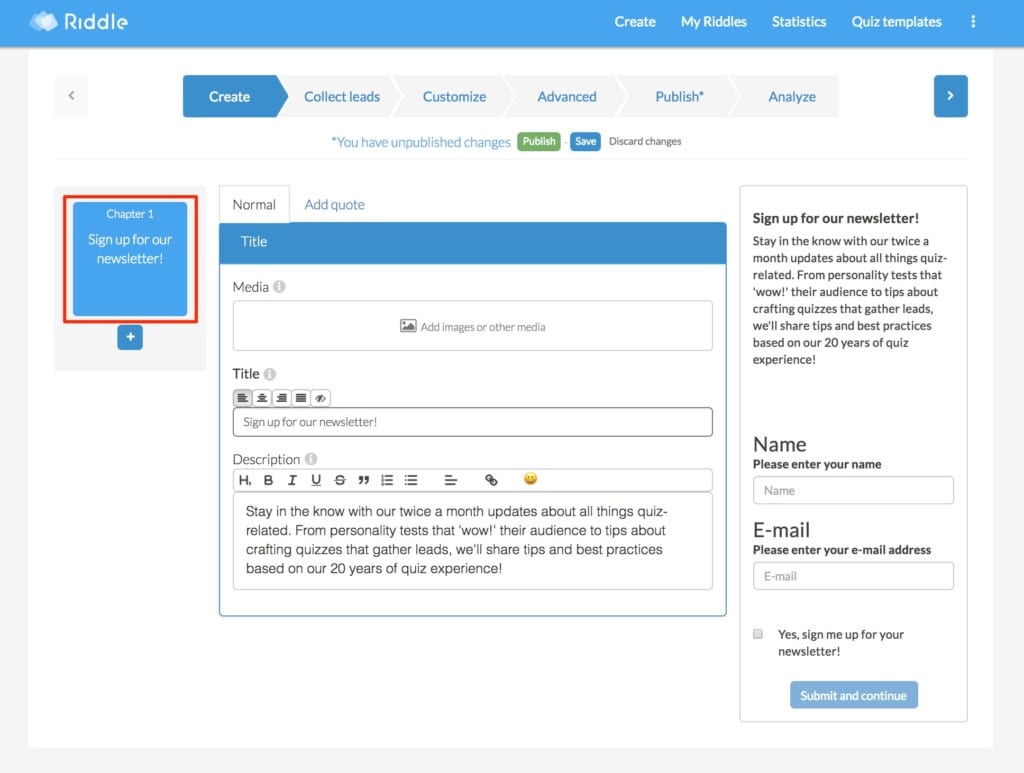 In 'Customize', add your lead generation form – and choose to:
Press 'Publish' and embed on your site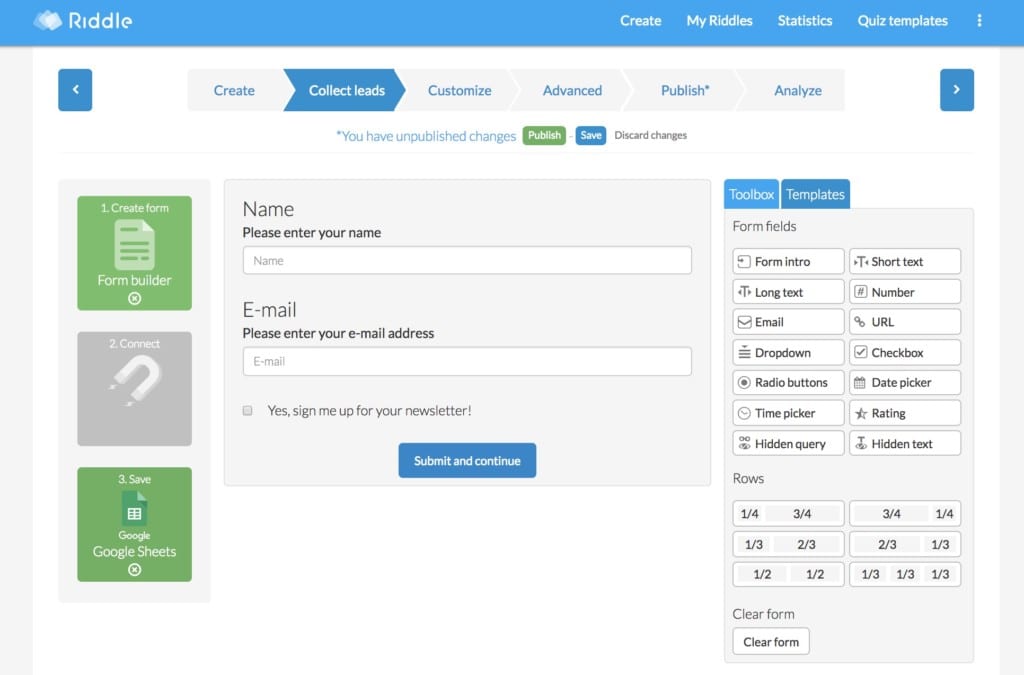 Back story: We know this social story is a bit of a workaround – we'll be introducing our own standalone lead generation form, along with more formatting options, CSS skinning, and more to match your site's branding. Stay tuned! 🙂