How do non-profits and NGOs leverage Riddle's quiz maker?
Life for non-profit organizations can be tricky.
You're passionate about your cause - the challenge is getting the word out in an increasingly crowded media landscape.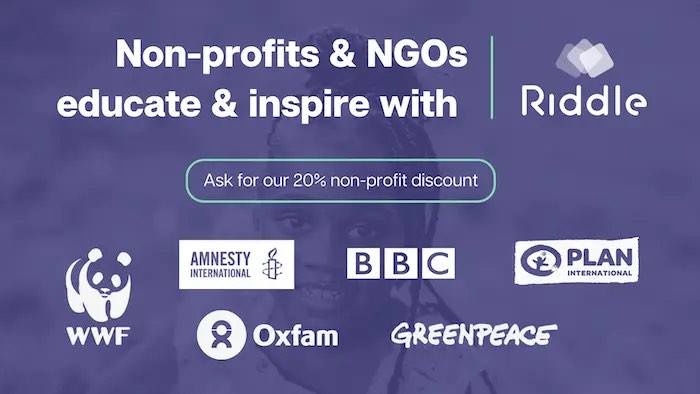 That why we created Riddle.
We help non-profits as diverse as Oxfam, the BBC, and Amnesty International rapidly (and cost-effectively) create online quizzes and other interactive content.
5 reasons your non-profit will love Riddle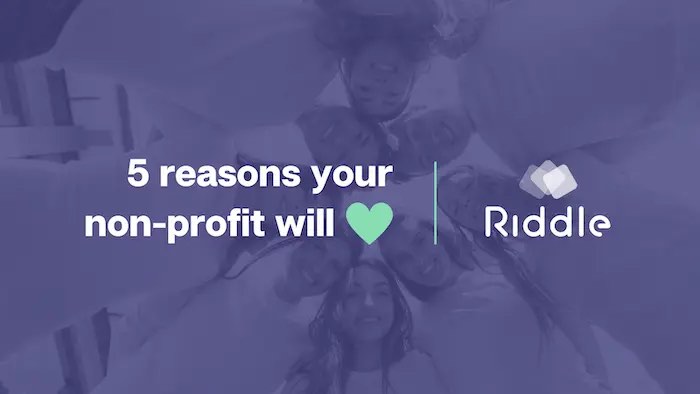 Educate and inspire your audience through quizzes
Grow your donor or volunteer list with in-quiz lead generation
20% discount for non-profits
Unlimited quizzes, leads, and traffic - from just $59 a month
Oxfam engages and educates with quizzes
Worldwide anti-poverty charity Oxfam uses quizzes to turn passive web visitors into active participants.
Check out their "Global inequality quiz" - 100% white-labelled, and complete with "sign this petition" call to action button to turn interest into action.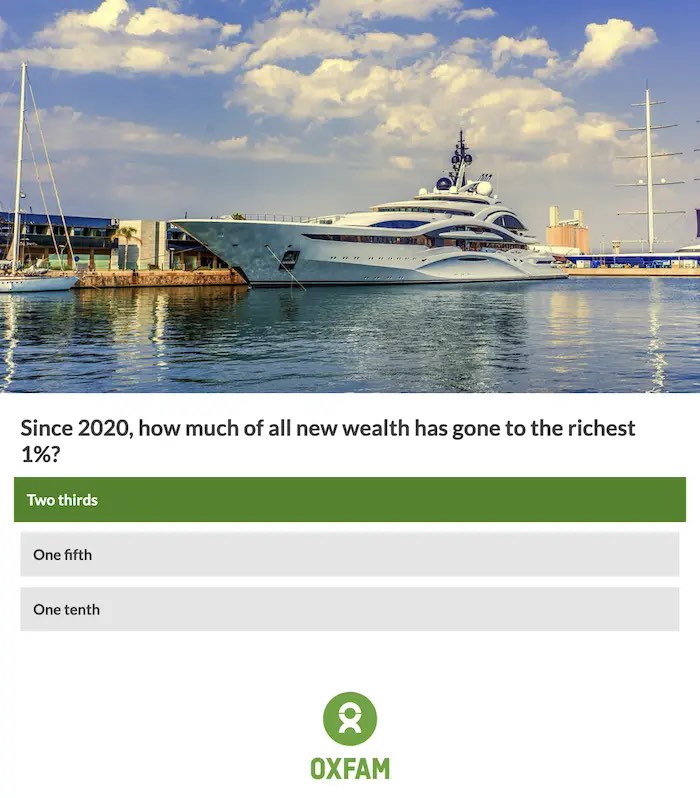 Non-profits save 20% on any Riddle subscription
We love helping out nonprofits.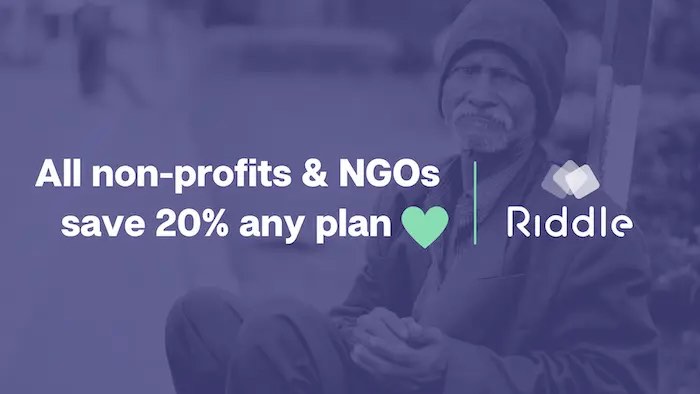 We offer 20% off every one one of our online quiz maker plans.
Just ask us on support chat for a discount code.
We're flexible.
Many non-profit organizations try our quiz maker out for a few months - then switch to our annual option.
The World Wildlife Federation engaged and educates with quizzes powered by Riddle
The WWF is a legendary conservation organization with a global scope. They've turned to interactive content like quizzes and polls to build enthusiasm among their audience across multiple languages.
We're big fans of their "How well do you know the oceans?" quiz: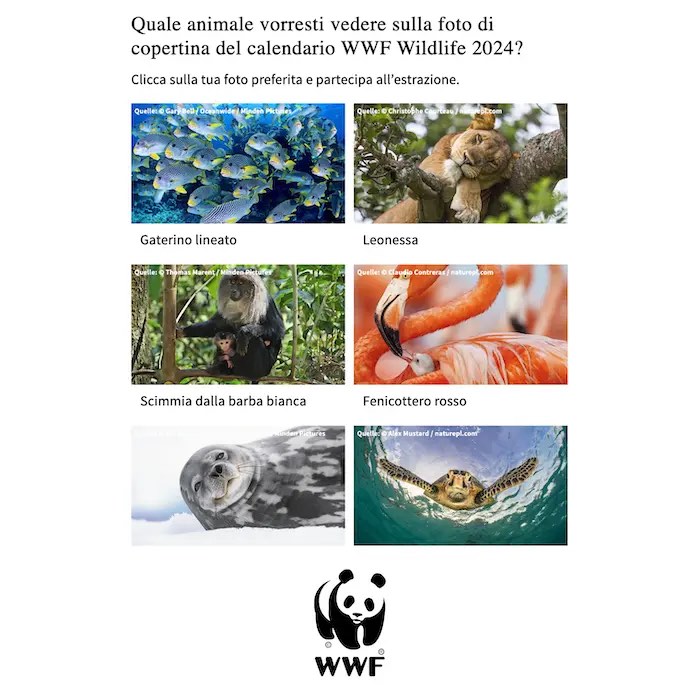 Why should non-profits and NGOs use Riddle's quiz maker?
It's like giving having your own in-house agency - you can create interactive content faster and cheaper than hiring an outside firm.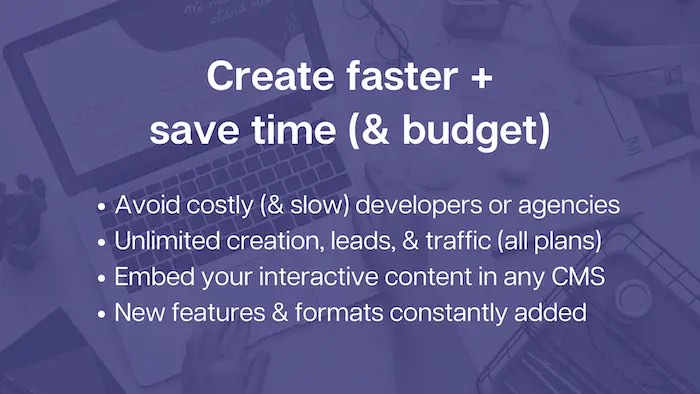 The BBC inspires and informs with Riddle
The British Broadcasting Corporation has been a long-time partner with Riddle. BBC teams constantly create interactive content for their programming to boost time on site and social shares.
Check out this reaction poll on BBC Three - getting 50,000 votes from their 18-34 audience around the controversial idea of giving non-smokers more vacation time:
"Riddle helps our Children's Interactive team to quickly create engaging content that provide compelling data insights about our audience." - Derek Harvie, Executive Producer (CBeebies and CBBC)
The Tate Museum turn to Riddle
The world-famous Tate makes their museums' art come alive with Riddle's interactive quizzes.
Take a look at this "How well do you know the Impressionists in London?" quiz. Tate Britain used to successfully drive interest and ticket sales for their Impressionists exhibition: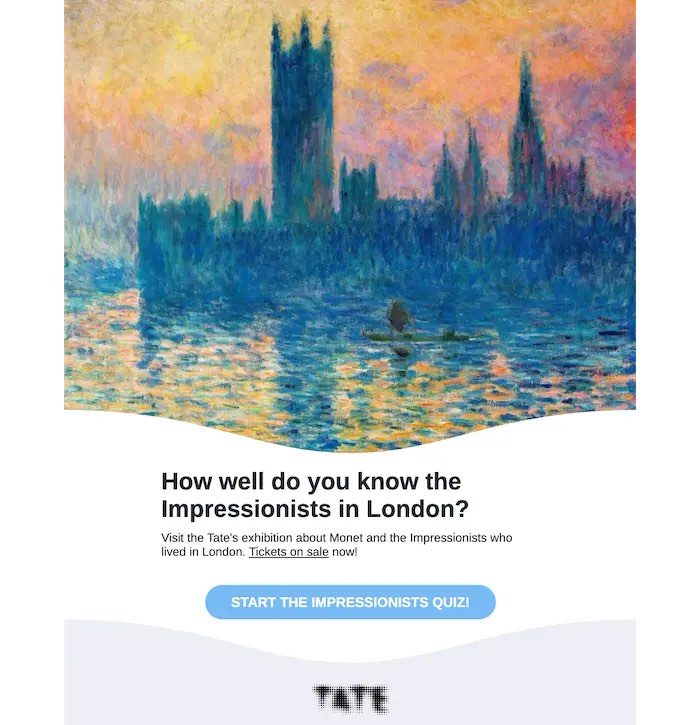 Create quizzes, polls, personality tests, surveys, & more
We totally get it.
Life as a nonprofit or NGO means you're always stretched. Stretched for time, resources, and funds - it makes it difficult to spread the word about your cause.
But... we've got good news.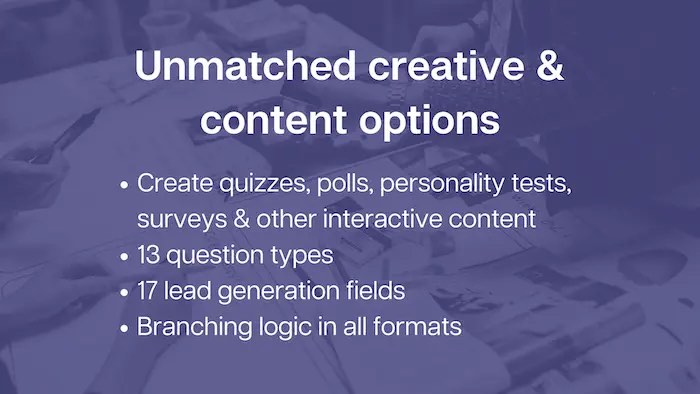 You can use Riddle's quiz maker as your non-profit's interactive content marketing toolkit.
Assessment or personality quizzes
Volunteer or donor recommendations
Timed quizzes
Audience polls
Surveys and assessments
Listicles
Contests and giveaways
Flexible quiz maker for NGOs and nonprofits - no limits
We keep the pricing of our quiz creator flexible and transparent for nonprofits.
Simple pricing - no admin or set up costs
Cancel any time with our monthly plan
Or save an extra 20% with our yearly subscription
Create as much as you like. All our plans feature:
Unlimited quizzes
Unlimited traffic and quiz takers
Unlimited email collection
Unmatched customer service - we're lightning-fast, responding in two minutes or less
Non-profits engage through quizzes
Quizzes that inform or entertain are irresistible to an audience.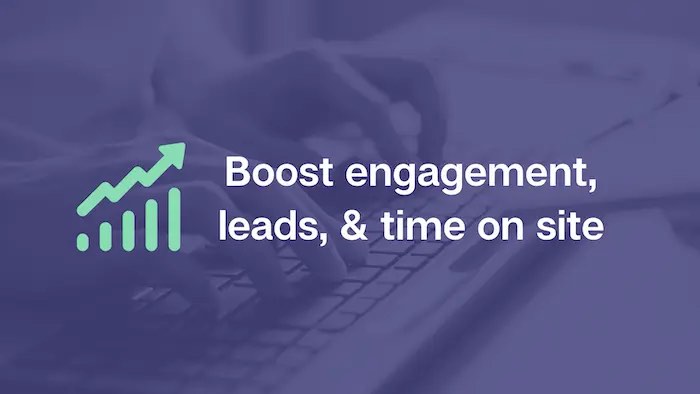 Check out these key stats:
More engagement: Quiz takers will spend up to 57% longer on your site - giving you mroe time to inform or inspire action for your non-profit's cause.
More time on site: People average 2:47 taking online quizzes. This 'dwell time' increases your Google SEO, helping more people discover your campaign.
More email addresses: Add a lead form and see >40% of your quiz takers opt-in and give their email address - helping you grow your email lists to find more donors or activists.
The Energy Saving Trust educates with quizzes
The Energy Saving Trust is dedicated to helping people save energy in the face of the global climate emergency.
They are big fans of turning to interactive content to make policy more 'real'. The EST will often create a quiz for campaigns like this "Climate emergency: what do you know?":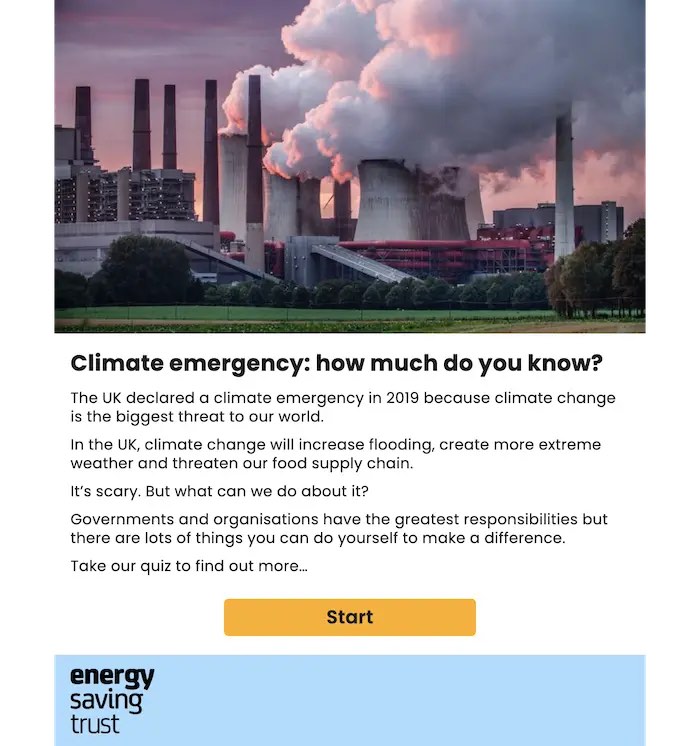 Create multi-media quizzes
Make a quiz for your non-profit and easily add images, GIFs, social media, or video.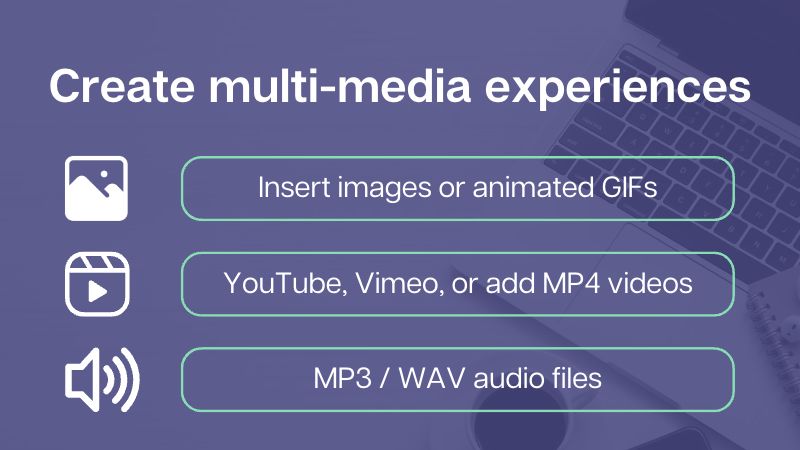 Upload your own pictures or GIFs
Google image search
Pexels - beautiful stock photography
YouTube videos
Vimeo videos
MP4 video clips
MP3 audio files
Twitter - embed any tweet
Giphy - animated GIFs
Use quizzes to spread on social media
Don't just take our word for it. AdWeek knows that "quizzes are the most shared content".
Integrated social sharing helps your quiz takers spread the word for your non-profit organization.
People love sharing interesting or compelling quiz results - you'll get more people to inspire and educate about your nonprofit's mission.
Our quiz maker features built-in social sharing for:
Twitter
Facebook
Instagram
WhatsApp
LinkedIn
20 other options - from Telegram to SMS
Build your email list for your NGO or non-profit
Easily collect email addresses with our quiz creator.
Sync quiz leads easily with your non-profit's CRM software
Connect our quiz maker with over 5,000 marketing or non-profit software tools - including MailChimp, Bloomerang, SalesForce, and more.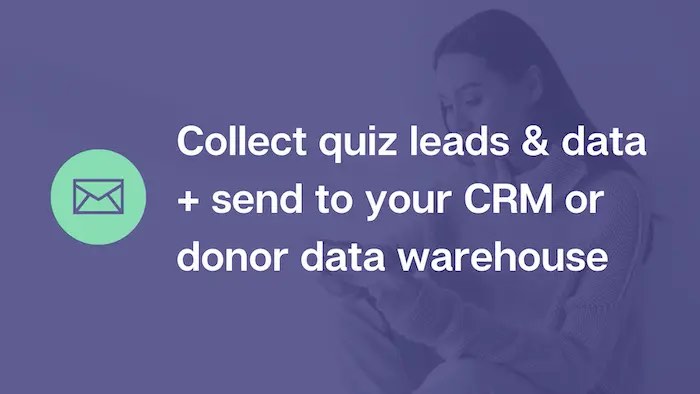 Send each email address and their quiz results to your non-profit's favorite software - no coding required.
Tag, segment and rate each lead around their quiz data.
Power your nonprofit's drip email campaigns with personalized messages.
Convert more volunteers or donors. Send the right messages to the right person at the right time.
Greenpeace keeps their donor list growing and green with quizzes
Environmental activists Greenpeace are big fans of Riddle's quiz creator for cost-effective engagement.
Their "How well do you know the Antarctic?" quiz was a key driver for their successful 'Save the Antarctic' campaign.
Your quiz, your nonprofit's brand - 100% white-labeled
Any quiz or interactive content you create will blend seamlessly with your NGO's site and brand.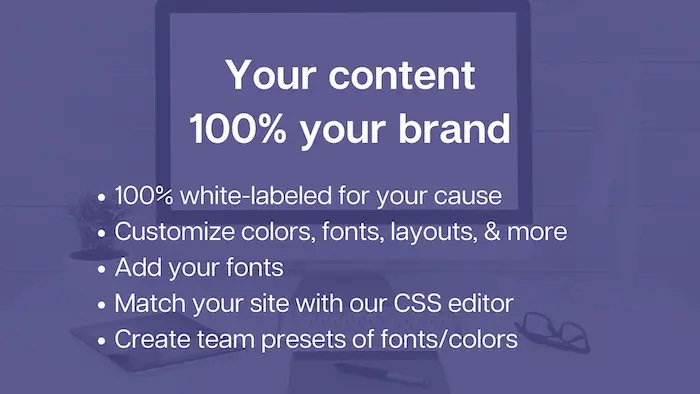 Add your logo and create 100% white-labeled quizzes.
Match your quiz to your non-profit's branding with 60+ customization options.
Fully CSS control - change anything from borders to buttons and styling with our CSS editor.
Use your font - easily upload your non-profit's font (or use Typekit/Google Fonts).
Display in-quiz videos or petitions
Quizzes are excellent ways to promote action from your audience:
Add your own videos - quickly embed your campaign's videos to your quiz.
Insert your petition or other form - embed your own form directly in your Riddle content.
Inspire donations - add unmissable 'call to action' buttons to link to your donation pages.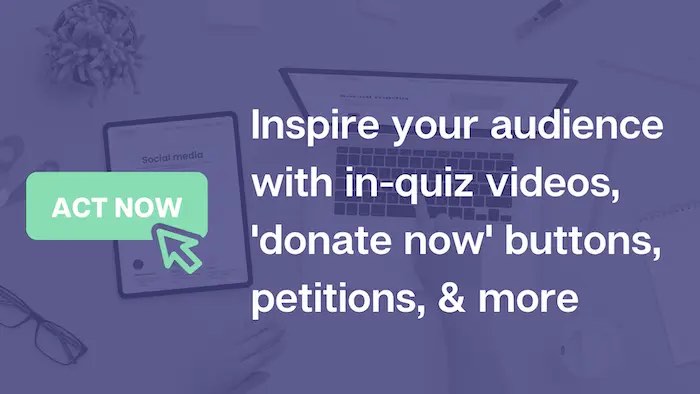 Redirect based on quiz results
Completing a quiz is just the first step of the process.
Now what?
Our online quiz creator empowers non-profits and NGOs continue the conversation.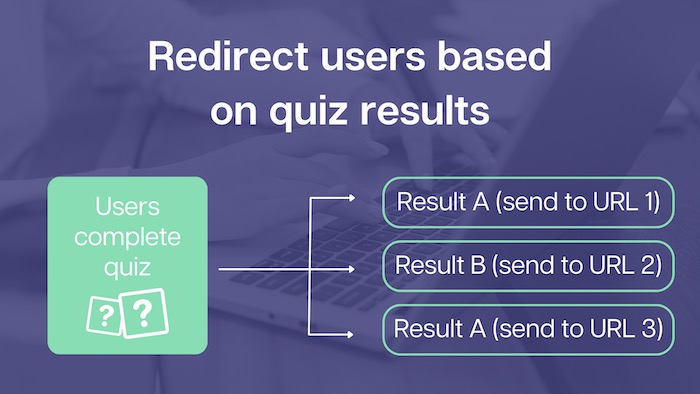 Show each quiz taker additional content or direct them to a landing page - contextually targeted around their quiz results:
Call to action buttons - add a clickable CTA button to any quiz result. Include custom text and specify a different URL for each quiz results.
Quiz result landing pages - automatically send quiz takers to any URL, depending on how they answered your quiz.
Ideal for suggesting campaigns or actions best suited to their interests.

Imagine your climate action nonprofit created a "Measure your climate footprint" personality test.

For quiz takers who got "You're super climate aware" results - you could send them to your donor funnel.
Anyone who got "You need to cut back" could go to the "climate change basics" section on your site - to educate them about the crisis.
Collaborate with your teammates
Non-profits create effective change as a team. Making quizzes and interactive content work in the same way.
Riddle's online quiz creator has teamwork built-in. Invite colleagues to a project and create a quiz together.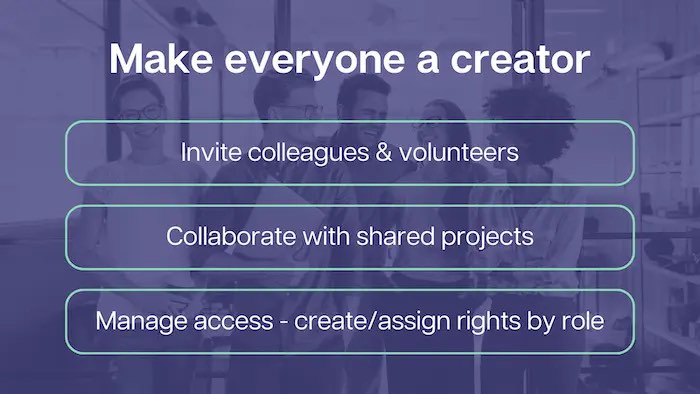 Add any number of projects (ex. volunteer outreach/donor marketing/PR).
Easily invite your coworkers to each project.
Control access with three different roles (author/editor/admin).
Have a question how quizzes and interactive content can help your non-profit?
Customer support is our own passion at Riddle - we all love to help out.
It's part of our culture. Everyone from our CEO on down will race to be the first to respond to your question.
We can help with everything from quiz ideas for upcoming campaigns to best practices about collecting donor information.
Just let us know via our site's support chat or email (hello@riddle.com).