Wait – That's crazy!
Getting rid of your sales team sounds crazy, right? But small business quiz marketing is a cost-effective way to engage and convert potential customers – all using a quiz maker like Riddle and your favorite email marketing tool like ActiveCampaign or MailChimp.
In his famous play "Death of a Salesman", Arthur Miller famously wrote "the only thing you've got in this world is what you can sell."
But away from the dreary streets of New York in the 1940s, that's not quite true. Business these days is about offering real value, it's far more of a mutual exchange than suited-up reps using pushy tactics to make a sale. Few companies understand that shift better than the little guys just getting started on their journey.
Sales teams are expensive (& risky)
Small to medium businesses (SMBs) face a tough challenge trying to grow and scale – it's expensive to use traditional channels like a sales team. Hiring, training, and paying sales professionals – it's a big upfront cost, and you're not guaranteed results.
But… it's not for the faint of heart.
The good news? Small business quiz marketing offers a solution – you can create your own automatic quiz marketing funnel, no coding required.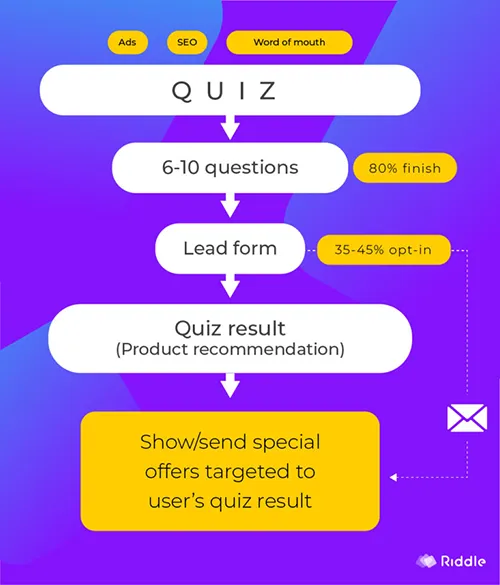 SMBs (small-to-medium businesses) typically don't have disposable budgets and unlimited resources to freely experiment with how to give value to customers; they need a laser-focused vision from the get-go and to get things right early on. They also face pressure to demonstrate traction and scale, or risk being part of the 20% of new businesses that fail during the first two years.
Yet in a world where data is king, growing businesses need solid metrics that reflect positive engagement with customers, and showcase their potential to grow. How can companies tap into such insights while still staying value-driven?
Small business quiz marketing – the basics
The answer to your marketing-problems: quizzes.
Businesses like the Hair Fuel have had great success pivoting to online quizzes – building a passionate community and reducing their online acquisition costs by 60%.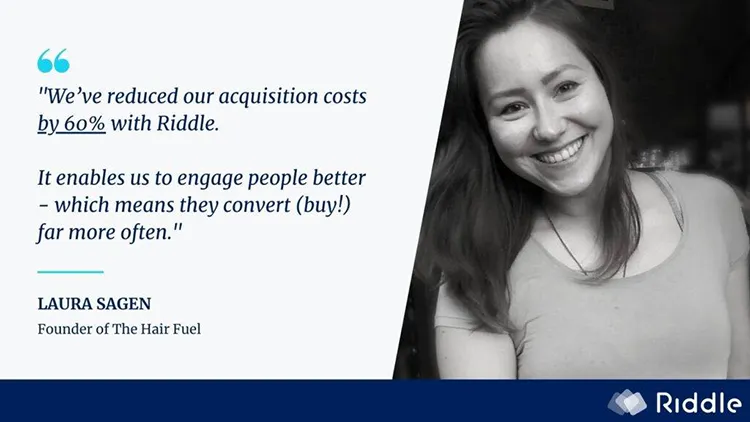 Why quizzes?
Quizzes are not only cost-effective and engaging, they deliver qualitative and quantitative takeaways.
Whether a business wants to know how many people are interested in a particular topic or find out the characteristics of their biggest demographic, the humble quiz is a mighty tool. It's also great to escape from the narrow scope of traditional sales methods ('Cold calls', we're talking to you) and to showcase your company's creative side with a modern, interactive twist.
It's time to hang up your salesman hat, and slip into your small business quiz marketing boots.
Demonstrate the art of conversation
Unlike corporations, small businesses have the luxury of having a blank slate with customers. People may not have interacted with your brand before, and likely won't have a pre-existing idea how you interact with users. This is an advantage because you can surprise them and use a quiz to let them do all the talking.
For decades, people have become accustomed to getting yelled at by businesses – from all-caps messaging, online pop-up boxes, and a sea of unwanted emails.
A quiz, however, isn't an interruption, it's an invitation for customers to begin chatting. That's the genius concept behind small business quiz marketing.
Think of an online quiz like virtually holding the door open for someone, they can come in if they like, but it's completely up to them.
Of course, most of the time, people are keen to accept the invitation because it allows them to talk about themselves in a judgement-free environment. As humans, we're vain – we're curious about ourselves, what box we fit into, and what identity we have – and if we're given the chance to dive inward, we'll seize it.
But more than just providing users with a space to vent, a quiz rewards its participants.
People share information about themselves, and in return, they've given a category that defines them, a funny comparison, advice, or simply content that they can share with others. It's this back-and-forth that levels the playing field between brand and buyer, and gives small businesses a distinctly human trait.
A quiz allows you to listen, process, and react accordingly, while also collecting snippets of your customers. At the same time, users get to choose when and how they touch base with your company, so build stronger trust toward you. And like with any good listener, they feel compelled to come back and talk more.
Shout your name from the (social media) rooftops
Publicity is critical for SMBs – the world needs to know that you exist before people can start converting. The problem though, is marketing has become so saturated that it's harder for campaigns to be effective and to cut through the noise of everyone else.
Enter quizzes! Quizzes often get a better opt-in rate than conventional marketing ploys: as much as 20 times more than traditional online advertising.
The difference is so stark because whereas users can easily scroll past passive ads, a quiz is a calling: it's actionable and intriguing.
And, in an age where everyone is posting their lives online, a quiz can serve as a badge of honor for people, it's essentially a way to say "look, I have proof that I'm X." It's not surprising then that the average social media quiz gets shared 2,000 times, which means helping your brand name go viral.
More than simply spreading the word about your company, a quiz can represent your company.
Startups and small businesses are generally seen as agile and innovative in a way that established players aren't, and quizzes slot nicely into that belief because they're fun and contemporary. Your company gets put in the 'cool' category, and users enjoy your marketing style, so are inclined to buy from you or endorse you.
Small business quiz marketing – "If you're wise, customize!"
No customer wants to feel like they're part of the masses, they want to feel unique and catered to. Considering that you probably don't have the time or money to conduct individual interviews, a quiz can seamlessly arm you with the props to personalize your customer journey and remind customers that they're special in your eyes.
We already know that personalization works: 77% of consumers are willing to pay more for brands that provide a personalized service.
It's why startups like the skincare brand Tula use quizzes to learn about their demographics and generate product recommendations based on that data. For example, if a person takes a quiz titled 'How sustainable is your skincare routine?' they could reveal what skin type they have, what brands they currently use, how often they use those products, and how committed to eco-friendly practices they are.
Knowing these details means being a step closer to understanding your customers, and making suggestions that are fitting and wanted (even if they don't know it yet.) A particularly awesome trick to perfect your personalization efforts is to run A/B tests on your quizzes, where you show two different versions of the quiz at the same time and see which gets a higher rate of interaction.
The quiz variants could have different question phrasing, formatting or logic, and the metrics you track should show you what people respond best to, and therefore what should always be present throughout your quizzes. By constantly making data-informed iterations, you'll finesse your quiz and draw your users a little closer in.
Be the center of attention
Having an online presence is no longer optional for business – especially after a year of a global pandemic, the remote revolution, and digital tools being a core part of everyday life. But again, as humans we have our flaws, and constantly staring at a screen whilst being overloaded with information has taken its toll on our ability to focus.
The average online attention span is now only eight seconds, which is a tiny window for any business to make its mark, let alone a small business that has to be extra fast-hitting in order to be memorable.
If time is of the essence, quizzes are in the present (see what we did there?).
The beauty of small business quiz marketing is that companies can reach and engage with audiences quickly, there's no wasted time reading large chunks of text, and if your quiz is well-designed, it should give people the instant gratification they want. Experts say that the most impactful ones have six to ten questions, with three to five answers each.
Depending on your industry, it's recommended to use only three to five results per quiz, with each description having no more than five sentences.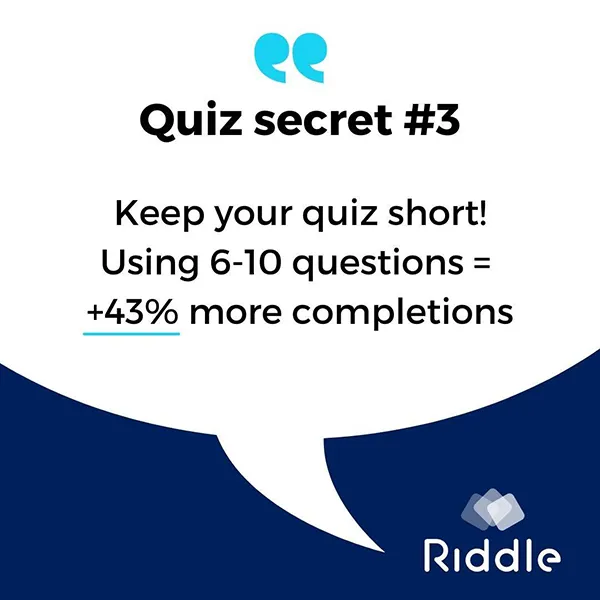 All in all, a good quiz accommodates lower attention spans by asking for minimal effort from participants (hence why questions are normally multiple choice) and by swiftly showing them the results (even if sent via email afterwards, the time between completion and delivery has to be short.)
It's not too dissimilar from standing in line at the bank. The less paperwork you have to bring with you, and the less time you have to wait, the happier you are with the experience.
Now, imagine that on your way out, the bank teller surprises you with some facts about your personality based on your spending habits. That'd be cool, right? A quiz is like that, but much more exciting (we promise.)
Get ready for a growth spurt
YCombinator founder, Paul Graham, claims that "the only essential thing [for startups] is growth. Everything else we associate with startups follows from growth." It's true – companies that can't expand in a sustainable way normally have storm clouds on the horizon.
But growth isn't just about revenue; for many small businesses, leads and customer acquisition are initially more important because they pose greater opportunities to form a long-term relationship with clients. That brings us back again to small business quiz marketing – it's a scalable, cost-effective way to engage (and convert!) your potential customers.
A quiz makes sense to gather leads because people voluntarily submit their information, so don't have any nasty surprises if you reach out to them. In fact, one consultant got a phenomenal 68% of her quiz takers to opt-in as new leads with her 'WoW Archetype Quiz'.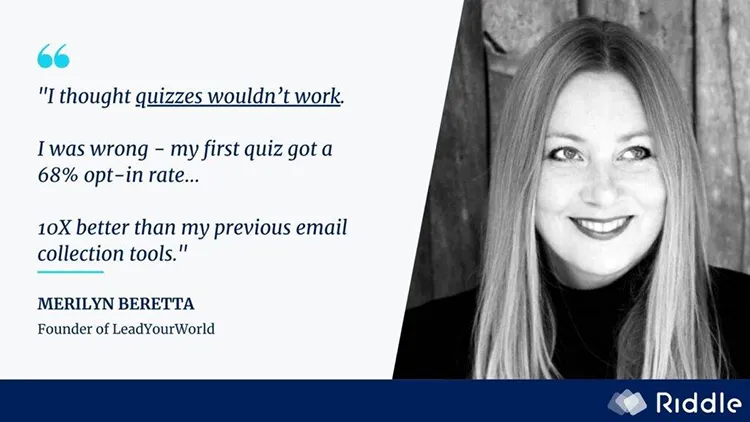 The information that people give via a quiz is also much more insightful than static data like a phone number or an address – quizzes give a personality to your customer, so you can treat leads like real people and not a name in a database.
Beyond leads, quizzes can help SMBs acquire and retain customers.
For instance, say a vegan cupcake brand makes the quiz 'What cake matches your Sunday mood?' and features questions about what time people wake up on the weekend, what activities they do, what films they watch, and so on. When Sunday rolls around, the company sends an email that immediately speaks to the receiver; something like 'How's the hangover? Is it time for a guilt-free red velvet yet?'.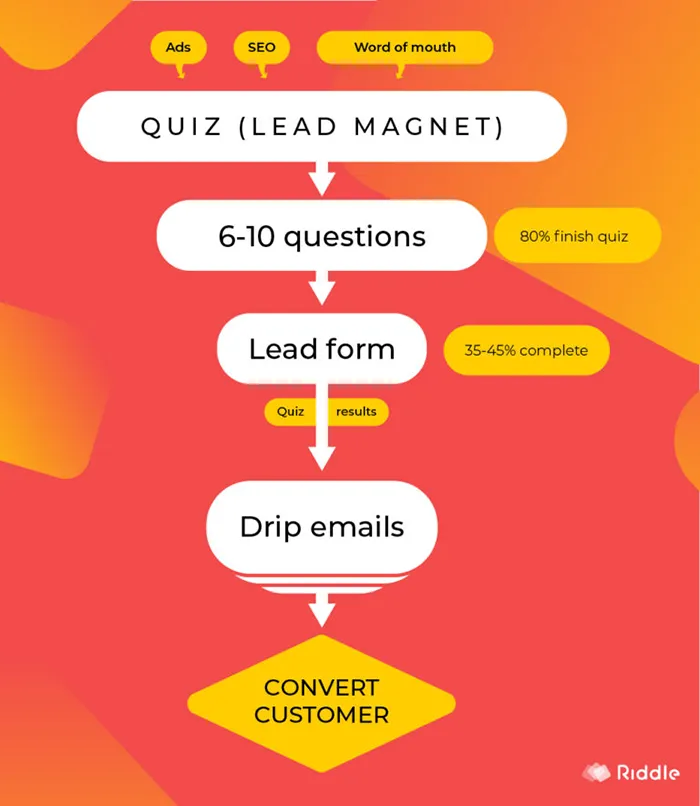 The email also has special offers that links directly to the red velvet cupcake section, or even to the checkout page with a box of red velvets preloaded.
By taking the quiz, the purchase process has been streamlined for the customer. They've been approached with something they actually want (because they've already said so) and have all the steps laid out in front of them to get it. This kind of pathway is ideal for businesses – it boosts the likelihood of conversions and creates loyal customers.
Wrapping things up
The small business grind is real, but while growing companies have to do a lot to prove themselves, they also have more flexibility to embrace alternative marketing techniques. Don't assume that what worked for companies before you has to work for you too.
Customers, businesses, and the world are constantly changing, and staying ahead of the curve means diversifying how you present your brand and converse with audiences.
Small business quiz marketing is a tried-and-true medium to grow a company without losing your integrity. You can reap the perks of scaling and really knowing your customer base, while also putting users in the driving seat. This more equal dynamic not only accelerates business growth, it actually helps construct better, more ethical businesses.
In summary then: RIP salesmen, welcome to the world small business quiz makers.
Any questions about quiz marketing?
We're big quiz (and support) geeks at Riddle – just ask us on support chat or at hello@riddle.com.
You'll often catch our cofounders – who race our entire team to be first to respond.
That means we're fast – really fast. You'll probably get an answer in under two minutes flat.