The need for first-party-data
First-party data is the Holy Grail of data collection for marketers. After all, first-party (AKA first party) is data that your customers directly (and voluntarily) give you, which allows you to gain deeper insights into who they are and what they do.
The challenge? Unfortunately, many marketers don't have any idea how to get this type of data in the first place.
Privacy regulations like the EU's GDPR, California's CCPA, and Canada's PIPEDA also make it much harder for marketers to collect audience data in a compliant matter. After all, many of their tried and tested tools such as using cookies to track users across multiple websites and apps are now either illegal or banned by tech companies (such as Apple's decision to limit tracking on their phones).
Before going into the top three reasons why you need to collect first-party data, let's take give an overview of first-party data, and is and how it's different from second or third-party data.
Before going into the top three reasons why you need to collect first-party data, let's take give an overview of first-party data, and is and how it's different from second or third-party data.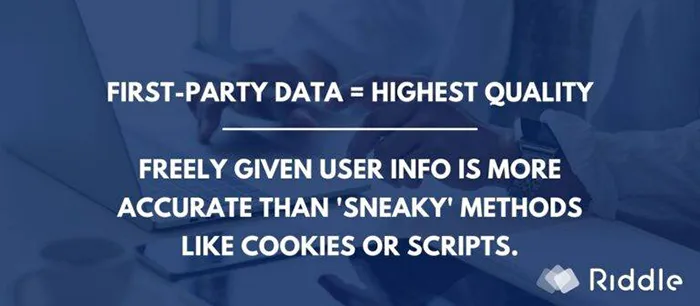 First-party data vs. second- or third-party data
Let's take a deeper look… what exactly IS first-party data?
First-party data – an overview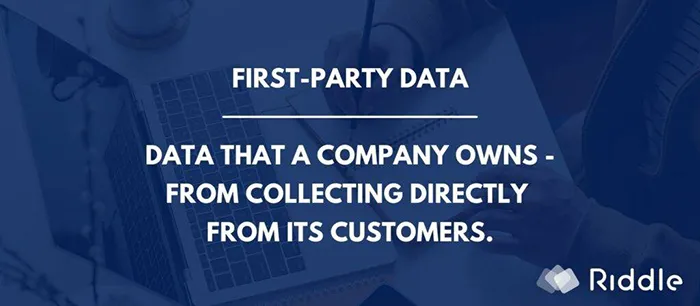 First-party data is data that is voluntarily provided by the end-user directly to the company. A good example would be a company conducting its own e-mail marketing campaigns – collecting the name, e-mail address, and other info from each user as part of their 'sign up for more information' opt-in process.
The big advantage is that the company now has direct control over the data and can use it – provided it's within the scope of the data usage declaration agreed to by the user.
The data usage declaration probably sounds like a bit of confusing legal jargon – it's required by privacy regulations like the GDPR. You need to clearly explain how you will use the user's data. For example, you can see how we do it at Riddle with our privacy policy – when users sign up for our online quiz maker:
"The data mentioned is processed by us for the following purposes:
To ensure a smooth connection of the website,
To ensure comfortable use of our website,
To evaluate system security and stability, and
For further administrative purposes."
Second-party data – an overview
Second-party data is data acquired from another party. Imagine company A acquires the data (as its own first-party data), then sells that on to company B – who wants to grow their marketing list and reach new users.
This data would now be second-party data. Businesses must always be cautious with this type of information since they are depending on the data provider. They need to ask questions like:
Is the data correct?
Can I rely on the provider not changing its terms and conditions at some point, for example, and prohibiting certain types of data use?
Can I really use the data in a legally secure manner as specified by the provider?
Be very careful – because when it comes to personal data (e.g. names, emails, addresses), when in doubt, it's the data user – not the provider – who will be liable. In our example – Company B (data buyer) would be more likely to be found liable than Company A (data seller/provider).
Let's walk through another example – where one company acquires first-party data from another company as a one-time purchase or a regular exchange:
Company A would like to purchase data set X from Company B.
For company B, data set X is first-party data, as the data was collected by the company itself.
For company A, data set X becomes second-party data, as the data was not generated by the company itself, but was only purchased by company B.
Company A is therefore the "second party". With general market research data, such an exchange or purchase is usually not a problem.
In the case of personally identifiable data (PII), you should be careful – it's not always clear that the original user gave consent for their PII to be transferred from the original company.
Third-party data – an overview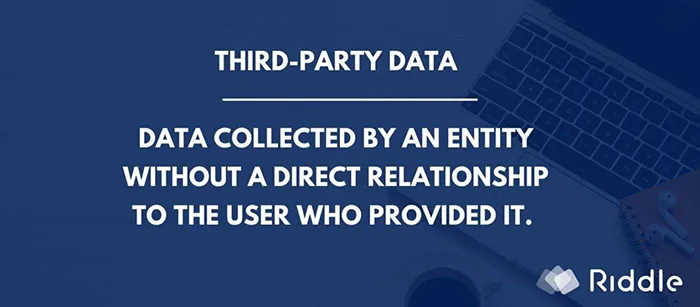 Third-party data is an entirely different beast. It's collected by an entity that does not have a direct relationship with the user the data is being collected on.
Organizations that specialize in this sort of data collection are often called data aggregators – good examples are Mobius and 3i Data Scraping.
Data aggregators don't collect data themselves; instead, they get it from other businesses and then combine it into a single dataset. As a result, this data might originate from a variety of sources (like Twitter or Facebook), some big and some small – and (most importantly), there isn't always a clear description of who the data belongs to.
So unlike second-party data, 3rd party data is not the other entity's first-party data.
Typically third-party data is data collected by DPMs (data management platforms). A DPM collects audience data by tagging pages with trackers that collect info on who visited certain pages and also by importing data from other sources. A DMP allows its users to segment audience data by activity and characteristics.
Caution: Non-Riddle quizzes often have trackers for third-party data
We can't stress this enough. If you're embedding content – especially interactive quizzes, polls, and surveys – on your website, watch out for sneaky cookies and scripts.
We have found many quiz providers to load their own trackers when you embed your quiz on your site. The popular online quiz and form builder Typeform for example loads 11 trackers and 72 cookies – including one from segment.com. This lets Segment to track how your users each answer your quiz and survey – then resell that data as third-party data to others. Not good: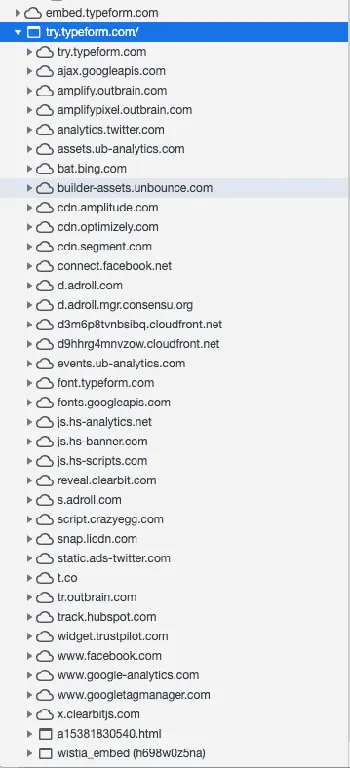 Breaking down first/second/third parties in this Typeform example:
First-party: you as the quiz creator, embedding your Typeform quiz on your site.
Second-party: another company you decided to sell data collected from your quiz.
Third-party: Segment.com – who is collecting data in the backgroun without your quiz takers' consent.
Why use Riddle to collect first-party data?
Online quizzes and personality tests are one of the most efficient ways to collect first-party data. They're great at catching your audience's attention, then you include an opt-in form inside the quiz before showing their quiz results.
Riddle.com is a completely different online quiz maker, by the way. We're 100% GDPR and CCPA-compliant – and we never add trackers or cookies to your quiz, personality test, or any other content.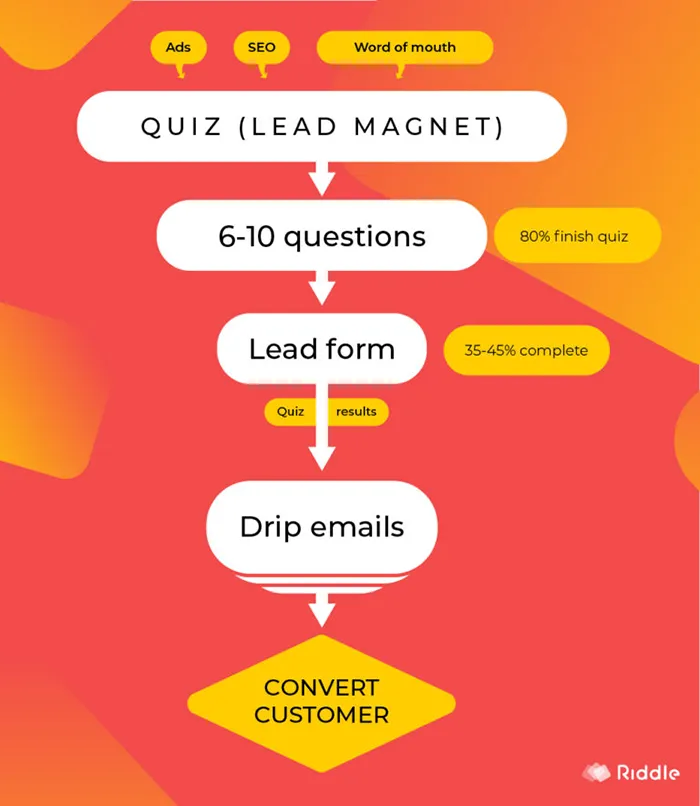 Traditional first-party data collection methods like the ever-present 'Sign up for our newsletter' pop-ups you see everywhere get about 2% opt-in rates.
Interactive content such as quizzes and personality tests, by comparison, achieve opt-in rates from 35-45% (or higher) – that's a 20X (or 2000%) improvement.
Sources for first party data
1st-party data can come from a variety of sources:
You could use an email marketing platform with built-in tools for collecting customer data.
Or you could incentivize customers with discounts or rewards when they sign up for your newsletter or download your app.
But, the best way to collect first-party data however is by using a quiz or personality test. We'll explain in more detail below.
Three compelling reasons to collect first-party data today
First-party data is the most accurate
First-party data is an incredibly valuable source of information for marketers. It differs from third-party data in that it's what the company has directly collected about its customers, such as their email addresses and purchase history.
This type of information is the most valuable because it was delivered directly from the customer to you, without any outside interference.
For marketers, first-party data is as accurate as it gets – it's a data set that's gathered from your own customers, which allows you to gain insights into who they are and what they do. It is given to you voluntarily.
So you'll know that all of the data is honest data, knowingly given to you by the end-user directly. This is especially true if you use a quiz or a personality test to collect first-party data with a lead form. You can collect the name, email, and other personal information – as well as the user's quiz answers – for deeper insights into each person's tastes and interests.
There's another key reason why online quiz data is the most accurate first-party data. People take quizzes, personality tests, and other content because they want to find out more about themselves – from "What kind of car should you buy?" to "Are you ready to launch your own business?".
For example, imagine you run a test "What is your ideal weekend break?".
Anyone who clicks and takes the quiz will naturally be interested in finding out what they should do that matches their personality.
They'll answer each question honestly – to get accurate results.
You can then use that data to email them offers that perfectly match their test result
Our Riddle quiz maker allows you to combine the answers from each quiz taker, plus their details (name, email) collected in an integrated lead form. And for extra levels of transparency, you can activate double opt-in with your lead form – requiring users to confirm they are comfortable sharing their data.
And for extra levels of transparency, you can include double opt-in with your lead form – which requires users to confirm they are comfortable sharing their data.
Double opt-in also has an extra benefit – it makes it almost impossible for bots and hackers to automate quiz responses. You can be even more sure that your quiz is collecting the most accurate first-party data around.
First-party data is the most privacy & GDPR-compliant
Any time you collect personal information – you're running a risk that the user comes back and complains about why you have their name, email, and other information. The only way to protect yourself is to keep a full record of their opt-ins, where they have clicked a checkbox saying "Yes, I agree you can contact me."
When you purchase second-party data, you might get assurance from the vendor that they got proper permissions to use and re-sell the data from each user.
But let's be honest, who gives conscious permission for their email address to be resold these days? Most often consumers are tricked into accepting lengthy terms and conditions that they don't read or understand – then they get grumpy and file a complaint when they get an email from you.
While you can lay blame on the data vendor, the legal trouble will be yours alone to deal with.
When collecting first-party data in a fully compliant manner, you get voluntary opt-ins and you also send out double-opt-in emails and only store data where the double-opt-in (DOI) has been given.
You can also make sure to have access to that data for deletion if the consumer requests that from you.
Riddle's quiz maker gives you full control and transparency.
You can use opt-in checkboxes in your in-quiz lead forms.
Activate double-opt-in emails as an extra opt-in for users.
Have access to data deletion tools for any data you store on the Riddle platform.
Furthermore, all data stored with Riddle is encrypted and backed up daily to ensure that data is neither stolen nor lost.
Collecting first-party data works on a tight budget
Getting third-party data through shared cookies, combining that with second-party data purchased from another vendor, and mixing it with your own first-party data sounds like the perfect combination.
But unless you are a Fortune 500 company with massive marketing budgets, you won't be able to pull this off.
But here is something you can do with your first-party data on a tiny budget that will immediately improve your conversions. (We're big fans of Ryan Levesque – you can read more about using his ASK Method for quiz marketing here.)
First, create a small poll, asking people something related to your product. For example, if you are selling hair products:
Create a poll asking "How often do you have a bad hair day?".
Maybe add a second question asking the customer about their type of hair (short, braids, …).
Then add an integrated lead form and collect their name and email, promising them a comprehensive summary of all the poll takers once the poll is completed. When loading the emails into your CRM (Mailchimp, AWeber, Active Campaign, or any other email marketing tool), make sure to add each user's answers to these two questions.
When sending out the poll results, segment the users their type of hair and include a link to a quiz into that email.
Create a quiz for each hair type – for users with braids, show them "Do you know these braid-care secrets?"
Include questions that give further hints to potential hair problems for which you have products that can solve these.
Repeat – and include links to ever-more targeted products in your shop. Braid users get braid care products, short hair folks get their own recommendations.
These simple steps will outperform any other campaign as you are collecting honest data from interested parties and you segment the data in a way that allows to you send relevant emails to your prospects. As you own the first-party data, you can keep sending out offers and additional content and further segment and qualify your leads. If you plan on implementing this method, we have an article going into more detail about building a quiz lead generation marketing funnel.
How to collect First-party-data
There are a few ways you can go about collecting first-party data. We've already touched on the most popular and easiest method – leveraging quizzes and personality tests.
Frankly, there's no better way to engage customers than by providing them with some entertainment or value. And remember, when customers take these quizzes, they're giving up their natural, freely given first-party data in return.
Rounding out the list – you can incentivize people to give their data through discounts or rewards when your customers sign up for your newsletter or download your app. You could also use incentives to collect more information from your target audience (e.g. "Take our marketing survey"), which will allow you to create more relevant content that resonates with them.
Collecting first party data with quizzes
When a customer takes a quiz or a personality test, they're providing you with unbiased first-party data. Quizzes and personality tests provide value to your customer by giving them the opportunity to learn more about themselves. You can use this as a lead generation tool by creating a quiz that shows how your business can help them reach their goals.
Quizzes like "How cyber-secure is your business?" or "Are you (really) financially secure?" are strong lead magnets – they draw interested people into taking them. Then, you can to demonstrate your expertise through insightful quiz results, and suggest they fill in a lead form so you can continue the conversation.
As people complete your quizzes or personality tests, they'll be handing over personal details that allow you to collect first-party data without any bias whatsoever. Additionally, these types of surveys are an excellent way to generate leads and grow your email list. Quizzes and personality-type assessments should be distributed on social media and marketing emails as well as within your own website.
Drawbacks: You'll need to design the quiz or assessment properly so that it provides value for the customer while still gathering the type of data you're looking for. Additionally, some customers may not answer questions truthfully due to privacy concerns so it is important to leave room for follow-up questions such as "What other questions would you like me to ask?"
Collecting data with offers
Offers are a great way to incentivize customers to provide you with first-party data.
When you're running an offer, make sure that it's relevant to your audience and the type of data you want. For instance, if you want to collect email addresses for your marketing efforts, then you should offer discounts on your products or services. If you want to collect information about their preferences (e.g. "What is your favorite color?"), then offer a one-time discount for signing up for your newsletter or downloading an app.
The best thing about offers is that they provide value. Customers don't feel like they're giving up their information in exchange for nothing (or worse yet – spam). Instead, they feel like they're receiving something of equal value in return – which is priceless!
Collecting data via sign-ups
Another way to collect first-party data is by giving your customers an incentive. Offer them a discount or reward in exchange for signing up for your newsletter or downloading your app.
You've probably seen this on your smartphone – with Deliveroo offering free delivery to new customers who download their app.
This is one of the best ways to collect first-party data because it provides value to the customer while giving you valuable insights. Additionally, this type of data is unbiased because it's coming directly from the customer themselves.
Now, when you want to design an email marketing campaign, you won't need to guess what information people are interested in. You can instead use your own data set to create more personalized emails that engage with your audience more effectively.
Use online quizzes to collect first-party-data – Conclusion
Marketers across the globe are investing more time and resources into collecting first-party data. As a result, the trend of collecting first-party data is on the rise. This data can be collected in a number of ways:
Quiz-powered: One of the most popular ways to collect first party data is through a quiz. A quiz could be a single question, a series of multiple choice questions, or an interactive experience that asks users to answer questions and fill out their preferences.
Offers and discounts: The next most popular way to collect first party data is through offers. Offers are typically one-time discounts or giveaways, or something that can be redeemed for points or rewards.
Sign-ups or app downloads: Our final recommendation to collect first-party data is by collecting it through sign-ups or trying out an app or service. Collecting first party data is an effective way to gain insights on your customers and create future marketing strategies. You can read more about the marketing of the future using first party data from the popular, privacy conscious Google Analytics alternative Piwik (formerly Matomo).
There you have it – our overview about all things data collection-related, from first-party to second- and third-party data.
You can probably tell from the post – but we're big fans of first-party data collection. It's fair, provides value to both users and marketers, and avoids many of the legal worries and potential liability involved with third-party data.
And most importantly – first-party data is the highest quality data available, directly collected from each user. Smart marketers use this rich information to deliver the right promotion or message to the right user at the right time – for better conversions AND free from worry about any GDPR/CCPA/PIPEDA privacy violations.