5
min read
Looking back on 2018, we've added one heck of a lot of quiz maker features. The year passed by in a blur – so we thought we'd to take a moment to look back on the year… to breathe, reflect (and drink more coffee) – then wrap up all the quiz maker features we added to Riddle in 2018.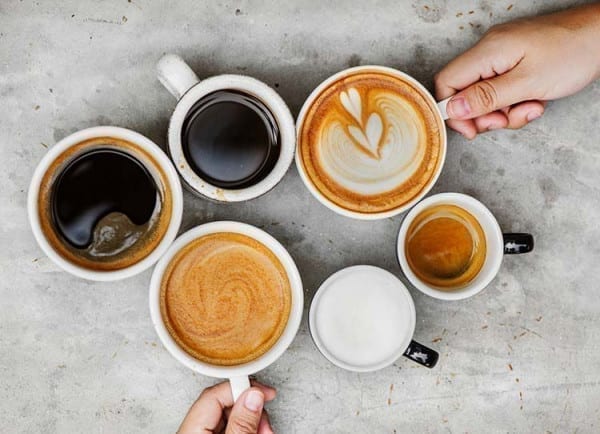 (And heck – why stop there? We're already planning for the new year – so you get a sneak peek at the quiz maker features on tap for early 2019!)
---
Quiz maker features: lead generation & GDPR
Right – 2018 was definitely all about the EU's GDPR. This sweeping data privacy regulation affects companies worldwide – and for our customers' peace of mind, we added a whole heap of quiz maker features to make our quiz maker fully GDPR-compliant… well in advance of the May 25 deadline.
We completely changed almost every aspect of Riddle including:
Converting from a US-based inc. to a German AG company

Moving all our servers to a top-tier EU server facility

Naming one of Germany's top data privacy lawyers as our data protection officer

And dozens more
Lead generation 2.0
By far, the biggest change for our users was the launch of our lead generation 2.0 – our super-flexible, drag and drop lead form builder.
With 16 types of data fields, saveable templates, and loads of data connection options – we've made it easy to automatically collect from your leads directly – and send to your email marketing tools.
No personal data need ever touch Riddle's servers – which means one less thing for your data privacy folks to worry about.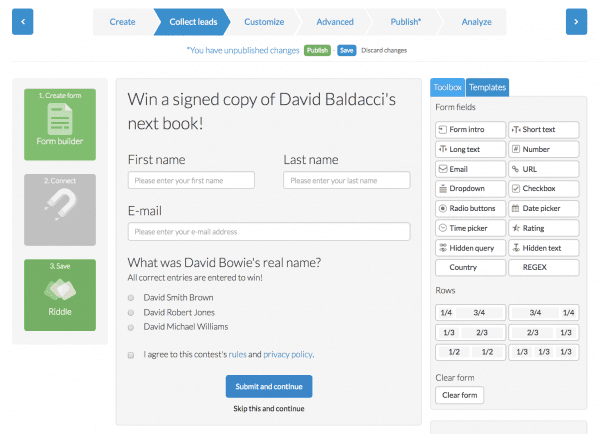 Google Documents integration
Sure, it's great to send leads directly to MailChimp or any other email tool. But lots of you love to also collect your leads as a easy to use spreadsheet.
We added Google Sheets as one of our quiz maker features – so again, all your quiz data can be sent to your Google Account. It's easier – as there's no need to keep downloading CSV/XLS files with new leads.
But most importantly, it's GDPR-friendly – no personal information from your leads or quiz data ever touch Riddle's servers.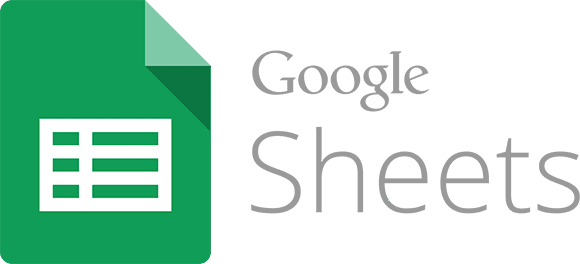 CSS overrides
We were pretty chuffed to get this feedback for our hard work from Adam Gillett – Digital Engagement Manager at Which?:
"Loads of flexibility, great CSS overrides, great integration with Zapier, and amazing customer service. Actually, one of the best customer service platforms I have ever had the pleasure to use. I could not recommend Riddle any higher."
---
Quiz maker features: new quiz types
Okay, sure, shiny new lead generation tools are all well and good – but we also kept adding new and innovative quizzes. After all, more quiz types = more ways you can engage, educate, and entertain your audience.
Tap and Find:
We collaborated with the BBC Children's team on this picture search quiz type – especially with today's increasingly smartphone-loving audiences. It features two types of questions:
Spot the Difference – challenge users to compare the differences between two images.
Image search – upload and place 'hotspots' on each picture, so your audience will tap on the correct 'spots' in each image.
Just like the rest of Riddle's quiz maker features, your 'Tap and Find' quiz will be highly customizable.
Choose how many chances users have to guess answers correctly, customize icons, clue hints, and more. Want to see one in action? Check out this example Tap and Find around Riddle's favorite rock stars Queen.
Order It:
Another new quiz twist – our 'Order it' lets you challenge users to arrange answers into the correct order. Super flexible, your quiz could be chronological ('Rank these Star Wars movies by release date') or anything else ('Arrange these players by height').
Just like Tap and Find, you can give hints, customize lives, and more. Here's an example we whipped up around the NFL's Oakland Raiders.
Quiz templates:
We have a lot of quiz types – which is awesome, but can also be a little intimidating.
To help, we added a 'templates' section as one of our quiz maker features – chock full of examples of all our 12 types of quizzes (and counting). Now you can pick your use case – and see which quiz types we recommend (e.g. showing only all our poll types for 'Give users a vote').
See one you like? You can copy that directly to your account – and easily customize for your own needs.
---
Quiz maker features: quiz customization
We totally get it. Your quiz is as unique as your website – and you want it to look perfect. We're always adding more and more ways to customize your quiz – here are the quiz maker features that 2018 brought:
Quiz timers – get your users' adrenaline pumping with a time limit on your quiz. Set an overall quiz time limit ('60 seconds to answer 8 questions') or a timer for each question ('5 seconds per question').
Unrolled quizzes – instead of one question per page, you now have the option to display your questions in long scrolling format… perfect for smartphones.
Random question and answer order – keep each quiz replay fresh and shuffle question and answer order.
White labelled showcase – have a great quiz but don't want to embed on a site? Now all your quizzes can be viewed in a completely white labelled environment (

like this example

).

Custom logo options – add your own logo to your quiz footer, then set the size, location, and alignment.
---
Quiz maker features: back-end systems stuff
Sure, they might not as glamorous as new quiz maker features like quiz types or lead generation enhancements – but our ace tech team has continually improved Riddle's systems for better performance and flexibility with your data.
JSON webhook – use our webhook to send all your quiz data and leads to any software. We improved it this year by sending all data as a JSON array – much more flexible.
Manage/delete leads – an important feature of GDPR is the 'right to be forgotten' on request – deleting all personal information from any EU-based users. We added a tool to make deleting your leads and their quiz data easy.
31 other tech improvements – our dev team seemingly never sleeps. They upgraded a range of our software for the fastest, most secure quiz maker on the planet
---
Quiz maker features: coming in early 2019
Hey – we're not ones to ever be satisfied; there's always a million and one quiz maker features we'd love to add to Riddle.
But here's a sneak peek into just a sampling of features we're looking to add in first six months of 2019:
Flexible poll voting – set limits how often each person can vote (once, daily, weekly).
Stand alone lead forms – folks love our lead forms; soon you'll be able to use them outside a quiz anywhere on your site.
LinkedIn integration – easy social sharing of quiz results on the world's #1 career social network.
Rich text questions/answers – another popular request, soon you'll be able to add line breaks, bullets and all sort of rich text options to every text field (including questions and answers).
Flexible quiz points – more nuanced scoring for quizzes. Instead of one point per question, you'll be able to say Q1 = 1 point, Q2 = 5 points, and so on.
Animated GIFs as streamed videos – GIFs are super popular in quizzes. But they're memory hogs. To speed things up, we'll stream your GIFs like video, so no need to try and upload them all at once.
More quiz layouts – we're adding different quiz 'looks' to give more creative control to you, designed to minimize scrolling on smartphones.
New dashboard and quiz statistics – view and compare quiz stats across all your teams, by date range, geo, device types, and more.
Time in quiz tracking – quizzes are great at engagement; soon you'll be able to see how your quiz keeps your visitors engaged on your site.
Branching logic across all quiz types – ask different questions to each user, depending on their previous answers for a more flexible personal quiz experience.
Question bank – loads of folks asked us if they could upload quiz questions with an Excel file. This new quiz type will let you randomly display a new set of X questions every time a visitor comes to your site. One quiz – infinite variations.
---
Phew – that was one long post… we're pretty pumped about all the quiz maker features we've added in 2018.
Did we miss any features you need? Please let us know – either via support chat or email at hello@riddle.com – most of our best quiz maker features come from you and all our other users!
PS. We've also redesigned our home page – take a look below. It's the first step towards a much cleaner, even more intuitive quiz maker. Stay tuned!