2
min read
Whew – what a year… 2017 was incredibly good to us at Riddle:
57 extra features

Four additional quiz types

Hundreds of amazing new partners
And through it all, we've been continually humbled by the continual support, ideas, and all-around great vibes from our community.
Now, we've taken another big step as a company – from January 1, 2018, we've moved from being the US-based "Riddle, Inc." to the German-based "Riddle Technologies AG".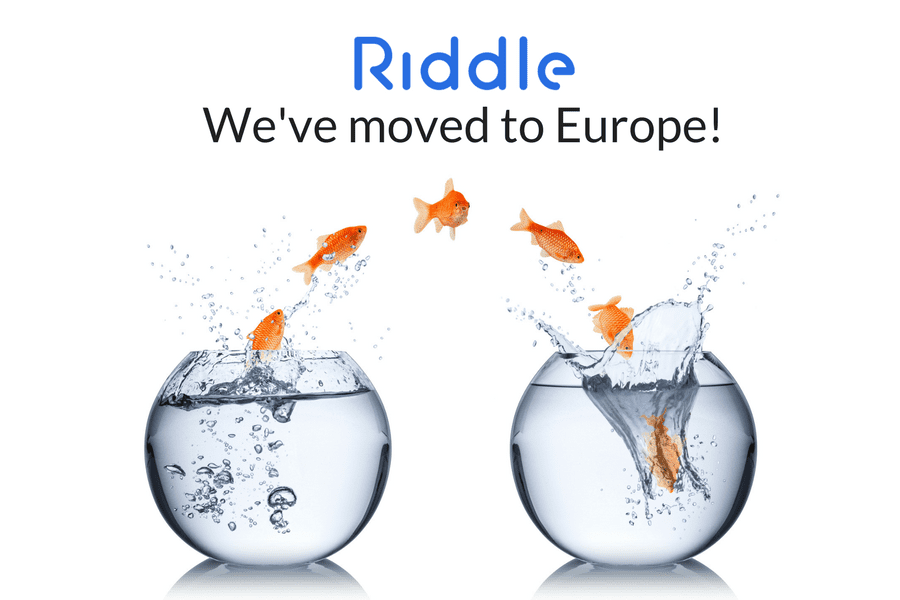 Why the change?
Starting May 2018, the EU's new privacy regulation (the GDPR) will go live. (Haven't heard about it? Check it out here.)

It's a huge change to online privacy – the implications are just now becoming apparent.

The GDPR affect any company around the world who serves online content to EU citizens – with huge fines for non-compliance.
As part of making Riddle one of the world's first GDPR-compliant quiz makers, we moved to the EU. Ou team knew that being based in the EU makes it much easier to comply.
What does this mean for you?
As a member of our Riddle community, you won't notice many changes – but here are the highlights:
Peace of mind – Riddle's quiz maker is one less thing for your legal teams to worry about with the GDPR
Local pricing – any new customers will see their plans in their local currency (USD, EUR, or GBP). All of our existing members will see their plans continue at their current rates.

For example, you're a British customer who signed up for our PRO plan at $49 in 2017. That will continue.

New customers will see pricing at £49 a month (including VAT) – our old prices did not automatically include VAT.

VAT included pricing – German law requires that we show pricing to any new Riddle customers from the EU that includes VAT.

A Danish customer signing up for PRO will see 49 Euros. This price will include the 25% VAT.

If you are a business residing in the EU, you should enter your company's VAT ID – and have the VAT deducted automatically.

UPDATED September 8, 2021: Riddle pricing now excludes VAT for EU customers.

If you are an EU business with a valid VAT number, you can enter that – and have VAT automatically excluded (e.g. A French Pro monthly customer would be charged 69 euros)
If you are based in the EU, without a VAT number, VAT would be added (e.g. The same French Pro monthly customer would pay 82.80 euros – which would be 69 euros plus 20% VAT [13.80].)

New privacy policy – the GDPR will require companies to be very clear what online data they're gathering, plus how (and why) they're using it. We've updated our privacy policy to reflect these changes.
What's coming in 2018…
2018 is shaping up to be another great year for our quiz maker as well.
We're just weeks away from releasing Quiz Lead Generation 2.0 (beta) – a drag/drop form builder that easily connects to CRM tools, Google Docs, and more.
Here's a sneak peek:
Plus…
More quiz types

More quiz features

More all-around quiz awesomeness
We're pretty pumped about what's coming… if you have any questions about how this might affect you, please drop us a line at hello@riddle.com and we'll get right back to you.
Happy Riddling,
Mike
Co-founder