What is a quiz?
Riddle's quiz creator makes it easy to ask a series of questions with a quiz - each with a right or wrong answer.
There's no limit to the number of questions (although we find six to ten to be the engagement 'sweet spot'), and you can choose from single answer, free text, or multiple choice. People love a challenge - use Riddle's quiz maker to educate or entertain your audience.
Why create a quiz for my site?
Grow your audience - quizzes are the most viral shared content (AdWeek)
Engage your visitors - visitors who take a quiz stay 37% longer on your site
Run contests with timers - 'get 90% on our quiz to be eligible to win!
Get more leads online - include a lead generation form, and then qualify each sign up based on their quiz answers.
The NBA's Chicago Bulls use quizzes to boost their fans - check out this live example: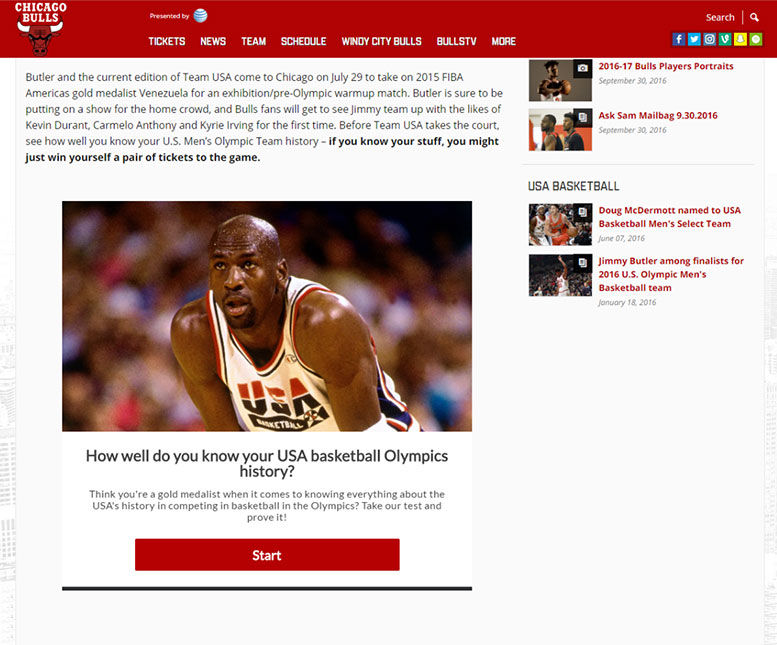 Click to see a quiz at the Chicago Bulls
Live quiz in action
We whipped up this quiz around all things superfood-related. It's a good use case how creating a quiz can work as a lead magnet:
You grab visitors' attention with a compelling title and cover image.
Engage them with 6-8 questions (using GIFs, images, and videos)
Show them your lead generation form before their results - achieving up to 45-55% opt-in rates.
All your quiz leads can be automatically sent to your email marketing tools (like MailChimp or HubSpot) or saved as a Google Sheet (learn how) so you can send personalized follow-up messages around their quiz results.
Is it easy to make a quiz?
Riddle's quiz builder is intuitive and simple to use - no coding skills necessary. Your first quiz can be live on your site in just a few minutes.
On Wordpress? Our quiz creator works seamlessly in the Wordpress CMS. You can create, edit, and publish quizzes using our Wordpress plug-in.
Want to add images, videos, audio, and GIFs?
Make a quiz that shines - use our online quiz creator to easily add images, animated GIFs, videos, tweets, and more:
Pexel images
Giphy - search and use animated GIFs
YouTube videos
MP3 audio - perfect for an audio quiz
Google image search
MP4 video - add your video clips directly
Twitter
Upload your own pics or animated GIFs
Collect leads online (emails and quiz responses) with a lead generation form
Show your lead form before the user sees their results (when they are most likely to give their details)
Ask for name, age, email - up to five fields of data
Create a form using our form builder or use yours from AWeber or MailChimp
Paste in your own forms, ads, or other content using our In-Quiz iFrame
Connect to any email marketing tool - no coding required
Collect leads online - then send (along with their answers) to your CRM system
Native integrations with your AWeber, Blue State Digital, and MailChimp accounts
Connect ConstantContact, MailChimp, Marketo, SalesForce or any of 1400 other platforms via our Zapier app or webhook.
Create a quiz-powered marketing funnel
Each user naturally answers quiz questions.
Segment each lead by their responses (ex. Anyone who gets result A or answers #5 with 'b' is a hot lead).
Automatically send personalized follow up messages - based on their quiz results.
Riddle's test maker can be your own powerful marketing funnel.
Check out more examples built with our quiz maker:
We admit it - we're big quiz geeks at Riddle, and love seeing how our community of brands, publishers, and more use our online quiz creator. These are some of our favorites:
Can I customize my quiz?
Making a quiz is just the start. We make it super easy to then customize your quiz. Choose the perfect colors, styles, fonts, and more - so your quiz seamlessly matches your site's look and feel.
Want to white label your quiz? With our Pro or Team plans, add your logo (or your clients') or choose to hide the Riddle branding. Fully customize the CSS of your quiz to change buttons, borders, and any other visual element to seamlessly blend it on your site - as well as matching your site's font through Google Fonts, Adobe TypeKit, and more.
Why stop there? All our quiz maker plans offer you over 50 customizable options, including:
67 languages: We support right to left languages and all characters - from Mandarin to Arabic, Finnish to Hindi.
Customize button text strings: Change everything from the 'Play again' button text to all the strings in the lead generation form - match your site's tone of voice.
Hide start page: Boost start rates by hiding the start/title page - and display question 1 to every visitor.
Social share: Modify the share messages for each social network users will send after each quiz. Use different messages and hashtags for Facebook, Messenger, WhatsApp, LinkedIn and Twitter.
Delay answers until end of quiz: collecting leads online? A good way to boost conversions is to show correct answers only after the user completes your lead form.
The Chicago Bears score with our quiz maker:
As a professional football team, the Chicago Bears engage their fans with weekly online quizzes - before each week's game, like this Cardinals vs. Bears match up:
Why are online quizzes so effective?
As humans, we all love to show off a bit - and prove to our friends how much we know. It doesn't matter the subject - it could be about anything from cats to coding, cars to cooking. Quizzes are proven winners at getting people to click, to stay on site, and to share their results with your friends.
And keeping and growing your audience is just the start.
Quizzes are a perfect marketing tool to grow your business. You can leverage our online quiz creator to include key questions in each quiz - that will qualify each person as a potential lead.
Imagine you're a mortgage broker and you build a "Fact or fiction: Home Buying Myths" quiz. Question #3 could be "It's better to go directly to your bank for a mortgage."
You could then tag anyone who answers 'True' as a hot lead. As part of your quiz maker marketing funnel, they would receive your automatic follow up message showing why your mortgage broker services would be so helpful.
Have questions about how to make an online quiz?
We love to help out - so please ask us anything from quiz making to lead generation on support chat or via email at hello@riddle.com.
We're big customer service geeks - and race each other to respond first!
The best online quizzes are quick interactive content experiences - with 6-8 questions and 3-4 answer options.
They're designed to be completed in three minutes or less - for example, when people are waiting for the bus or during a commercial break.
Got a super-focused or committed audience? Add more questions! For example, the pro basketball team Chicago Bulls had a slam dunk with their hardcore fans with their 30 question "The World's Hardest Chicago Bulls Quiz!".
Read our in-depth guide for creating an effective online quiz.
Spend as much time on your quiz results as your quiz questions. We call it the 50/50 rule - it can be tempting to just show the quiz score ("You got 8 out 10!").
But the best online quizzes craft clever, funny, or sassy quiz results for all their quiz takers.
Imagine you created a quiz around computer skills - with three quiz results. You could create titles like these:
'Uh-oh, looks like computers aren't your best friends!'
'Not bad - you know your mouse from your mobile phone, but you're not an IT geek (yet)!'
'Wow - you're a bonafide IT guru... a hero to your friends and family!'
Write a few lines around each quiz result, explaining their skills (or lack thereof) in more detail.
We recommend 3-5 quiz result types for each quiz, which will give enough variety for your audience.
Remember, the object is to get quiz takers to want to share with their friends - driving more traffic to your quiz.
First off, spend as much time and effort writing a title - as you do writing your questions. Your title is what catches people's attention - and gets them clicking.
Use "YOU" or "YOUR" - personalize your quiz titles to get up to 50% more quiz takers. For example, look at "What's your IQ?" to "Take the IQ test" - see how more engaging 'your' can be in a title?
Short titles work better - limit your online quiz title to 6-8 words and no more than 60 characters.
Challenge your quiz takers - add emotional words like 'actually' or 'really' to get more quiz starts. Compare these two titles: "What do you know about stocks?" to "What do you really know about stocks?" See the difference?
Use odd numbers (not even): Quiz titles with odd numbers get 20% more clicks ("7 questions you won't know about Friends" compared to "10 questions you won't know about Friends").
Check out this list of 143 effective quiz titles - complete with links to live quiz examples.
Definitely - quizzes with pictures or other media do 56% better than text-only quizzes.
It makes sense, because today's online audience demands more than just words on a screen. They want a more immersive multimedia experience.
For best results, we recommend our 50% / 25% / 25% rule for quiz images:
Pictures: use in 50% of your questions
Text-only: no more than 25% of questions
Video/audio/GIFs: the remaining 25%
Follow these quiz image guidelines to get more people to finish your online quiz. More quiz completions mean better results, with more social shares to boot.