What is a personality test?
The most viral of our online quiz maker's formats - personality tests are all about discovery.
Personality tests aren't about right or wrong answers. Instead you make a quiz that gives each user an overall result based on how they responded.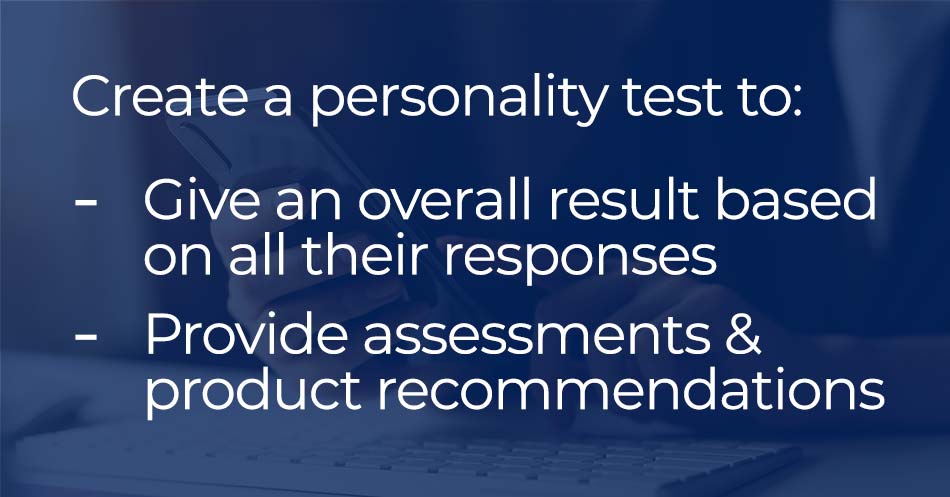 (For example, in our "What's your management style?" personality test, your users would answer eight questions - and learn about their matching leadership style.)
You can use our personality quiz builder for a wide range of use cases:
Product recommendations ("Which car should I buy?")
Consultants, life coaches, therapists ("How stressed are you?")
Audience engagement ("What movie character are you?")
Why create a Riddle personality test for my site?
It's easy to use our personality quiz maker to:
Grow your audience - personality tests and quizzes are our quiz creator's most shared content.
Engage your visitors - on average, visitors who take a personality test stay 41% longer on your site.
Gather more (& better!) leads online - add a lead form to your personality test to qualify and segment each user based on their test results.
See below how the global restaurant chain Nando's used their "What kind of Nandoca are you?" personality test to get more applicants to join their team:
How to make a personality test?
We've made creating a personality test super easy with Riddle's online quiz maker. You don't need to be a programmer - there's no coding needed. You can go from quiz making to publish your first personality test on your site in just minutes.
Simply type in your questions and answer - then use Riddle to search and embed the perfect images, YouTube videos, animated GIFs and more.
Press 'publish' - then just copy and paste our embed code into any post or page within your site.
Fully responsive online quiz creator - your test will automatically resize to look great on any size screen from smartphone to desktop.
Read our guide about how to build a personality test - full of our tips and best practices around how to make a personality quiz bases on psychology.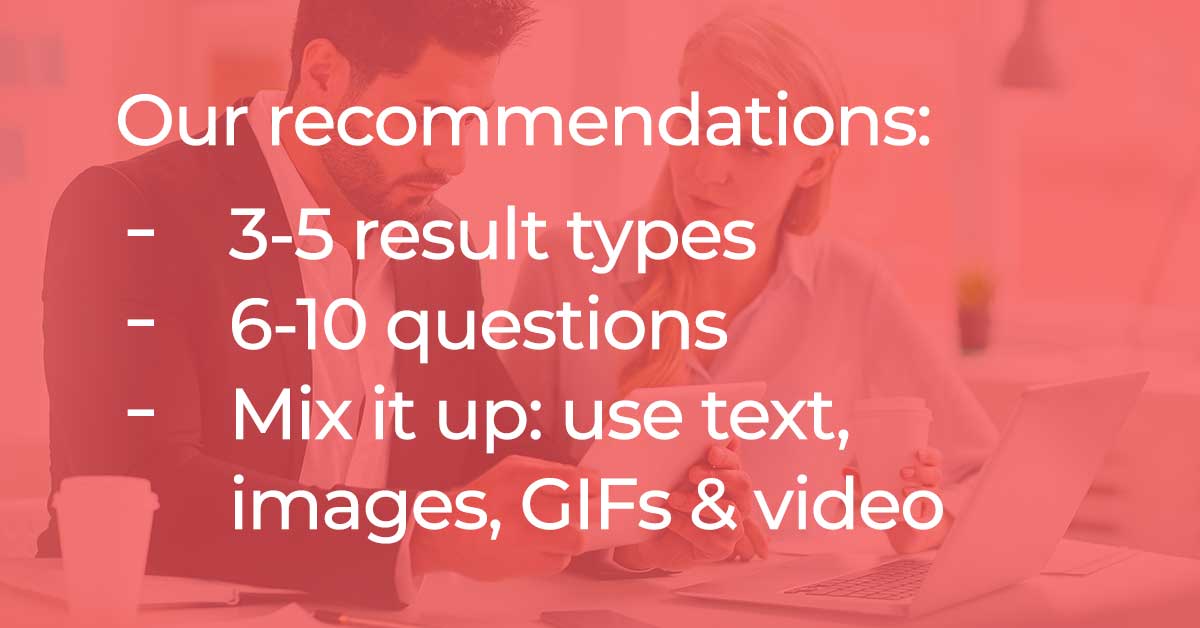 Are you a Wordpress user? Our personality test maker's Wordpress plug-in lets you create, edit, and publish quizzes to your posts or pages.
Images, videos and animated GIFs - oh my!
Pictures and rich media can dramatically improve your personality test's effectiveness. You can use our personality quiz builder to easily find and use the perfect image, audio, or video clip from within our platform:
Google
Giphy
YouTube
Vimeo
Instagram
Pexel images
Facebook
Twitter
Upload your own photos or animated GIFs
Upload MP4 video files
Upload MP3 clips for an audio quiz
Collect emails and personality test responses with a lead form
Use our quiz creator's powerful drag/drop form builder to gather leads online - or use a form from your own CRM tool such as MailChimp or AWeber.
Display your form between the last question and the user's results - when they're most emotionally engaged, and most likely to complete the form. (Learn more)
Gather their name, email and other interesting data.
Insert videos, ads, or your own forms with our In-Quiz iFrame.
Double opt-in supported and a GDPR-compliant quiz maker.
Highly customizable - mandatory or optional forms, 16 field types.
Make a quiz, then copy/paste forms from any marketing tool using our In-Quiz iFrame.
Send custom personality test report to every quiz taker
Taking the quiz is just the start - when you build a personality test, you are starting a conversation with each quiz taker.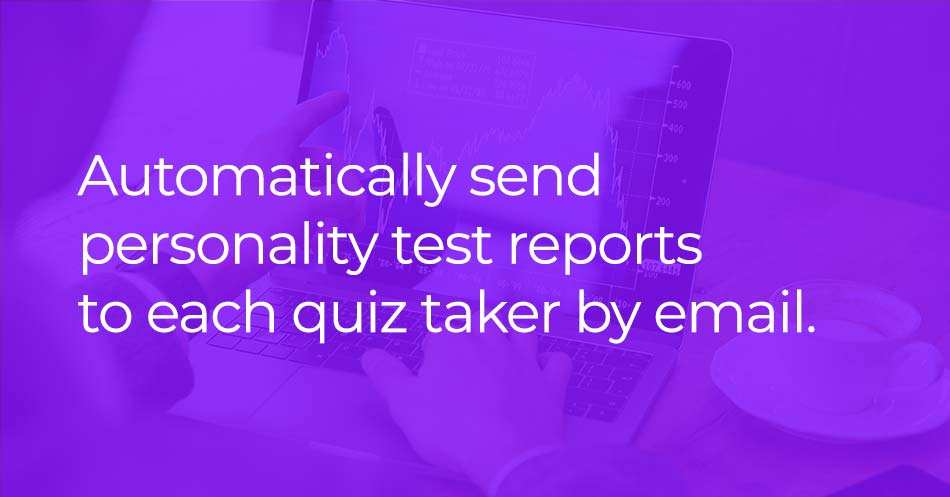 Ask your audience - qualify your leads
Send leads and responses from Riddle's quiz maker to your marketing software tool.
One-click integration to your MailChimp, Blue State Digital, or AWeber accounts.
We support any CRM - seamlessly send all leads to Marketo, SalesForce, ConstantContact, MailChimp and all other providers through via our Zapier app or our webhook options.
Segment each lead according to their answers (ex. Anyone who gets result A is a 'hot lead'.)
Power your marketing funnel - send personalized follow up messages through your CRM based on each lead's personality test results.
Live personality quiz example from Choice Hotels
Take a look how Choice Hotels used our quiz maker to extensively customize their "What kind of travel boss are you?" personality test. From uploading their font to tweaking the CSS, this personality test fits perfectly with their branding:
Can I customize my personality test?
Absolutely - you can use our online quiz creator to seamlessly embed your personality test to your site. From colors to fonts to styles, choose the look and feel of your personality test to suit your brand.
Your personality test can be completely white labelled with our Pro or Team plans. Hide all Riddle branding, and add your own logo (or your clients').
All our test maker plans feature over 50+ customization features, including:
Boost start rates by hiding the start/title page - and display question 1 to every visitor.
Customize button text strings - Change everything from the 'Play again' button text to all the strings in the lead generation form - match your site's tone of voice.
Social sharing on Facebook, Twitter, LinkedIn, Twitter, & more - Modify the share messages for each social network users will send after each quiz. Use different messages and hashtags for Facebook, Messenger, WhatsApp, LinkedIn, and Twitter.
Gate off answers - Using a lead form? A good way to boost conversions is to delay showing correct answers only after the user completes your lead form.
Want complete creative control?
Why are personality tests so effective?
Personality tests are the most viral and engaging option with our online quiz creator.
Why? People love to discover something new about themselves - then share that with their friends. The geeky term for this cycle of discovery and sharing is narrative psychology - we love to find out "Who am I? Who do others think I am? And who do I want to be?"
When making a quiz, the subject doesn't really matter - the process of guided discovery is irresistible. We've seen personality tests work for topics ranging from the serious "Should I become a coder?" to the lighthearted "Which cat is your feline soulmate?".
The bonus? Engaging your audience and attracting their friends is just the beginning.
If you're looking to collect more leads online for your business, gathering emails via personality tests is a natural combination.
After all, each person naturally will give genuine responses as they take your quiz - so they can learn what the test means to them.
This gives you unique marketing insights to see if each person might be a potential customer for your business.
Imagine you run an adventure travel company. You make a quiz with a lead generation form called "What your travelling style?" that includes two questions:
How many times do you travel each year?
Would you rather stay in a luxury hotel or camp in a tent?
Every person who answers "3 times or more" and "camp in a tent" could be segmented as a good lead.
You can then use Riddle's quiz maker to power your marketing funnel - setting up automatic follow up marketing messages, centered around each person's responses.
For those adventure travel types, you could include a list of your upcoming expeditions, as well as an offer for a free one hour vacation consultation to help them decide on their next challenge.
Best of all? Starting with a fun quiz, the entire process seems natural and 'non-spammy' - so you have a better chance of adding them as a happy customer.
Got a question about personality tests?
Ask away - we're super fast to help out with any questions about our quiz creator.
We like to think we've created the best tool to create a personality assessment - and we're full of tips. Whether you're asking how to make a personality quiz based on psychology - or just need advice on crafting compelling quiz results, we're here to help.
And it's just not just hot air - you'll see our entire team at Riddle, from our CEO Boris down, race each other to answer your message first.
Contact us through support chat or email at hello@riddle.com. Look forward to chatting with you!