Hey - we get it. Agencies face a tough balancing act - exceeding client expectations happy while battling tight resources and timelines.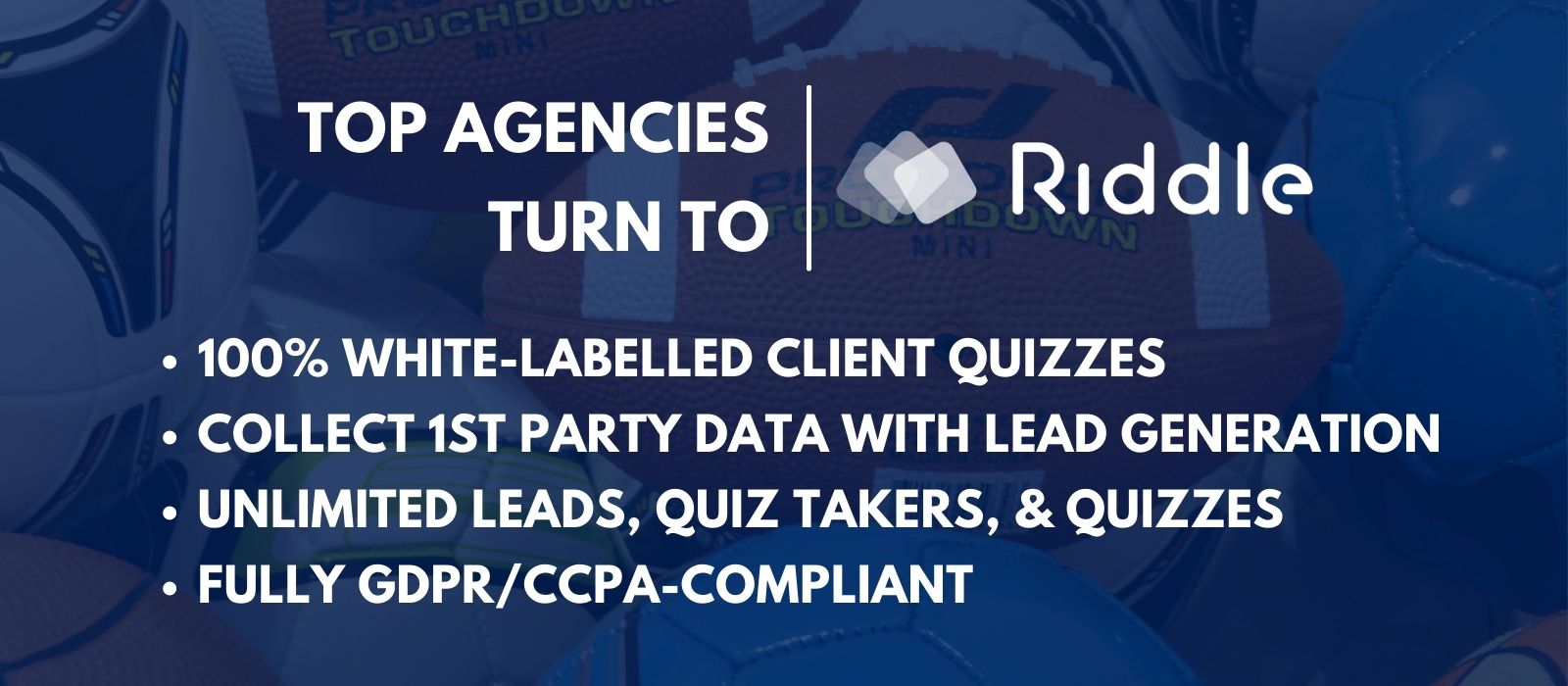 That why we created Riddle - to deliver beautiful interactive content with our online quiz creator for your campaigns in minutes.
Best of all? Works out of the box with any CMS, with zero coding.
First party data collection - add quiz making and lead generation to your agency's superpowers.
Wow your clients - create a quiz that engages fans, gather emails and leads online, and kickstart a social conversation.
100% white-labelled - collaborate as a team to quickly create 14 types of client-branded quizzes, polls, and other juicy interactive content.
EdenFrost Communication's clients love quizzes
Amsterdam's tourist board turned to EdenFrost for help crafting a clever, original campaign to get tourists excited the city's vibrant music and arts scene - especially outside the crowded city center.
The solution?
This charming, quirky "What's your perfect Amsterdam festival?" personality test from "I Amsterdam" - encouraging visitors to explore Amsterdam's 300 annual festivals.
Make 15 types of interactive content - quizzes, polls, personality tests, and more
Riddle's online quiz maker is super intuitive. Any member of your team can make a quiz, list, or surveys in just minutes.
Every client campaign is different. Craft custom content to meet campaign objectives with 14 different quiz types:
Test knowledge (trivia quizzes)
Quiz - classic quiz with right/wrong questions
Auto-quiz - shuffle/display from up to 10,000 uqestion
Order it - arrange cards in correct order
Tap and find- touch to find correct answer inside images
User discovery:
Personality test
Interactive story (with conditional/branching logic)
Ask the audience:
Polls
Ranked poll
Reaction poll
Surveys
Ranked list
Easy, rapid content:
Email/contest marketing campaigns:
All our quiz types support lead generation for your marketing funnel.
Or, skip the quiz - and create a standalone lead generation/contest entry form
Pink Squid got quiz-creative for Nando's
London creative gurus at Pink Squid had a difficult brief.
The fast-growing global restaurant chain Nando's wanted a social, fun way to get 18-24 year olds excited about joining their team.
Pink Squid got together to make a quiz called "What kind of Nandoca are you?" personality test.
Their agency used our quiz creator to design with custom CSS and upload Nando's corporate font so their quiz matched Nando's branding:
Convenient, campaign-based pricing
No long-term contracts or pesky sign up fees.
Riddle's pricing is an intuitive as our online quiz creator - and designed for agencies.
Sign up for just a month for a short client campaign.
Or, subscribe longer-term to support all of your clients - save up to 29%.
Collect emails and quiz data for your clients
Go beyond engagement with quizzes.
Collect leads online - both emails and user responses, then send them automatically to the client's marketing software.
Qualify and segment each lead by their answers - for personalized follow up and conversions.
Connect with your clients' marketing software - no coding required
Avoid data headaches. Riddle's quiz maker seamlessly syncs with over 1400 marketing tools. from Salesforce to Marketo and MailChimp.
Power your clients' marketing funnel with quizzes.
Send all quiz leads and responses to your clients with our Zapier app.
Display in-quiz video and banner ads
Quizzes are excellent marketing opportunities for your clients' campaigns:
Leverage our 'custom in-quiz iFrame' - quickly embed your client's video ads, sign up pages, or any other content as an iFrame.
You can also place banner ads below your quiz - and refresh your client's surrounding page ads after each question.
With 6-8 questions a quiz, that amounts to over a 600-800% lift in ad inventory and monetization.
Minute Media delivers custom sponsored content through polls and quizzes
See how Minute Media wows their clients with clever video polls on their site 90min.com.
Polls are quick and easy to create - and provide a compelling reason to stop and click to vote for today's fickle audience.
See this in action with their sponsored poll for Kumho Tyres:
Auto-direct quiz takers to different landing pages - based on quiz results
Show visitors unique call to action buttons or send them to different landing pages, depending on how their answers.
Present customized offers or content personalized to the user's interests and results with our quiz landing pages or call to action buttons .
For example - imagine you created a "What's your dream vacation?" quiz for your tourism client. At the end of the quiz, you could:
Use our quiz result landing pages to automatically direct visitors to yourclientsite.com/citybreak or yourclientsite.com/beachgetaways.
Show 'call to action' buttons with custom offers - 'Save $50 off your next citybreak' or 'Get sandy - Mexico trips from $199'.
Add ad pixels to optimize your clients' quiz traffic
We support Google Tag Manager so you can place your favorite conversion pixels to track quiz starts, completes, leads and more.
Drive paid traffic to your quiz, then optimize traffic sources based on which provided the most leads.
Create a quiz as a team
Winning and keeping clients is a team effort. It should be the same each time you create a quiz for their campaigns.
Riddle's test maker is infinitely scalable with three levels of access.
Create teams around campaigns or clients, then invite agency contributors and client stakeholders. Quickly collaborate, get sign-off, and publish quizzes, polls, and other interactive content.
Vanson Bourne quizzed around Christmas
Market research agency Vanson Bourne are brilliant at making complex data intuitive and relevant.
In addition to supporting their other clients' work, they also used Riddle's quiz maker to create this "Christmas Percents" quiz to entertain and educate their clients around the holidays:
One-click reports for your clients
Avoid time-consuming report buidling as you update your clients.
Swap the painful copy/paste for Riddle's one-click report feature.
Create a beautiful PDF report you can send to your clients, including quiz starts, completes, leads, and more.
Have a question about making a quiz for client campaigns?
We're big quiz geeks here at Riddle - and take especial pride in being fast (REALLY fast) with customer support.
Drop us a message via support chat or hello@riddle.com - you'll see everyone from our CEO Boris on down competing to respond to your question.