Connect quizzes to your marketing software with our Zapier app - no coding required.
We designed Riddle's quiz maker to easily sync with hundreds and hundreds of CRM, database, and other types of software - from HubSpot, SalesForce, Microsoft 360, and more.
Create a quiz then:
Automatically send each lead and their quiz data.
Tag them according to their results.
Add them to different email lists.
Power your marketing funnel with quizzes - automatically send personalized follow up messages to each lead, based around their quiz responses.
Video: send quiz leads using Zapier
Watch our short video walkthrough to see how easy it is to use Zapier to send quiz leads from our test maker to your marketing software.
How does Zapier work with Riddle's test maker?
Lead generation tools are constantly changing and evolving.
The speed of change means it's next to impossible for any quiz creator to manually create their own integrations for all the possible applications.
That's where Zapier comes in.
Their software has built-in links to 1,500 software tools (and counting).
You simply make a quiz.
Choose where you'd like to send your quiz leads and data.
Then map the fields from your form to the new tool (ex. Form: "First name" > CRM: First name).
Multi-step lead generation funnels
You can use Zapier to set up a multi-step marketing funnel as well.
Every time a lead signs up to your quiz, you might have a series of steps that needs to happen.
For example, imagine you created a "Are you saving enough for retirement?" quiz for your financial advisor firm.
Your lead form lets each quiz taker pick a time for a free 15 minute consultation with your team's financial planners.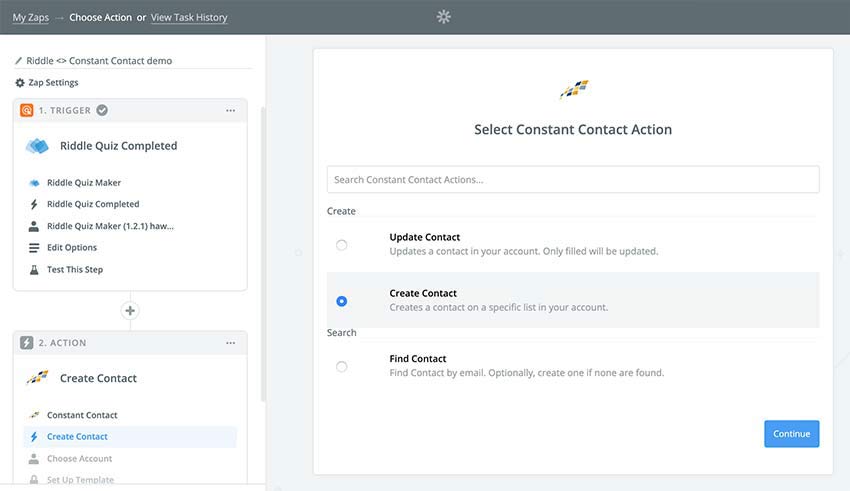 For each lead, you want to:
Add a new contact to your mailing list. (=> Constant Contact)
Send that lead a welcome email - along with a more detailed explanation of their quiz results. (=> Constant Contact)
Save each lead to a Microsoft 360 spreadsheet (=> Microsoft Excel)
Create an appointment in your team's calendar (=> Calendly)
Alert your sales team with an email notification (=> Microsoft Outlook)
Now, back in the day, this would be a very manual process - with each step taking a few minutes per lead.
With Zapier, it's all automatic. Nifty, right?
How much does Zapier cost?
We've got more good news. Zapier is free for most basic integrations with our test maker.
For example, most of our partners just need 1 or 2 step processes like adding a user to your CRM (and send an email notification to their sales team).
That's all covered under Zapier's 'Free' plan.
If you're getting into the Zapier groove, and want to set up more involved integrations, their plans are pretty reasonable - starting at $18 a month.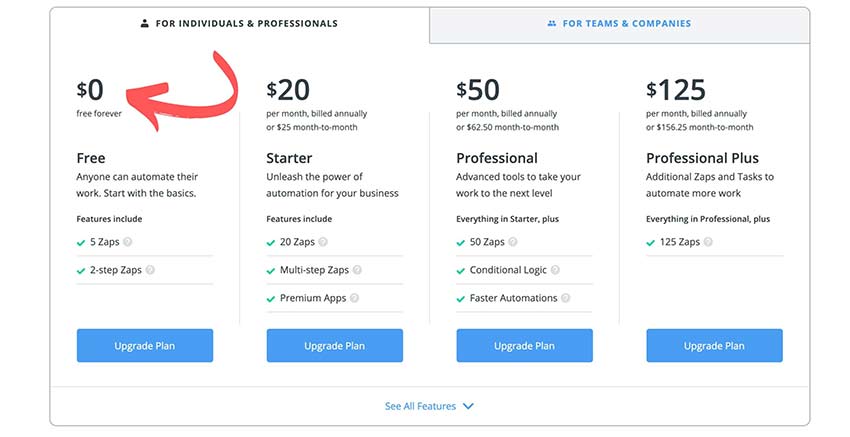 Riddle <> Zapier (do more than send leads)
Go beyond collecting leads online and powering your marketing funnel.
Zapier also features a bunch of nifty features that will calculate, clean up, and reformat your data - before sending it to your CRM tools.
Use their formatter to:
Clean up each lead's data formatting to match your lead database.
Work with times/dates - add/remove times or change the format (e.g. dd/mm/yyyy to mm/dd/yy).
Use powerful 'look up from list' and other functions.
Riddle <> Zapier - a webhook for non-coders
If you have a custom CRM or database, it's possible that Zapier might not have an integration for you.
But fear not - you can use their webhook to seamlessly send your leads and data from our quiz maker to any data base or software.
Webhooks are simply automated messages that apps send every time something happens.
Almost every app accept webhooks these days - which means that Zapier can send each lead and their quiz responses.
(And if your app doesn't - don't worry. You can do this outside of Zapier with a bit of coding using our quiz maker's free webhook.)
Zapier (and quiz maker) customer support
Got a question about sending quiz leads and data to your marketing software?
Give us a shout with our handy support chat or at hello@riddle.com.
We're passionate about customer support - which means everyone from our CEO to our dev team all race to answer messages.
Yes - Riddle's online quiz builder supports over 3,000 email marketing tools with our Zapier app - from Klavijo to HubSpot, GetReponse to Constant Contact. Whatever your tool - it's a pretty good bet Riddle has you covered.
Simply use our Zapier app to connect your Riddle quiz and lead form to your favorite CRM with just a few clicks. And best of all? No coding required!
Because it's so easy to send your quiz leads to your favorite marketing software with just a few clicks - and no coding necessary.
Riddle supports native integrations for many of them (like MailChimp or ActiveCampaign) - but there are literally thousands of marketing applications being used online. Zapier provides an easy way for our community to connect to 3,000+ tools; far more than we could build on our own.
Yes - Zapier has a free plan, which gives you 100 free 'zaps' (or leads) a month. It's good for small businesses, or if you just want to test out their service. Plans start from $19.99 a month after that.
Don't want to use Zapier? You can use our native integrations (Mailchimp, ActiveCampaign, Google Sheets, and more) or also our free webhook.