Make your own WhatsApp quiz - no coding required
Quizzes are a tried-and-true technique to engage your audience and generate leads for your company's growth.
We make it simple to make your own WhatsApp quiz, so that your quiz takers can share it with WhatsApp's 2.5 billion users worldwide.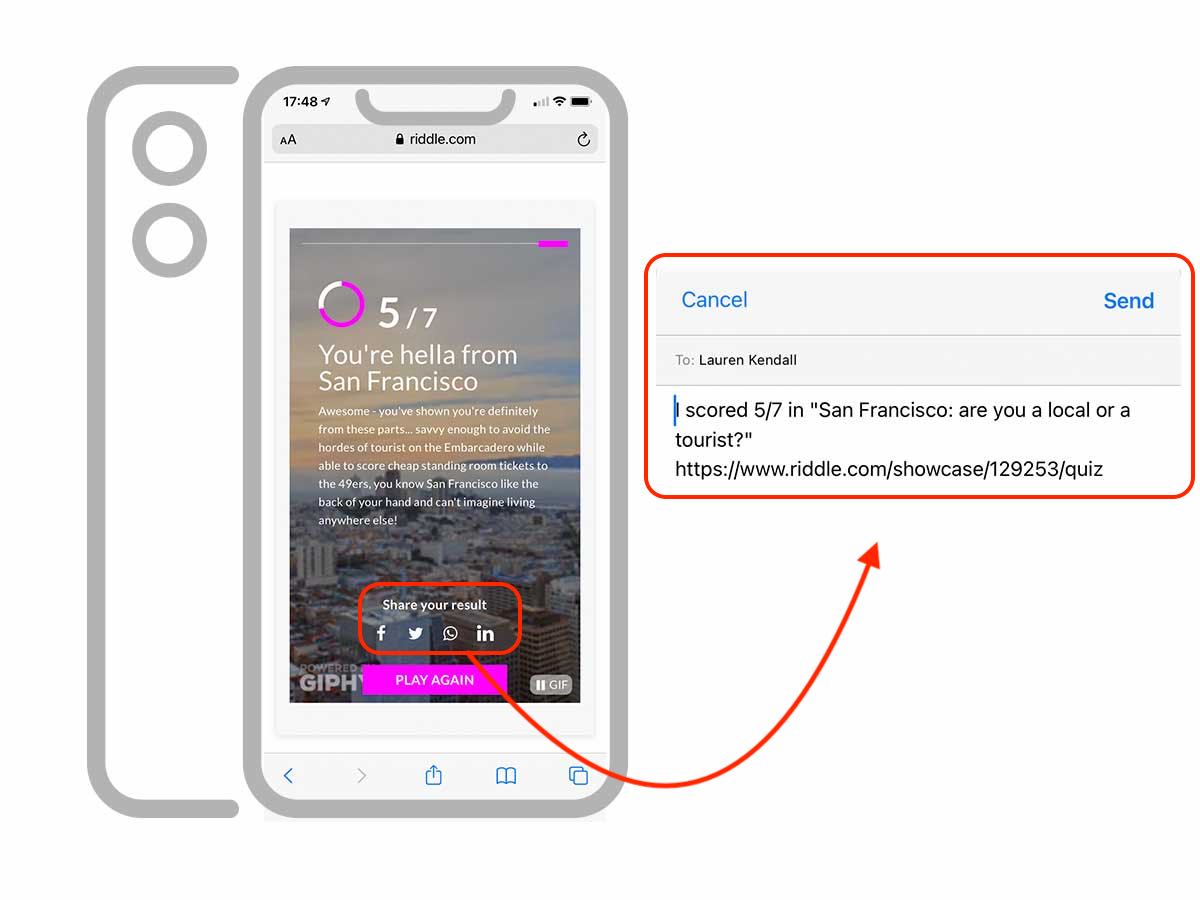 Just a short note before we get started... Keep in mind that the term "quiz" can refer to a wide variety of interactive content types.
We, like other quiz marketers, use the term "quiz" to refer to any type of interactive content that involves asking your audience questions.
Riddle's online quiz creator supports 15 types of quizzes and polls including:
We have four types of quizzes - including our classic quiz, the hotspot finder'tap and find', our drag/drop 'order it', and our automatic 'quiz generator'.
There are six different types of polls and surveys available, including our newest 'multi-poll' and our super-quick to build 'reaction poll'.
Our best-in-class personality test - our personality quiz is our most popular quiz format, with the highest lead generation conversion rate.
Use the conditional logic 'journey' to ask each quiz taker different questions - based on their previous answers.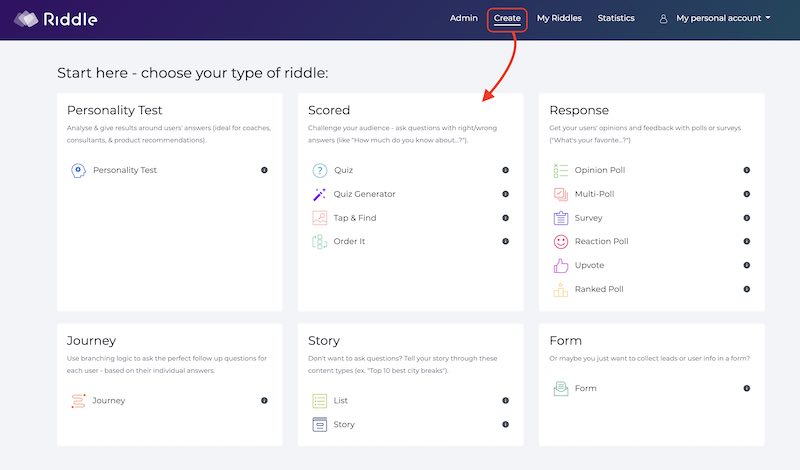 How to make your own WhatsApp quiz?
What is the best way to create your own WhatsApp quiz?
In just a few minutes, you can create and share a WhatsApp quiz. Our quiz maker is simple to use - no tech or coding skills needed.
(Here's our fast 'getting started with Riddle' guide, along with our best practises and ideas for creating a fantastic WhatsApp quiz.)
Create a Riddle account - we provide a 14-day trial of our online quiz creator with no credit card necessary. And all of our plans have no monthly limits on quiz takers, quiz creation, or leads.
Choose your quiz, poll, or other format - answer just a few questions in our branching logic quiz "Which type of quiz should I create?" and see what quiz type matches your unique use case.
Make your own WhatsApp quiz - with Riddle.com, you can construct your own WhatsApp quiz - all of our online quiz types are simple to create.
Add images, videos, GIFs, or audio - make your WhatsApp quiz stand out on the screen and get the attention of your audience.
Match your site's branding - Change the colours, fonts, and design of your quiz to match your brand or website using our 60+ customization features.
100% white labelled- use our custom fonts and CSS editor to completely match your brand.
Create your share message - craft the WhatsApp message each quiz taker shares. Use our tried-and-true "I got a score/result on 'quiz title' - take the quiz!" message, or create your own with clickthrough URLs and other features.
Add your own lead form (optional) - want to gather leads as well? Add a lead generating form to your quiz, then send leads and quiz replies to 3,000+ services like HubSpot, Salesforce, or MailChimp.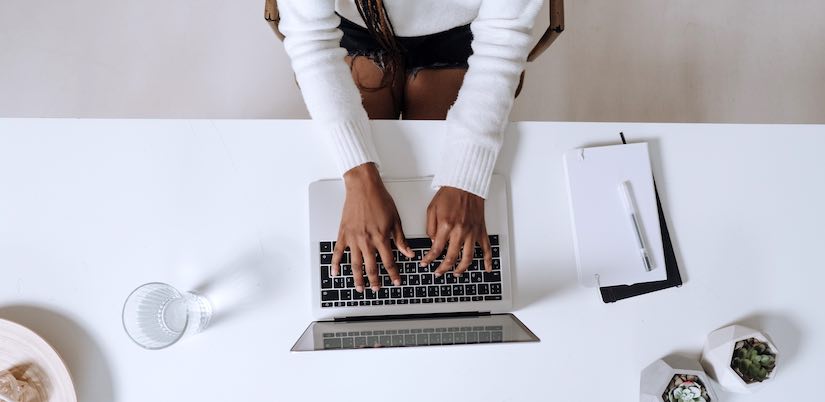 Sharing your WhatsApp quiz
Unfortunately, Whatsapp does not enable (yet) any quiz creator to directly integrate their questions on their social network. We continually keep asking them to add this feature - fingers/toes crossed!
However, you can make your own WhatsApp quiz on Riddle - then share it with your audience:
Share the quiz URL (it will look something like this: riddle.com/showcase/######/quiz (your quiz numbers will be different) with your audience.
Embed a WhatsApp quiz on your website, then share or advertise the URL.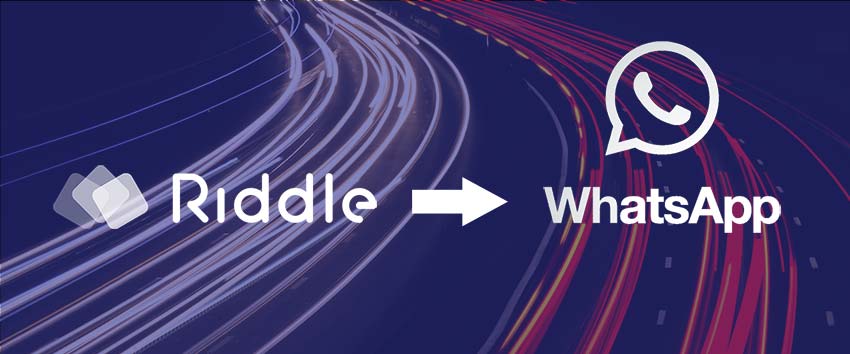 We're big fans about using #2 - it keeps all of the viral social traffic coming back to your site as your WhatsApp quiz is discovered and shared (for example, User A takes your personality test, then shares it on WhatsApp, User B also takes it and shares their results again).
Otherwise, if you provide the Riddle.com URL for your quiz, everyone will come back to take your WhatsApp quiz on Riddle, and not engage further with your site.
Want to learn more? We put together a small blog post about the best ways to share your quiz.
The user experience with WhatsApp quiz
Here's an useful flow chart that illustrates the customer experience for your WhatsApp quiz, from starting the quiz through the optional lead generation form, and finally sharing your quiz on WhatsApp.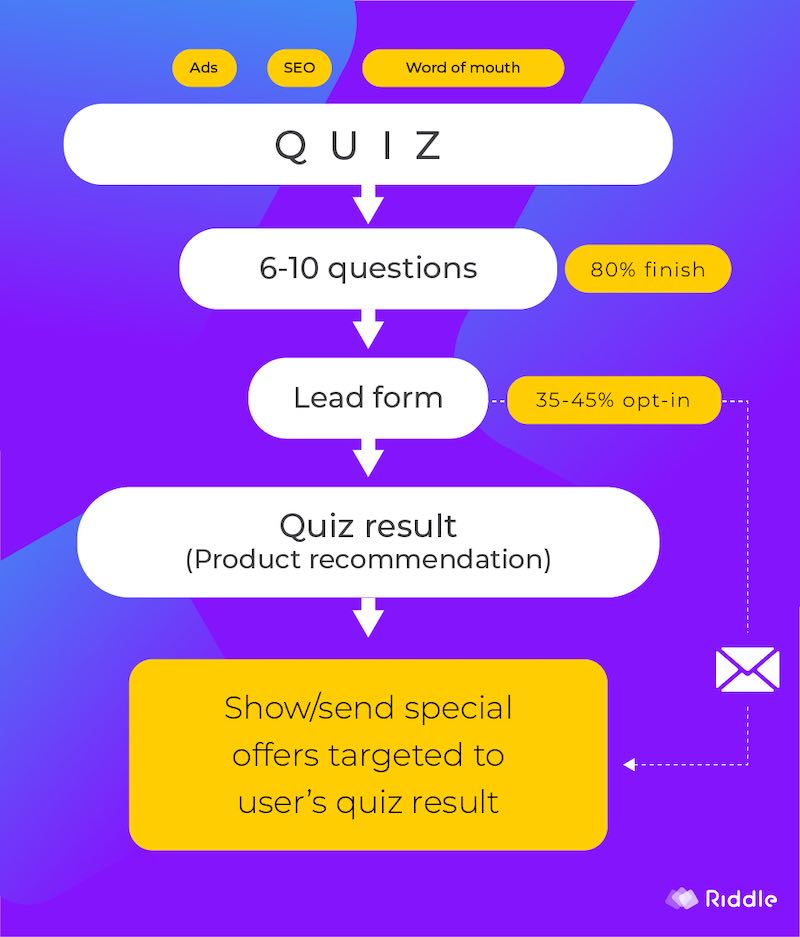 Create a unique message to share the results of your WhatsApp quiz
We include standard social sharing messages into every WhatsApp quiz you create (received a score/result on 'quiz title' - take the quiz!) - but, you can easily make your own:
Go to the Customize tab.
Select 'Customize social sharing text' from the drop-down menu.
Choose WhatsApp.
Fill in the blanks with your text and use variables to personalise the outcome.
$result - used to store the user's score (for example, 6/10 for a score of 6 points).
$title - display the title of the user's results ('You're a San Francisco local!').
$link - set the destination URL when people click on the WhatsApp quiz share message.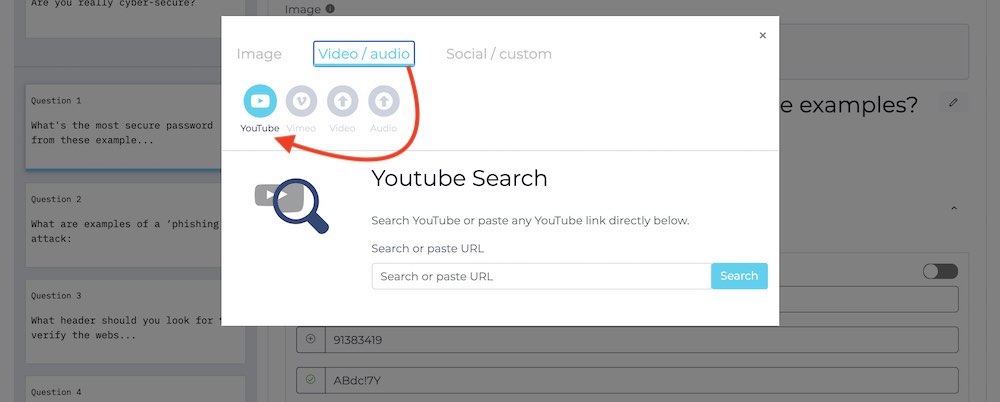 Create your own personalized WhatsApp quiz share messages
You can use these variables to make your own results message personalized for each quiz taker's results.
In our San Francisco quiz, for example, you would get something like "Sweet, I got "You're hella a local" on this "San Francisco: The Locals' Challenge" quiz."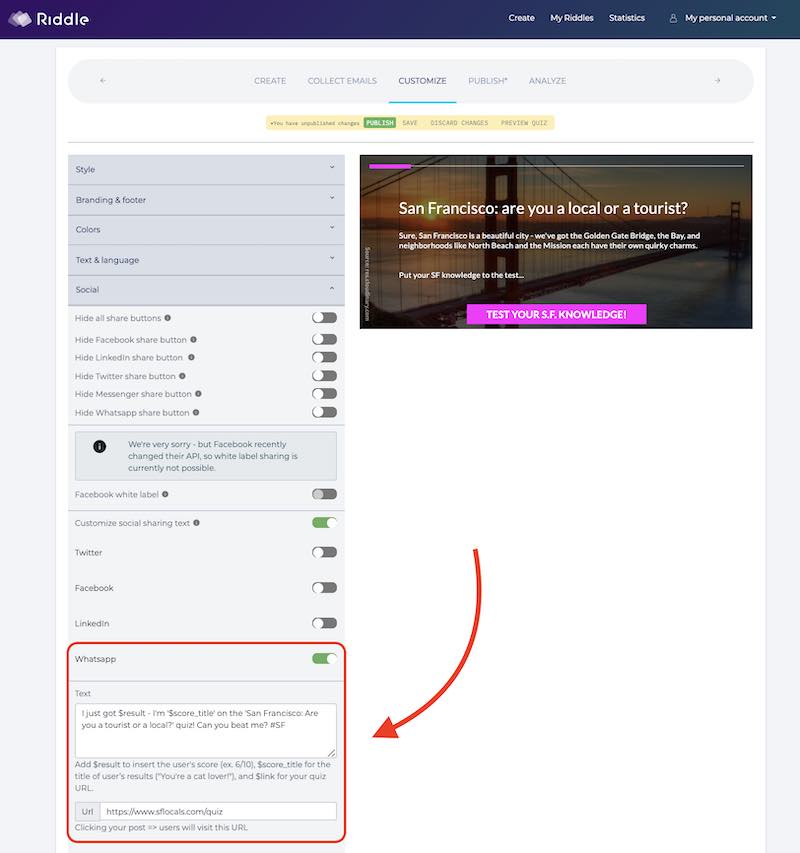 How to get more shares of your WhatsApp quiz?
At Riddle, we're big quiz fans - so much so that our cofounders authored a book called "QuizMaster: Growth Hacking Your Marketing Through Quizzes and Personality Tests."
To save you a step, we've assembled a list of some of our best recommendations and best practises here: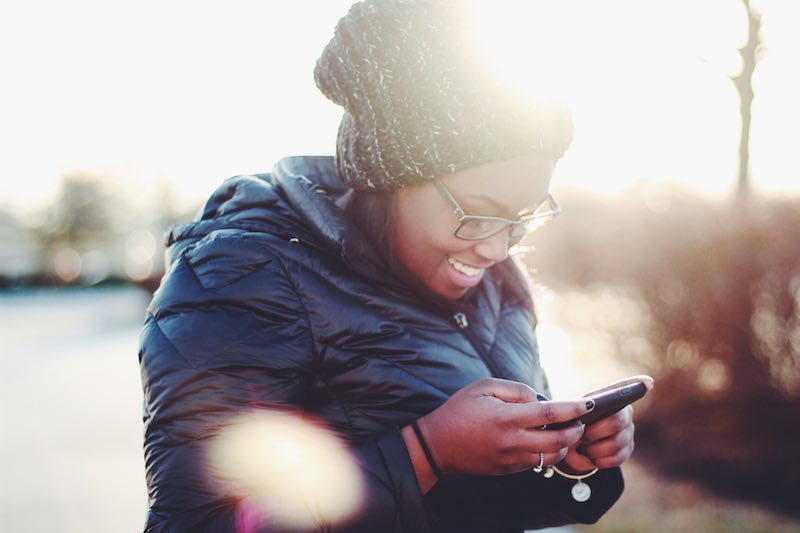 We go over everything from the best number of questions (6-10) to the optimal range of result types (3-5), and loads more.
But for now, let's focus on how to increase the number of times your WhatsApp quiz is shared.
Your quiz results are vitally important: This cannot be emphasised enough. The results are your final opportunity to demonstrate to each user that you have a thorough understanding of their demands. Furthermore, the more insightful or amusing their quiz results are, the more likely they are to share your quiz with their peers via WhatsApp.
The 50/50 Rule: Simply put - spend equal time and effort on your results as your questions. Quiz creators frequently run out of steam, but this is a mistake. The outcomes are crucial. For example, learning that you're a "SF Local" isn't enough; you'll want to know WHY you received that result and what it implies.
The Three Minute Limit: Make sure your quiz is brief and to the point. Most WhatsApp quiz takers will begin your quiz during a small break - perhaps while waiting for a bus or wasting time before an appointment. Six to ten questions takes roughly three minutes; any longer, and you'll see a big drop in quiz completions (and quiz shares).
Live WhatsApp quiz examples
We are big fans of these quizzes, ranging from top sites like the BBC to super-smart start-ups like The Hair Fuel.
All of these quizzes excel at engaging their audience and convincing them to share their findings on WhatsApp.
Here are some real-life examples (plus 23 more of our favourite WhatsApp quizzes):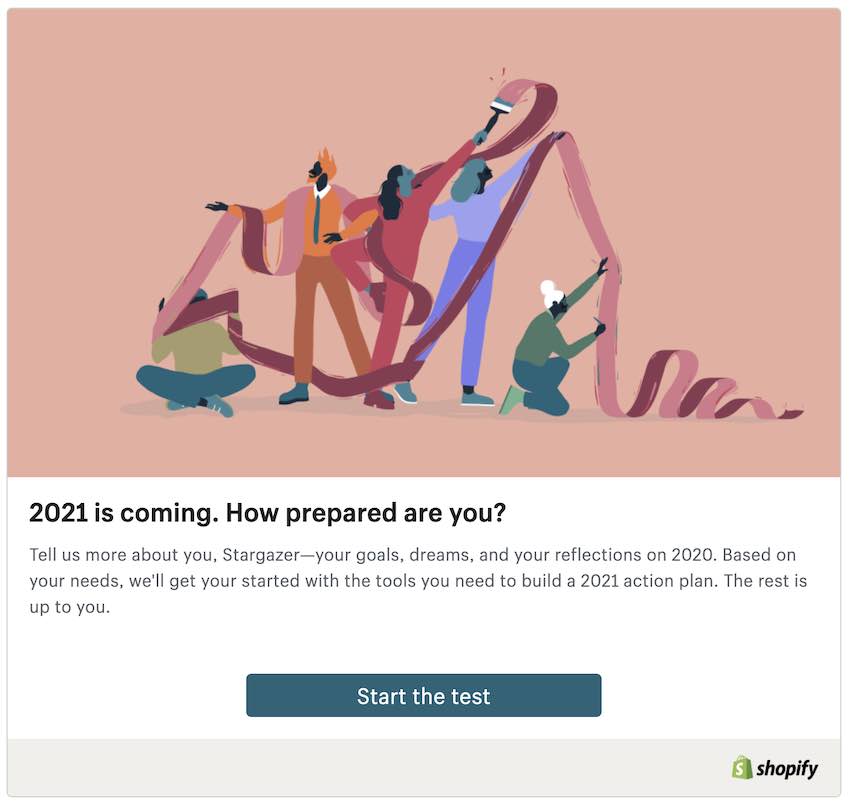 Want to experience these examples as a WhatsApp quiz?
Take photos using your phone and then share the results on WhatsApp.
This will give you a sense of how your questionnaire might appear and behave for your own marketing purposes.
Any questions @ making your own WhatsApp quiz?
We can assist you with everything from developing quizzes to increasing your social media shares on WhatsApp, Facebook, Twitter, and other platforms.
Our team has a combined 35+ years of quiz marketing experience - plus we all compete to be the first to respond to customer inquiries on our support chat.
So go ahead and ask by email (hello@riddle.com) or using our support chat - we'd love to hear from you!