Make a Twitter quiz
Social marketers the world over know that creating a Twitter quiz is a smart way to get noticed - and break through the noise on social media. Twitter is huge - with 400 million people using the social network every day. Creating a quiz for LinkedIn is a savvy way to tap into this community.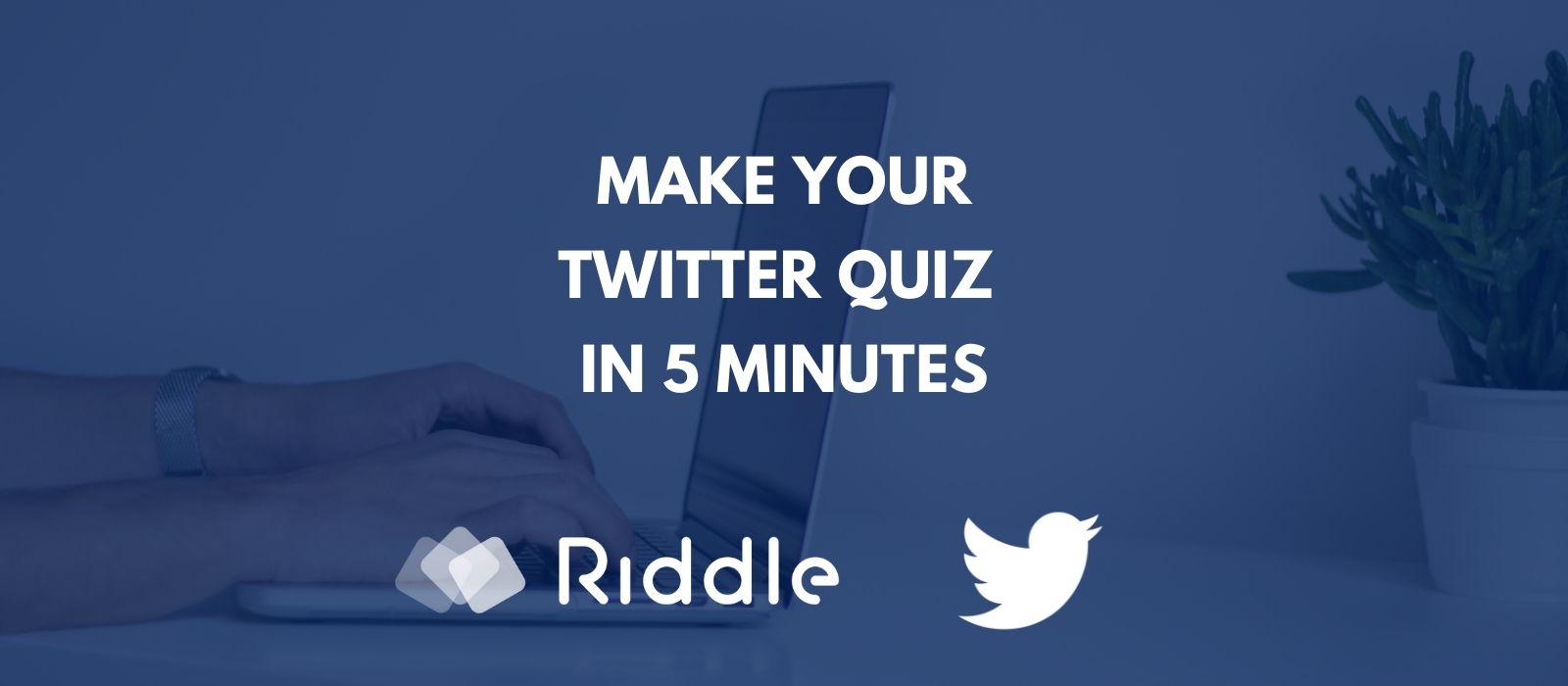 And quizzes are a powerful way to generate longer interactions - far beyond the brief 280 character limit for most posts.
A Twitter quiz will keep people engaged for three to five minutes - and generate its own social buzz, as your quiz takers share their results.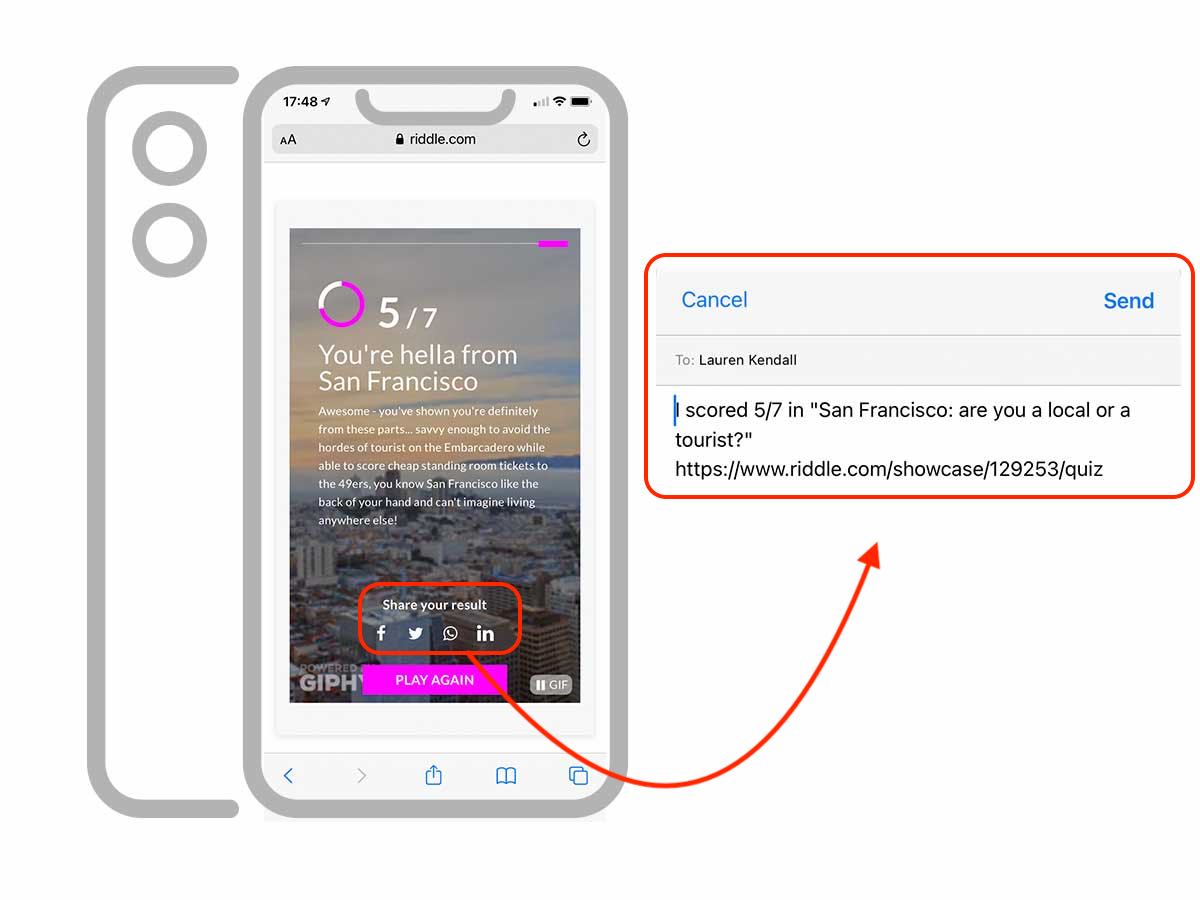 Plus, each Twitter quiz can be its own lead magnet - getting up to 55% opt-in rates. You simply create a lead form with Riddle to gather your quiz takers' emails and quiz answers, then automatically sync them to Klavijo, Pardot, or 3,000 other email marketing software tools.
The best part? Creating a quiz to use on Twitter is easy with our online quiz creator. It's as simple as typing your questions and adding images, audio, or video - you don't need to be a coder or tech geek to get started.
What's a Twitter quiz, anyways?
Before we dive in, you should know that a Twitter quiz can be more than just a bunch of right and wrong questions. These days, the word 'quiz' is used to describe any sort of question-based interactive content formats.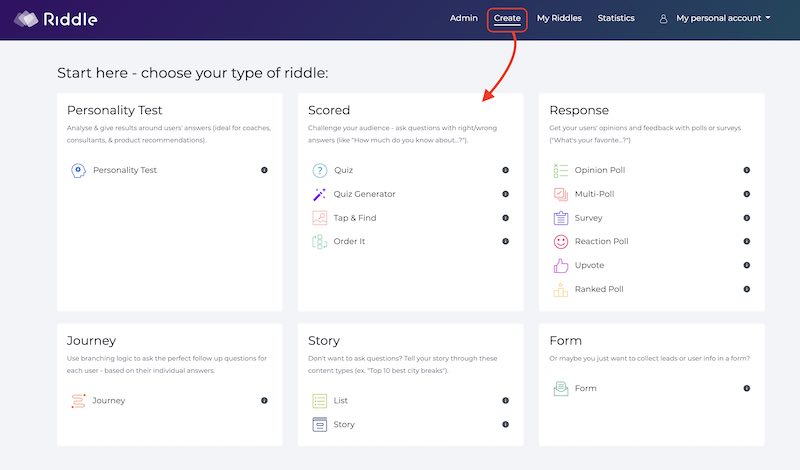 With Riddle, you can choose from 15 online quiz formats - our online quiz maker features polls, surveys, personality tests, and a bunch more. All interactive, responsive, and quick to make.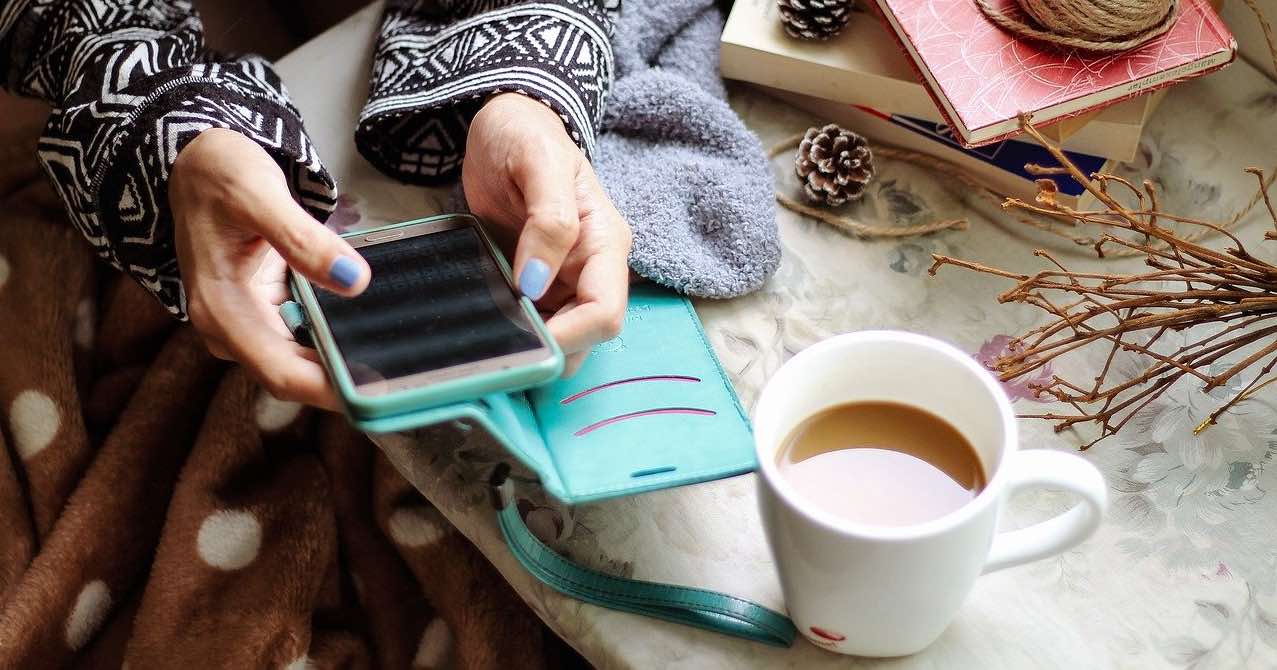 Creating your Twitter quiz
Want to make an online quiz - but aren't sure how to start?
Riddle's is built for anyone to use, with no coding required. We've seen Riddle quizzes created by students and non-profit organizations all the way up to start-ups and super-experienced marketers.
(It's easy to get started - most folks just dive in. Or, you watch our handy 'Riddle new user walkthrough' video.)
Create your free trial account on Riddle - we give you 14 days to use Riddle, completely unlocked. And best of all? No credit card required.
(Psst - Every one of our quiz maker plans are 'unlimited'. We don't put monthly caps on your account - you can create any number of quizzes, then collect unlimited leads from unlimited quiz takers.
Pick the right quiz - you can use our handy 'What type of quiz should I create?' tool to help you select the perfect Riddle format for your Twitter quiz. Or ask us on support chat - we're super fast to respond.
Make your online quiz, poll, or survey - this is the fun part. No tutorial needed - you can just jump in and type your questions.
Jazz up your quiz with audio, video, or images - the best Twitter quizzes go beyond, and are multi-media experiences. Riddle's quiz maker lets you search and find the perfect pics, GIFs, and other assets (MP3/MP4 upload, Giphy, Google, Vimeo, YouTube, and more. (Learn more).
Make a 100% white-labelled Twitter quiz - your online quiz can completely branded to match your company or clients' needs. Simply place your logos - your quiz will look and feel native to your site, with no Riddle branding.
60+ customization features - enjoy full creative freedom with over 60 customization options. Change layouts, buttons, borders, fonts, colors and more - or use our CSS editor for complete customization.
Social sharing - your quiz takers can share their quiz results on Twitter, but also Facebook, WhatsApp, LinkedIn, and Messenger. Use our templates ("I just got a 'score/result' on 'quiz title' - take the quiz!") or craft your own.
Add a lead generation form - collect emails from up to 55% of your quiz takers, with our drag/drop lead generation form builder. Automatically sync all quiz leads with your favorite marketing software such as Shopify, AWeber, MailChimp, and more.
Sharing your quiz on Twitter
Alas, as often as we've asked/nudged ever since we launched in 2014, Twitter (just like every other social network) won't allow any quiz builder to embed their quizzes in tweets or other pots.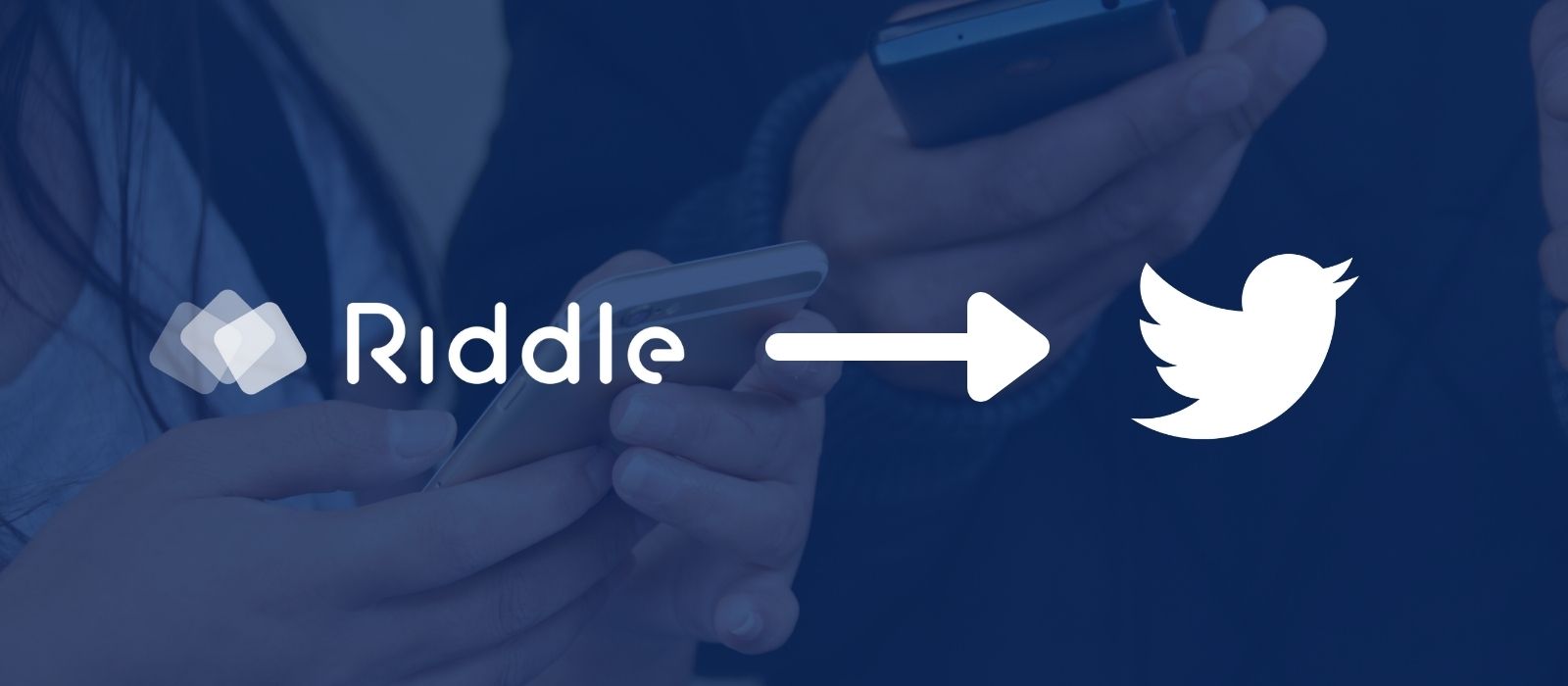 The good news? Riddle has a good option for you to share your Twitter quiz - just like CNN, the BBC, and the Chicago Bulls.
Step #1: Once you create your quiz - share it on Twitter, by either:
1. Add your quiz's URL to any tweet, such as 'riddle.com/view/######/'.
2. Or, embed your quiz on your site - then use that link on Twitter.
Option #2 is our highly recommended choice - if you embed your quiz on your site, that lets Twitter know where to send any new users who discover your quiz through sharing - 'embed on your site' option - that way, LinkedIn will know where the quiz 'lives', and all the viral social traffic would come back to you (and not Riddle.com).
Imagine quiz taker A takes your quiz after seeing your tweet about your online quiz. They're excited by their results, so share them on Twitter. Quiz taker B sees that tweet, takes the quiz on your site, and shares.
All those quiz takers - and their friends of friends - would come to your site, not Riddle.com, for their quiz.
And it's easy to embed your Twitter quiz on your website - just like adding a YouTube video. (Learn more)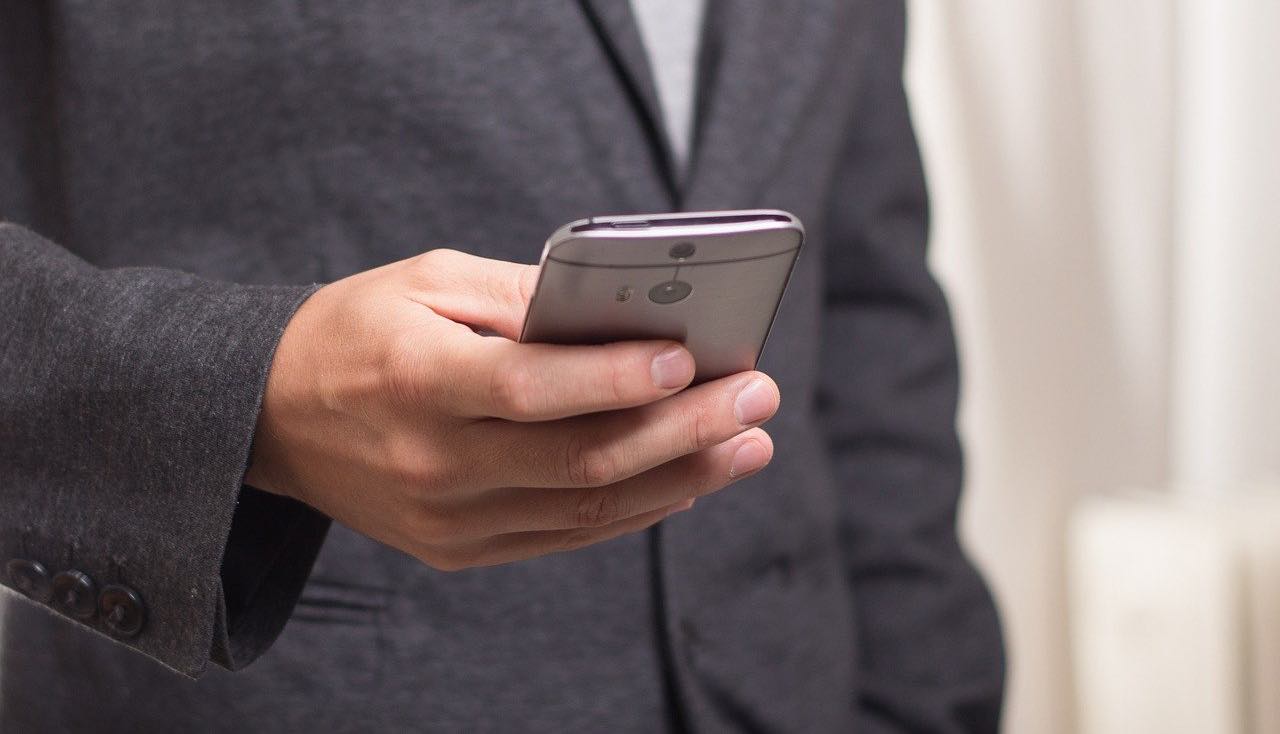 The user experience with a Twitter quiz
Let's dive in and walk you through the user flow for an online quiz.
Brands and publishers use Riddle for use cases ranging from engagement to contests and lead generation.
Here's what happens after a user clicks on your tweet and starts taking your Twitter quiz.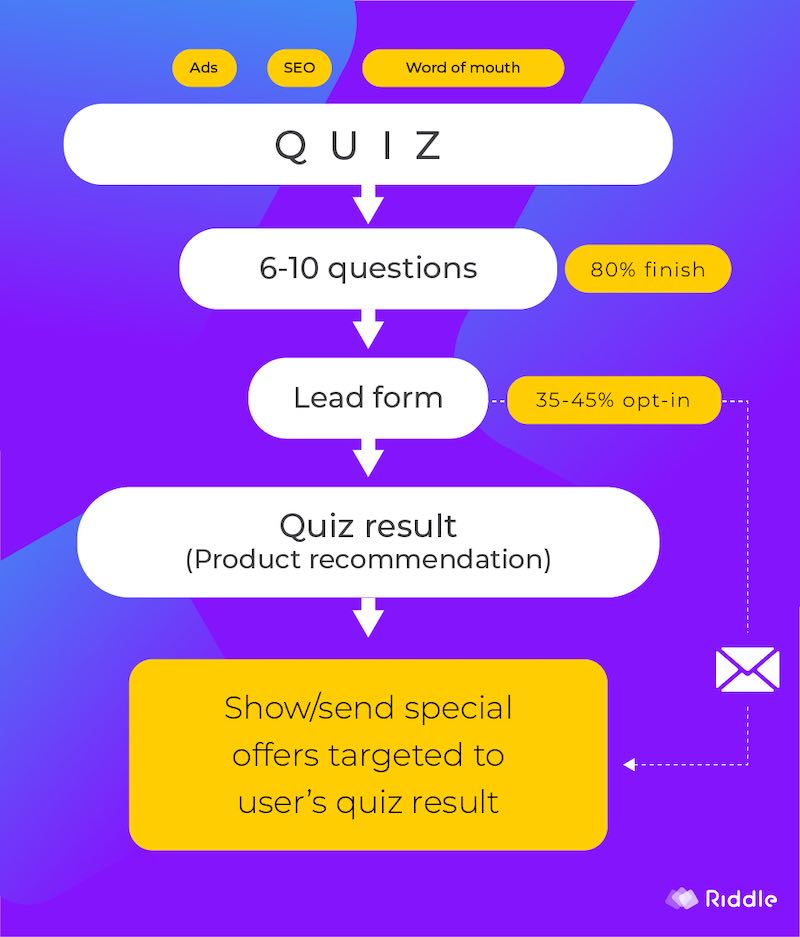 Customzing your Twitter share messages
Social sharing can be a powerful multiplier with online quizzes, poll, and personality tests. Every one of Riddle's 15 interactive quiz formats has highly customizable integrated social sharing across:
Twitter
Facebook
Messenger
LinkedIn
WhatsApp
We include proven message templates - or you can create your own share messages.
Let's say you were creating a quiz around all things San Francisco-related - so people can prove if they're tourists or locals.
Head over to the 'Social' tab in the 'Customize' section.
Pick Twitter (and/or any other network).
Write your share message - using these variables to auto-personalize the message around each quiz taker's results:
$title - shows the user's resulta ("You're hella from SF!").
$result - use this to display the points the user scored ("6/12").
$link - this nifty variable changes the URL people visit when they click on the link in your Twitter quiz taker's shared results.
Want to see how customizing your quiz taker's result would look?
Using our San Francisco quiz example again, suppose you wrote the share message as "Awesome - I scored "You're hella a local" on this tough 'San Francisco: The Locals' Challenge' quiz."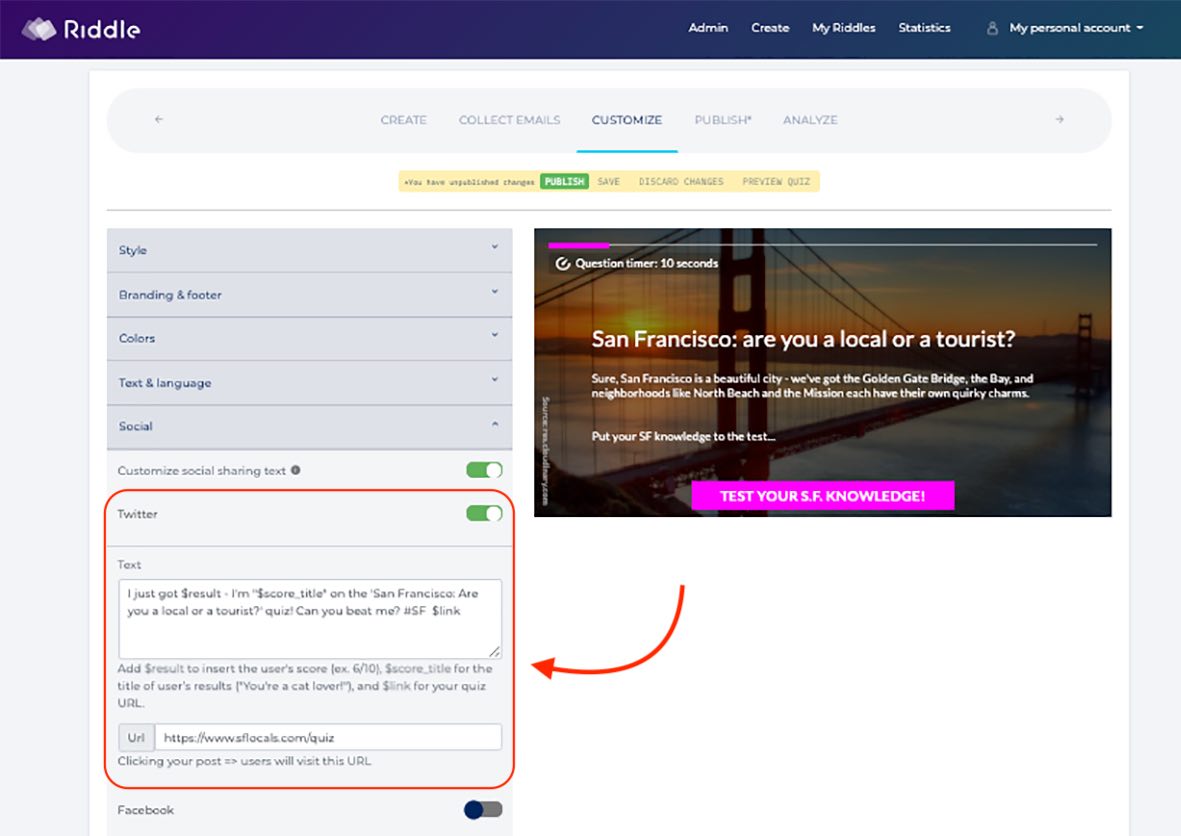 Want to get more shares of your Twitter quiz?
Making an online quiz with Riddle is the easy part - just type questions and add images. But check out these free resources from our team of quiz experts - full of tips and best practices to make a good quiz great, from quiz length (6-10 questions) to the right title (8 words / 60 characters or less):
The common denominator behind getting more shares? Your quiz needs to be high-quality - people only share content with their Twitter followers that reflects well on them. A bland quiz won't cut it.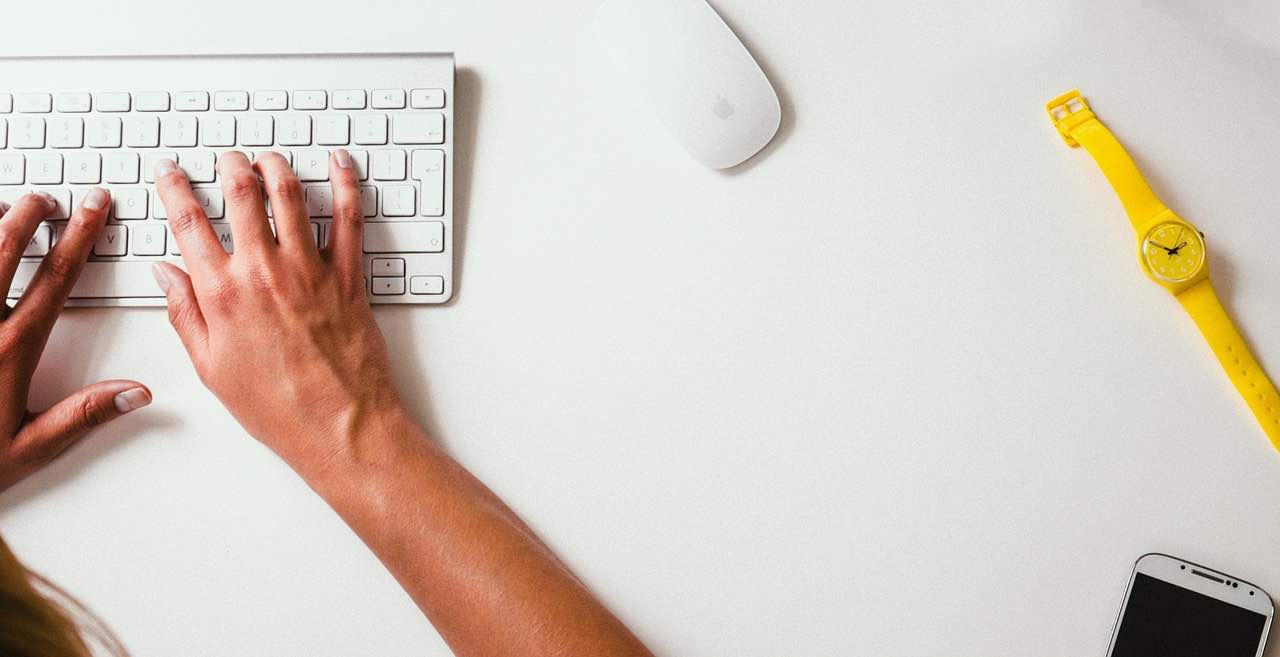 Here are our other top tips for making a Twitter quiz that inspire people to share their results:
Quiz results are SUPER important: People take quizzes to discover something about themselves - quiz takers will only share results if they make them look good. You can still point out weaknesses - but balance them with also highlighting their strengths.
Use our '50% / 50%' guideline: Devote as much creativity and effort to your results as you do on your questions. Quiz results are the last step in the quiz - and a huge factor in inspiring users to share on Twitter.
Keep quizzes to three minutes: A Twitter quiz works best when people have a short break. 6-8 questions is our sweet spot - they takes around three minutes to finish. Any longer, people will leave without finishing - which means your Twitter quiz won't get shared.
Can we help you create a Twitter quiz?
Our team at Riddle are passionate quiz (and customer support) geeks, with over 40 years of quiz marketing experience.
we love to help - so just ask away on email (hello@riddle.com) or with support chat. We all compete to answer first - which means you'll get a response in two minutes or less. , to get answers in under two minutes.
Happy Riddling