Save your Riddle quiz leads to a Google Sheets spreadsheet
Riddle's online quiz maker makes it easy for you to automatically save all your quiz leads and their quiz responses to any Google Sheets spreadsheet.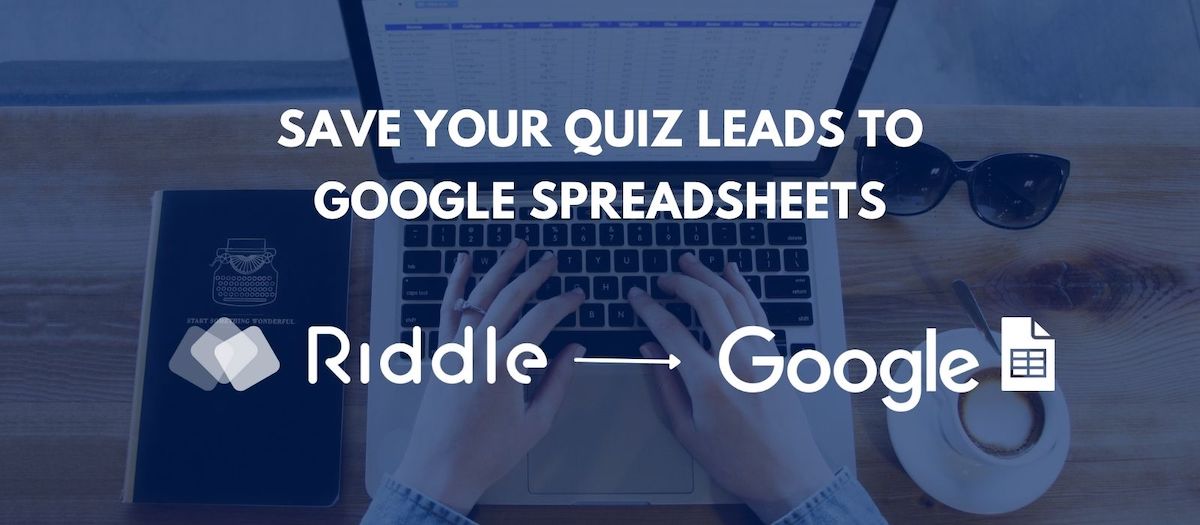 Using Google Sheets is a powerful way to save each quiz lead - and it is much more flexible than saving and downloading your leads as a CSV or Excel file.
The main advantage for using Google Sheets with your Riddle quiz? You will have just one sheet with all your leads - instead of having to download files with the latest leads, then re-upload to your favorite software.

What is Google Sheets?
Google Sheets is a free, cloud-based spreadsheet program operated by (of course) Google. All you need to create your own is a free Gmail email account - and you'll be off to the races, data-wise.
Here's Google's handy guide for getting started.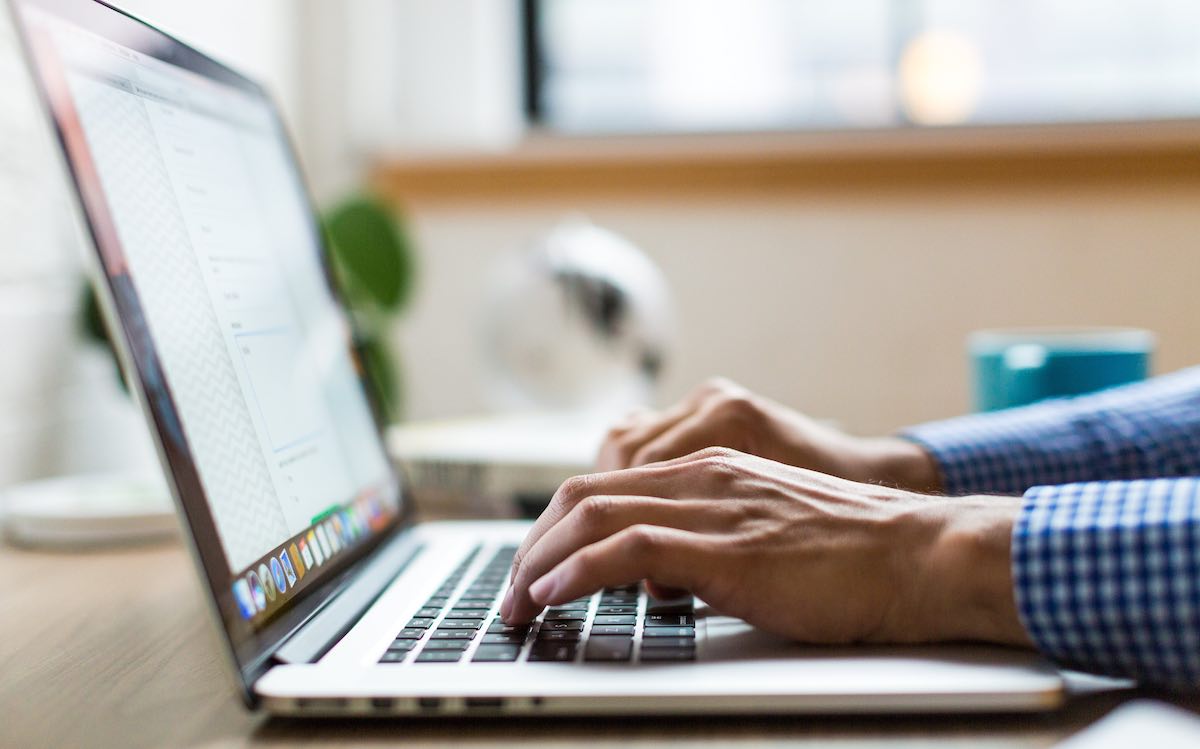 Is using Google Sheets with Riddle GDPR-compliant?
Data privacy is a huge part of Riddle's philosophy - we're a fully GDPR-compliant quiz maker (plus California's CCPA and other global privacy regulations)..
According to Google, Google Sheets is GDPR-compliant, which makes it a viable option to store your leads from Riddle. But we always recommend you run this by your lawyers or data protection officers to confirm this, just in case.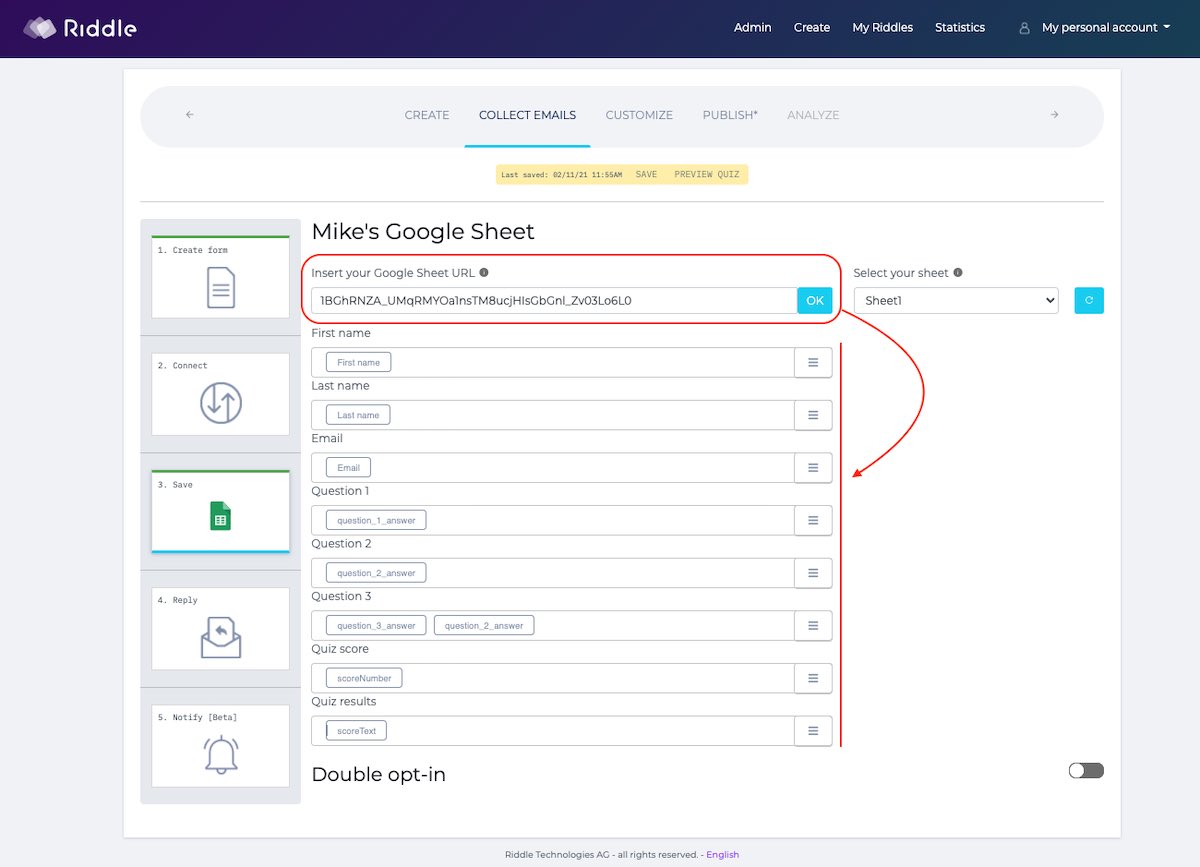 How to use Google Sheets with Riddle?
Let's tackle the first question we often get. Is it difficult to connect Riddle's online quiz maker with Google Sheets?
Absolutely not - Google has made the process simple, and you don't need to be a coder to figure things out.
Create any of our 15 types of interactive content - including personality tests, quizzes, polls, and surveys.
Add a lead generation form to your quiz with our easy drag/drop form builder.
Make a spreadsheet in your Google Sheets account - and add column names for each piece of data you want to save (e.g. Name, email, question 1 answer, quiz results, etc.).
Choose "Save to Google" under our "Step 3: Save" options.
Paste the spreadsheet URL, then map each field from your quiz to the corresponding column.
Press publish - and test your connection with a test quiz taker, to ensure the data is being saved as you want.
What more information? Check out our handy in-depth instructions - including a video walkthrough.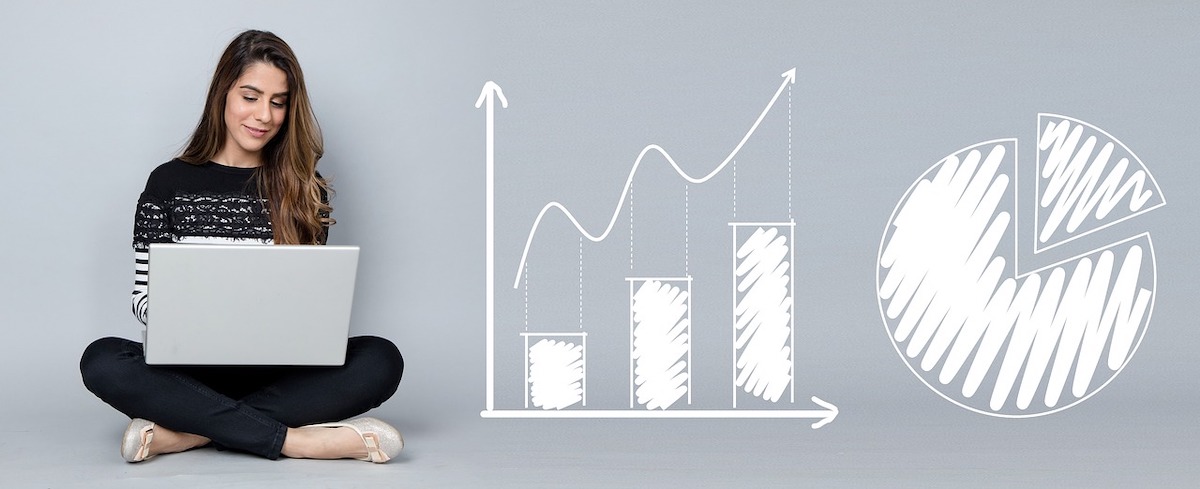 Collecting leads with Riddle - sending to Google Sheets
Most online advertising sucks. Banner ads or pop-ups are irritating - and also increasingly ineffective.
We've all been there - you visit a site and then see a pop-up asking you to join their mailing list. It's the equivalent of going into a party and asking the first person you meet out on a date. With this strategy, unless you're Shakira or George Clooney, your odds of success are slim to none.
True, offering something in exchange is a bit better. You could offer a free e-book, an infographic, or a valuable piece of software, for example. To take our party analogy, you'd still barge in and demand data from the first available person, but at least you'd offer to pay for the meal.
However, if you're like most people, both of these tactics will most likely turn you off - free eBook or not.
Quizzes and personality tests, on the other hand, work in very different ways. They start by having a dialogue with the reader about the most interesting topic imaginable: themselves.
Your Riddle personality test or quiz will captivate the reader by asking 8 to 12 questions (our recommended quiz length). You'll have the quiz takers' attention for 3-5 minutes during the quiz. Then, once they're emotionally engaged and keen to see their quiz results, you'll show them a well-timed lead generation form.
If you include a compelling reason to sign up (beyond the "get our newsletter"), you'll see from 35-45% of your quiz takers fill in your form. That's more than 20X the completion rate for those boring pop-ups.
And all of those quiz leads, plus their quiz responses, will go straight to your Google Sheets spreadsheet, so you'll have a complete record of all your quiz takers and their quiz data.
Riddle and Google Sheets - a powerful marketing combination!
Any questions about using Google Sheets with Riddle?
Just ask us anything - we're big quiz geeks and love helping out.
Contact us with our on support chat - or email (hello@riddle.com).
We're not kidding - our entire team, from our founders on down, all try to be the first to respond. That means you'll get an answer in under two minutes.
(This enthusiasm is partially beer-powered. We give a monthly beer trophy to the Riddle team member who answers the most customer questions. Cheers!)
Yes - you can quickly connect your quiz to your Google Sheet. Just paste your sheet's URL, then map your quiz data to each column in your sheet.
Automatically add all of your quiz takers who fill in your lead form to your Google Sheet - no need to download spreadsheets to get your leads.
Absolutely - you can create a connection in under two minutes, with no coding necessary.
Simply create a sheet with columns for each of your quiz fields (e.g. name, email, question 1, question 2, etc.). Then paste the URL into the Google Sheets option in Riddle - and map the quiz fields to your spreadsheet columns.
There's no limit to how many quiz leads you save to your Google Sheet. Hurrah!
(Well, technically, Google Sheets has a 5 million row limit - but we've never seen any of our quiz maker community come remotely close to that total.)