Create and share your own Facebook quiz - no coding needed
Riddle makes it easy to make a Facebook quiz - with no coding required. Each quiz taker can share their quiz results directly on Facebook - to inspire their friends (and friends of friends) to come take your online quiz. After all, Facebook has over 2.9 billion active users - that's a huge audience to tap into.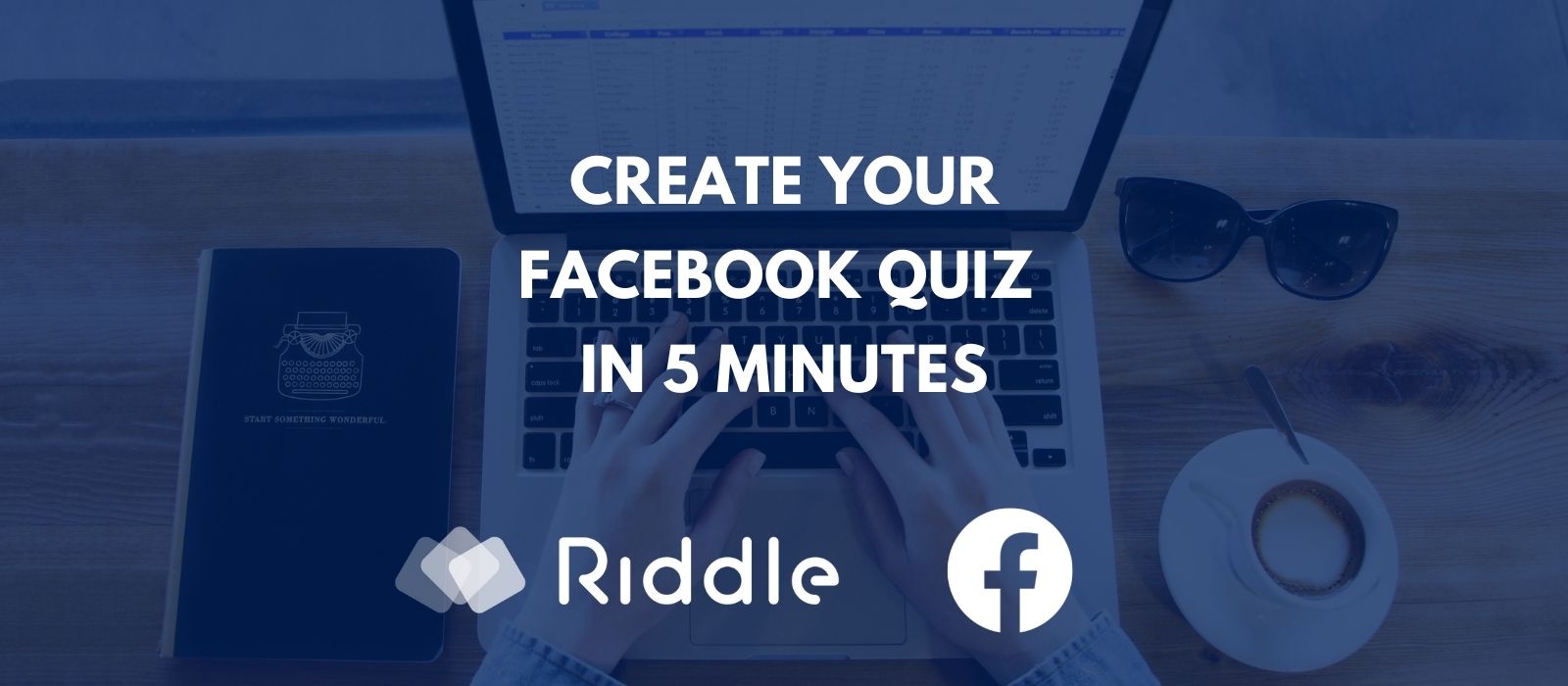 Online quizzes are proven way to get your audience clicking, thinking, and sharing. Add in a lead generation form, and you have a powerful lead magnet to collect emails and other data.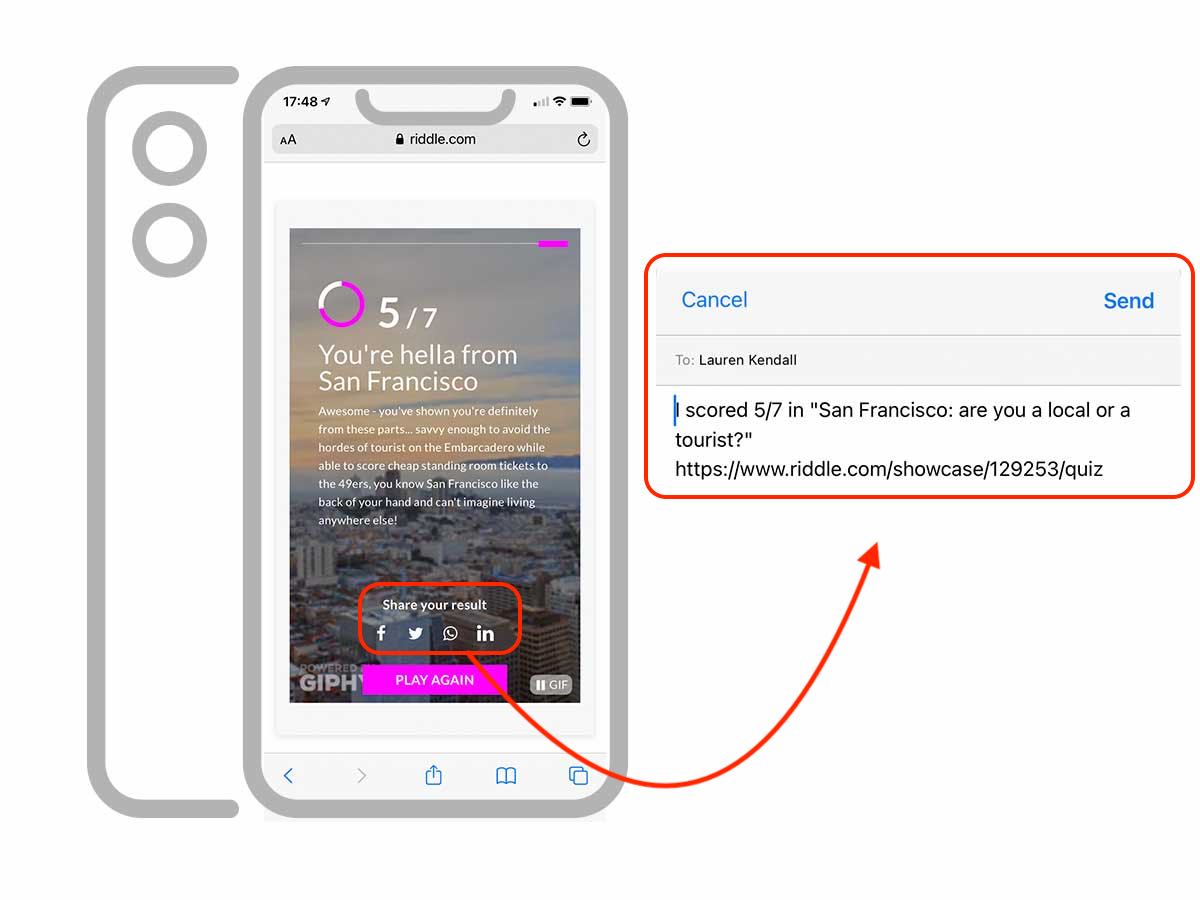 Right, before we dive in, bear in mind that 'quiz' can refer to any type of interactive content, from personality tests to surveys and polls.
You can use Riddle's online quiz maker to quickly create 15 types of quizzes and polls including:
Four quiz varieties - choose from our classic trivia quiz, our 'tap and find' image hotspot quiz, the drag/drop sequence quiz 'order it', as well as upload a spreadsheet of questions to our 'quiz generator'.
Six types of surveys and polls - select from a half dozen ways get audience feedback, such as our newest 'multi-poll' as well as our lightning-fast 'reaction poll.'
Personality test - create your own assessments or product recommendation quizzes. Personality tests are the best quizzes for lead generation, and are the most viral as well.
Branching logic 'Journey' - unleash your creativity with the journey's branching logic. Perfect for asking each user different follow up questions to craft a unique quiz experience, using their previous quiz response.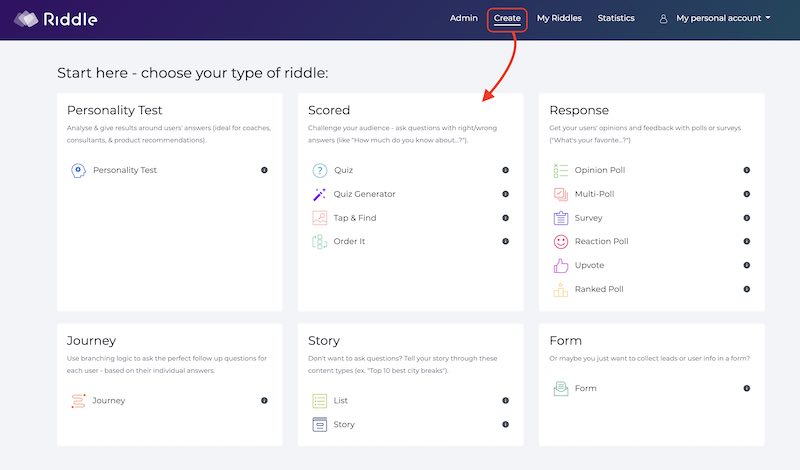 Want to know how to make your Facebook quiz?
The best part about Riddle? It's super easy to make your own Facebook quiz - no coding required.
You can quickly build and share a Facebook quiz in under five minutes. Our online quiz creator is designed for non-technical folks - it's used by everyone from high school students to marketers.
(Need a quick tutorial? Read our 'getting started with Riddle' post - it includes videos, tips, and best practices for making an online quiz.)
Make your own free Riddle account - we give you 14 days to try our online quiz maker, with all features unlocked and no credit card needed. If you choose to subscribe, all of our quiz builder plans include unlimited pricing - with no caps on how many quizzes, leads, or quiz takers.
Pick the right quiz, survey, poll, or other format - we'll help you choose. Just use our 'Riddle format picker' to discover the right Riddle quiz type for your needs.
Create your Facebook quiz - our intuitive quiz maker at Riddle.com makes it easy.
Add in images, video, GIFs, and audio - Riddle's supports Giphy, YouTube, Vimeo, Pexels, MP3/MP4 files, and loads more (learn more)
Seamlessly match your site - we give you near-total freedom to customize everything about your quiz, from fonts to colors, layouts to CSS, with over 60 customization features.
100% white labelled - your Facebook quiz will entirely show your brand (or your clients'). Add your own fonts, logos, and CSS to match your brand.
Customize your Facebook sharing message - you'll have full control over the Facebook message every quiz taker shares. You can use our standard "I got a score/result on 'quiz title' take the quiz!" message, or you make your own.
Add a lead generation form (optional) - beyond engagement, quizzes are also powerful lead magnets. Include alead generating form to your quiz, and send all your quiz leads to 3,000 CRM tools like MailChimp or Klavijo.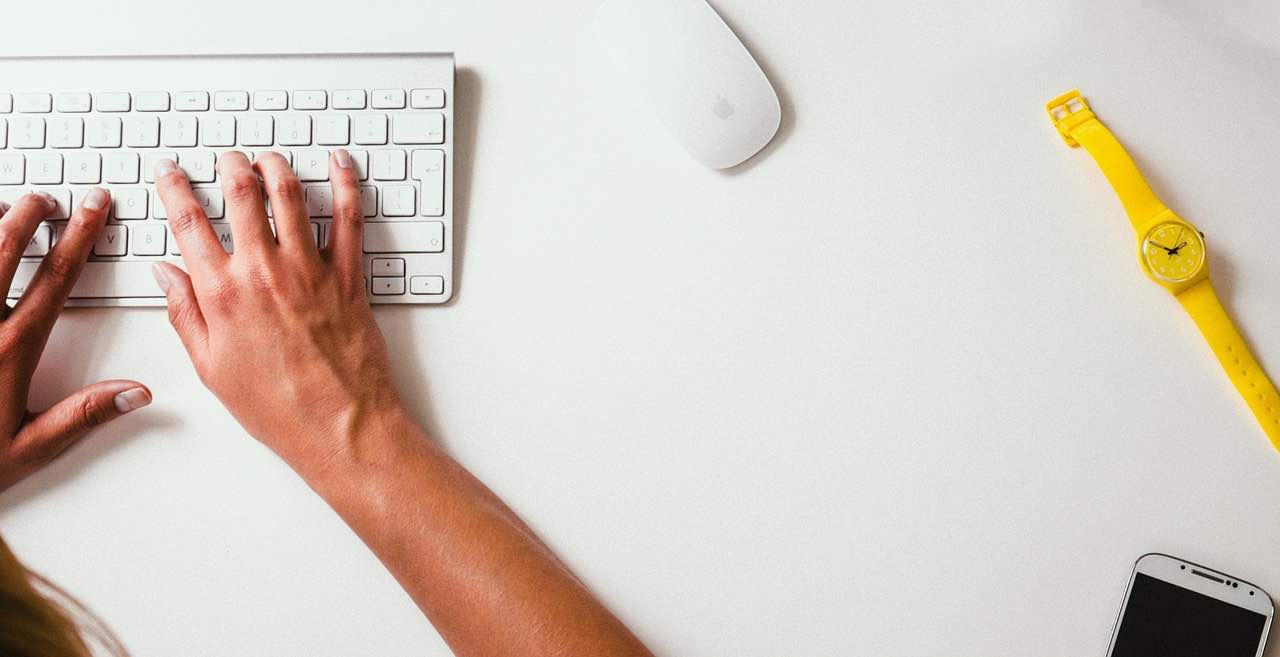 How to share your Facebook quiz
Alas, Facebook (like every other social network) won't let any quiz maker embed their quizzes in posts on their network. But we keep nudging them - over and over again!
But the good news? There's a good workaround - you make your Facebook quiz on Riddle, then share that with your followers:
Post your quiz's URL (e.g.: riddle.com/view/######/ (the ##### need to be replaced with the ID of your Riddle, you will find this link on the publish step in the Riddle creator).
Or, embed your Facebook quiz on your site, then share or advertise the link to your page.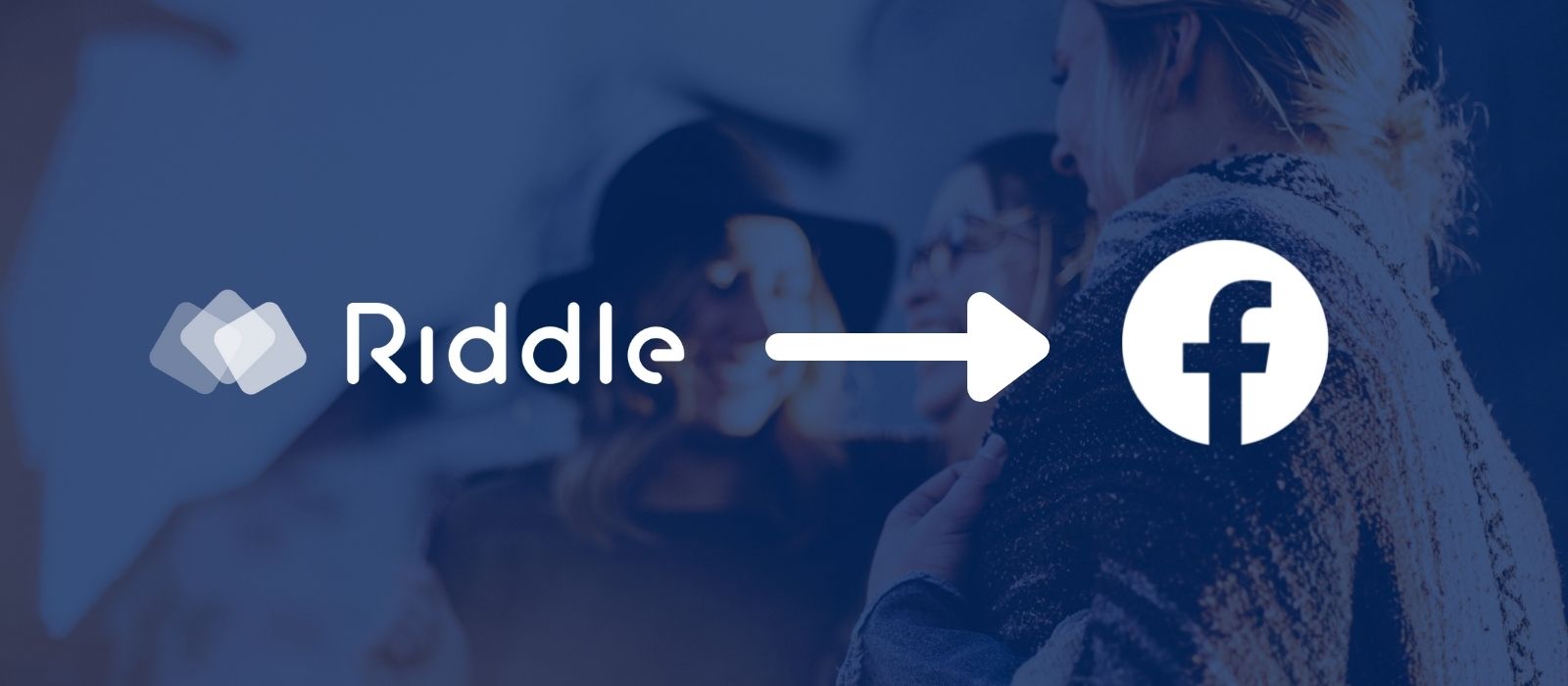 #2 is our preferred option - it lets you post your Facebook quiz on your site, which means that any social sharing traffic will come back to you (and not Riddle.com).
Let's look an example - imagine User #1 takes your online quiz, then shares it on Facebook. User #2 sees it, shares it... and so on. All that traffic would come back to your site.
Want to discover more? Read our blog post around how to embed your Facebook quiz.
What's the quiz taker flow taking a quiz on Facebook
Riddle's quiz maker is flexible, and accommodates a wide range of use cases. We put together this handy flow chart, showing the user journey from clicking on your Facebook quiz to your lead form and then sharing their results.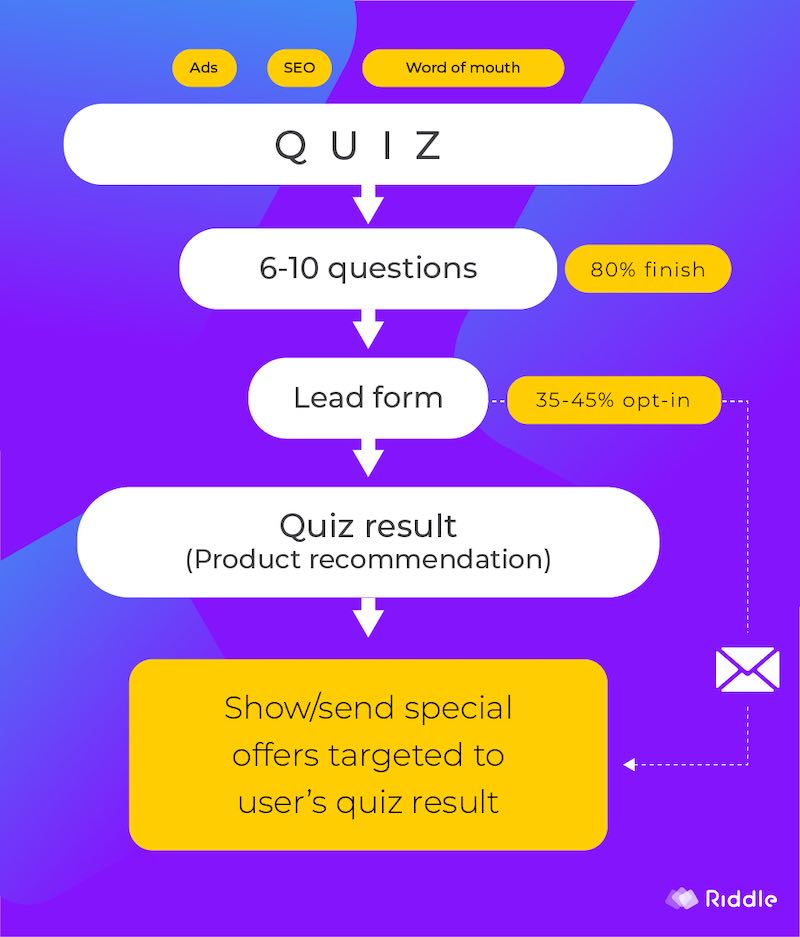 How to customize your quiz's social sharing messages on Facebook
Each of Riddle's 15 quiz formats feature proven template sharing messages - your Facebook quiz takers would share messages such as "I got 'user's result' on 'your quiz's title' take the quiz!").
However, you have complete freedom to craft your own. Let's imagine you created a quiz testing people's knowledge about San Francisco:
Pop over to the 'Customize' tab.
Choose 'Customize social sharing text'.
Select Facebook.
Write your own message, using the following variables to personalize each user's share message.
$result - display the user's score (e.g. 3/10).
$title - show the name of the user's quiz results "You're a tourist!").
$link - choose the URL people will visit when they click on your Facebook quiz's share message.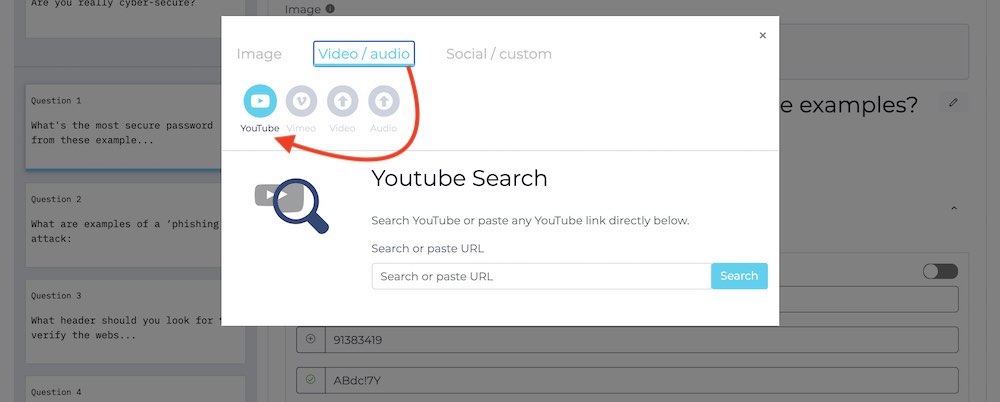 Make a custom Facebook quiz share message
Let's see how these personalized results look in action.
Using our San Francisco quiz as example, your custom share message might be "Awesome - I scored "You're hella a local" on this tough 'San Francisco: The Locals' Challenge' quiz."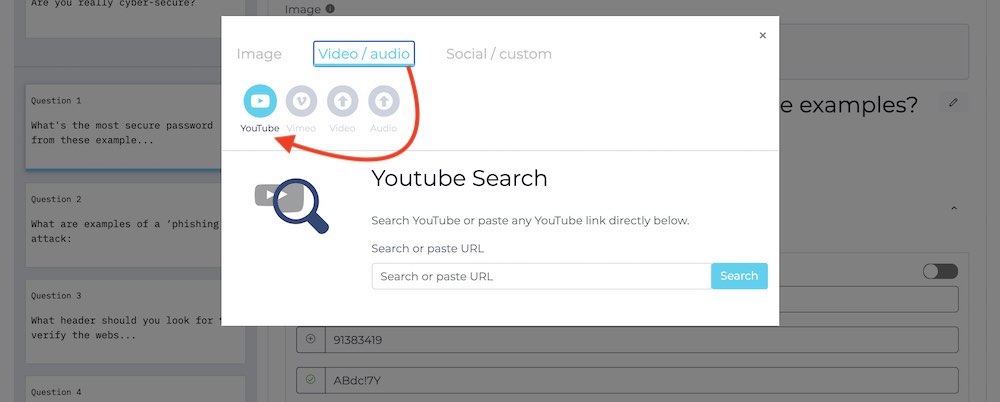 Secrets behind getting more shares of your Facebook quiz
We're big quiz geeks at Riddle - our team has been doing this since 2014. Our cofounders even wrote a book about crafting the perfect quiz named "QuizMaster: Growth Hacking Your Marketing Through Quizzes and Personality Tests.". You can also download a free eBook version of our book here.
To get you started on creating a Facebook quiz that meets your needs, we recommend these posts - full of tips and best practices: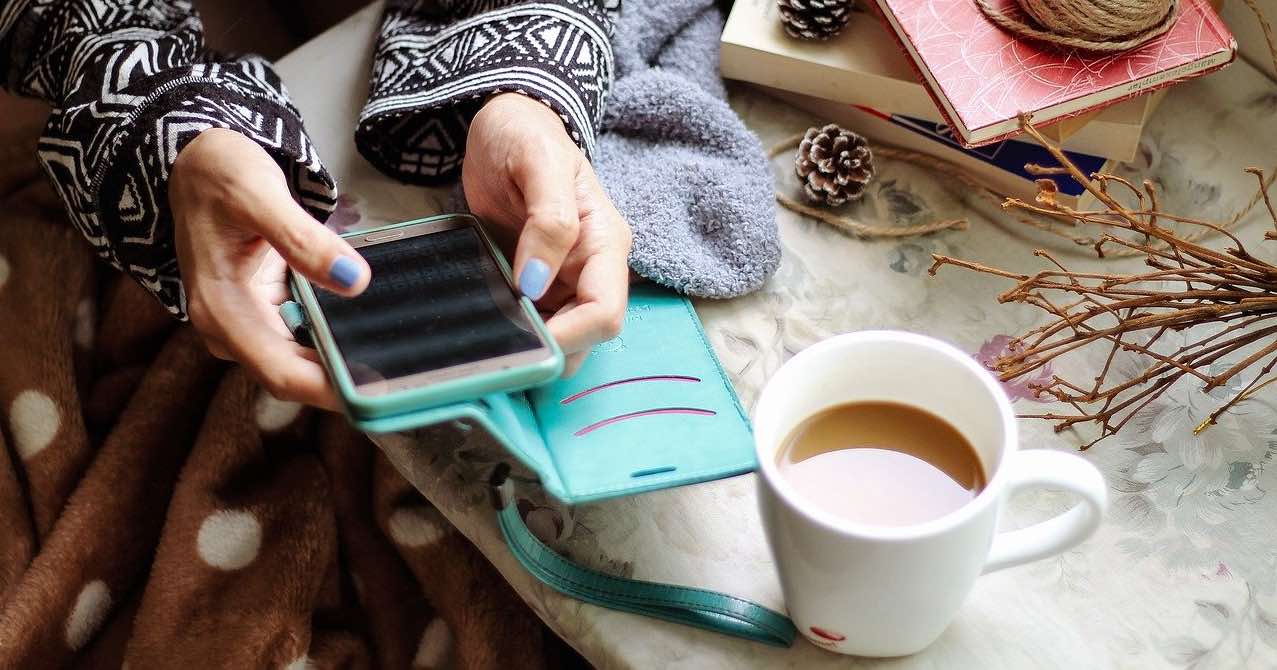 You'll learn about everything from picking a title (6-8 words, 60 characters max) to the right number of questions (6-10) or result types (3-5).
But let's cover how you can get more social shares of your Facebook quiz.
Quiz results are critically important: Want more shares? Make sure your quiz results are so funny, insightful, or sassy that people want to share where their friends. Boring quiz results don't get shared - period.
Our 50% / 50% Rule: As a rule of thumb, put in as much effort and creativity on your Facebook quiz results as you do on your quiz questions. We find quiz makers sometimes run out of inspiration when they get to writing their results - but that's a mistake. Insightful quiz results get shared more often.
Follow the "3 Minute Rule": Keep your quiz short and effective. Most users will take your Facebook quiz during a short break in their day - make sure your quiz takes no more than three minutes to complete. Otherwise, many users won't even finish your quiz - which means they can't share their quiz results.
Have any questions about creating a Facebook quiz?
Just ask us - our team of quiz experts have over 40 years with quiz marketing. We can help you with everything from picking the right type of quiz for your use case - to optimizing your lead generation flow.
You can always reach us - either with email (hello@riddle.com) or using our support chat - we look forward to hearing from you!