ActiveCampaign and Riddle are a powerful 1-2 marketing combination.
First, it's hard (impossible?) to beat quizzes as a lead generation tool.
It's a fact - quizzes are well-nigh irresistible to any audience. Whatever the subject, people love answering questions.
Quizzes are up to 20X better at getting people to opt-in than your typical pop-up or other tool.
And it's difficult to think of a better lead generation email solution than ActiveCampaign - simple, flexible, and very powerful.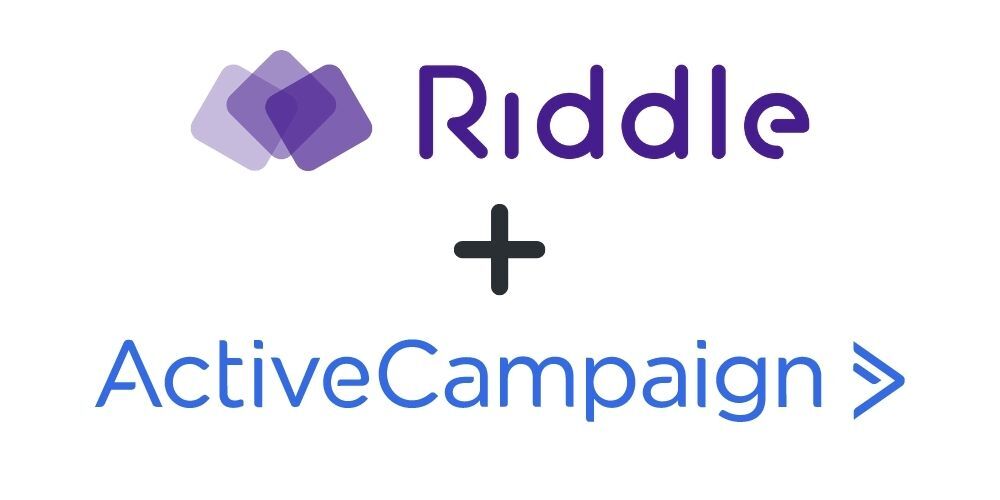 ActiveCampaign & Riddle's quiz creator - video walkthrough
Watch our co-founder Mike as he gives a quick overview of how ActiveCampaign and Riddle work together:
Riddle & ActiveCampaign = 100% GDPR-compliant
You can create quizzes and collect leads using Riddle - we're fully GDPR-compliant.
Here are the top-level highlights:
All of your quiz data will stay in the EU.
We're a German company (Riddle Technologies AG).
No cloud-based data - our servers are in Germany and Luxembourg.
Collect leads using double opt-in email confirmation.
Add any checkboxes for terms and conditions or your privacy policy.
Why are quizzes so powerful with ActiveCampaign & Riddle?
Let's take a quick peek at the reasons behind quizzes' marketing effectiveness.
It comes down to basic human psychology.
Engagement: first, quizzes are consistently some of the most shared and interactive online content.
Time: Your users commit to a longer experience, answering an average of 8-10 questions. This translates to between 3-5 minutes engaging with your quiz.
Psychologically 'primed': All that time means your users used to answering questions.
40% opt-in rates: 4 out of 10 quiz takers will opt-in to your form - when shown right before the user's results (vs. 2% for average online lead generation tools).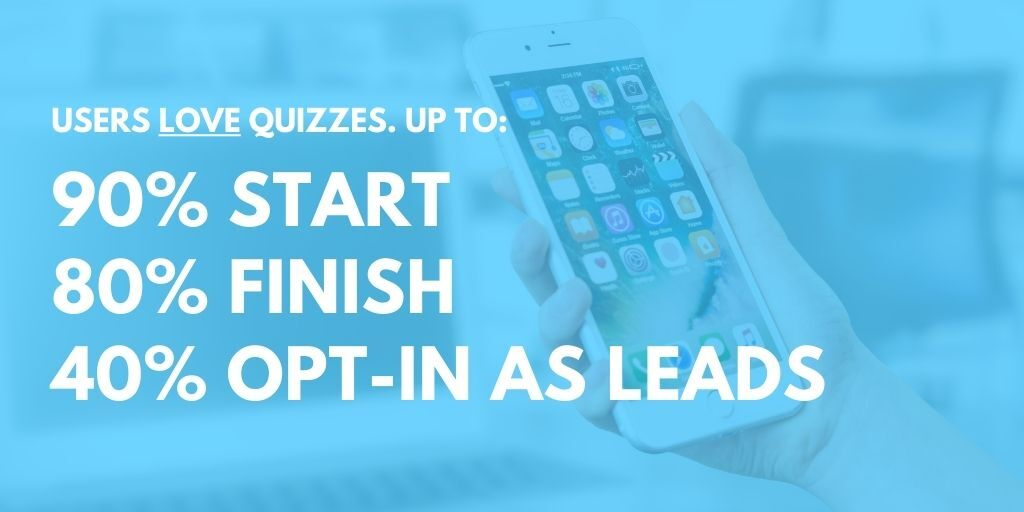 Send your leads and quiz data to ActiveCampaign
Seamlessly (and automatically) sync each lead and their quiz responses to your ActiveCampaign account.
Use this rich data to:
Tag each lead or add them to lists - depending on their quiz answers.
Auto-send different messages to users - targeted around their responses.
Boost conversions - show the right offer or message to the right user.
Let's walk through an example.
Imagine you're a career coach - and want to get new customers through your personality test called "Are you really career-happy?":
For example, imagine you're running a travel site - and create a quiz called 'What's your dream holiday?':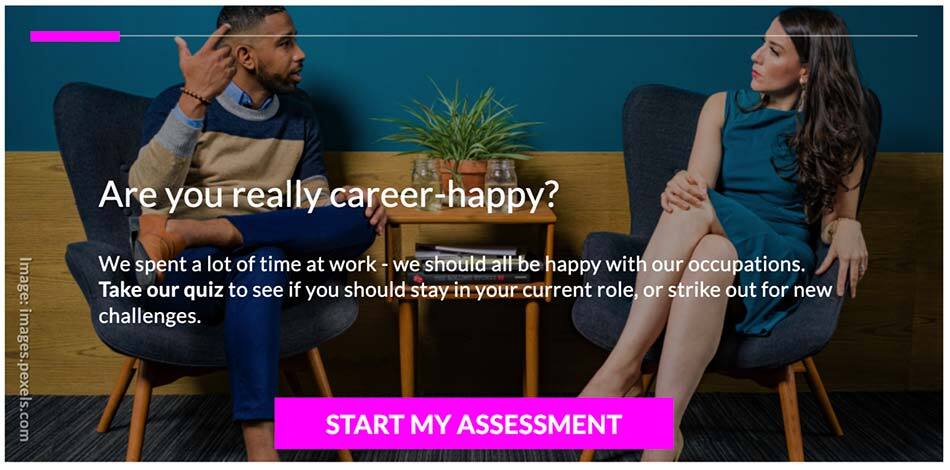 Every person who scored "You're (job) depressed!" - these unhappy folks could be tagged as "hot leads".
They'd also receive a mail drip campaign via ActiveCampaign showing how your career counselling can help them find happiness at work.
Folks who got "Happy at work!" are content in their current role - not a great fit for your service.
You could tag them as "cool leads" and send a more general mail drip around how to stay fulfilled at work.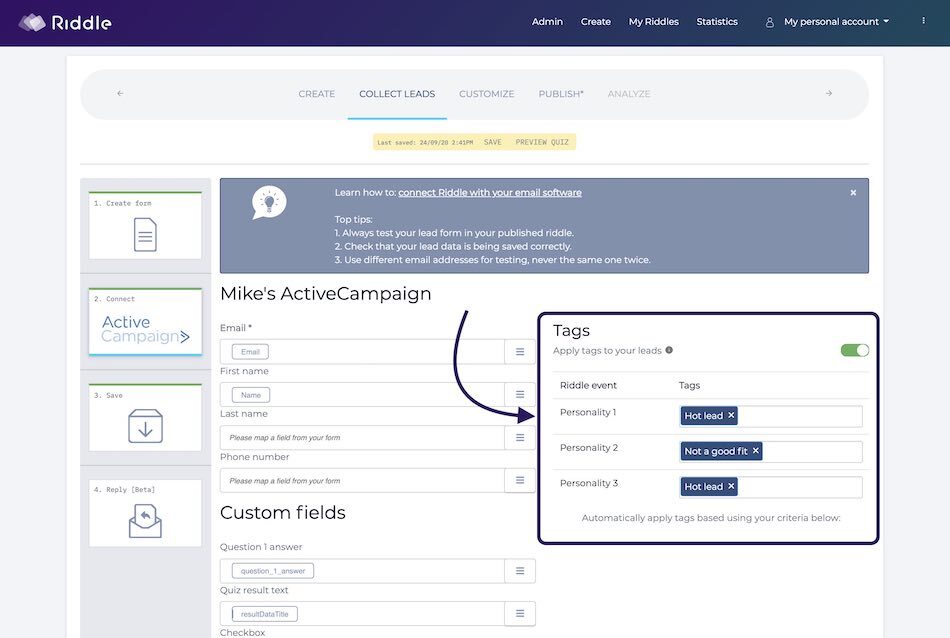 How to connect ActiveCampaign to Riddle
We've created a native ActiveCampaign integration - so you can automatically send every quiz lead and their results directly to your account… no coding required!
Create your quiz (or 15 interactive formats) in Riddle's quiz maker.
Add a lead form with our intuitive drag/drop form creator.
Choose from 16 field types - including email, date/time, checkboxes, and more
Decide if your form will be mandatory or optional, before showing quiz results
Map you lead form fields to your ActiveCampaign account (e.g. "First name" in Riddle => "Firstname" in ActiveCampaign).
Embed on your site - or just host on Riddle.
Click "Publish" - and your quiz/lead generation magnet is now live!
Can we help @ using ActiveCampaign with Riddle's quiz creator?
Ask us anything quiz-related - we love to help out.
You can reach us on support chat - or email (hello@riddle.com).
Our founders and the rest of our team actually race each other to respond first - so most folks get a response in under two minutes. Fast, right?
(In the interests of transparency, we should mention that beer might be on the line - the team member that helps the most customers gets the monthly beer trophy!)
Yes, you can easily add a lead form to your online quiz to collect quiz takers' names, emails, and other info. Riddle's native ActiveCampaign integration lets you automatically sync all that data with your ActiveCampaign account.
You can get up to 55% of your quiz audience to fill in a lead form, then use their quiz responses to send out personalized follow up emails to convert them to happy customers.
Tagging each lead around their quiz results is an excellent way to segment your audience. Send different messages to different users, based on their quiz responses - and boost your conversion rates.
Imagine you have a quiz around helping people find a new job. You could tag users who get 'Ready for a new challenge' or 'Get me out of here!' as 'Hot leads' - while people who get 'Happy where I am' could be 'Not suitable'.
Yes, Riddle's quiz maker fully supports double opt-in confirmation with ActiveCampaign. When activated, every quiz taker who fills in your lead form will receive an email with a confirmation link. Only people who click the link will be added to your ActiveCampaign account.
More and more countries are now requiring double opt-in, as part of increased data privacy regulations (like the EU's GDPR and California's CCPA).
Sending each lead an email confirmation link gives them one more chance to make sure they really want to opt-in to your form.
The net effect? You'll get a minor reduction in the numbers of leads for your online quiz - but each lead will be higher quality, as they've agreed twice that they want to hear from you.
Supporting double opt-in is just another way Riddle is a - check us out if data privacy is a key priority for your business.