The Auto-quiz: One quiz, infinite possibilities
Introducing our newest quiz format at Riddle - the auto-quiz. Traditional quizzes show the same questions to every user in a 'one and done' type of format.
The auto-quiz is entirely different.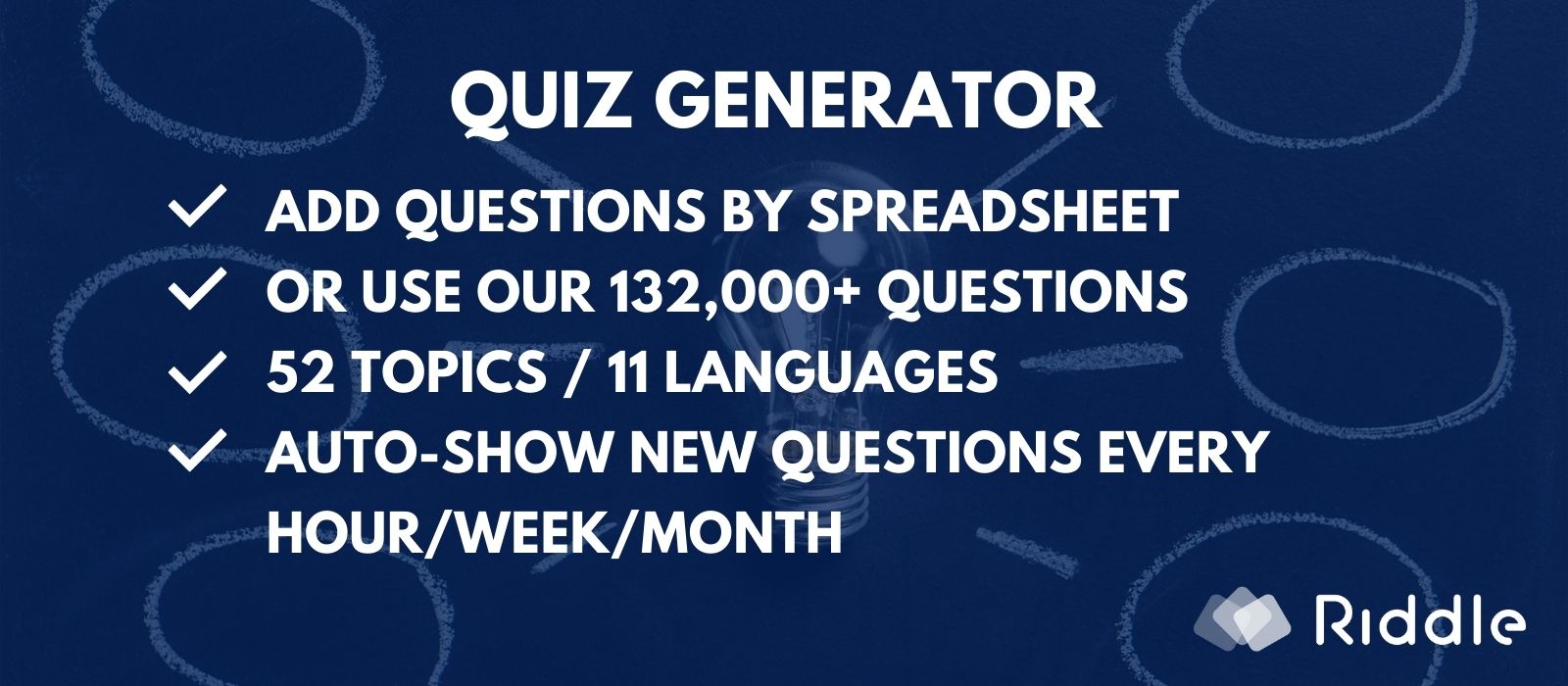 Powered by our online quiz maker, it randomly displays a new set of questions to each quiz taker every hour/day/week - for an always fresh, always new engagement experience.
Upload your spreadsheet of questions or use our bank of 132,000 questions in 11 languages - for easy to create, powerfully flexible quiz for your audience.
Add question timers and quiz leaderboards - and you've got a ready-made social quiz competition on your site.
Example quiz generator
Check out this quiz generator - we set it to continually show a new set of questions (drawn from 3 nature-based categories).
It's the Level 2 of our three quiz 'Science/Nature' series, all using the same question database. We simply set the difficulty level at 'medium' and added a quiz question timer for extra engagement:
Customize the exact mix of questions - from category (e.g. 'Sports'), subcategory ('Sports:Soccer'), and difficulty (1=easy to 10=hard).
The image below shows an example of categories, difficulty ranges and questions that you can mix to create quizzes automatically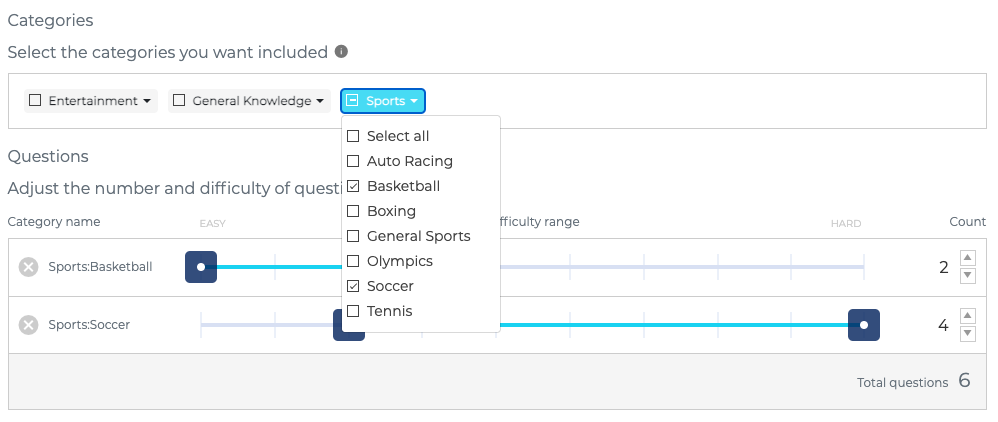 Why make a quiz generator (auto-quiz) for your site?
Designed for busy content teams, every quiz generator or auto-quiz you create is an 'evergreen' piece of content - automatically showing new questions. Forget having to make a completely new quiz every week to keep your audience engaged.
You can build your own auto-quiz in four easy steps:
Just create an auto-quiz
Choose your questions, upload your own set, or pick from our free bank of 10,000 questions
Decide on the number of questions (and how easy/hard) for each category
Pick the refresh rate - your quiz can call up a new question set every (hour/day/week/month)
Create an auto-quiz: video overview
Check out our quick walkthrough - including tips and best practices to create a quiz for your audience using the Auto-quiz:
Quiz generator / auto-Quiz: sample use cases
Auto-quizzes excel as 'test your knowledge' experience. You can quickly upload from 10 to 10,000 questions - with answer explanations to show why a question is right or wrong.
Trivia challenges - 'How much do you really know about «topic»?'
Competitions - 'Take our weekly quiz challenge - the top 10 finishers win «prizes»!'
Inform - 'Top up your «topic« knowledge' to educate and inspire your audience
The BBC is a big fan of the quiz generator
The British Broadcasting Corporation continually amaze us with their creativity.
Check out the BBC Archives team's 'Trivia vault' - they uploaded 1,000 questions about all things BBC-related. It refreshes every hour - perfect for increasing return engagement.
The Auto-Quiz: the advantages
Get more repeat visitors - most folks can't resist a good quiz. An auto-quiz provides a reason to come back to take the next bunch of questions (e.g. "Come back for our daily trivia quiz!")
Increase your time on site - you can't beat a quiz for boosting your 'average time on site'. With 10-15 questions, each quiz taker will spend 3-5 minutes on your site (up to 150% better than the internet average). More time on site = better SEO from Google, improving your search rankings so you get more free traffic.
Free up your editorial teams - they can make one 'always fresh' quiz, then move on to other projects.
Quiz contests - quizzes are addictive, especially paired with a quiz leaderboard and a prize. Add a lead form to your daily quiz «LINK» to collect entries and grow your marketing list.
Collect emails with a lead generation form
Riddle's quiz maker features powerfully flexible online lead generation technology.
Add a form to your auto-quiz - collect the name, email, and other information from each quiz taker.
Quizzes rock at lead generation - they get up to 35-40% opt-in rates (20X standard pop-ups).
Seamlessly sync all that data - connect to ActiveCampaign, MailChimp, Google Sheets, or any other CRM tool.
Automate your marekting funnel - send personalized follow-up messages in your quiz-powered marketing funnel.
Do you have any questions about the quiz generator?
From the auto-quiz to personality tests, lead generation to quiz ideas, we're big quiz geeks.
Our founders wrote "Quizmaster" - the only book focused entirely how to effectively use quizzes for marketing.
And we're passionate about customer support.
Ask anything on our support chat or email (hello@riddle.com - and watch our entire team race to answer first.
Our average response time? 67 seconds. Boom!
Yes - Riddle's quiz generator is very flexible. You can pick the perfect mix of questions that will be shown for your audience - choose categories, sub-categories, and difficulty level.
For example, imagine you want to show 12 new questions every hour. You could decide to show 4 history, 4 music, and 4 sport questions - with a difficulty level of 1-3 (out of 10).
The best part? You can make a 'medium difficulty' quiz using the same spreadsheet. Simply change the difficulty level to 'medium' or 4-6) and embed the new quiz on your site.
One spreadsheet = powering multiple quizzes. Check out how to create your own quiz generator.
Riddle makes it easy to upload a spreadsheet of your own quiz questions with our quiz generator. You can add up to 10,000 questions, complete with categories, correct answers, and explanations, plus difficulty levels.
Or you can use our question bank of 130,000 questions across 11 languages.
The quiz generator is designed to display new sets of questions every hour, day, or week. You pick the interval - and the quiz generator will select a random new set of questions for your audience.
You can use your own spreadsheet of questions (up to 10,000) - or choose from Riddle's 132,000 pre-loaded questions across 11 languages.