5
min read
At Riddle, we're often asked – how do you create the perfect quiz? Our number one piece of advice – your online quiz title is the most important thing you'll create.
We're often amazed when making a quiz, people put all their creativity into the questions –  then jot down the first online quiz title that comes to mind.
Our rule of thumb? 
Spend as much time thinking up the perfect title as you do actually writing the rest of your quiz.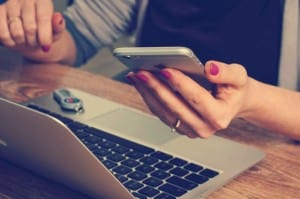 After all, your title and main image are all potential users are going to see – either browsing your site or on their social feed in Facebook or Twitter.
People are spending 51% of their online time on smartphones. These smalls screens, combined with their ever-shorter attention spans, means all people will see is your title and image.
Your title is all that stands between your quiz's viral success or online oblivion. (Sheesh, talk about pressure, right?)
Online quiz title: the clickability challenge
Virality = clickability of your content multiplied by its shareability
The good news is that online quizzes are naturally shareable. Humans just love to compare ourselves and our results with our friends.
The bad is that if your title doesn't catch the users' attention, few people will click to take the quiz – and even less will share.
That means clickability is even more important.
Okay – enough of the doom and gloom.
The good news is that we've got some easy tips that will help your quiz virally thrive.
Online quiz title: five rules for awesome titles
We've read through the research that's out there about perfect titles for quizzes.
Here are the key findings that you can apply when you make a quiz:
Use the word "you" or "your": Online quiz titles like "How smart are you?", "Do you know enough about…", "Are you smart enough to…" attract more traffic than impersonal quiz titles such as "The Intelligence Quiz".
Use only odd numbers: Strange but true, titles with odd numbers perform 20% better.

"7 Harry Potter trivia questions you'll never guess"

"9 questions to find your Harry Potter soulmate"

Challenge your readers with bold statements: Using words like 'actually' or 'the most' make quiz titles an almost irresistible challenge:

Before: "What city do you belong in?"

After: "What city do you actually belong in?" (See the difference?)

Eight words or 60 characters – studies show that an eight word headline has a 21% higher click through rate. Short and punchy titles can be read quickly, even as people scroll through their Facebook timeline.
Now these are really useful tips but we couldn't let the subject go without using a riddle so here's a whole list of headline tips for you to test out on your product!
22 Fiendishly Clever Techniques To Increase Internet Traffic, Backed by Science
There is a distinct science to writing headlines that make people click on your riddle. Here we put together some different approaches that have been tried, tested and summarised online by a variety of sources – with a big nod to the guys at Buffer. Get more traffic to your riddles and earn more revenue – what are you waiting for?
Numbers + Adjective + Target Keyword + Rationale + Promise
For example:
9 Simple Tricks You Can Try Today to Treble Your Lead Generation On Riddle
Don't ask questions that can be answered with 'no'
'Can Brands Truly Interact With Their Customers?' does not make people click.
Try something like this:
'The Impossible Task of Brands Truly Interacting With Their Customers: See How These Brands Pulled It Off '
like
Write Riddles Like Joanne Harris – Author of Chocolat
Or:
Write Riddles Like a Best-Selling Author
Like Without
Write Riddles Like a Best-Selling Author without Killing Your Free Time
Interesting Adjectives + Unique Nouns
Instead of always starting with '10 things…' use phrases like these:
Awe-Inspiring Examples; Painstaking Lessons; Can't-Miss Takeaways; Brilliant Strategies; Underrated Ideas.
For example:
Underrated Ideas That Will Generate Leads Today
: Subhead
Writing the Perfect Riddle: How to Put a Smile On Your Reader's Face and Make Them Share Your Message
SEO Headline
& That Will
For example:
Quick and Easy Methods of Lead Generation That Will Boost Your Sales
Who Else Wants…
Who Else Wants an Easier Way to Generate Leads?
The Secret of…
The Secret of Creating Viral Content on a Regular Basis
Little Known Ways to…
Little Known Ways to Generate Leads
Here's a Quick Way to
For example:
Here's a Quick Way to Create Viral Content
Have a / Build a …You Can Be Proud Of
Build a Sales Funnel You Can Be Proud Of
What Everybody Ought to Know About…
For example:
What Everybody Ought to Know About Creating Lead Generation from Fun Quizzes
Lessons I Learned From…
17 Lessons I Learned From Creating Riddles For Top Brands
How to Survive Your First…
For example:
How to Survive Your First Flood of Viral Traffic
Headline Plus Personal Extra
21 Intriguing Ways of Interacting With Your Customers on Riddle. We're Trying #7 Today
Double Headline: Say it Twice
Why not try something like:
21 Clever Riddle Tips: 21 Ways to Boost Audience Interaction on Your Site
Headline and Listicle
Interacting With Your Customers: 21 Ways to Connect With Your Audience on Riddle Without Killing Your Free Time
…Backed By Science
21 Ways to Connect With Your Audience on Riddle, Backed By Science
(We used this on our headline for this list)
The Ultimate or Beginner's Guide to…
The Ultimate Guide to Generating Leads Every Day With Fun Quizzes
The Big List of…
The Big List of 78 Tricks To Persuade People To Share Your Content
Short, Sweet, Numbered, and Interesting
Number or Trigger Word + Interesting Adjective + Keyword + Promise (as near to six words as possible)
For example:
19 Cheeky Quizzes That Earn You Money
So what are you waiting for?
Try different variants of these headlines and see what works best for you.
Don't forget to keep track of the number of clicks/visits each headline brings.
You might also find that some headlines work better on one particular medium – such as Twitter – than the others.
Once you have found a winning formula just keep tweaking it until you see the results start to drop off.
And of course, all the headlines can be used on our riddles to generate leads and sell your products.
Quiz Maker – powered by Riddle
Online quiz title: the main image
The lead image is just as important as the title of your quiz.
Facebook, Twitter, and other social networks let you share links to a quiz. You can send a block of text along with a lead image that is grabbed automatically from the shared URL.
Using a quiz maker like Riddle, the main or title image of the quiz will automatically become the share image for social sharing. 
Just like the cover of a book, your image needs to be an eye-catching and intriguing peek into your quiz topic.
Our top tips for picking the right image for your online quiz:
Avoid stock photos: We recommend steering clear of most popular stock photo sites. They're often 'cheesy' and look unmistakenly like stock pictures.
Go (creative) common: Images with a Creative Commons license are generally okay to use in your quizzes. Check out Flickr's creative commons library, or use royalty-free libraries like Pexels – all completely free.
Pick people: When possible, select images with people, especially who are looking directly at the camera. Humans are social creatures, and we instinctively respond better to photos of people.  
Sex sells: Sure, it's a bit blunt, but this classic advertising saying is true as ever. Use pictures with attractive people to catch users' attention.
In a blatant plug for our own quiz creator, Riddle makes this process easy – you can search and insert images:
Google images
Pexels
Giphy (animated GIFs)
YouTube
Upload your own
Stock (some curated images for you to use)
Facebook (your account)
Instagram (any account)
Twitter (your account)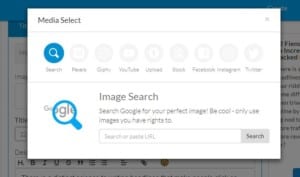 There you have it… our best tips for the perfect online quiz title. We recommend checking our tips on making the perfect personality test or online quiz.
Have a question we haven't answered?
Let us know at hello@riddle.com –  our quiz maker team are fired up to help, and we read and responds to every message. 🙂