Writing an online quiz is as much as art as science. They're taking over the internet – for one simple reason. Quizzes feed into our need to see how we compare with other people – especially about a subject that interests us. That means an online quiz can be incredibly powerful for audience engagement, as well as lead generation and data collection.
But creating an effective online quiz is more than just coming up with a series of questions.
You need to craft a compelling title and the right types of questions – plus use the most effective quiz images – to keep your audience engaged and entertained. Let's dive in – and talk about each step of the online quiz process.
Why use Riddle for your online quiz?
Our online quiz maker has been around since 2014 – we're used by both big brands (such as the BBC, Red Bull, and CNN) as well as thousands of small businesses (like fast-growing The Hair Fuel).
And privacy is absolutely our key priority. We're fully GDPR and CCPA-compliant – we never place ads, trackers, or scripts to your quizzes.
It's fun (and easy) – no coding required
Up to 75% of your users will complete your quiz – spending up to five minutes longer on your site.
Quizzes are brilliant for collecting emails and building your marketing list (35-45% of your quiz takers will opt-in).
Grow your audience – quizzes get up to 217% more shares on social media compared to static articles, with all that traffic coming back to your site!
How to create a custom quiz with Riddle
Sign up for your free 14 day trial of Riddle – all features unlocked, and no credit card required.
Go to "CREATE" and select "Quiz". And then you're ready to go! Now follow these steps:
In the cover block, choose a compelling title, write a short description. (and add an image ideally)

Pick a compelling main/title image – you can use our image options (Pexels, Google, Instagram), GIFs, videos or upload your own.
Watch our video 'getting started' guide – all our tips and best practices, in under five minutes.
And if you don't know which Riddle type you should create, check out our guide on viral content creation with Riddle!
What online quiz questions work best?
Now – the best part and most important part of creating your Riddle quiz – writing your quiz questions!
Quizzes have answers with a clear 'right' or 'wrong' answer. About 6-8 questions is the sweet spot – after that you'll see a drop-off in completion rates.
Your questions (and answers) can be all text, or you can add images. (We recommend adding images – on average, people are 72.7% more likely to finish your quiz.)
Give each user a result type
Finishing a quiz – and merely finding out how many questions you get right is booooring! An online quiz goes viral because users learn something about themselves – and want to share with their friends.
Riddle lets you go beyond numbers – by adding a personal result type for each score. A funny (or even slightly snarky) description is far more likely to be shared.
Top tip: Don't spend all your creativity on the questions. Spend at least as much time on each result type.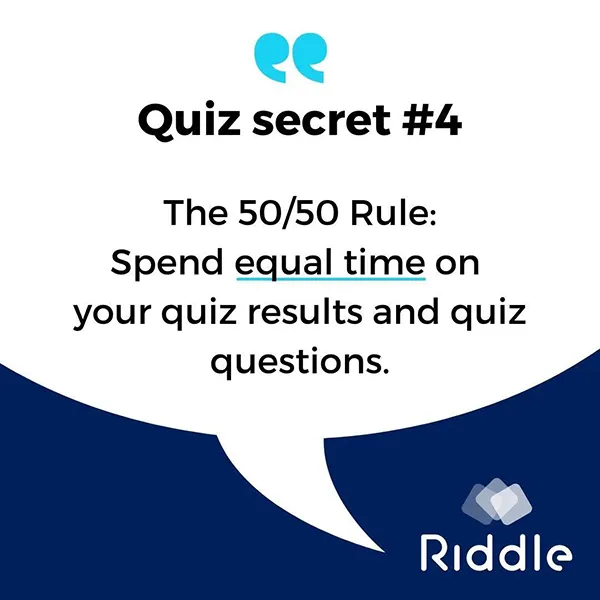 Imagine you created a cooking quiz – your answer types could be:
'You're such a bad cook you could burn water!'
'You're good at cooking but you tend to just cook what you know'
'You have flashes of brilliance in the kitchen'
'You are a true master chef!'
Add a few words describing their performance – or in this case skills (or lack) in the kitchen.
Remember that the idea is to ensure the user likes their result – and won't be embarrassed to share with their friends. It's okay to be a little sassy on the lowest result – the user knows they've got to be pretty bad to get this result!
Add a quiz timer
Using a quiz timer will add a whole new dynamic to your online quiz. Seeing that progress bar march down question by question gets the pulse pounding – and boosts completion rates. (It also prevents folks from turning to trusty Google to find the answers.)
Set a quiz time limit – give your users X seconds to finish the whole online quiz.
Add question limits – you can also choose to set a timer for each question, such as '10 seconds to answer each question'.
Individual quiz question times – want to get a little tricky? Start easy and go hard with different timers for each question. Question #1 might have 15 seconds, #2 13 seconds, and so on. Subtle yet effective way to ramp up the challenge.
With Riddle's online quiz maker, you can quickly add your own timers – and mix/match these formats in a single quiz. Timers are also brilliant for running quiz contests – especially combined with a lead generation form.
Online quiz use cases
We're often asked for quiz ideas – across a range of subjects. That's part of the beauty of using an online quiz for your site – people love being challenged to show how much they know… it doesn't really matter the topic.
Here are some use cases – to help inspire you to make your own quiz. And if that is not enough, get inspiration from our favorite examples in our showcase.
Trivia quizzes
These are the online equivalent to the pub quiz. Simply create an assortment of quiz questions, across a range of subjects. If you're stumped, you can use our quiz generator – to auto-generate a quiz for you from 10,000 free questions covering popular subjects like entertainment, sports, science, and history.
Audio quiz
Adding MP3 audio clips turns any quiz into an audio quiz. Perfect for language teachers, or just a novel way to test people knowledge (like this BBC sound effects quiz).
Fun quizzes
Your online quiz doesn't have to be serious. You can make light-hearted and fun quizzes – like a "Can you pass this ultimate Friends trivia quiz?"
Map quiz
Dust off your inner geek, and challenge your audience around their geography smarts. We loved how the BBC does this – you can try their 'Mind-blowing map quiz' – or the 'Map Master' quiz for their children's audience (powered by our Tap & Find module).
Entertainment or celebrity quizzes
Another rich vein for online quizzes, you can easily ask questions around any TV show or movie (like this Radio Times online quiz about Bridgerton), or famous folks in the news.
History quizzes
Chock full of fascinating stories, people, and dates, history quizzes are always popular – check out History Extra's 'How much do you know about the US ban on booze?' (and cheers!)
Art quizzes
The Tate loves making art accessible. We loved their 'Turner, Turnip, or Turtle?' online quiz – one of the more creative quizzes we've seen, it's a quirky original take on typical trivia quizzes.
Science quiz
The Science and Industry museum did the same thing with the last frontier, in their fun 'Try our quiz about space, man' quiz. (Spot the pun?)
Emoji quizzes
One of our favorite quizzes, we loved how Agatha Christie challenged their mystery-loving fans with this very clever – and very difficult – 'Agatha Christie stories in emojis' quiz.
Lead generation and special offers
Audience engagement is one thing – but an online quiz is also highly effective around lead generation and collecting emails.
We designed Riddle's online quiz maker so you can easily collect users' emails in your online quiz. The way it works:
You add a lead gen form in the 'collect emails' step of the creation process.

The form can be mandatory or optional.

Each user sees the form after their last question and before the results.

Why there? Our research shows this is the best location for engagement – after answering 6-10 questions, quiz takers are emotionally invested to seeing their results.

All your quiz leads (and their quiz/poll responses) can be automatically sent to ActiveCampaign, Mailchimp, or any marketing software you use – so you can automatically follow up with email messages or special offers around their quiz results.
You can also send them to Google Sheets – or download as a XLS/CSV file.
What next?
After you have created your quiz and fine-tuned it, make sure to give users the ability to share the quiz (via Twitter, Facebook or even WhatsApp). That's the way to create highly viral content.
What about creating a personality quiz?
Creating an online quiz is one thing – what about tips for personality quizzes? Check out our blog post chock full of ideas and best practices.
Any questions? Ask us!
Have a question about writing an online quiz or quiz marketing in general?
Let us know via support chat or at hello@riddle.com – we read and respond to every message!