8
min read
There are a number of online quiz makers out there – today, let's compare Typeform vs Riddle.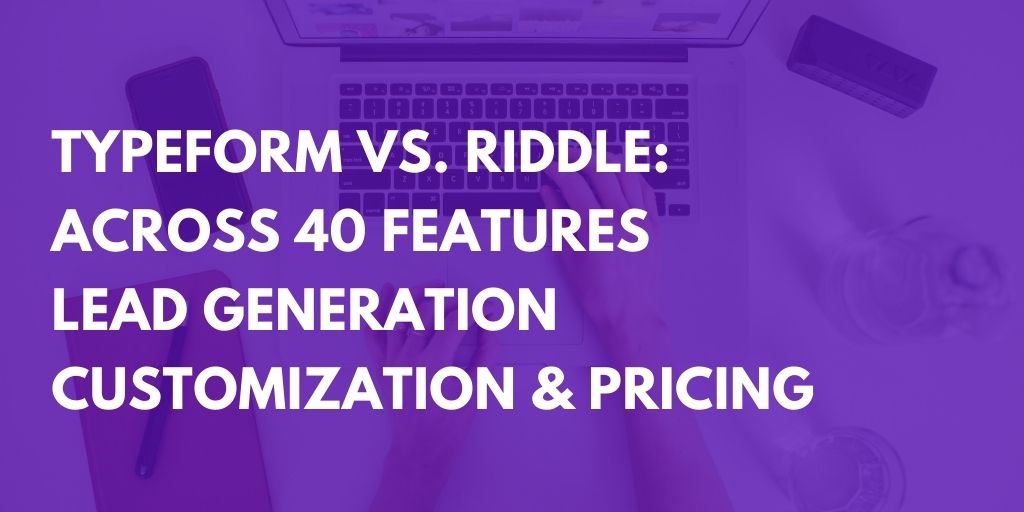 Looking to create a quiz as a way to power your marketing funnel? Today's marketers are turning to quizzes to collect leads – savvy gurus like Neil Patel knows they're a natural way to engage and qualify potential customers.
How can you use a quiz maker for marketing?
Rather than forcing people to view your ads, quizzes flip that process on its head.
Create a quiz that intrigues potential leads
They voluntarily start engaging with your quiz
Add a lead form to collect their email address (generally before they see their results)
Automatically send each lead's quiz responses to your email marketing tools for automated follow ups
Each quiz taker will spend around three to five minutes answering your quiz – and will be super engaged to find out their quiz results.
Adding a lead form in this gap – when they're most emotionally connected – translates to a whopping 20X boost in opt-in rates compared to more traditional online marketing methods.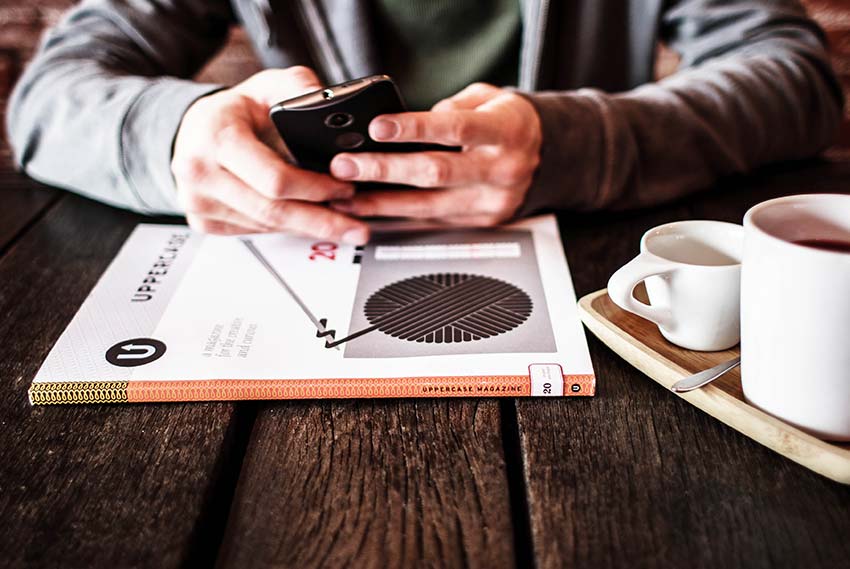 Typeform vs Riddle: setting the scene
Now this review will cover Typeform vs. Riddle – first at a high level and then a more detailed look. (We also review Outgrow, Buzzfeed, Survey Anyplace and a bunch of other quiz builders – 14 in all.)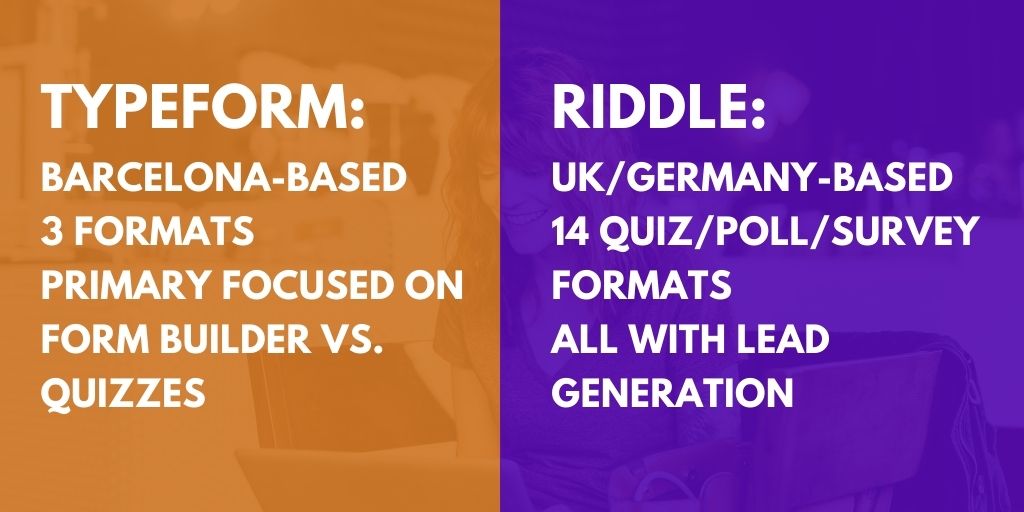 Our team @ Riddle are all big quiz geeks – after all, we've got a combined 35 years of quiz making experience.
So we'll look at over 40 of the most important features for any business-oriented quiz maker.
You'll discover how both Typeform and Riddle compare in everything from customization to white labelling, the range of quiz formats, and quiz/lead data collection.
(Ahem, so you've probably spotted that this post in on Riddle's own blog.) We're proud of our quiz maker, but we also know that each business is different.
You each have own unique goals and requirements for your quiz marketing funnel.
Our goal is to be transparent – and help shed some light on the features and capabilities that might best suit your particular needs.
Typeform vs Riddle – key features
Now, we know that most marketers tend to be super busy.
Pressed for time? Check out our short and sweet executive summary of these two quiz maker platforms.
| Feature | Typeform | Riddle | Comments |
| --- | --- | --- | --- |
| Pricing | Free, $35, $50, $70 + Enterprise | $29, $49, $249 | Typeform offers a free plan - with only 100 responses, as well as an Enterprise plan with 'ask us' pricing (generally north of $500 a month). |
| How many types of quizzes? | 3 | 14 | Typeform offers 3 options: quiz, poll, and form |
| Easily embed on your website | Yes | Yes | |
| Fully responsive quizzes - look great on any device | Yes | Yes | |
| Create unlimited quizzes | Yes | Yes | |
| Collect unlimited leads | No | Yes | Typeform: limited to 100 / 1,000 / 5,000 / 10,000 leads |
| Unlimited quiz takers | Yes | Yes | |
| Send leads to any email marketing tool | Yes | Yes | |
| Fully white-labelled - add your logo | Yes | Yes | |
| Add 'call to action' buttons | No | Yes | |
| Custom quiz result landing pages | Yes* | Yes | Typeform: send all users to one page | Riddle: different pages by result |
| Upload your own font | No | Yes | |
| CSS editor | No | Yes | |
| Multi-user teams | Yes | Yes | |
| Saved style templates | Yes | Yes | |
| Insert your own video or banner ads | No | Yes | |
| GDPR-compliant | No | Yes | Typeform - lots of trackers and cookies, plus data is stored in the U.S. |
Quizzes: powerful lead generation & engagement
Are you a newcomer to the world of quiz marketing?
Let's take a quick moment to give some context – before our in-depth look at Typeform vs Riddle.
There are two main reasons marketers choose quizzes:
Increasing engagement
Qualifying and collecting leads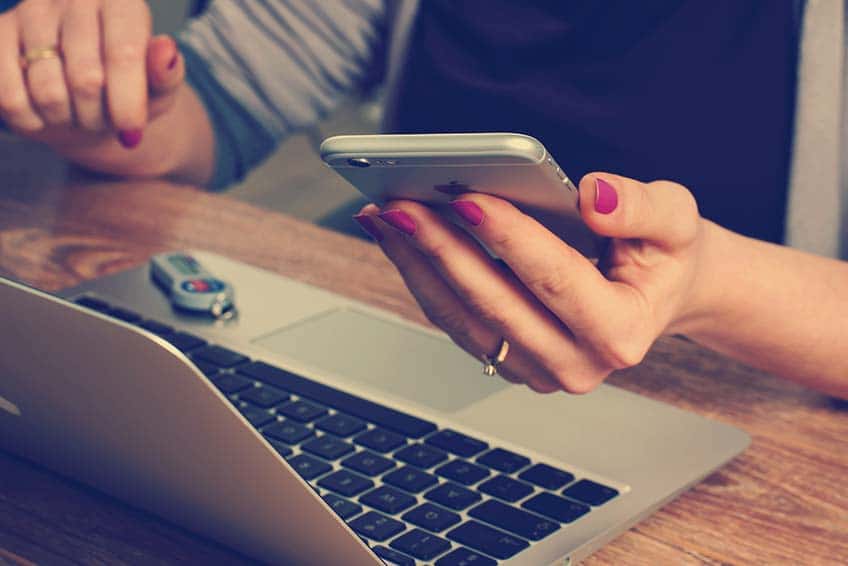 Each quiz maker has its own strategy on how to best accomplish these goals.
Looking at Typeform vs Riddle, Typeform takes a more narrow approach – staying focused within a smaller range of content types – while Riddle goes broader, creating a wide array of interactive formats for our partners.
Online quizzes and engagement
Quizzes excel at engagement – well-crafted, they're irresistible to your audience and can turn passive browsers into active participants on your site.
Adweek called quizzes the most shared type of social content – and it's easy see why. People love to test their knowledge, learn new things, and (here's why they're viral) share their results with friends.
You'll find that different quiz creators will place a different priority on social sharing. As a result, each might choose to integrate with differing numbers of social platforms like Twitter, Facebook, WhatsApp, Messenger, and LinkedIn.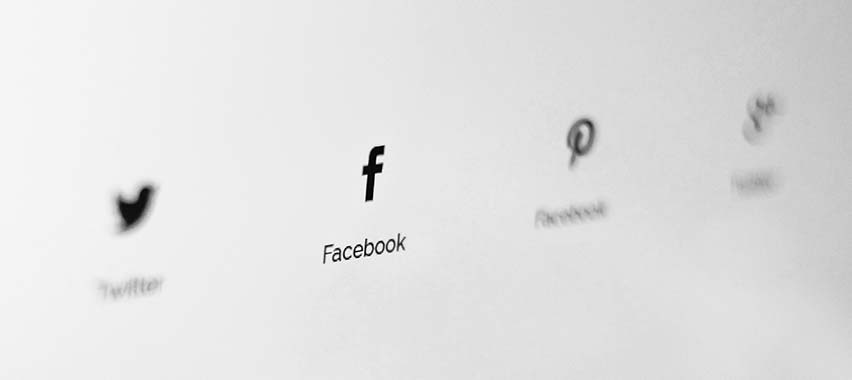 Quizzes for lead generation
For lead generation, quizzes leverage that engagement and social sharing – and turn it into actionable leads.
Effective quizzes will see up to a 40% opt-in rate of people giving their email address and other information… that's over 20X the average for online lead generation tools.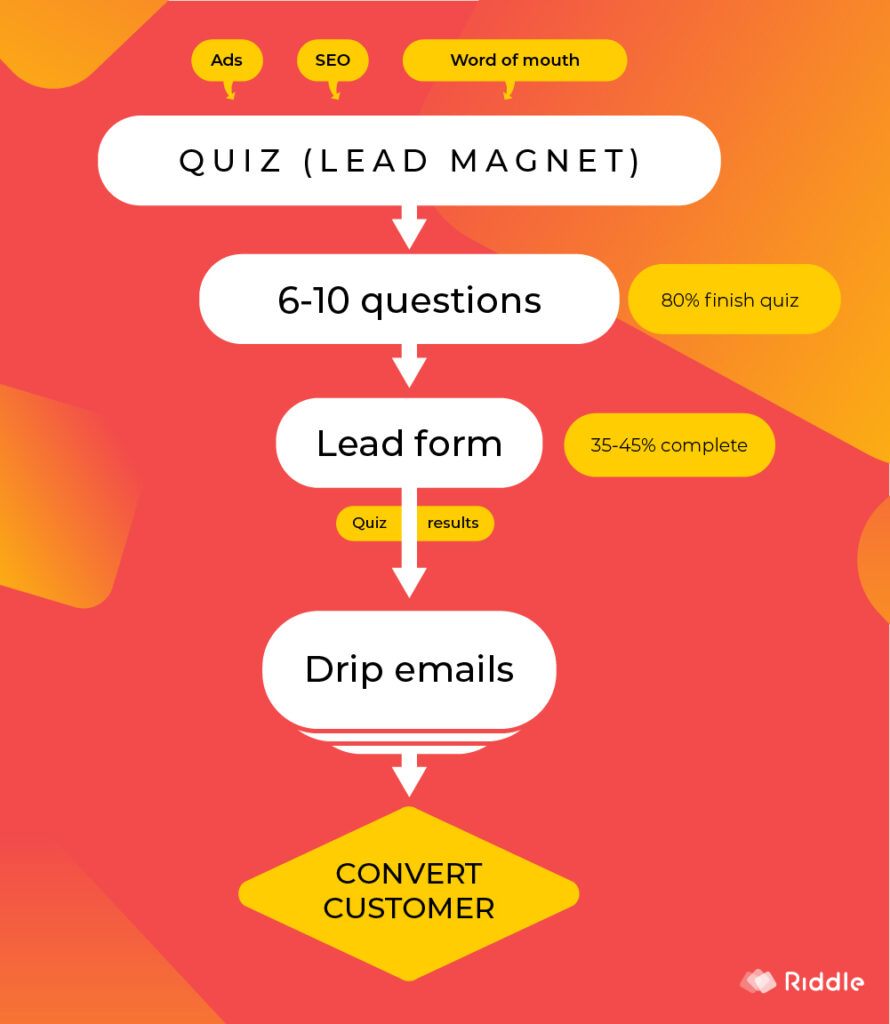 Why?
Well, each quiz will feature:
from 6-10 questions
last three to five minutes
Every lead who has just spent all that time – actively clicking, thinking, and responding – are now in an 'answer-ready' state. You will find it much easier to get them to fill in your form – compared to casual visitors to your site.
Any decent quiz maker should let you add your own customizable optional or mandatory lead form. The choice helps in case you prefer to gate off quiz results until each lead completes your form.
Whew! Right – now that we've given the background, let's dive in to our more detailed comparison of Typeform vs Riddle.
Typeform – overview
Started in 2013, Typeform is a Barcelona-based company that has made it their mission to develop easy to create forms and surveys. Their mission is to "Make online forms a little more human" – and they've done a great job.
With 200 people and top-tier clients like AirBnB, they're obviously doing a lot of things right.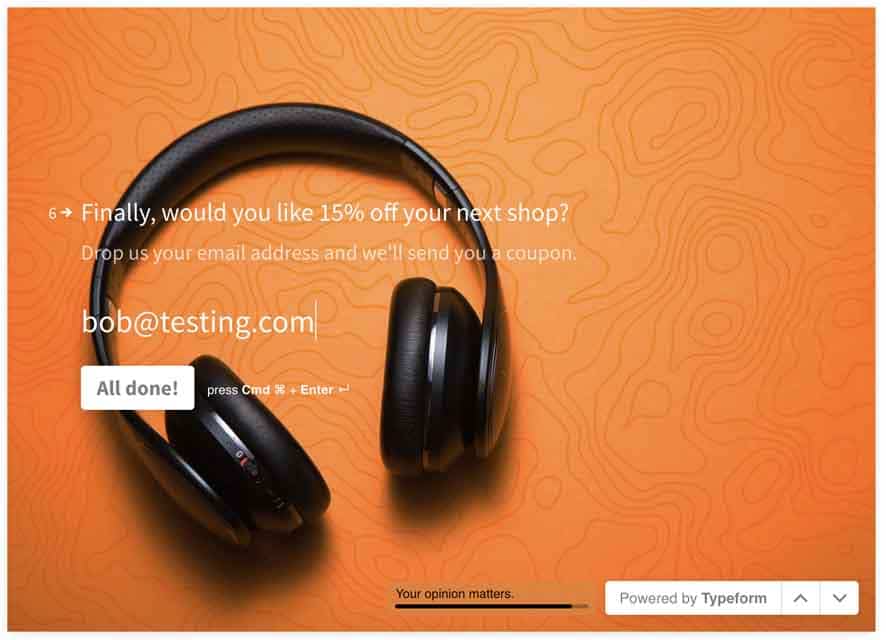 Their big focus is easy to create, rapidly implemented forms. With their name, that's no surprise, right?
Recently, they've also branched out to basic quizzes and polls.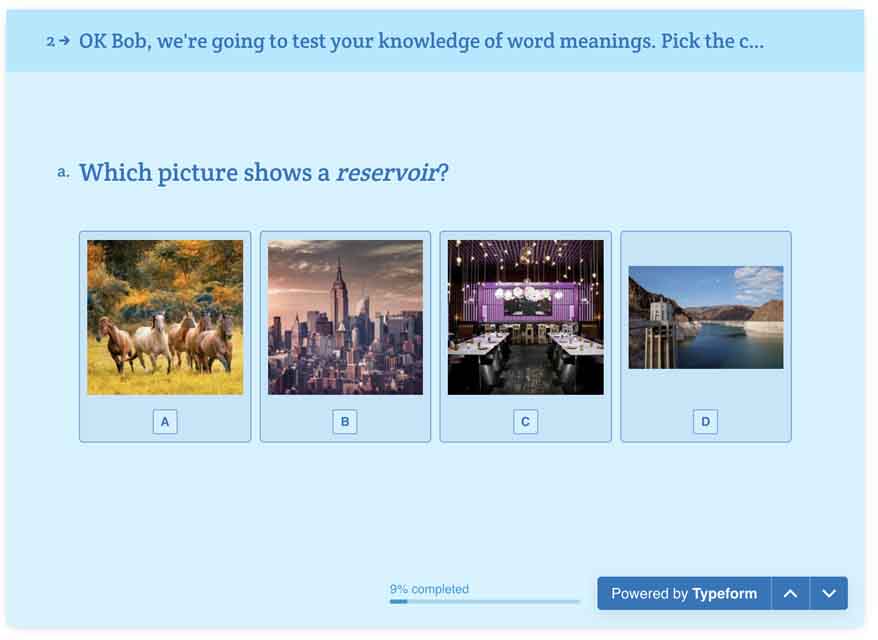 Typeform has devoted a great deal of resources to making it easy to connect their forms and quizzes to popular software tools. They have 29 native integrations – from email marketing like Active Campaign to productivity leaders DropBox, Trello, and more.
This impressive focus on connectivity and forms has left Typeform with just a limited suite of quizzes and other interactive content tools.
Looking at Typeform vs Riddle, Typeform has just 3 options – a quiz, survey, and poll – compared with Riddle's 15.
Typeform quiz useability (UX)
We're big fans of Typeforms overall approach – their form builder is simply gorgeous.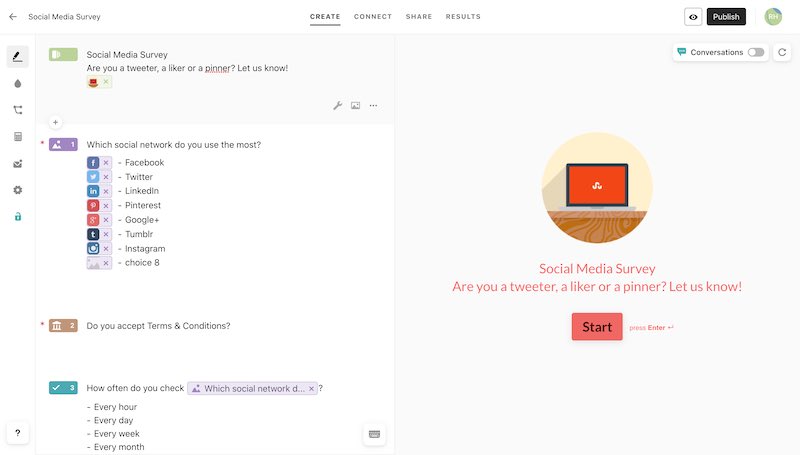 However we did find it difficult to dive in and do some basic tasks – especially when you're creating a Typeform quiz.
Some common questions we've seen online:
Can you put a time limit on Typeforms? (You can't.)
With Typeform quizzes, how to insert answers? (It's possible of course but takes a bit of trial and error.)
The takeaway? Creating a Typeform quiz has a big learning curve.
It shouldn't put you off the tool – but you'll need to budget some extra time to get your team up and running with their online quiz maker.
Typeform pricing
Typeform offers four separate options – including a very basic 'free' option and then going to $70/month.
Typeform quiz pricing follows most quiz makers – they limit the number of responses you can collect per plan, from 100 to 10,000 a month.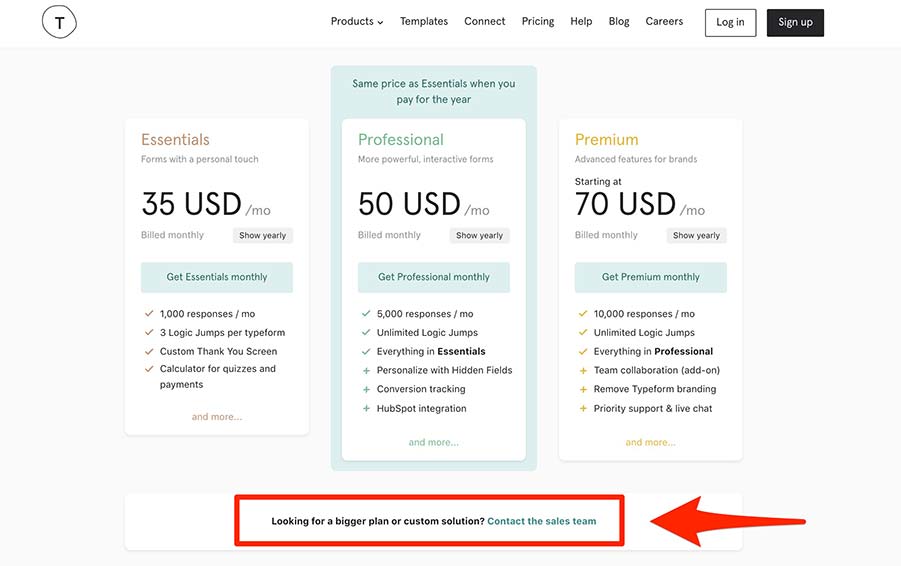 There is also an Enterprise level plan – with an 'ask us' button instead of a clear price. (We've generally seen 'ask us' pricing for quiz maker software to start at $500/month.)
Compare this with Riddle's unlimited usage – across all plans.
We let you pick the features you need – after that, you can create unlimited quizzes, have unlimited quiz takers, and collect unlimited leads (even with our entry-level Basic plan). Neat, right?
Riddle – quiz maker overview
Over at Riddle, we've taken a different approach – we know marketers rely on quizzes for both engagement and lead generation.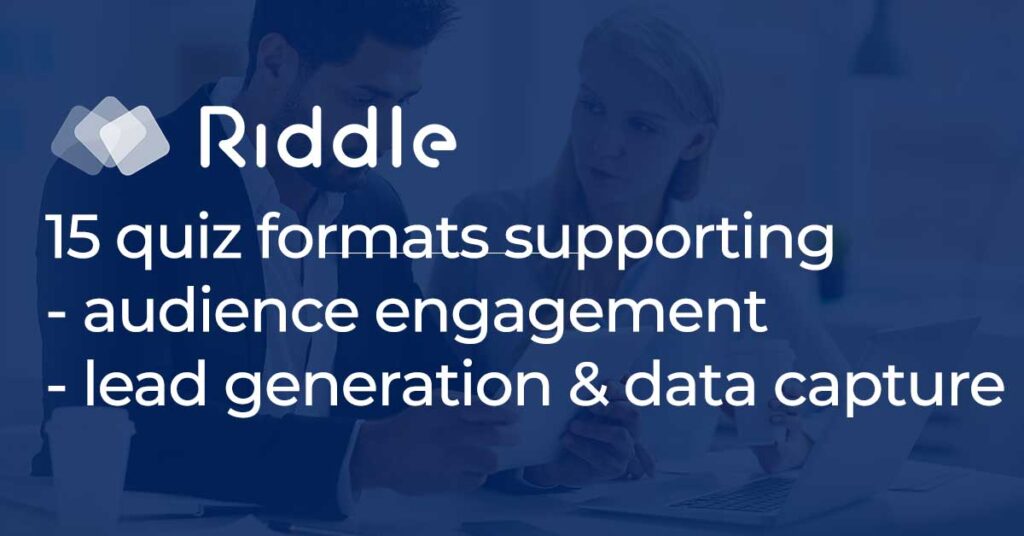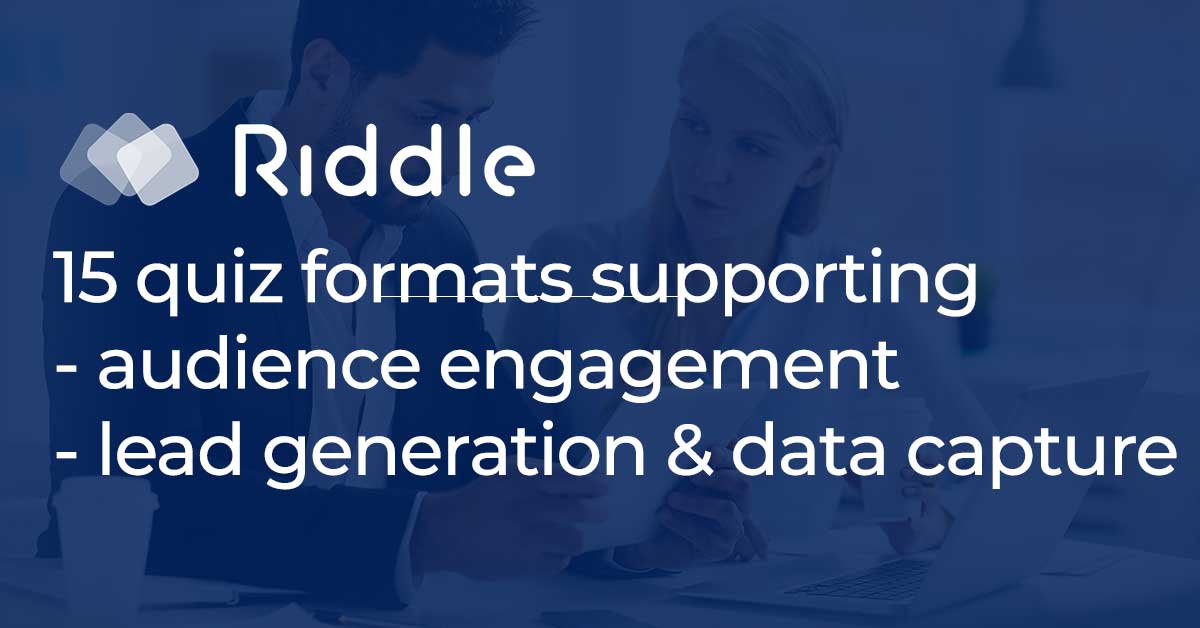 Our team come from working on the marketing side for both agencies and publishers.
Since we launched Riddle in 2014, we've pushed our platform to provide a comprehensive array of content tools and formats – check out our 23 favorite customer quiz examples created by the BBC, Red Bull, CNN, and Manchester United.
Looking at Typeform vs Riddle, we've gone beyond the standard quiz – introducing a wide range of unique formats and features.
Our 15 quiz and engagement types include: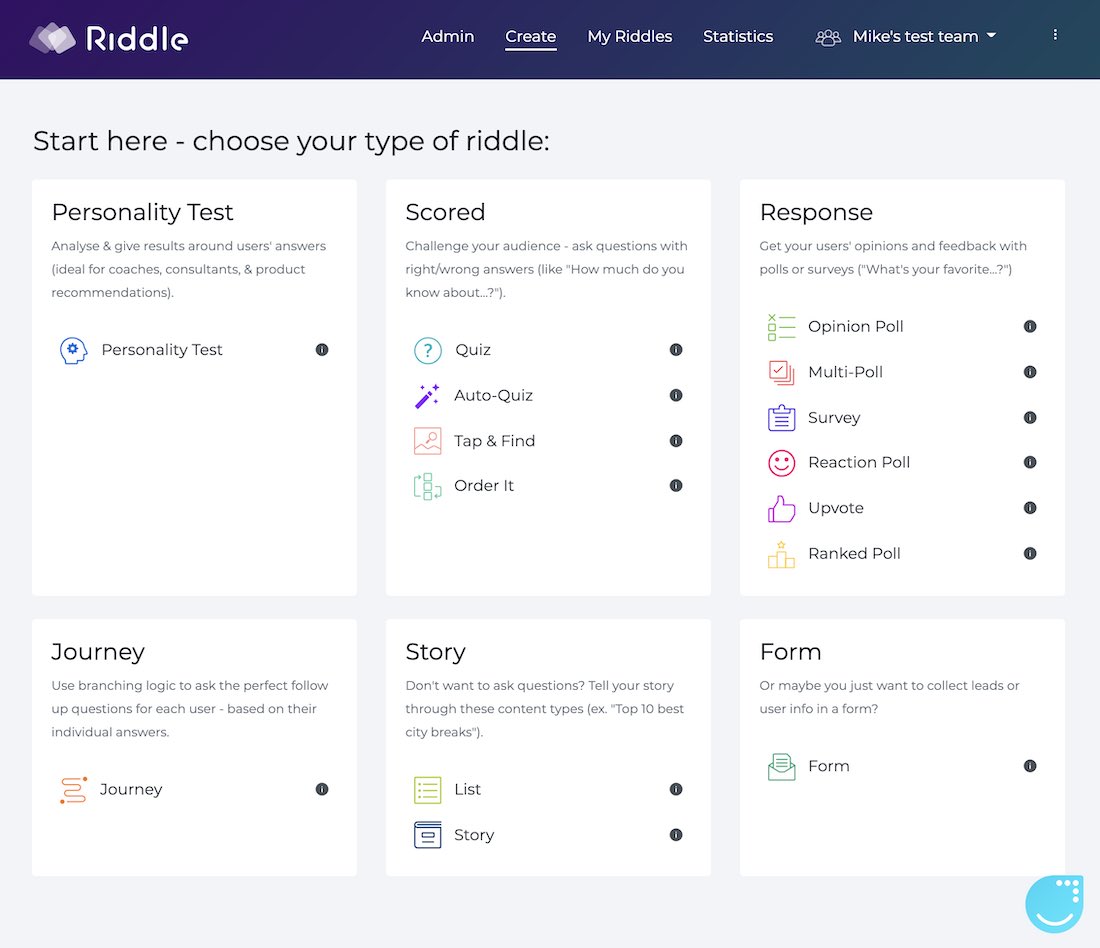 Riddle: add images, GIFs, videos, or audio
On the media side, today's audiences demand more than just text and images.
We've made it easy for you to create a quiz and quickly search/add the perfect video, animated GIF, audio and other media – all from within Riddle.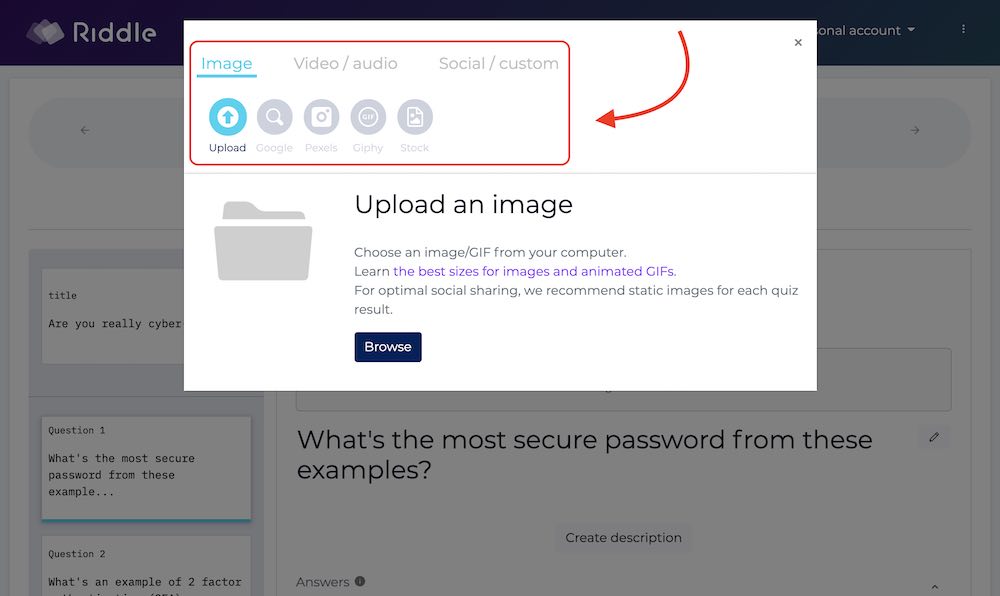 The pay off for you?
Leveraging our variety of formats, your marketing teams can keep things fresh for your visitors. This avoids the quiz burnout that happens after showing the same quiz type over and over again.
Riddle: customization options
Once you've picked your quiz format, you'll want to customize it to seamlessly match your site's look and feel. Quizzes convert best when they feel organic to your site – and not just a 3rd party widget.
With Riddle, you'll have near total creative freedom.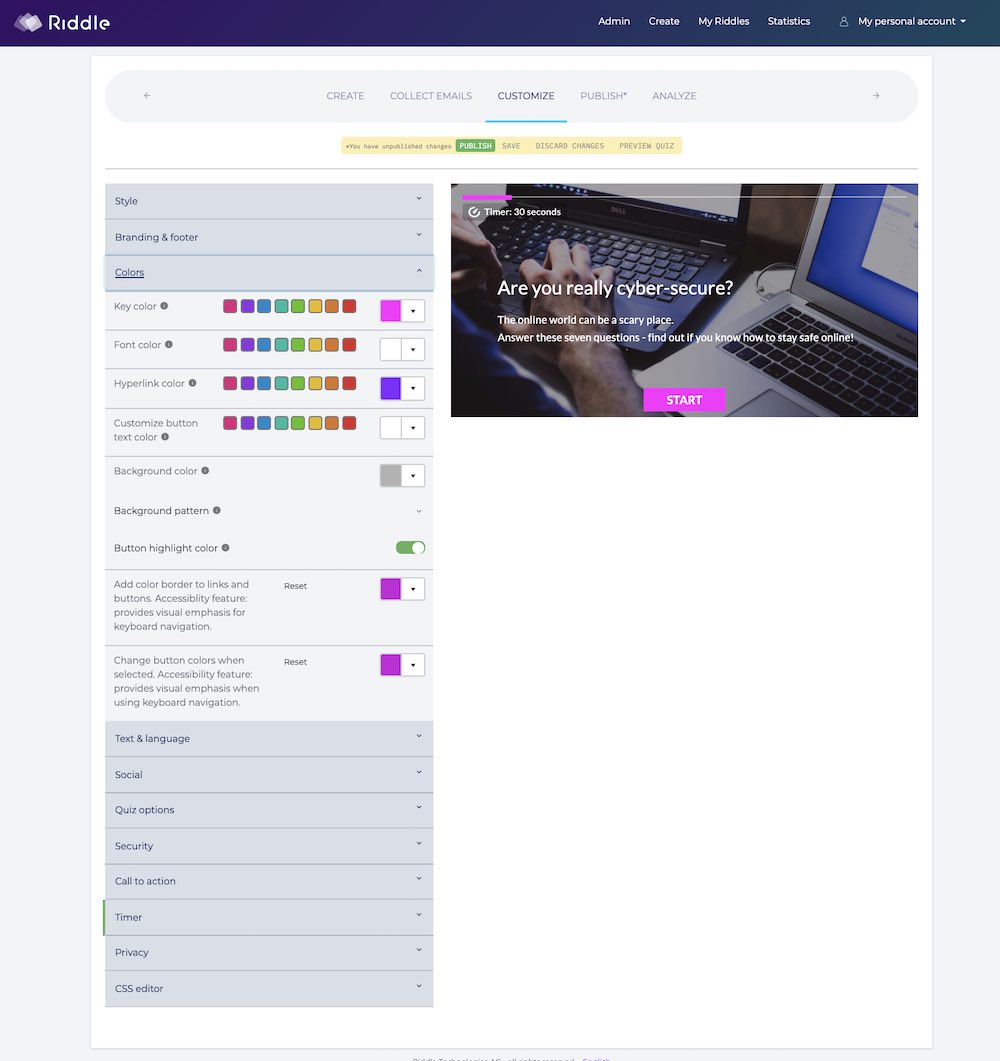 Customize almost everything – from adding your own fonts to editing your quiz CSS to blend with your site, and more.
We love this personality test example from the American hotel corporation Choice Hotels – they've customized everything from hover states to borders and fonts: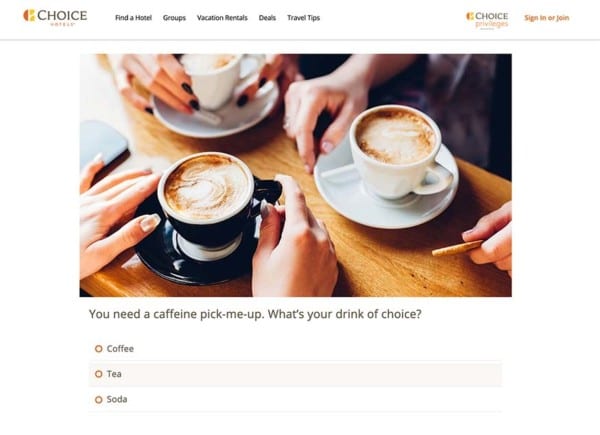 Now, about lead generation – Riddle quiz maker has been fully designed to connect to any email or marketing tools.
You have options – from our native integrations for MailChimp, Google Docs, AWeber, and more. Or you can user our Zapier app to sync to over 1,400 software apps – including Shopify, Active Campaign and Klaviyo.
For the geeky among you, you can also send all lead responses and their quiz data to any tool with our webhook and our API.
Riddle: pricing
Riddle's quiz maker plans start at $29 a month and all our plans are completely unlimited.
Seriously – unlike Typeform, every plan has no limits on how much you can use it.
We like keeping things simple:
create as many quizzes as you want
unlimited quiz takers
unlimited leads

Typeform vs Riddle – over 60 quiz maker features
Whew – as big quiz marketing geeks, we got a bit carried away with the back story for these two quiz and lead generation tools.
Let's dive into our head to head look at Typeform vs Riddle – with over 60 of the features marketers need when they create a quiz:
| Feature | Typeform | Riddle | Comments |
| --- | --- | --- | --- |
| ★★★★★ customer service - all users | No | Yes | Typeform has a good help docs section - but live chat only on most expensive plan. |
| Scored quizzes (with right/wrong answers) | Yes | Yes | |
| Personality tests (each result based on all answers) | Yes | Yes | |
| Standalone lead generation form | Yes | Yes | |
| Four types of polls | No | Yes | Typeform has standard polls - but not upvote lists and other formats. |
| Surveys (with data export) | Yes | Yes | |
| Social stories (where quiz meets blog post) | No | Yes | |
| Social sharing (Facebook, Twitter, WhatsApp, Messenger, LinkedIn) | Yes* | Yes | Typeform: Share link only - can't customize results message (e.g. "I got X of Y on this quiz!") |
| Conditional logic | Yes | Yes | |
| Multilingual | Yes | Yes | Typeform: 25 languages | Riddle: 67 |
| Quiz layouts: multiple layouts | Yes | Yes | |
| Single and multiple correct answers | Yes | Yes | |
| Free text responses | No | Yes | |
| Score as you go - or at end of quiz | No | Yes | |
| Correct/incorrect answer explanations | No | Yes | |
| Custom 'correct/wrong' messages and other quiz text fields | Yes* | Yes | Typeform offers some - but not many fields |
| Random question and answer order | Yes | Yes | |
| Rich text formatting: include links, lists and emojis | No | Yes | |
| Hide vote totals | No | Yes | |
| Automatically close polls (by date/time) | No | Yes | |
| Unroll quizzes - display all ?'s at once | No | Yes | |
| Show multiple personality results (X% for #1, Y% for #2, etc.) | No | Yes | |
| Quiz statistics - track starts, completes, leads, shares | Yes | Yes | |
| Detailed quiz stats - by question and results | Yes | Yes | |
| Optimize quizzes using 'engagement graph' | No | Yes | |
| Add multimedia | Yes* | Yes | Typeform: Rich media only in main images, not answers. |
| Timed quizzes | No | Yes | |
| Upload your own images | Yes | Yes | |
| Google image search | No | Yes | |
| Classy stock photo library | Yes | Yes | |
| Giphy - search/use animated GIFs | No | Yes | |
| Twitter - embed any tweet | No | Yes | |
| Sound files | No | Yes | |
| YouTube videos & set start/end points | Yes* | Yes | Typeform: No start/end points - must play entire clip |
| In-tool image editing (crop, filters, text) | No | Yes | |
| 16 types of lead fields | Yes | Yes | |
| Optional or mandatory forms | Yes | Yes | |
| Connect to any marketing tool (on all plans) | Yes | Yes | |
| Connect to any data system with webhook (all plans) | Yes | Yes | |
| Send leads to Google Documents | Yes | Yes | |
| Import your own forms | No | Yes | |
| Display your videos or ads | No | Yes | |
| Full creative control - all plans | Yes | Yes | |
| Select background patterns | Yes | Yes | |
| Accessibility features (hearing/vision-impaired) | No | Yes | |
| Customize social text | No | Yes | |
| Add your own branding | Yes | Yes | |
| CSS editor - full control over your quiz styling | No | Yes | |
| Team templates - save/apply your own style combinations | Yes | Yes | |
| Wordpress plug-in | Yes | Yes | |
| Google AMP support | No | Yes | |
| Drupal plug-in | No | Yes | |
| Customize embed width | Yes | Yes | |
| Lazy loading images - improve quiz speed | No | Yes | |
| Include quiz text to enhance your SEO | No | Yes | |
| Refresh ads on quiz page | No | Yes | |
| Doubleclick and other pixel support | Yes | Yes | |
| Facebook pixel support | Yes | Yes | |
| Google Tag Manager | Yes | Yes | |
| Display your banner ads below your quiz | No | Yes | |
| Place your own video ads | No | Yes | |
| Multi-user team features | Yes | Yes | |
Riddle and Typeform – data privacy and the GDPR
This is the biggest update to our Typeform vs Riddle review.
Data privacy is becoming a huge global issue – strict regulations have come into force, starting with the European Union's GDPR and followed by California's CCPA and Canada's PIPEDA.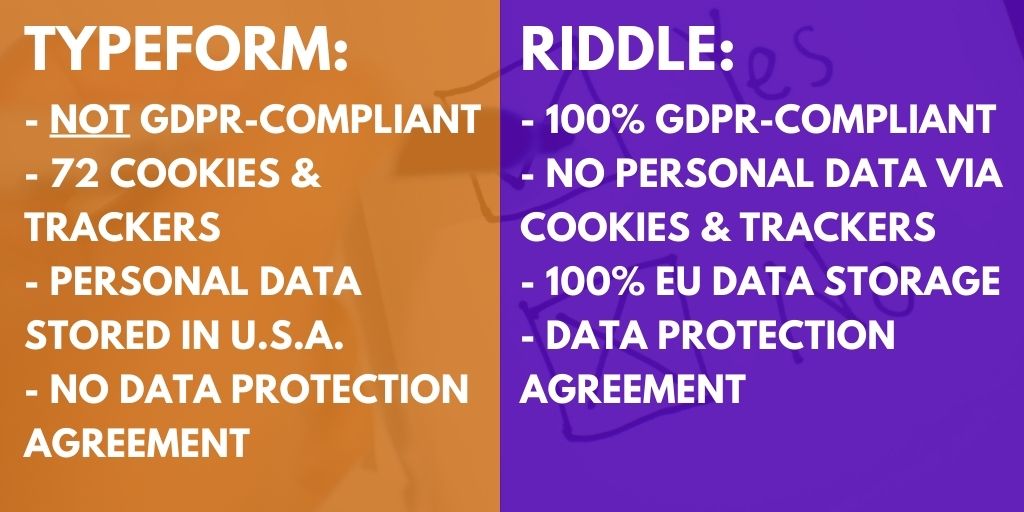 We'll cover how Riddle and Typeform comply (or don't!) with the GDPR here – but other regulations are very similar.
Basically, you need to be:
Completely transparent about how and why you collect personal data
All personal data must be stored within the EU – you can't use any cloud-based storage from U.S. companies (like AWS or Google).
You must get consent before tracking/collecting personal data… even IP addresses.
We don't want to get bogged down into too many details – but the TL;DR?
Typeform is NOT GDPR-compliant – and Riddle is (learn more).
Typeform vs Riddle – summary
Right – so let's wrap things up.
You're no doubt asking "Okay – but looking at Typeform vs Riddle, which is right for me?"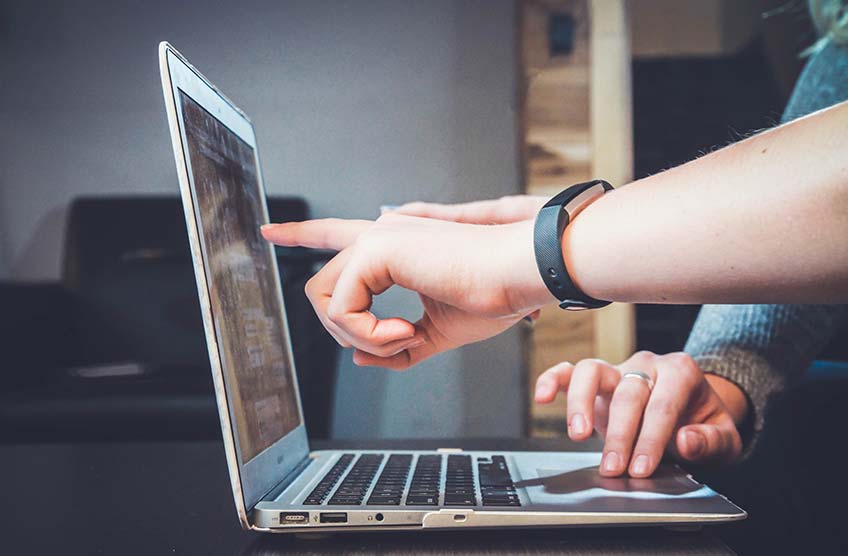 Well… it depends.
There's no single 'right' answer – it all depends on you and your business' unique quiz marketing needs.
Pick Typeform if you're:
Happy with their preset templates – Typeform has some great-looking templates, great for beginners
Need native integrations – they've done a great job, offering 29 native integrations for sending quiz leads to your software
Your quiz will be text-focused – instead of using images, videos, and the like
Your audience is not in the EU or California – Typeform is not GDPR-compliant; they add lots (and lots) of ad trackers to your quiz, collecting information about your audience for their own purposes.
Choose Riddle if you want:
More flexible quizzes – Typeform has made a name as a form builder; Riddle has been a quiz maker from Day 1. You'll have more flexibility in scoring, results, and the like.
More quiz formats – 15 quiz types to Typeform's 3 will give you more creative options for a wide range of use cases
More media support – easily search & add images, videos, audio clips, and animated GIFs in your content
More flexibility with customization – white label and tweak everything from fonts to CSS, to completely match your site
Complete GDPR/CCPA-compliance – we're 100% EU-based, and don't add any cookies or trackers to collect your audience's data.
But we hope that this review helped clarify things a bit – and narrow down which capabilities (and data privacy approach) are most critical for you.
Your next step? We recommend trying both out Typeform vs Riddle. Both offer free trials – with no need to add a credit card.
Sign up, log in – and play around with both platforms. You'll quickly see which will work the best for your needs.
Any questions @ Typeform vs Riddle – or quiz marketing in general?
Hey – do you have any questions about Riddle, Typeform, or getting started with quiz marketing?
Just ask away – you can use our support chat on this blog or in our quiz maker, or go old school and email us (hello@riddle.com).
We're very proud of how quickly we respond to questions.
Everyone at Riddle – from our CEO Boris down – helps out on support. We race each other to answer first – we're averaging 1 minute 47 seconds.
How's that for fast? 🙂