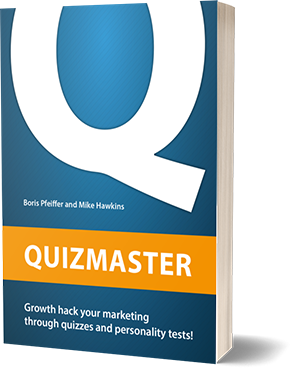 Request your free copy by submitting the form below. You will need to confirm your email to get a free PDF of our eBook.
Quizzes are big these days. Really big.
We bet your social feed is probably full of online quizzes like these:
"Are you a savvy saver?"

"Safe or scary? Test your skills behind the wheel!"

"What's your ideal career?"
According to AdWeek, quizzes are the most shared content on social media.
Every day, your friends and family will post a quiz result like "My dream vacation is 'Hawaii' – what's yours? Take the test to find out!"

As a marketer, using a quiz maker to collect and qualify leads based on quiz responses is a powerful sales and customer retention tool.
Now you can get our free guide about our favorite quiz maker growth hack.
Why? Quizzes get your potential customers involved.
Chock full of advice and examples gained from 25 years of quiz experience, Quizmaster will show you how to create the perfect online quiz.
You'll increase engagement, social sharing, and (most importantly) sales.