9
min read
Many people pay for advertising on Facebook, Google or wherever gives them access to targeted demographics. Some people buy Twitter followers to boost their audience. You can actually do both at once. For free. Or you can pay a little bit more to speed it up. Here's how I grew our @riddleApp Twitter followers from nothing to over 10,000 followers with practically no marketing spend.
Step 1 for growing Twitter followers
This is the most important part. Decide what you want people to do when they see your Twitter profile. I'm assuming you want to them to visit your web site and buy your product or service. Whatever it is, you need to write your Twitter bio to encourage people to do it. Our Riddle Twitter bio is currently: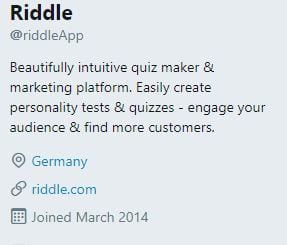 It states that we are both a quiz maker and marketing platform, that we are easy to use and that we will help you engage your audience and find more customers. Basically lots of reasons for people to try Riddle.
It also includes a link to the Riddle web site. This is really obvious but VERY important!
Step 2 
Make sure you have posted interesting, useful and the occasional funny tweets. This should include some tweets with images – there is a certain type of person who likes to scroll through images and will often retweet them. We like this type of person!
Don't forget that some of your tweets should link back to your web site. You don't want to be promoting yourself all the time but people need to be able to quickly see where they need to go to get more information about your product. Or to buy!
https://riddle.com/blog/wp-content/uploads/2015/12/2018-04-20-12_56_18-Cortana-PICS.jpg
Step 3
Pin a tweet to the top of your profile page that has a clickable link. This tweet should be one you think will grab attention and bring people to your web site. It will be seen by everyone who views your Twitter home page. Everyone will see your business message and call to action so this is very important. It's important to experiment with this. You will find one that works much better than others (but keep on testing occasionally). You can gauge this by the amount of retweets or likes it receives. If you use a link shortener like bitly.com for this you can track  the number of clicks to your site. Don't mistake likes or retweets for actual visits to your site as people are much more likely to retweet your tweet than actually visit your site – strange but true!
Step 4
Sign up to a Twitter tool. There are lots to choose from I use Tweepi.com. There used to be a lot of free services but most of them charge a monthly fee now. This will save you a lot of time though.
Step 5
Have a clean out of the people you follow. I have four simple maintenance rules for my system.
Follow back everyone who seems to be an genuine person who is not demonstrating an extreme view, not blatantly selling something (like 'buy Twitter followers' etc) and is not discussing or showing images of anything that is not appropriate for the Riddle brand. These criteria will vary according to your account. I am a bit more open-minded on my personal account than on the Riddle account as some of my friends/followers write erotic fiction.
'Safelist' those interesting people who don't follow you, but who you still want to follow. This means you can't unfollow them by accident.
Unfollow people who have not followed you after a certain period of time. I use five days. This also catches people who have since unfollowed you.
Look through your mutual followers and unfollow those who haven't tweeted for some time. My cut off point is three months. I reason that if they haven't tweeted for this long they are unlikely to return to Twitter.
Hopefully your number of followers is now larger than the number of people you follow.
Step 6
Follow lots of people! Just remember that you are not trying to game the Twitter system. You are interested in the people you are following and if you follow too many people at once you won't keep up with the interactions on Twitter. The number of people you can follow each day depends on how many followers you have (you are restricted until you pass 2000 followers) and the gap between the number of people following you and the number of people you follow.
You also need to target the people you are following. Here's how I do it:
Find a Twitter account of someone/a brand who discusses your core topic. This could be a competitor or an expert in the field. Then follow their followers or their friends (the people they mutually follow).
Tweepi gives me the option to filter the people I follow. I generally choose to ignore all accounts except those who have tweeted within the last two days (so I know they are active) and with a follower count of 500 or above. I've found these values help me select the type of people I want to interact with, but experiment to see what works with you.
Step 7
Interact with the people who follow you. If they tweet you with a message along the lines 'Thanks for following' respond with either a tweet or a 'like'.
Do answer them if they ask questions! This sounds so obvious but many people ignore these questions. Also make a decision if you're going to thank people for retweets. This can be time consuming or annoying for your followers if you're doing it too often, but some simple courtesy often results in further retweets!
Step 8
Check your new followers regularly. At least every other day. You will find lots of people reciprocating your follow. You can also check for any unsuitable accounts you may have followed in error and unfollow them. If accounts are a really good match with your web site or if there's a big player you can make contact with them. Don't sell to them yet. Just start a conversation.
The best part is that you will also find other people have followed you. Not just random people (well, there will be some of them too) but targeted people. I haven't worked out quite how this works but it does. I focus on people involved with social media. About a third of my new followers when I'm actively following on the account are new to me but are in the social media industry. If I stop actively following new accounts this reduces dramatically.
Step 9
Unfollow time!
After five days you unfollow the people who didn't follow you. You can sort this into a list with whatever tool you're using. There should be a significantly lower number than the amount you followed in the first place. Experiment with the different Twitter accounts that you 'mine' until you find accounts with a good follow ratio.
Tweepi has a function to stop you from re-following people to prevent time wasting. No doubt other tools do something similar.
Step 10
Rub shoulders with the big players! You are no doubt following some people who are Twitter celebrities in their field. Retweet some of their posts that will be particularly helpful for your followers or reply to the tweet with useful information. If they are committed to their followers they will interact with you and this also brings in more followers.
For example we did this with Marji Sherman and ended up creating this fun quiz together. This created value for both of us. Plus we also enjoy some regular online banter!
Step 11
It's not all about the numbers! Yes, Twitter can send targeted traffic to your web site but Twitter thrives because it acts as a community project. You have to prepared to invest time, useful information (that could be useful to your competitors as well as potential customers) and to help people when they need it.
The Riddle account has just over 10,000 followers. Not an earth-shattering amount and a fair proportion of them will never interact with me or visit the Riddle site. However , we get a good number of new Riddle members from Twitter who create fun quizzes and spread the details to their followers.
Just as importantly I have interacted with key people and got major brands interested in working with us via my actions on Twitter.
Remember to use the 'Lists' function on Twitter so you can keep track of important people or everything will fly past your eyes faster than a politician heading to a free lunch!
Step 12
Use viral content. I'm bound to include a plug for our quiz maker services somewhere in the post and here it is! You are far more likely to get people to share/retweet your content if you create a fun quiz about your core subject. There is a good chance it will get shared by your followers and then by some of their followers.
Depending on how you designed your riddle you could end up with people visiting your site from the link at the end of quiz, people signing up to your newsletter or special offer or maybe just some more people following your Twitter account. Some people need to see your message multiple times before they commit to buy or sign up. Twitter is the ideal tool for this!
You can start creating viral content straight away with the quiz maker tools on Riddle. 
So there you have it. Actively following on Twitter definitely takes more time than advertising on Facebook. However, it is cheaper and will bring traffic to your web site. You also get to interact with your potential customers and meet some fantastic new people who could end up as ambassadors for your brand.
Not bad for something that you can do in half an hour day, plus a few interactions you can do in-between tasks.