2
min read
Last century people shared interesting newspaper clippings with friends by putting them in a letter. Or they made them laugh by sending funny postcards. Now you can use our online quiz maker to create all sorts of entertaining content – but how can people share it?
It's not going to work on a handwritten letter, or on the back of a postcard!
People can easily share quizzes via email and a clickable link. This works well if the content is being shared with lots of people on an email list. But what if you want to share it with your BFF?
You can share it on Facebook or Twitter so it not only goes to your friends, but their friends too. Plus all the strange people who follow you on social media. This also creates the mystic of a shared joke that people won't be able to resist asking about.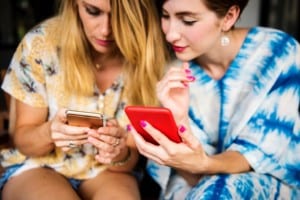 Texting took the world by storm when it arrived and it has created a new way of communication. We all know someone who always sends a text rather than making a phone call. Why talk when there are so many emoji's that say exactly what's on your mind?
But texts can cost money and this is why Facebook Messenger and Whatsapp appeal so much to the Millennial generation. You can text, send photos, gifs, videos – practically anything for free. Of course this includes fun interactive quizzes from our quiz maker.
Messenger and Whatsapp are quick to use and you can always add a few extra friends into a conversation. The best part is that the personal touch means the message is much more likely to be read.
How do I use the Riddle quiz maker to reach Millennials via Facebook Messenger or Whatsapp?
Just create your content – polls, quizzes, personality tests and set it free! You can create it on your phone, tablet – even on a desktop computer if you can find one! Each riddle is really easy to share via Facebook Messenger and Whatsapp. It's also perfectly presented via phone, tablet or whatever device is being used.
Milennials are known for wanting to share content quickly and on the go. Why should your message miss out?
Create something fun in minutes that people want to share today on Riddle.