Qzzr is joining Riddle.com
We're incredibly excited to have Qzzr joining Riddle's interactive content platform. After all, that's two great online quiz makers under one roof!
But we know you might have questions, so we created this FAQ on migrating from Qzzr.com to Riddle to help.
Don't see your question below? Please ask us on support chat. We're super-fast to respond.(Riddle is EU-based: we're online from 8 am to 9 pm German time / 3 am to 3 pm EST.)
Migration timeline
Oct. 19
First test run for the Qzzr-Riddle migration tool
Oct. 24
Stop editing content on Qzzr. Migration to Riddle.com begins
Oct. 25-30
Download all leads and stats
Oct. 31
All content will be moved to Riddle.com, Qzzr is not working anymore
From Oct. 31
Edit content and create new content on Riddle.com +
Re-Authenticate Mailchimp and tweak webhook endpoints
Here are the key dates involved with bringing Qzzr over to Riddle:
Oct 19 – Riddle: first test-run for the Qzzr-Riddle migration tool
Oct 24 – Qzzr customers: You'll need to stop all editing of content on Qzzr. Migration to Riddle.com begins.
Oct 25-30 – Qzzr customers: please download all leads and statistics. Riddle will be backing them up but it's wise to make a copy for yourself.
Oct 31 – Riddle: all Qzzr content moved to Riddle.com. Qzzr is now offline.
Nov 1 onwards – Qzzr customers: You will be able to edit and create new content on Riddle.com.
(Please note: the migration is a complicated process so these dates might be delayed slightly.)
What is Riddle?
Launched back in 2014, Riddle is a flexible, easy-to-use online quiz maker that's used by thousands of top publishers including CNN, Spotify, Oxfam, the Chicago Bulls and more.
Using our block-based quiz builder, you'll be able to create powerful quizzes, personality tests, polls, and surveys – each with flexible scoring options, branching logic, and lead generation.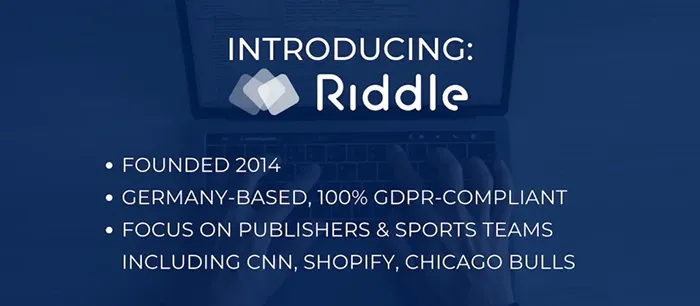 We're based in Germany and are passionate about data privacy. That means we're fully GDPR/CCPA-compliant:
Directly connect with your CRM: our quiz takers' personal data can go directly to your database (not our servers).
No audience personal data collected: just like Qzzr.com, we don't add trackers or cookies that gather personal information about your audience.
No cloud- or U.S.-based software: Riddle operates our servers in Luxembourg and Germany, instead of using AWS or Google Cloud. We rely on self-hosted analytics (no Google), and even built our own billing software when we couldn't find a GDPR-safe one on the market.
What content can I create on Riddle?
Qzzr has an awesome quiz engine – with a distinct look and feel that we've always admired. We'll be incorporating much of that into Riddle. Soon you'll also gain access to Riddle's wider range of interactive formats.
All Qzzr customers' content will be mapped to the matching Riddle type – plus you will also be able to use our extensive library of 15 content types: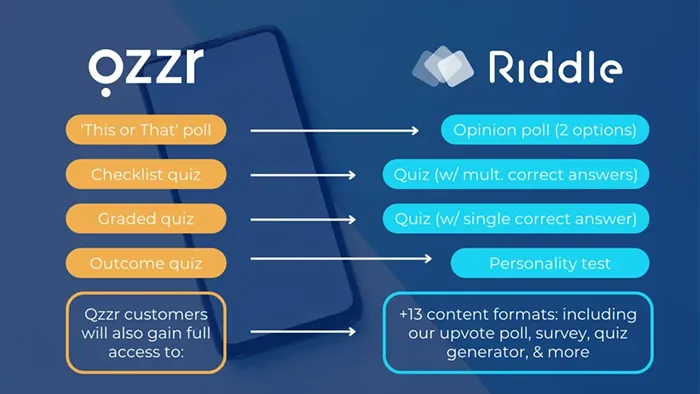 Can we help with any questions about Migrating from Qzzr.com to Riddle?
If you have any questions about Qzzr joining Riddle, please don't hesitate to ask us on our support chat. We're big (huge!) customer support geeks at Riddle.
We don't outsource support. Instead, everyone at Riddle (from our CEO Boris on down) races to respond to questions besides their day-to-day job.
That means you'll get an answer… fast. We love hearing from our community – most of our ideas for Riddle 2.0 came from collaborating with our customers.