The best time to reach your audience is now
There's no doubt that every month since April 2020 is a month for the history books.
COVID-19 has disrupted global markets, put a halt to international travel, facilitated mass remote work, and changed consumer habits on a long-term basis. Years into the pandemic and an atmosphere of uncertainty still plagues consumers and businesses alike.
In such uncharted territory, how can companies convey real value to their customers?
(Hint – interactive content like creating a quiz can help.)
The reality is that now is actually the best time to reach audiences. More people are online than ever before – and the gap between brands and consumers is closing. Moreover, people are turning to brands for guidance and information, as well as to help manage their perception of the crisis.
As one PR expert has said, "Brands are really going to be judged for a long time by how they behave through this." If companies can harness the new conditions, while remaining authentic and empathetic, there is huge potential to deliver better, further-reaching value.
Actively listen to your customers by creating a quiz
Customers' preferences are changing, and to really understand the shifts, you need to get to grips with why. Humans are generally logical beings: there are reasons and motivations for deviations in behavior, and tapping into those justifications can do wonders for your brand's relationship with customers.
Active listening is a technique whereby companies fully concentrate, comprehend, reply, and remember what a customer has said.
In theory, the process sounds simple, but on a large scale it can be difficult to give customers the time they deserve.
A powerful method for active listening is to use a quiz maker like Riddle to make a quiz or online poll – any interactive content format can work.
Why? – Interactive content creates a two-way dialogue but also give customers unlimited time to express themselves. Don't dismiss this as 'oh, just another Buzzfeed quiz'.
If designed correctly, creating a quiz can encourage people to reveal subtleties about how and why they make the decisions they do. At the same time, respondents can actually enjoy completing the quiz, while appreciating that your brand is making an effort to gather their feedback.
When creating a quiz, try to keep it short (it shouldn't take longer than three minutes) but use questions that prompt respondents to give descriptive answers. Similarly, use reassuring language throughout – things like, 'don't worry if you don't fill the entire text box' and 'we know it's not easy to pinpoint but…'.
Equally, be transparent about what you'll do with the information. For example, add that 'Answers will be read by our team and used to improve our customer experience. With your permission, we may be in touch to hear more of your thoughts.'
Pivot towards new needs
Markets are shifting and research shows that people are shopping more consciously, buying from local retailers, and using more digital tools.
Be sure to align your company solutions and messaging to these changes. You can do this by doubling down on user engagement and listening tools – and a quiz builder like Riddle makes that easy – to bring to light the best plan of action for right now, and for once the pandemic has subsided. Here's a quick checklist on what you should do:
Ask yourself 'what's our relationship like with local retailers?', 'is our supply chain sustainable?', and 'how can we improve our technology?'.
Devote time to analyzing existing parts of the company that complement these new behaviors and showcase them. For example, if you work closely with small businesses, let your customers know how you're supporting them throughout COVID-19.
That said, don't be tempted to make false claims – brand communication is hyper-visible in the digital age, and you'll be called out for any misleading claims.
And if you don't already have practices that fit with emerging trends, you should:
Look at how your industry as a whole has responded to the crisis
Identify what has been received positively and what hasn't.
This should give you some inspiration for the next steps.
For example, high-end fashion brands have repurposed their factories to make PPE for healthcare professionals. Consider how your company can rework or reframe products and processes around what matters to people at the moment.
Creating a quiz can help you be empathetic
In uncertain times, people want to know that they are understood. One of the most effective (and easiest) ways to show value is to empathize with your customers – people are much more likely to trust and engage with a brand that respects the sensitivity of the time. You won't see much traction if you're shamelessly pushing luxury items when an estimated 25 million jobs will be lost worldwide.
Being empathetic doesn't mean you have to compromise your usual brand tone or style. Instead, it can be an opportunity to add your own unique twist on a serious message.
In a note to its community, Levi's said "we understand shopping for jeans is probably the last thing on your mind right now", while Nike launched a campaign telling people to 'play for the world, play inside'. Both examples stay true to the brands' identities but use simple, relatable language to show that the companies are proactively supporting safe measures. Any company that prioritizes the wellbeing of its customers over sales will show the utmost value.
An important element to pay attention to here is revising your messaging across all channels. If your company shares empathetic updates on Twitter but subscribers are receiving emails pushing conversions, the inconsistency will cost you any trust you've built up. This happened to Coca Cola, who placed a social distancing ad in Times Square before officially releasing a statement on how it was handling COVID-19 – resulting in a strong backlash.
Interactive content can play a role here as well as feedback tools – to both guide your strategy, and let your customers sound off about what's really important to them. Creating a quiz is a start, or you could make a survey or create a poll with a heart – go beyond bland text by adding images (and yes, even GIFs) that convey more feeling.
Invest in customer service
Customer service has been one of the hardest hit departments for businesses in COVID-19. Widespread uncertainty has meant large volumes of customer calls, messages, and chats asking for refund options, cancellations, exclusions, and general advice. In fact, a study by Harvard Business Review found that the percentage of 'difficult' calls doubled across two weeks in March 2020.
In response, your company can offer value by focusing efforts on customer interactions:
If you find people and resources are freed-up because of slower sales, re-allocate them to customer service.
More agents mean faster response times, and a higher number of touchpoints made with customers.
Automated channels (such as creating a quiz that recommends products or with branching logic to troubleshoot common questions) can help people get answers with less friction.
Some companies are even investing in video customer service for a more personalized approach – a smart move considering the massive surge in teleconferencing lately.
Even in stable times, let alone these challenging conditions, knowing that a company representative is easily contactable is a significant draw for consumers. Still, reps need the necessary training to successfully assist customers. For example, 'advocacy' techniques have been proven to positively impact customer feeling; something as simple as saying "let's see if we can figure this out together" can reduce customer frustration by up to 77 percent (and relates back to the importance of empathy in turbulent times).
Making a quiz and listening – add lasting value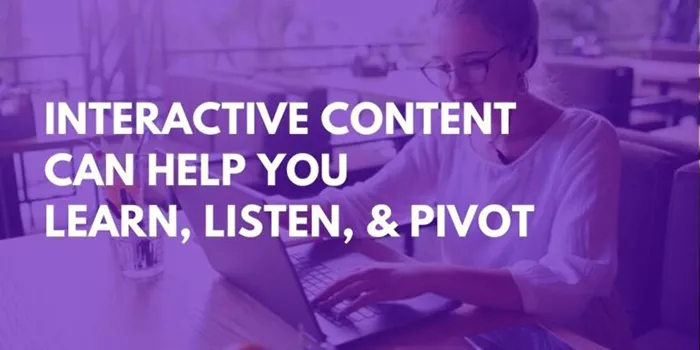 COVID-19 has changed the business landscape for good. Gone are the days of conversions before community and profits before people. In the current climate, using interactive content to pivot towards new customer needs, being empathetic, and improving customer service are simple – yet powerful – steps to stay relevant and offer genuine value.

Riddle quizmaker lets you create interactive content that you can use to learn from and listen to your audience. The best tools to help accomplish this? Use interactive content across your business including:
Creating a quiz or survey ("How can WE help YOU during Covid-19?") for your social channels – let your audience tell you how to pivot.
Streamline your sales and customer support by making a personality quiz or branching logic journey.
Find out what your customers' really think – make a poll for every touchpoint. You can never ask too often.
It's important to note though, that once the pandemic subsides, the values your company put forward will remain just as significant as it was during the crisis. People will look to brands to continue championing new ways of business and working for positive change. Companies have a big responsibility – and opportunity – in this 'new normal'.
Listen, be empathetic, and true to your brand – and you'll have a lasting impact on your company's long-term success.
As outlined above, Riddle quizmaker can help you to listen to your audience!