5
min read
Quizzes are a proven way to engage your audience and collect leads to grow your business. We make it easy to create your own WhatsApp quiz – so your quiz takers can spread your quiz across WhatsApp's 2.5 billion users worldwide (yup – that's BILLION with a 'b').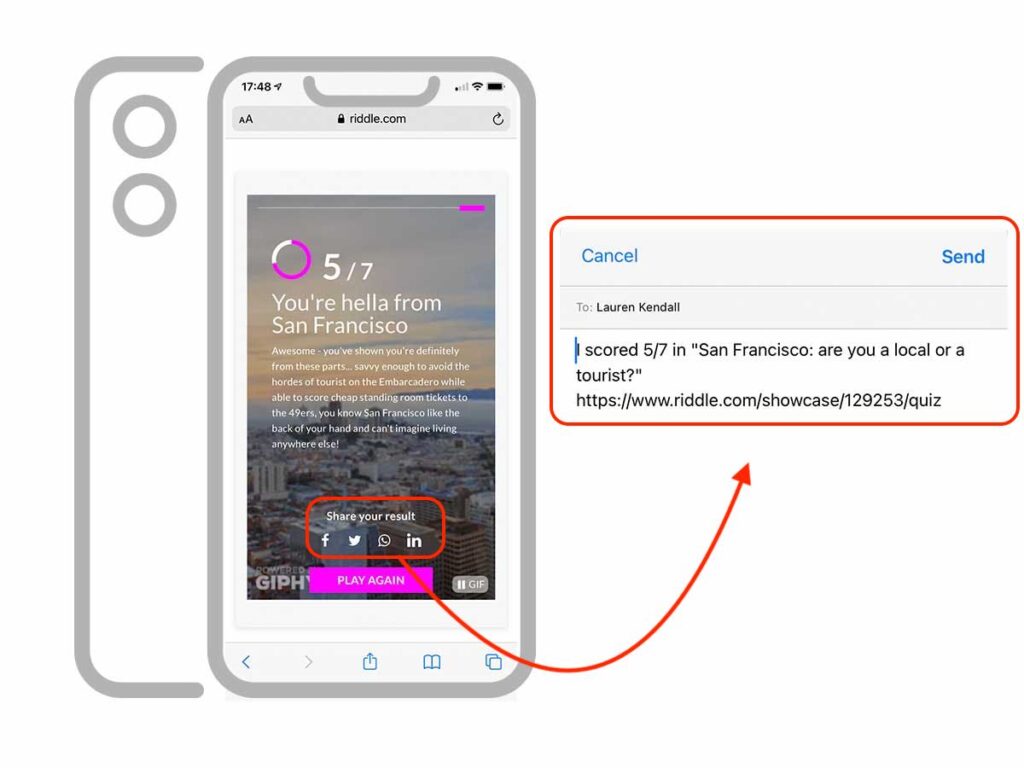 Oh, a quick word before we dive in… remember that the word 'quiz' cover a huge range of interactive content formats.
Like most quiz marketing folks, we use the term 'quiz' to cover any sort of interactive content – especially centered around asking your audience questions.
Riddle's online quiz maker features 15 quiz formats – including:
4 types of scored quizzes – our classic quiz, 'tap and find', drag/drop 'order it', and our automatic 'quiz generator'
6 types of polls and surveys – including our newest 'multi-poll' and our super-fast to create 'reaction poll'
Our best-in-class personality test – our personality test is our most viral and best-converting quiz format
Conditional logic 'journey' – use the journey's branching logic to ask each quiz taker different questions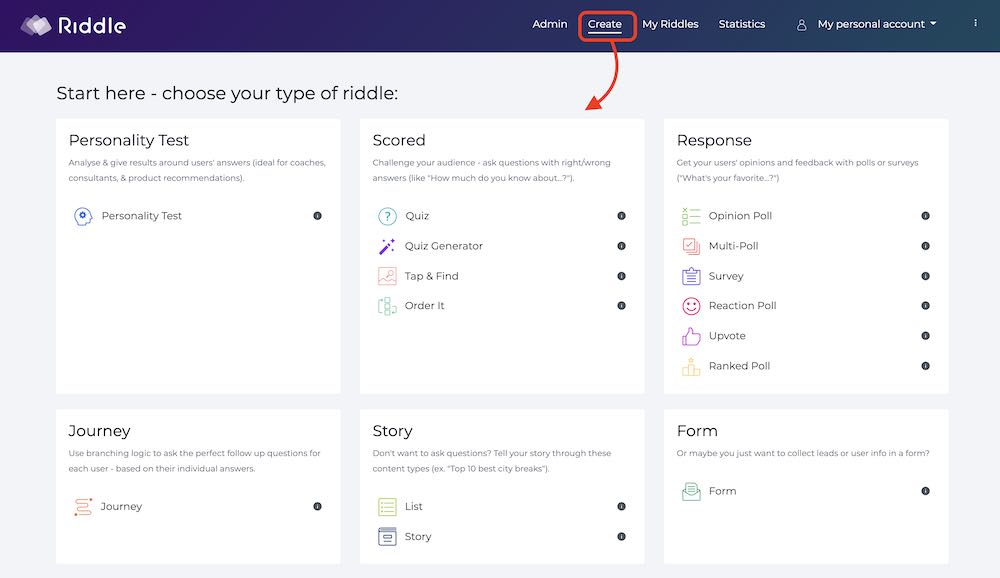 How to create your own WhatsApp quiz?
It's super simple to make and share your WhatsApp quiz in minutes. Our quiz creator is intuitive and easy to use – with no coding required.
(Here's our quick 'getting started' guide – with our tips and best practices for making a great WhatsApp quiz.)
Create an account on Riddle – we offer a completely unlocked 14 day trial of our online quiz maker, no credit card required. And all our plans are completely unlimited – no caps on quiz takers, quiz creation, or leads.
Pick your quiz, poll, or other format – answer a few questions in our 'Which type of quiz should I create?' branching logic quiz and get our recommended quiz type for your use case.
Create your own quiz for WhatsApp with Riddle.com – all of our online quiz formats are easy to make. Add images, videos, GIFs, or audio to make them 'pop' on the screen and grab your audience's attention.
Customize to match your brand or site – use our 60+ customization features to change the colors, fonts, and style of your quiz. 100% white labelled – seamlessly match your brand with our custom fonts and CSS editor.
Customize your WhatsApp quiz sharing message – choose what message each quiz taker shares. Use our proven "I got <score/result> on '<quiz title>' – take the quiz!" message – or craft your own, clickthrough URLs, and more.
Add your own lead form (optional) – want to also collect leads? Add a lead generation form to your quiz – then send leads and quiz responses to MailChimp, ActiveCampaign, Shopify, and more.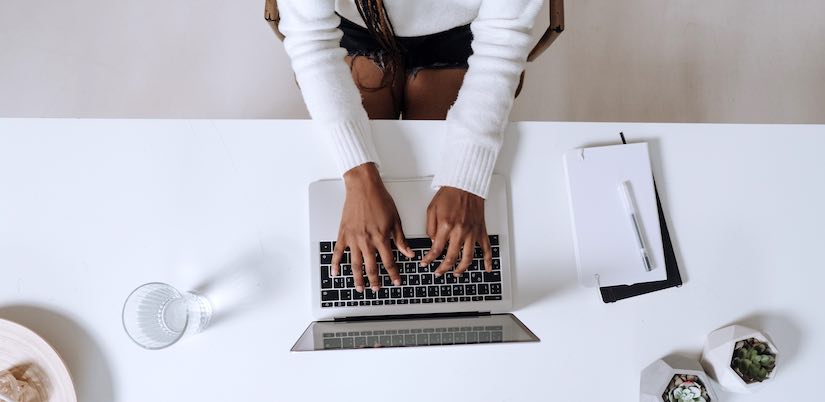 Sharing your WhatsApp quiz
Alas, Whatsapp doesn't allow (yet) any quiz maker to embed their quizzes directly on their social network. We're actively asking them – trying to push for this feature. Fingers crossed!
However, you can create your own WhatsApp quiz on Riddle by either:
Share the quiz URL (something like this: riddle.com/showcase/######/quiz – but your quiz numbers will be different)
Embed your WhatsApp quiz on your site – then share/promote that URL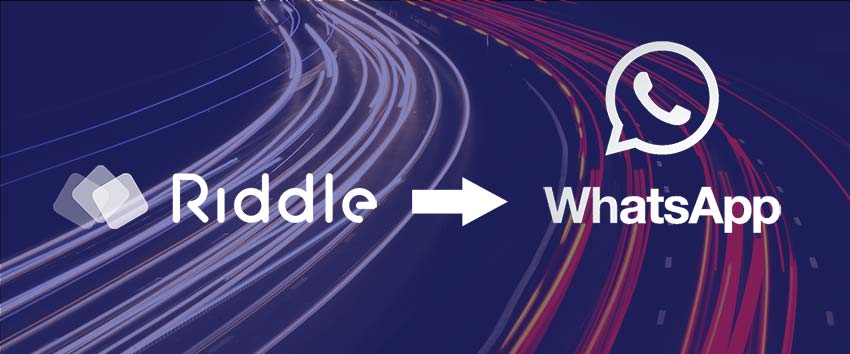 We recommend #2 – this way as your WhatsApp quiz is discovered and shared (e.g. User A takes your quiz – shares on WhatsApp, User B sees and shares it again) – all of the tasty viral social traffic keeps coming back to your site.
Otherwise, if you post the Riddle.com URL for your quiz, everyone comes back to us.
Here's a quick blog post we whipped up covering the best ways to share your quiz.
WhatsApp quiz – the user experience
Here's a handy graphic that show the user experience would work for your audience – from starting the quiz to (optional) filling in the lead generation form and then sharing your quiz on WhatsApp: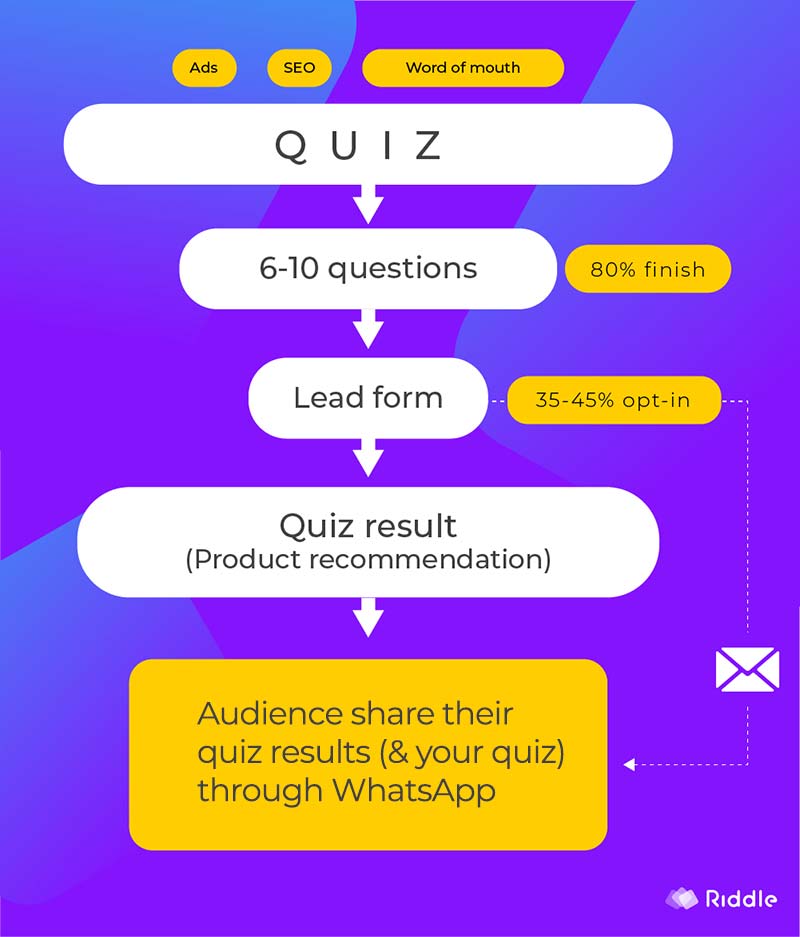 Customize your WhatsApp quiz result share message
Every WhatsApp quiz you make will have default social sharing messages built in ("I got <score/result> on '<quiz title>' – take the quiz!") – but you can also craft your own:
Go to Customize
Click on 'Customize social sharing text'
Select WhatsApp
Type in your text – and use variables to customize ache result
$result to insert the user's score (ex. 6/10 for scoring 6 points)
$score_title for the title of user's results ("You're a San Francisco local!")
$link to add your quiz URL
Customization of social sharing messages:
You can craft a special message to support your social media marketing campaigns.
For example, in our San Francisco quiz example, you can get 'Sweet, I got "You're hella a local" on this "San Francisco: The Locals' Challenge" quiz.'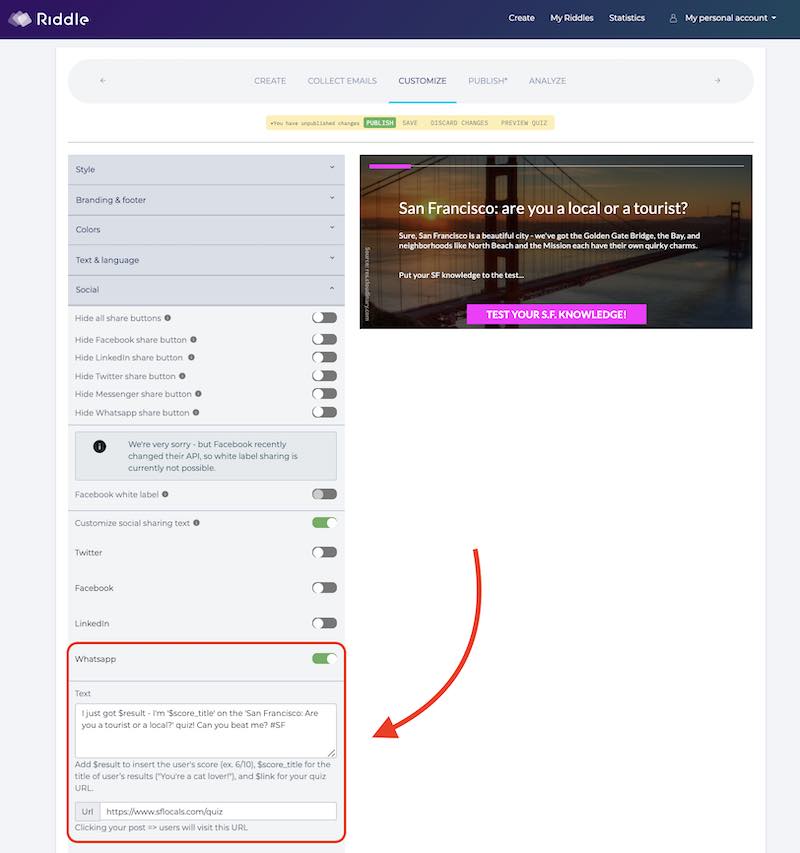 Getting your WhatsApp quiz shared more often
We're big quiz geeks at Riddle – and our cofounders even wrote a book about it ("QuizMaster: Growth hack your marketing through quizzes and personality tests").
But you don't need to buy or read it, we've compiled some of our best tips and best practices here: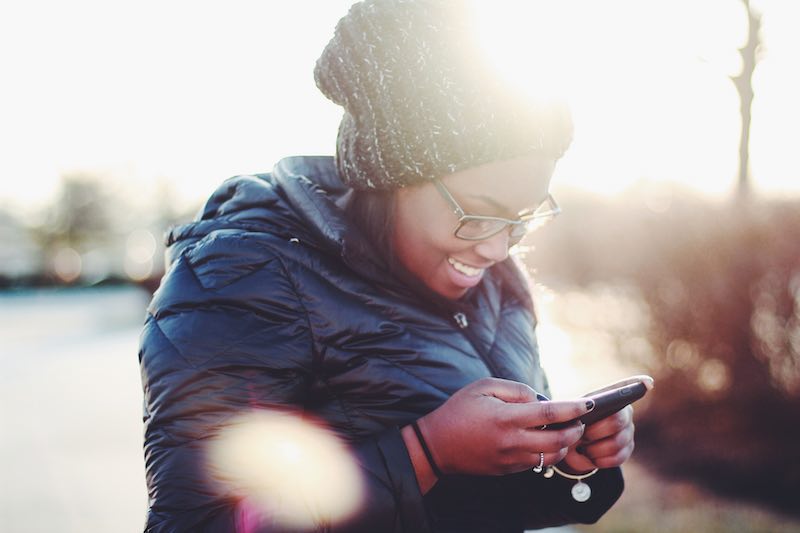 We cover everything from the ideal number of questions (6-10) to how many different results types (3-5), and loads more.
But for now, let's stick to covering how to get your WhatsApp quiz shared more often.
Your quiz results matter – A LOT: We can't stress this enough. The results are

your last chance

to prove to each user how well you understand their specific needs. Plus, the more insightful or amusing their quiz results, the more likely they are to tell their friends about your quiz on WhatsApp.
50/50 rule: Spend equal time and imagination on your result explanations as you do on your questions. Quiz creators often get run out of steam when it gets to the results, but that's a mistake. The results are key. For example, it's not enough for someone to learn they're a "SF Local"; they'll want to know WHY they got that result, and what it means.
The Three Minute Rule: Keep your quiz short – and to the point. Most WhatsApp quiz takers generally will start your quiz in a brief break – they might be waiting for the bus, or killing time before the start of a meeting. Six to ten questions works out to about three minutes – any more, and you'll start seeing a big drop-off in quiz completions.
Some of our favorite quiz examples
We're big fans of these quizzes – they run the gamut from top publishers like the BBC to super-smart and savvy start ups like The Hair Fuel. But they all excel at engaging their audience – and getting them to share their results on WhatsApp.
You can see 23 of our favorite quizzes here – as well some live examples below: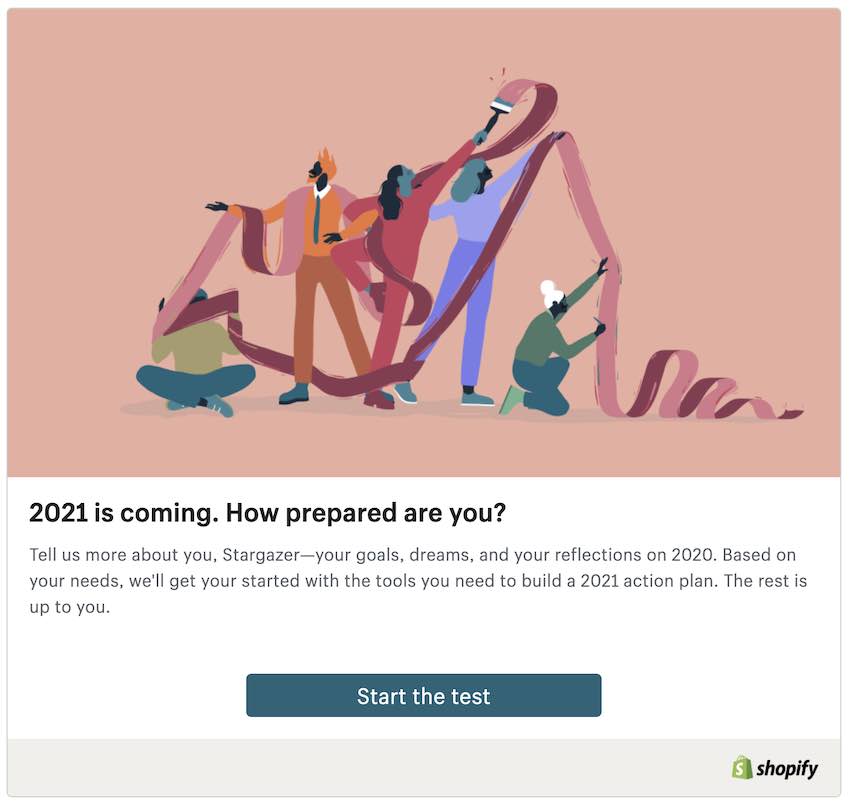 Want to experience them as a WhatsApp quiz?
Take them on your smartphone, then share your results on WhatsApp.
That will simulate how your quiz can look and act for your own marketing efforts.
Any questions? Ask us on chat!
From creating quizzes to getting more shares on WhatsApp, Facebook, Twitter, and other social networks – we're here to help.
Our team has a combined 35+ years of quiz marketing experience among us – and we all race to be first to answer customer questions by email (hello@riddle.com) or with our support chat.
So just ask away – we look forward to hearing from you!