3
min read
Opinion Stage and Riddle are two of the most well-known quiz makers on the market today. Now your business is unique – so there's no one 'right' answer about which platform you should choose. We compiled this quiz maker review to help you decide what are the most important features for your business.
(We're big fans of being transparent – as founders of Riddle, we're obviously proud of our quiz creator. But Opinion Stage is a solid option as well – we've kept this impartial to help guide you to the best decision for your business needs.)
---
Quiz maker review: pricing model
Riddle and Opinion Stage are SaaS (software as a service) sites – offering monthly and annual subscription options.
Opinion stage offers four plans while Riddle offers three. The main difference is that Riddle is an 'unlimited' service while Opinion Stage puts caps on how many people can take your quizzes or leads you can gather.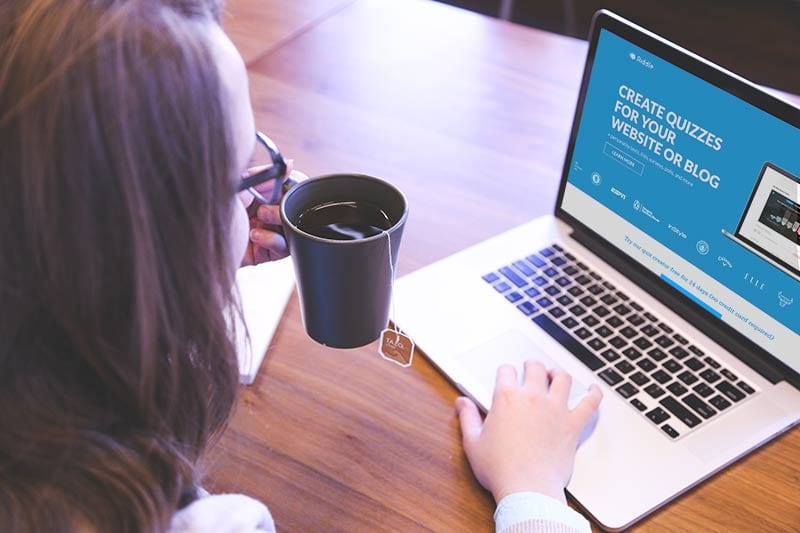 ---
Quiz maker review: how many quiz types?
A good quiz creator is a flexible platform – offering a range of interactive content options to engage you audience. Opinion Stage and Riddle both go beyond the traditional right/wrong quiz.
Opinion Stage offers six types – while Riddle has 15 distinct quiz variants including:
Ranked lists – make your list democratic and let you audience upvote their favorites.
'Tap 'n find' and 'Order it' – touch focused quizzes designed to make your quizzes engaging for today's increasingly smartphone-oriented audience.
The 'interactive story' – unique to Riddle, you can use conditional logic to show each user different questions depending on their individual answers.
Stand-alone lead form – Riddle's quiz lead technology is so flexible, clients kept asking us to create a quiz-free option – so they can embed forms outside of quizzes on their sites.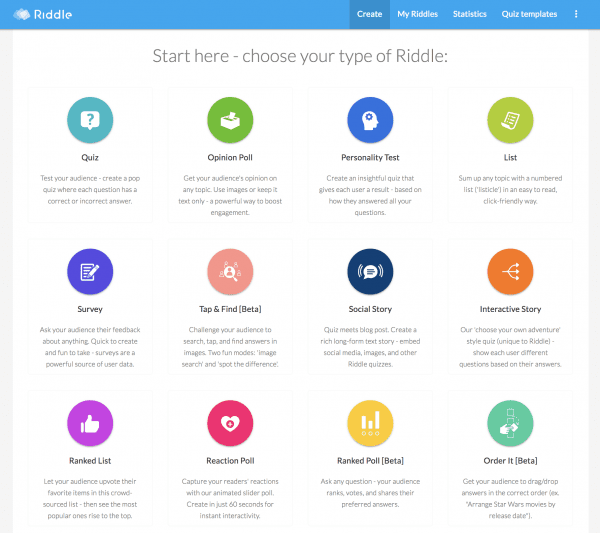 ---
Opinion Stage vs Riddle
Quiz maker review: customization and branding
We totally get it – your site is your pride and joy. Your site is your business' online face to the world – and you spent blood, sweat, and tears choosing the perfect colors, font, and design.
Any quiz that you embed needs to look just as polished and professional. Opinion Stage and Riddle tackle this in different ways.
Opinion Stage gives their lower two level uses access only to preset themes. Only users on their $99 and up plans get full access to hex-specific colors.
Riddle takes a different approach – we offer a full range of colors and fonts across our plans. Even the entry BASIC option gives full font and color choices.
---
Quiz maker review: email capture and lead generation
Savvy online marketers like Ryan Levesque know that quizzes and other interactive content are brilliant at powering your marketing funnel. Turning passive readers into active participants means they're emotionally engaged with your site. It's a great opportunity to present offers and collect email addresses.
Lead generation – segment and qualify new customers based on their quiz responses, then automatically send them the right follow up message
Contests – challenge your readers to prove their knowledge with a quiz like "Score 80% or more for a chance to win!"
Opinion Stage and Riddle both let you gather emails and user responses. The key differences?
Pricing – Opinion Stage put caps on how many leads you can gather based on plans. Riddle is unlimited.
Connectivity – Opinion Stage offers manual downloads of leads by CSV or XLS files. Riddle does as well – but also offers native integrations with your Aweber and MailChimp accounts and lets you connect your quiz to any data system with our Zapier and webhook options… no coding required.
---
Quiz maker review: free to try?
Free trials are a key step for evaluating any quiz creator platform – you want to be sure that it will meet your unique needs.
Both Riddle and Opinion Stage offer free trials – but Opinion Stage adds some painful extra steps.
Riddle: full featured 14 day trail with no credit card required.
Opinion stage: 7 days only, and credit card required
(We don't agree with this philosophy – we know how easy it is to forget to cancel a trial and get charged.)
---
Hope you found this comparison helpful!
Want to get started on Riddle? Just click 'Create a quiz' to give Riddle's quiz maker a try. We've got over 100 extra quiz maker features – from quiz timers, to Google Tag Manager, personalizing nearly every text string and supporting 67 languages. Check out the full list at www.riddle.com/pricing.
Ask us anything at hello@riddle.com*- we're big customer service geeks and super fast to respond!*
*Okay – one caveat… we're based in Europe – and are online from 2am to 5pm EST / 7am to 10pm GMT. We need to sleep sometime after all! 😉