Every year, our team publishes Riddle's annual "Quiz Marketing Report" – providing detailed research about the effectiveness of online quizzes and interactive content.
Powered by 5.49 billion data points, our 2022 Quiz Marketing Report is the most comprehensive analysis about how (and why) you should use quizzes for lead generation and audience engagement.

Where does our data come from?
Since 2014, thousands of top publishers, brands, and sports teams use Riddle's online quiz maker – including the BBC, Sony, CNN, and Manchester United.
Infographic: Why use quizzes for marketing? (free download)
This infographic is free to use – the full report about the effectiveness of quiz marketing is embedded below, or you can download it as a .pdf or .png/.jpg file.
Download the infographic
You are welcome to cite any statistics in your articles or republish this infographic on any site or publication if you include a DoFollow backlink to this post.
You can also read our 2021 Quiz Marketing Report here.
Have any questions about the data or findings for our '2022 Quiz Marketing Report'?
Please reach out to us at hello@riddle.com – or ask us on support chat at Riddle.com.
Thinking about using quizzes for your marketing?
Are you considering using quizzes as a means of engaging your audience and generating leads for your business?
You're in good company, as many marketers are turning to interactive content such as quizzes and personality tests. These types of content offer the potential for:
Higher opt-in rates
Lower costs per lead
Collecting personal data while complying with the EU's GDPR and other privacy regulations
However, it's important to make informed decisions based on solid data. Despite the buzz around quiz marketing, there has been a lack of detailed data to support its effectiveness.
"I thought quizzes wouldn't work. I was wrong…"
Merilyn Beretta is an executive coaching consultant who achieved an impressive 68% opt-in rate with her 'What's your WoW archetype?' quiz – turning her into a strong advocate for the effectivness of quiz marketing.
Her personality test shows how powerful quizzes can be as a lead magnet and the focal point of your quiz marketing funnel.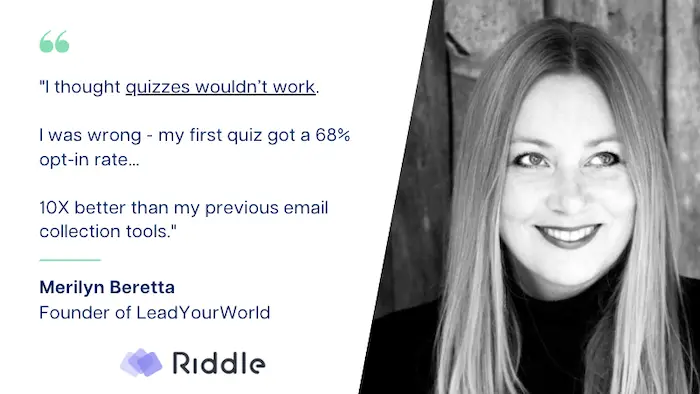 Why do publishers & pro teams turn to online quizzes?
The evolving landscape of advertising, driven by sweeping data privacy regulations like the EU's GDPR and new policies from industry giants such as Apple's App Tracking Transparency, is making marketers reconsider how they gather information from potential customers.
This is where quizzes come into play.
Quizzes have a unique ability to captivate and engage visitors to your website, making them an excellent tool for marketers. Whether the quiz is lighthearted ("What breed of dog are you?") or more serious ("What is your management style?"), users find them irresistible.
Benchmarks from our 2022 Quiz Marketing Report
To save time, we have summarized the most important quiz marketing statistics from our report below.
Based on 5.49 billion quiz marketing data points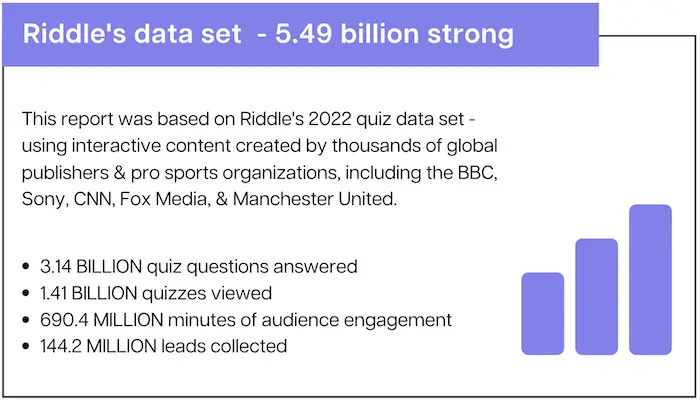 Riddle is the online quiz maker for some of the most popular brands, publishers, and pro sports teams in the world. Their audiences love taking quizzes, polls, and other interactive content.
All of that traffic means our quiz maker has a deep, robust data set. We turned our data scientists loose on an entire year's worth of quiz data, including:
3.14 BILLION questions answered – across all Riddle quiz & interactive content
1.41 BILLION quizzes viewed – embedded on our partners' sites
690.4 MILLION minutes of engagement – responding to quizzes, polls, & other content
144.2 MILLION leads – including name, email, & other 1st party data
"We've reduced our acquisition costs by 60%…"
Laura Sagen is the CEO and founder of The Hair Fuel, a rapidly-growing hair product start-up. To attract potential customers, she uses Facebook and Instagram ads, sending them to her Riddle-powered "Which hair oil are you?" personality quiz.
Since people loving taking quizzes, her ads get much higher clickthrough rates (CTR) and complete her in-quiz lead generation form.
Higher CTR on ads + improved opt-in rates = 60% lower Cost Per Lead (CPL) & customer acquisition costs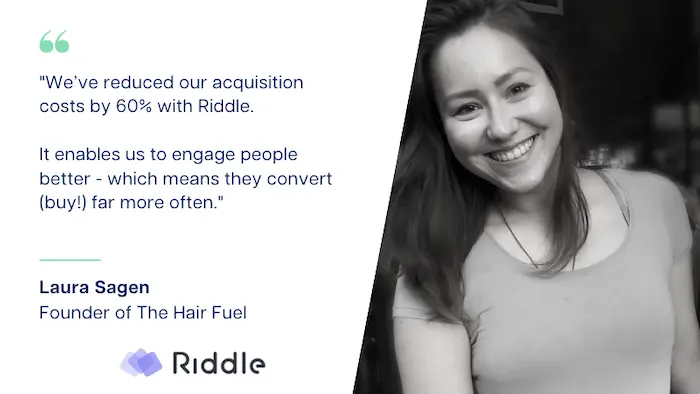 You should see these key quiz marketing benchmarks
If you're new to quiz marketing, it can be difficult to tell what a successful online quiz can look like.
We compiled the three most important KPIs for any online quiz – based on the averages from our entire quiz maker community.
Your quiz or interactive content should equal or exceed these key statistics:
30.4% start rate: the rate people click or engage with an embedded online quiz on a page
41.2% lead form completions: about 4 out of 10 people will complete an in-quiz lead generation form
80.9% completion rate: 4 out of 5 of quiz takers should finish the experience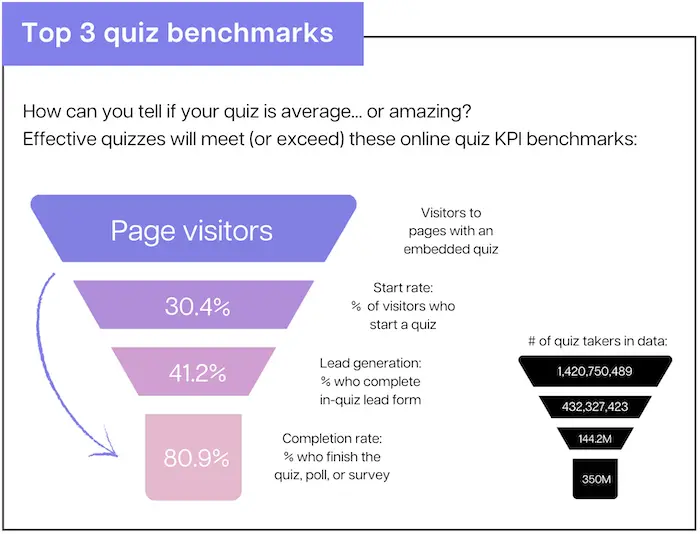 #1 Why use quizzes? Quizzes are 20X better than pop-ups.
Online marketing is going through a revolution. Data privacy laws, ad blockers, and new browser like DuckDuckGo mean than banner ads are dying with trackers and cookies becoming increasingly ineffective.
Instead, marketers are turning towards 1st party data – where users voluntarily provide their personal data like name and email in return for something of value.
Lazy brands and publishers will turn to pop-up email collection forms, the ubiquitous 'Sign up to get our email newsletter' ads that you encounter everywhere online.
That's a mistake.
Based on our calculations and quiz data, leveraging quizzes to collect emails are 21.7X more effective: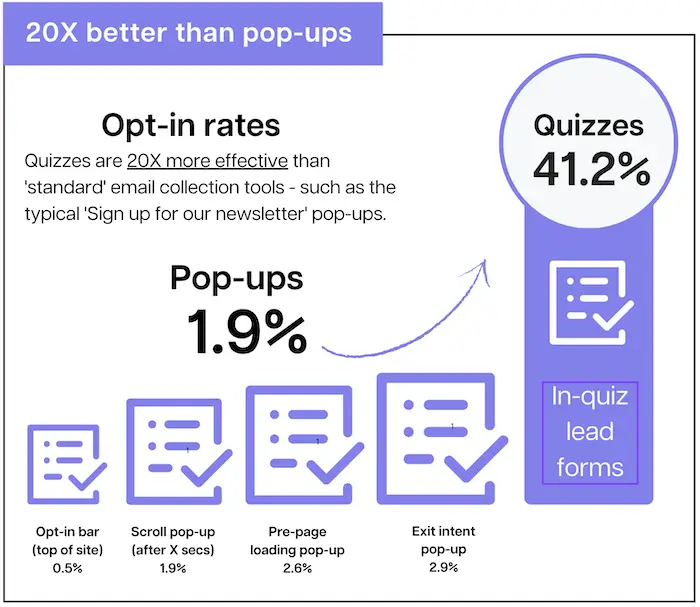 #2 Why use quizzes? Quizzes achieve much lower CPL (Cost Per Lead)
People love taking quizzes, especially those that are fun, interesting, and informative. Quizzes allow people to test their knowledge, learn something new, and even discover something new about themselves.
Laura's and Merilyn's success show how online quizzes can be an effective type of content in marketers' lead generation strategies.
Quizzes that are well-designed, visually appealing, and relevant to your target audience are more likely to grab people's attention and encourage them to click through to your website or landing page. That translates into more people opting in and completing your in-quiz lead forms.
Example lead funnels – quizzes vs. pop-up form
Suppose there are two companies spending $1,000 on ads with a cost per click of $.40 to get traffic for their lead generation funnels.
| | |
| --- | --- |
| Company A – pop-up lead form | Company B – uses a quiz with lead form |
| Users sent to a page with pop-up lead generation form | Users directed to embedded quiz or personality test |
| 2,500 clicks * 1.9% Opt-in Rate = 48 leads with $21.05 CPL | 2,500 clicks * 41.2% Opt-in Rate = 1,030 leads with $0.97 CPL |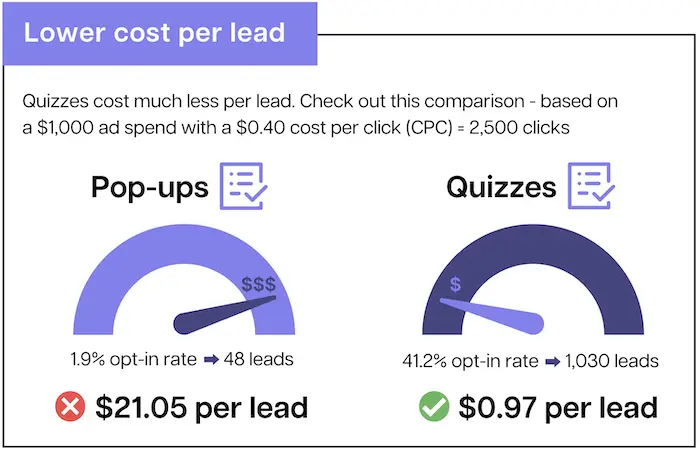 #3 Why use quizzes? Quiz lead generation is most effective for contests & coupons
Lead forms are more than just collecting name and email information. A compelling call-to-action is necessary to persuade users to provide their personal data.
So, what types of offers are most effective for quiz marketing?
We reviewed the top 1,000 quizzes with in-quiz lead generation forms on Riddle's online quiz maker. The most successful offers provide users with something valuable for completing in-quiz lead forms, beyond sign up for yet another newsletter.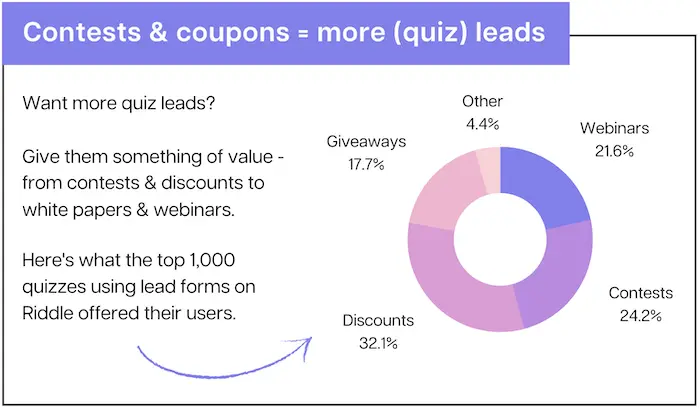 Coupons ("Save 20% on your first order!") and quiz contests ("Get 90% or better to win a prize!") are particularly effective.
Giveaways don't even have to be expensive. You can offer simple things like a free 15-minute consultation or free e-book or white paper – you simply need to provide something of value to the user to motivate them to complete your in-quiz lead generation form.
#4 Why use quizzes? Short lead forms work best
Shorter forms are usually the most effective when using quizzes for lead generation. Our analysis confirm that 3-4 fields work best, and there is a sharp drop in the conversion rate for each additional form field.
If you're going to use online quizzes to collect leads, resist the urge to ask for excessive data from each lead. Keep your quiz lead generation forms as brief as possible.
We recommend:
First name
Last name
Email,
Checkbox – with your privacy policy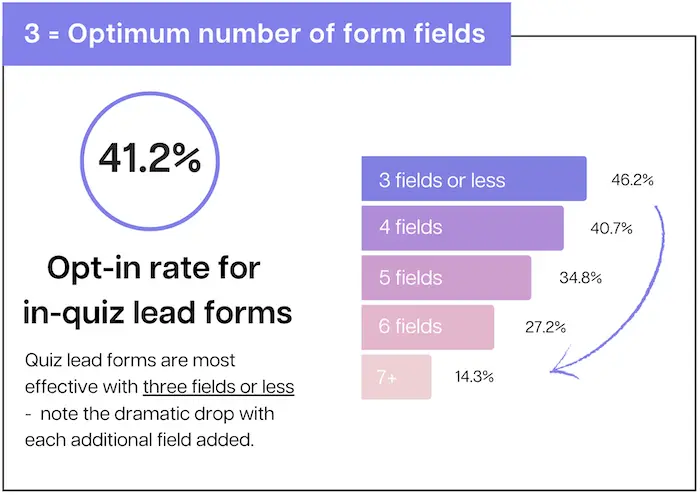 But you can take it one step further.
Smart marketers have realized that names aren't critical. Their quiz lead generation forms are stripped down even further – using just an email field and an opt-in checkbox.
However, there is an exception to this 'brief is better' rule.
Suppose you run a 'high touch' in-person sales approach where contacting each lead consumes a significant amount of time and energy. In that case, you might want to add more fields to your quiz form to learn more about each lead.
You will receive fewer leads, but each lead will be higher-quality, so your sales team can focus only on the best prospects.
#5 Why use quizzes? Get 421% more engagement (boost time on site)
The average time a visitor spends on a website worldwide is just under a minute, at 54 seconds.
Our analysis has confirmed that quizzes are highly effective at encouraging visitors to spend more time on your site. More time on your site means more time to engage your users with your brand, increasing the likelihood of converting them into satisfied customers.
Quiz engagement benchmarks:
Personality tests: 3 minutes 47 seconds (+421% over the global average)
Quizzes: 2 minutes 34 seconds (+281% above the average)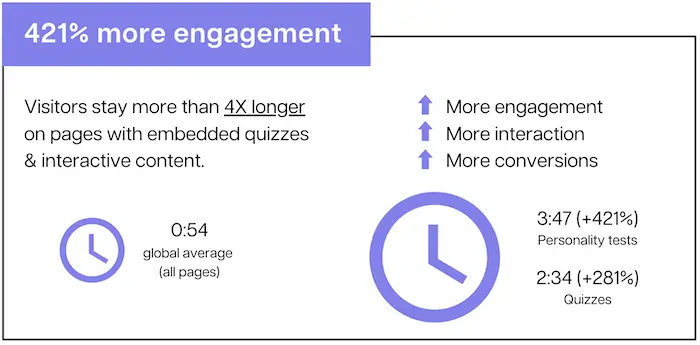 That's resonates with our experience with our partner brands, sports teams, and publishers. Typically, quizzes consist of 6-8 or more questions that challenge users to think, analyze, and choose the correct answer.
This active participation means your quiz takers will get more invested with each question. This increases the odds they'll see (and complete) an in-quiz lead form, in order to see their final results.
#6 Why use quizzes? Quizzes are highly viral
Personality tests and quizzes are popular content – which can easily go viral. Beyond collecting leads, creating online quizzes can result in a surge of free traffic, as users eagerly share their results on social networks such as LinkedIn, Facebook, Twitter, FB Messenger, and WhatsApp.
And this viral traffic is especially powerful. It functions as a form of "word of mouth" marketing, with quiz takers encouraging their friends to participate in your quiz and potentially become leads as well.
Research giant Nielsen found that people are 92% more likely to trust and act on recommendations from their family and friends.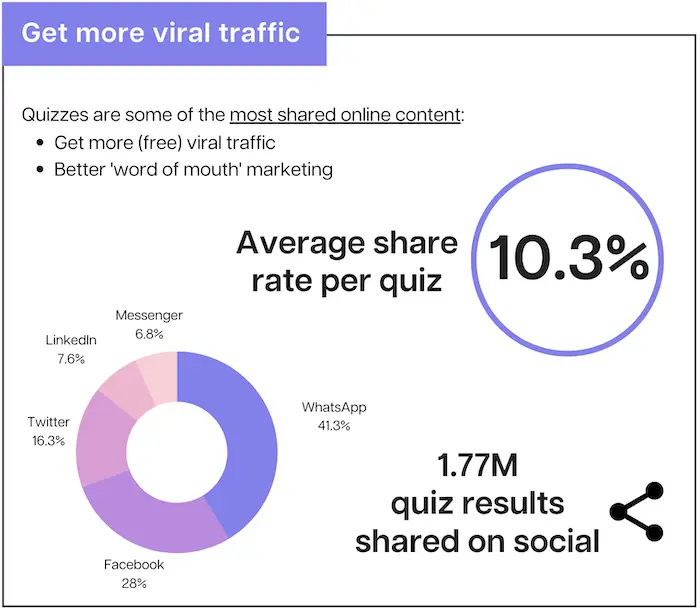 #7 Why use quizzes? 34.2% visitors start & 81.5% of quiz takers finish a quiz
You might have spotted this at the top of the post. But these stats are so important – they were worth a deeper look.
34.2% start rate (>80% with dedicated landing pages)
Quizzes are highly attractive to your website visitors – you should see at least 34% of your page visitors starting a quiz.
Keep in mind that this is just an average, which includes pages where quizzes are embedded among other content. Featuring your online quiz on a standalone landing page should help achieve start rates as high as 85%.
81.5% will finish your quiz
Our research has shown that quizzes are highly effective in attracting the initial click from your audience. And even better, once quiz takers begin the quiz, they're highly motivated to finish it.
Based on our data, approximately 81.5% of online quiz takers are likely to complete a quiz – increasing the odds they'll see (and opt-in) to your lead generation form.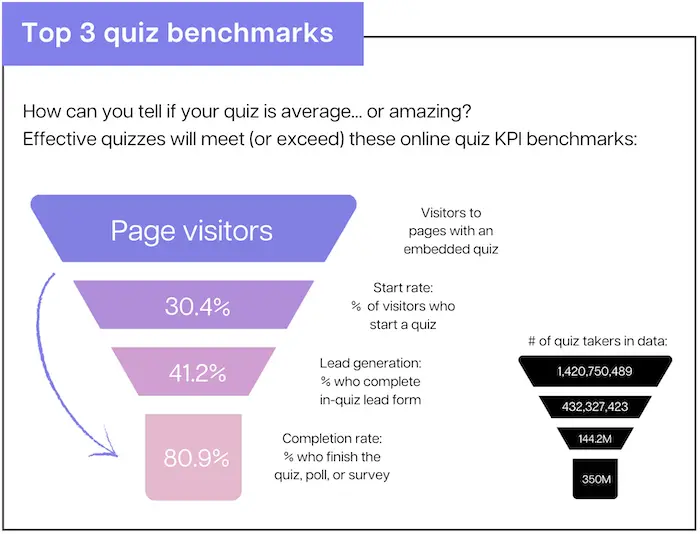 Wrapping things up about quiz marketing…
As you can see from our research, quizzes are powerful tools for engaging your audience and lead generation / 1st party data collection.
The most exciting part for marketers?
Creating a quiz has never been easier. You can make a quiz in no time and integrate it into your website – no coding required.
Besides Riddle, you can choose from a wide range of online quiz maker tools – each with different interactive content formats and lead generation capabilities.
As a starting point, consider checking out Quiz-Maker-Review.com. Their quiz experts have put together the web's best set of in-depth reviews of the different quiz software options.