About the Hair Fuel
In 2019, Laura Sagen launched The Hair Fuel, a company that promotes holistic hair health, and developed a unique formulation for an all-natural hair growth product. She wanted to launch this business using new and more engaging marketing tools. – Traditional marketing just wouldn't cut it.
Laura's plan for attracting customers was to engage them with interactive and useful content – content that had the potential to make them come back again and again. She knew quizzes and other viral engagement tools had the potential to kick-start her business but the end results have exceeded even her most optimistic predictions.
Providing value first
Quizzes first came on Laura's radar when she took a personality test (similar to this Riddle-powered example from Shopify) promising to tell her "What kind of entrepreneur are you?". From the start, she was impressed with the upfront and clear promise of value that the quiz offered to both the audience and the business.
Laura wanted to replicate this experience with her own start-up – she wanted to create a quiz that would help her learn more about her customers while providing each quiz taker useful hair health advice, personalized around their particular hair needs.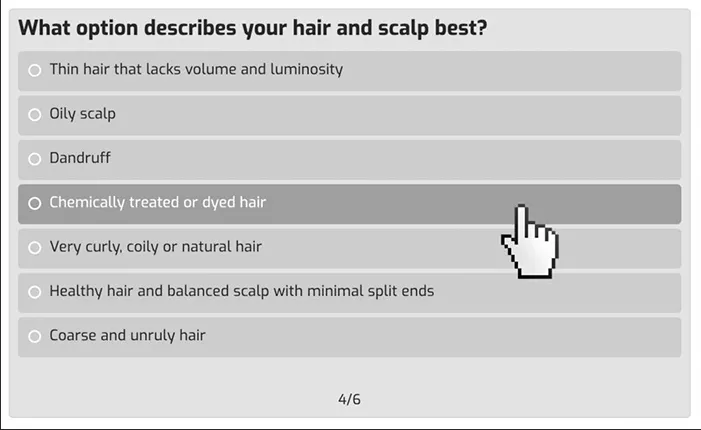 This kind of marketing strategy, which is transparent, ethical, and rewards both the customer and the company, is in keeping with The Hair Fuel's corporate culture.
"We turned to quizzes because they go beyond traditional marketing, where brands often seem to try and shout the loudest. Quizzes, on the other hand, both engage our audience – while letting us start a deeper conversation with each customer."

– Laura Sagen, Founder and CEO, The Hair Fuel
Attention is the most valued asset – if you get it, keep it.
For Laura and The Hair Fuel, a quiz is not just about getting people to buy the product. The real power that Riddle helped to unlock is insight and understanding of customer needs and wants – so that The Hair Fuel can respond by offering the right content at the right time.
The Hair Fuel's quiz-powered marketing helped potential customers feel understood and cared for – which makes them come back time and again if they have any questions. The Hair Fuel knows that customer attention is the most valuable asset – they don't want to waste it by not knowing enough about them.
Sure, a prospective customer might buy the product after taking their first quiz. However, it was equally as important to keep them engaged with the brand while cultivating a longer-term relationship and trust.
Leveraging Riddle quizzes from day 1
Even before The Hair Fuel opened their online store, a quiz was on the landing page. Before customers could buy the product, Laura and her team were already starting to learn about their future customers. It all started with simple things like "What's your age bracket?" and "What's your main hair challenge?"
The first quiz featured on The Hair Fuel (which still lives on the website) was "Which hair oil are you?". With a phenomenal quiz completion rate of 89%, this quiz keeps on delivering reliable leads and offers potential customers fun and interesting engagement.
In line with the quiz data, Laura's team launched a blog and a newsletter with content that was specifically crafted based on how users answered – providing further in-depth content around their quiz results via email.
This enabled her to nudge potential customers to specific pieces of content which aligned with their unique hair challenges.
Loads of (quiz-powered) leads
Since they started deploying quiz content to their website, Laura estimates that 65 – 70% of their leads come from quizzes with the rest of the sales being organic. For Laura and The Hair Fuel team, the results speak for themselves.
"We've reduced our acquisition costs by 60% with Riddle. It enables us to engage people better – which means they convert (buy!) far more often.
But more important than cost savings – we've found that the quiz serves as a powerful start to the conversation. Customers found via this channel have a longer CLTV (customer lifetime value) – because, by the point of conversion, they are familiar with our company's framework.
This translates into more committed customers and, bottom line, a higher retention rate."

– Laura Sagen, Founder of The Hair Fuel
The next step in customer engagement
In the beginning, when The Hair Fuel first launched their website and quiz content, there was no option to deliver each quiz taker's results via email. Now, however, that's a big part of their marketing strategy and community outreach.
Prior to this, users would get their results on the page at the end of the quiz. This method was quick and often easier, however, The Hair Fuel team found the quality of submissions was not always high. And crucially, there was no way to get back to the customer to check-in if they needed extra support in their hair health journey.
While that first method worked, delivering quiz results by email has proven much more effective in building a more intimate, supportive relationship with the customer. Plus, offering personalized quiz results and analysis by email is a powerful call to action – and has increased their lead generation opt-in rates.
The other benefit? By building content through email, Laura and her team have a closer look into how their customers engage with their content. They can see which emails a customer clicks, how much time they spend on the website, and tweak their propositions and content accordingly.
Summary: helping your customers choosing the right products
This quiz-powered email marketing lets The Hair Fuel team decide if each quiz taker is a potential customer or not – and focus only on the most promising customer segments.
If there's one thing Laura would recommend to other small business owners – it's to focus on providing value. According to her (and to us!), quizzes are such a playful way to understand customers. Even if you're just asking six questions, you're measuring your customer six different ways.
As a business owner, Laura recommends you ask yourself:
What value can you provide?
What is the knowledge that you are able to offer to your customer?
How can you hold their hand through whatever challenges they're experiencing?
All of the answers are rooted in the research that you're able to put in as a brand or as a content creator. It took Laura almost five months to put together The Hair Fuel's first quiz because she really wanted to get it just right. Quiz takers will know when you've done your homework and they'll reward you for it.
For Laura and her company, at the end of the day, if you focus on the short-term goal of just getting someone's email address, you're likely to fail. Focus instead on the long game – deliver value and keep your users engaged with great content, so you have a customer for life.
Use Riddle to give your customers product recommendations