Quizzes, polls, and personality tests are among the best ways to collect rich first-party data. By combining answers to quiz questions and data willingly shared by the quiz taker (like name and email), you can segment your user data. This allows you better, more targeted follow-up conversations.
Riddle's Data Layer (part of our Business and Enterprise plans) makes it possible to combine data you already have with data collected from Riddle quizzes.
The importance of rich first-party data
Your ad sales department asks if readers would rather buy an electric or a classic combustion car so that they can reach out to advertisers.
Normally, you would have to engage a market research firm, call your readers, or place pop-ups on your site asking which car they prefer. As you can imagine, someone reading an article won't react positively to an unrelated pop-up about car preferences.
But when you embed this question into a personality quiz your readers take willingly to learn more about themselves, you will get honest answers. This data is the best possible rich first-party data you can collect from a user. This is mainly because quiz questions are answered honestly, as the quiz is taken solely for the benefit of the quiz taker – not to please a market researcher.
Instead of just gaining knowledge about your reader's car preferences, you could use this information. For example, you could provide targeted banners or ads in your email newsletters. They can promote precisely the type of car each reader prefers.
You can add a form field to your riddle asking for the reader's email. Or you could use our Data Layer if you already know your readers' email or user ID if they have logged in to your site already.
Passing data to a Riddle
If you have information about the quiz taker that you want to combine with the quiz data, you can pass this data to the riddle using the Riddle Data Layer.
An excellent example of this information is a campaign ID, passed in the URL. Or you have a user ID that you can send to the Riddle when a user is logged in.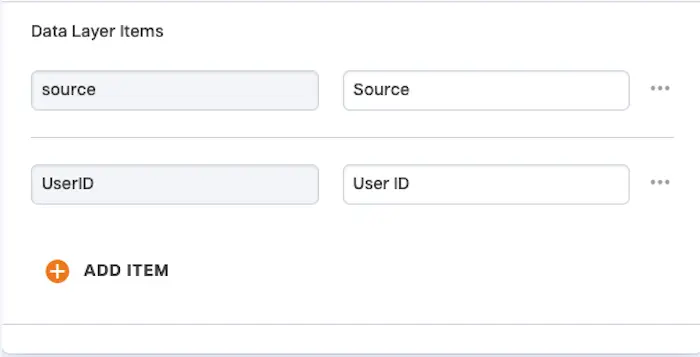 Our Data Layer can accept URL variables and data passed to a data layer object via JavaScript. You can learn more about the technical details of how this works in our documentation.
The most common use case is to pass an anonymous user ID to Riddle and then store that user ID along with the data from the riddle in your data warehouse. There you can combine the quiz data via the user ID with the user data you stored for that ID. This way, no personal identifiable information is ever passed to Riddle, and all the data collection happens on your end.
But you could pass the user's name, email, and other information together with our variables to address the user by name or pre-fill form fields.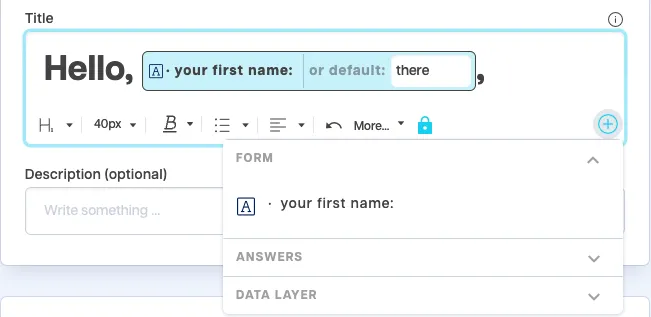 Another everyday use case is to store the data from URL variables with the Riddle data. You can then use this to capture campaign data along with lead forms and associate leads with campaigns to measure your campaign success.
Summary
The Riddle Data Layer allows you to pass any data to the Riddle. Then you can store that data along with all the other data collected with the riddle. You can use it to:
Enrich data you already possess for your logged-in users
Track campaign effectiveness by storing your UTM tags with the lead form data
Save your logged-in users time. Don't ask them to fill out forms with data that they already entered when logging into your site
To find out if this is a solution for your company, please sign up for our free 2-week trial. You do not have to enter a credit card. And the Riddle Data Layer is unlocked – as are all of our other features. This lets you completely test Riddle for your use case before choosing one of our subscription plans.
Instructions on how to use the Riddle Data Layer
Please visit our online documentation to learn how to use the Data Layer with sample scripts and a live example.