16
min read
Looking to grow your audience and qualify potential customers through quizzes? You've probably come across the two market leaders – Riddle and Qzzr. Check out our online quiz maker comparison – highlighting the key differences between these two quiz builders.
Update: October 17, 2022 – Well, this sure is exciting! Riddle has acquired Qzzr – and will be seamlessly migrating all Qzzr content to Riddle by October 31.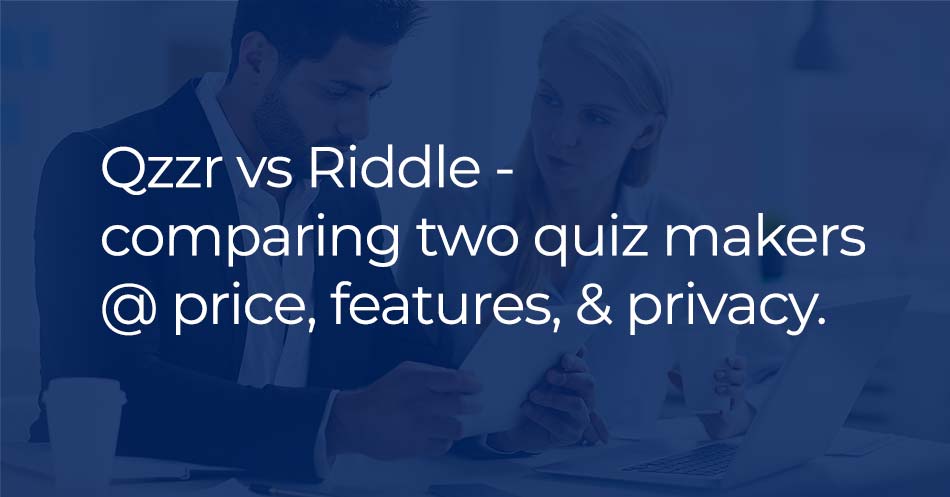 That means the Qzzr community will continue to create/edit their content while gaining access to Riddle's far-wider range of quiz formats and features – including our new Riddle 2.0.
---
Qzzr vs Riddle: comparing quiz makers
| Feature | Qzzr | Riddle | Comments |
| --- | --- | --- | --- |
| Pricing | $24, $199, $999, $10,000 (monthly) | $29, $49, $199 a month | |
| How many types of quizzes? | 3 | 15 | Qzzr only features 3 types of quizzes - no polls, surveys, lists, or more. |
| Create unlimited quizzes and engagements | Yes | Yes | |
| Easily embed on your website | Yes | Yes | |
| Fully responsive quizzes - look great on any device | Yes | Yes | |
| Create unlimited quizzes | Yes | Yes | |
| Collect unlimited leads | No | Yes | Qzzr varies by plan - only their $999 and 10,000 a month plans are unlimited. |
| Send leads to any email marketing tool | Yes* | Yes | Qzzr allows integrations only in their $10K/mo plan - all others manual downloads. |
| Fully white-labelled - add your logo | Yes* | Yes | Qzzr - full white label only in $10K a month plan. Riddle at $49 plan and up. |
| Add 'call to action' buttons | Yes | Yes | Qzzr: $199 plans and up. Riddle: $49 and up. |
| Custom quiz result landing pages | No | Yes | |
| Upload your own font | No | Yes | |
| CSS editor | Yes* | Yes | Qzzr allows full CSS editing only in their $10K/mo plan |
| Multi-user teams | Yes | Yes | |
| Saved style templates | No | Yes | |
| Insert your own video or banner ads | No | Yes | |
| GDPR-compliant | No | Yes | Qzzr - personal data stored and processed in the U.S. Riddle - fully EU-based German company. |
Video: Qzzr vs Riddle (feature by feature)
Watch our cofounder show an in-depth comparison of Qzzr vs Riddle – from quiz formats to features and pricing.
Both online quiz maker tools are very capable – it's a question of which features are the best match for your unique use case.
Quiz maker comparison: pricing model
Riddle and Qzzr are both SaaS subscription services, with month-by-month and annual payment options.
Qzzr is shy about advertising their prices – their mid-level 'Business' plan just shows 'ask us for demo', and their top 'Enterprise' plan starts at a whopping $10,000 a month.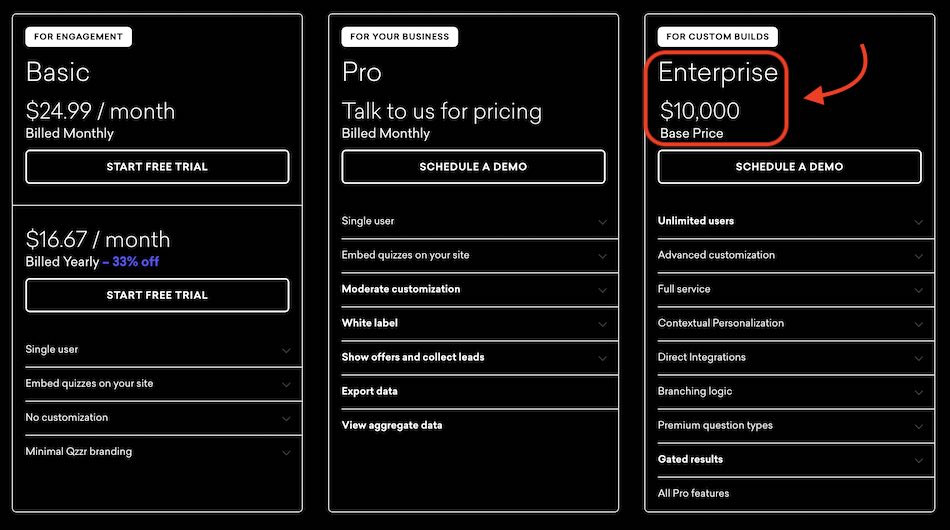 One other key difference – Qzzr will delete all of your quizzes if you ever cancel or pause your subscription.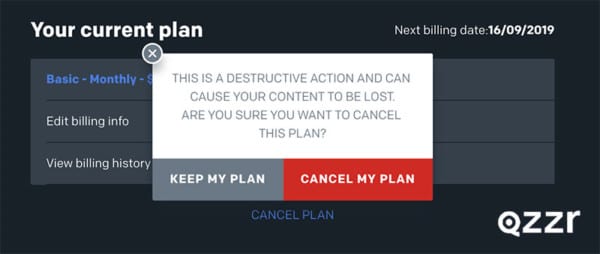 With Riddle, however, our pricing is far more reasonable – our top plan, offering far more functionality than Qzzr (including multiple teams and users plus full fonts and CSS customization) is just $199 a month.

Plus, your quizzes will always stay live – even if you cancel. We know business needs can change – and we would never want to leave any holes in your beautiful website.
In terms of price, we decided to make Riddle as intuitive as our quiz maker.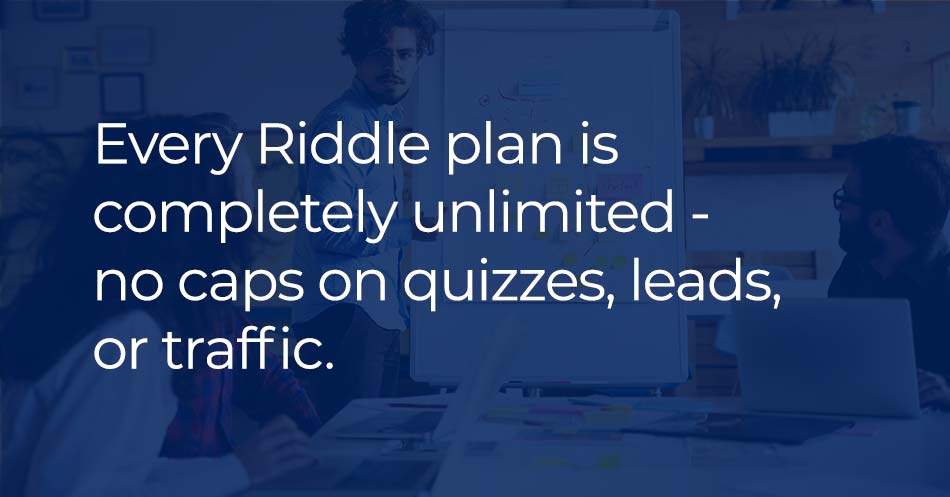 All our plans are completely unlimited – with no monthly caps (learn more here):
Unlimited quiz creation (15 types of quiz formats)
Unlimited quiz views/starts/finishes
Unlimited leads you gather
We also offer a full-featured, completely unlocked 14-day free trial – no credit card needed (& our 30 day, "no questions asked" moneyback guarantee).
You'll have full access to every feature – from CSS to custom fonts and lead generation, so you can make sure Riddle has the features you need.
---
Reviewing Riddle and Qzzr: how many quiz types?
You can sum up the creative freedom around this quiz maker comparison with this one graphic: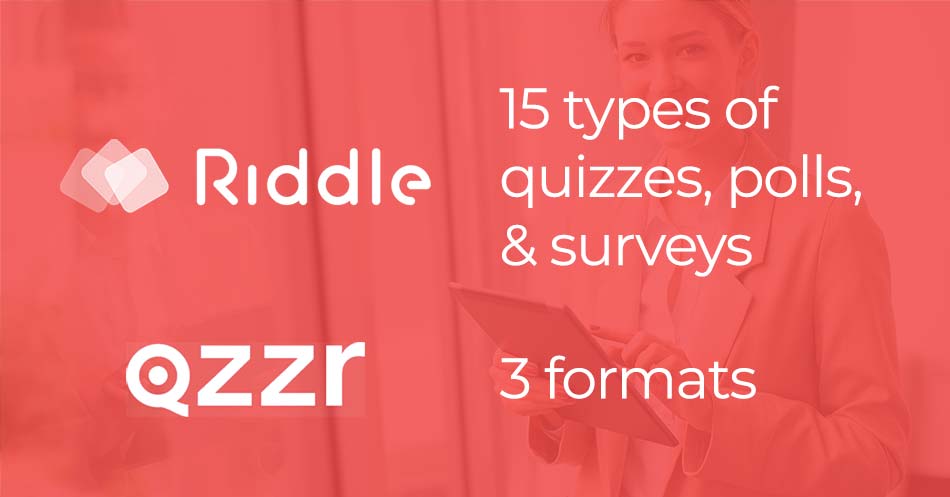 Now, Qzzr is a solid quiz platform – with a nice user interface and their published quizzes look great.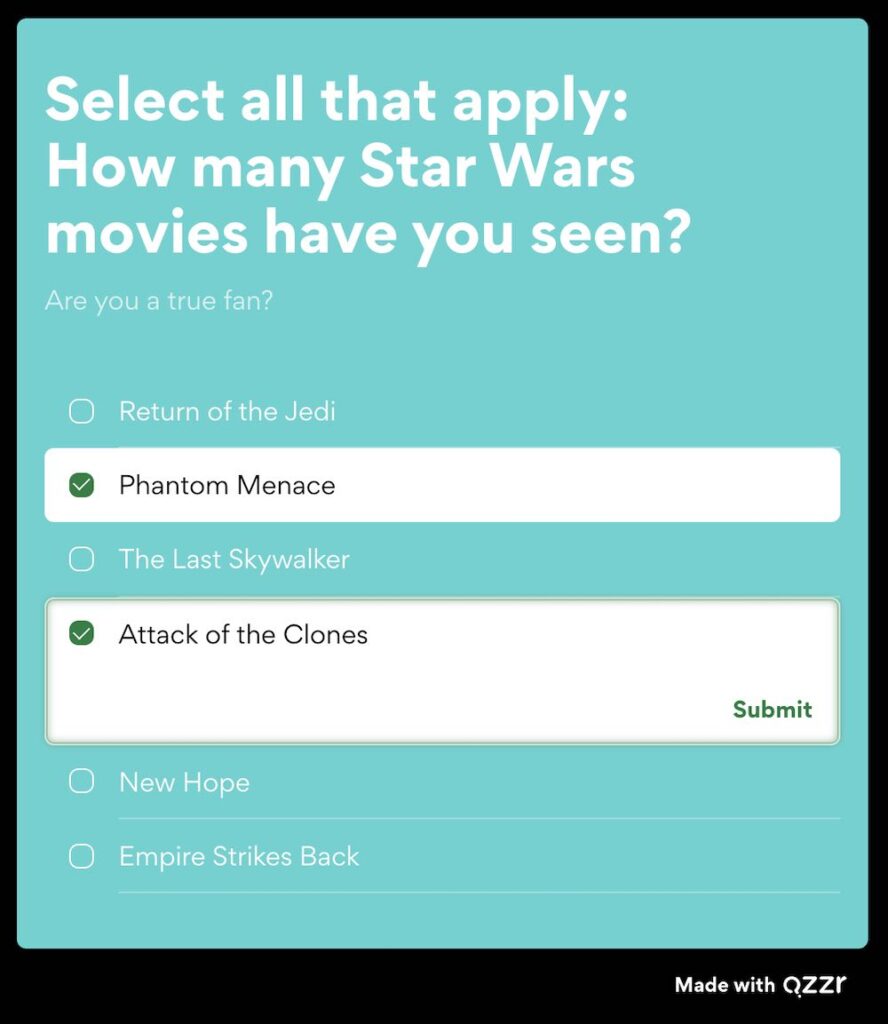 However, they're limited to just three types of quizzes – each with limited customization options.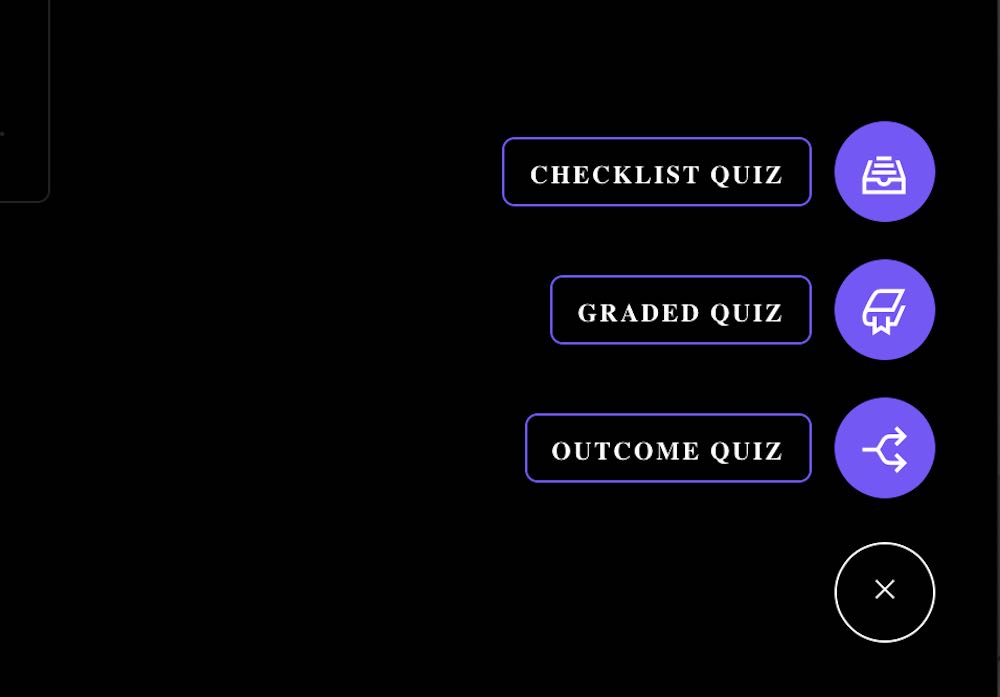 Checklist quiz: We like this one – you have users tick off how many answers apply to them, for use cases such as "How many cities have you visited?" or "Are you really suffering from anxiety?"
Graded quiz: Qzzr's version of the classic pop quiz, with questions with right/wrong answers. But you can't add a timer, adjust scoring for difficulty (ie. easy questions are worth 1, harder ones are worth 3).
Outcome quiz: This is their version of a personality test that returns an overall result based on how you answered. But you won't have much freedom in how you map question answers to the different results – it's very much 'all or nothing'.

Check out this travel example – we've mapped Paris and Rome to 'pizza' answer.
Qzzr counts them equally – even though Rome is 3X (at least!) as good a pizza destination as Paris.
Riddle lets you weight answers for more accuracy – Paris could be worth 5 points, while Rome could be 20.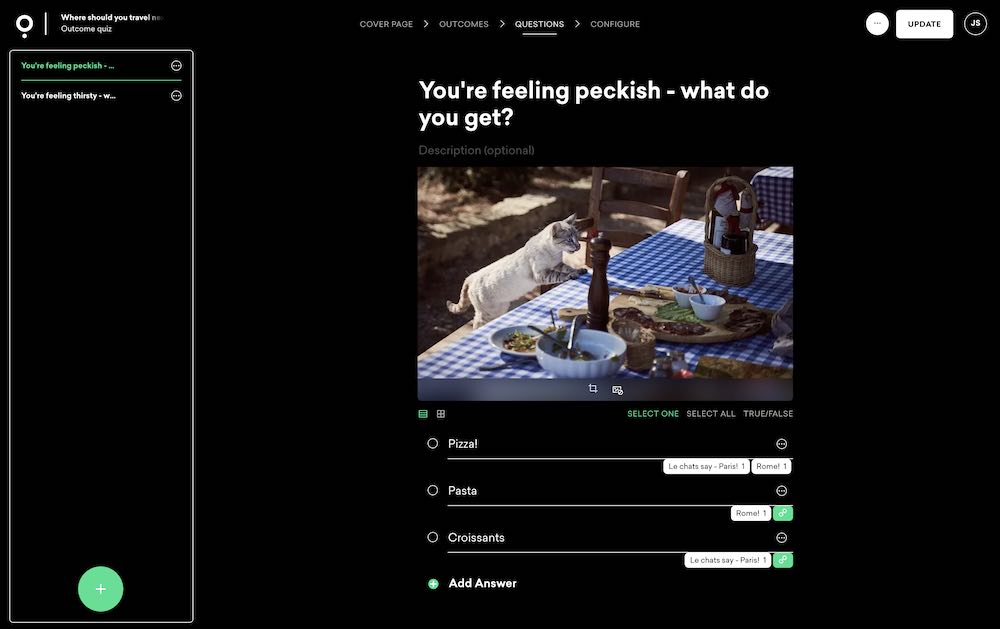 At Riddle, we've gone much, much further with our online quiz builder goes further, offering:
15 different quiz tools (learn more)
Pop quizzes and personality tests, as well as listicles, ranked lists, four types of polls, and flexible surveys
Our unique 'journey' – a flexible branching logic quiz where each user sees different questions based on their individual responses.
Unique touch-focused 'Tap and Find' and 'Order It' quizzes types – your audience picks their answers directly on each quiz image.
Stand alone lead generation form – now collect leads using forms that live outside of your quizzes.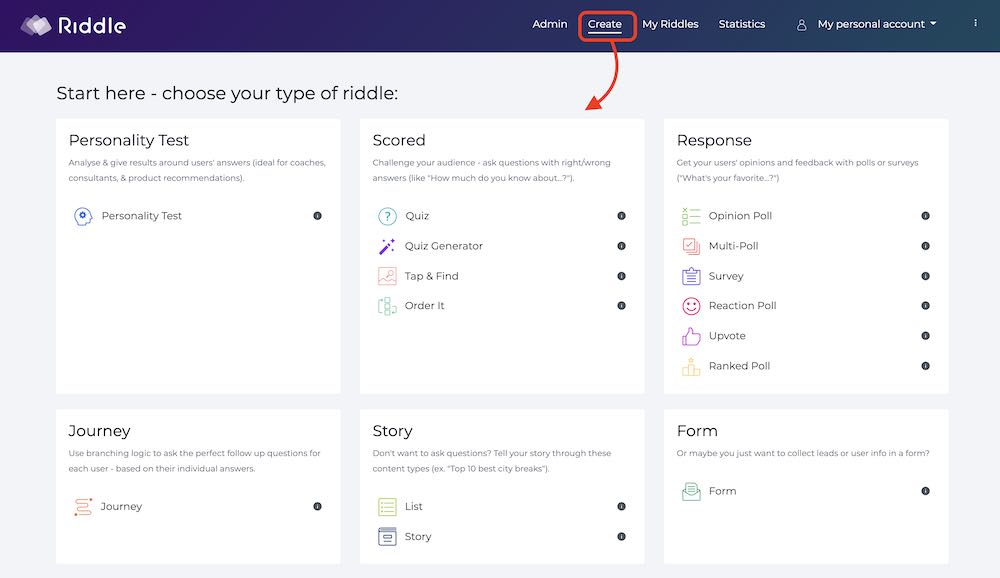 ---
Quiz maker comparison: branding and customization
Nobody likes creating a quiz that doesn't blend into their site.
It's disruptive to the user experience – so both Riddle and Qzzr offer a number of options for seamlessly matching your quiz, list, or poll into your site.
Riddle offers a greater range of options across all of our plans – with even our Basic option providing full font and color choices.
Our Pro plan is a fully white label option as well – you can remove all Riddle branding and add your own.
And as for our Teams – we give you full control; you do virtually anything, including customizing every visual element with CSS or uploading your own fonts so your quiz matches your brand.
Check out all the options we include – 95% across all of our plans (Basic, Pro, and Team):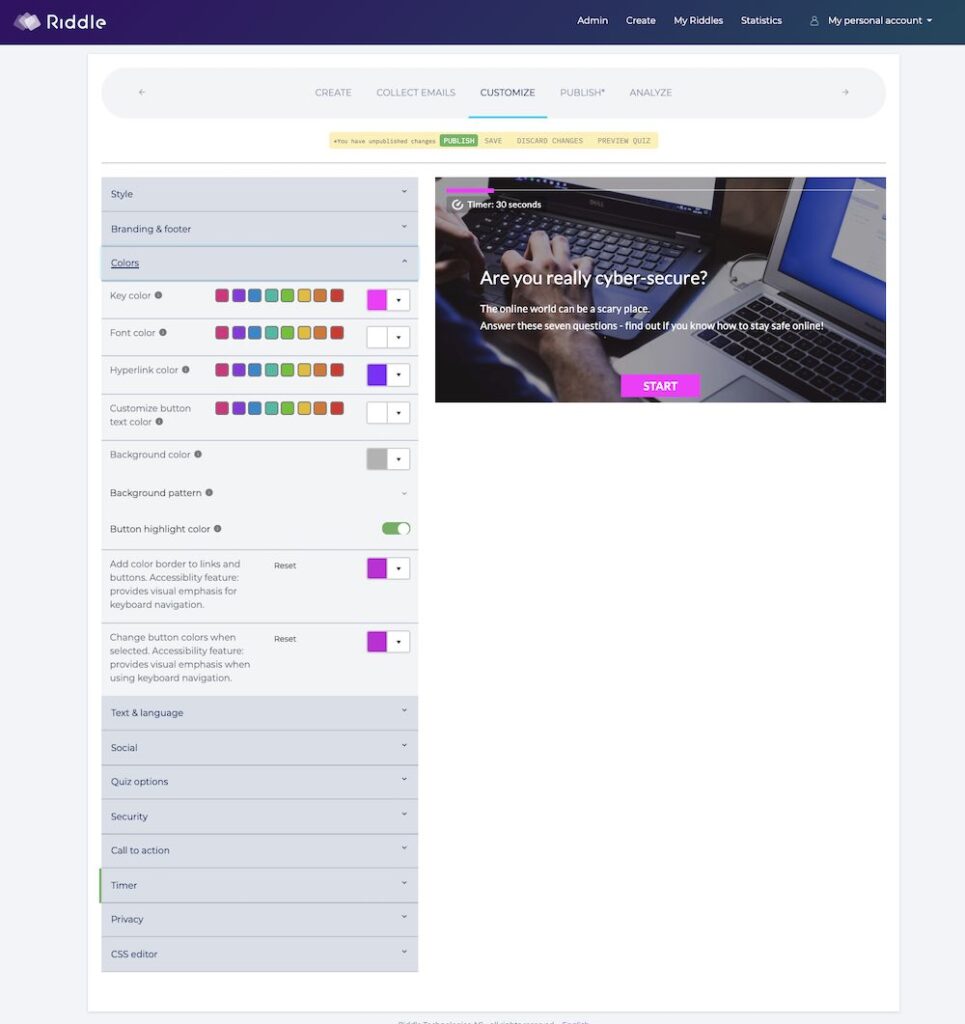 By comparison, Qzzr's Basic and Pro plans offer no or limited customization options – which means their quizzes will look and feel like as a 3rd party widget to your audience, not an organic part of your site.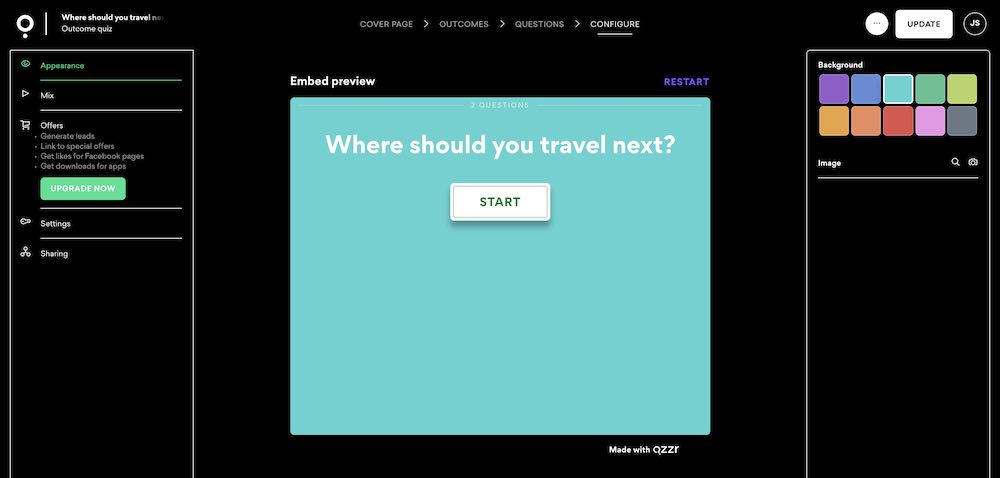 ---
Lead generation and data capture
Getting your audience involved and clicking with a quiz is only half the process.
Quizzes, lists, and polls are brilliant ways to gather email addresses and collect user responses – perfect for:
Contests – ex. "Answer 90% or higher in our quiz – be entered to win!"
Lead generation – qualify potential customers and send them the right message, based on their responses
As far as a quiz maker comparison goes, both Qzzr and Riddle let you gather emails and user responses.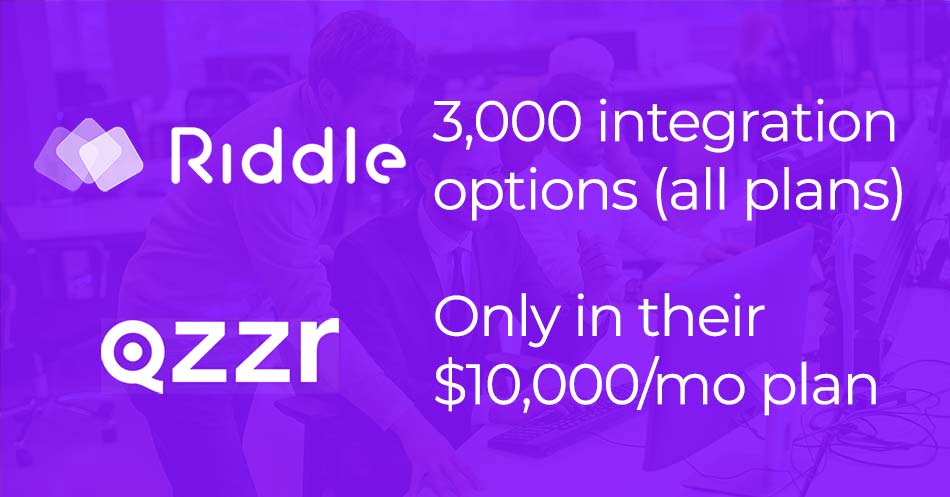 The key differences lie in:
Pricing – Qzzr only enables these features with their higher end plans while they are available on all Riddle plans.
Flexibility – Qzzr lets you send data to tools like AWeber and MailChimp only on their $10,000/month plan. Riddle gives full data integrations across all our plans – with 3,000 tools in all, through native integrations like MailChimp to Google Sheets and ActiveCampaign to our Zapier app and webhook options.
Drag and drop form builder – go beyond text fields, quickly create your own forms using Riddle's 16 types of fields from drop-downs, date pickers, and more.
---
Qzzr vs. Riddle: feature by feature
And here's a more detailed look at Qzzr and Riddle – covering 65 quiz maker and lead generation features:
| Feature | Qzzr | Riddle | Comments |
| --- | --- | --- | --- |
| ★★★★★ customer service | No | Yes | Qzzr limits lower plans to help docs or email - Riddle offers the same 5 star customer service to everyone. |
| Scored quizzes (with right/wrong answers) | Yes | Yes | |
| Personality tests (each result based on all answers) | Yes | Yes | |
| Standalone lead generation form | No | Yes | |
| Four types of polls | No | Yes | |
| Surveys (with data export) | No | Yes | |
| Social stories (where quiz meets blog post) | No | Yes | |
| Social sharing (Facebook, Twitter, WhatsApp, LinkedIn) | Yes | Yes | Qzzr - only provides Facebook and Twitter sharing. |
| Conditional logic | Yes* | Yes | Qzzr - only in $10K/mo plan. Riddle - all plans. |
| Multilingual | Yes | Yes | Qzzr: 18 languages. Riddle: 67 (and counting) |
| Quiz layouts: multiple layouts | No | Yes | Qzzr - only has one layout for their quizzes. |
| Single and multiple correct answers | Yes | Yes | |
| Free text responses | Yes* | Yes | Qzzr - only in $10K/mo plan. Riddle - all plans. |
| Score as you go - or at end of quiz | No | Yes | |
| Correct/incorrect answer explanations | Yes | Yes | |
| Custom 'correct/wrong' messages and other quiz text fields | Yes* | Yes | Qzzr: $199 plans and up. Riddle: all plans. |
| Random question and answer order | Yes | Yes | |
| Rich text formatting: include links, lists and emojis | Yes* | Yes | Qzzr - only in $10K/mo plan. Riddle - all plans. |
| Hide vote totals | No | Yes | |
| Automatically close polls (by date/time) | No | Yes | |
| Unroll quizzes - display all ?'s at once | No | Yes | |
| Show multiple personality results (X% for #1, Y% for #2, etc.) | No | Yes | |
| Quiz statistics - track starts, completes, leads, shares | Yes | Yes | |
| Detailed quiz stats - by question and results | Yes | Yes | |
| Optimize quizzes using 'engagement graph' | Yes | Yes | |
| Add multimedia | Yes* | Yes | Qzzr - images/GIFs only. Riddle - images, GIFs, video, Tweets, FB, Instagram. |
| Timed quizzes | No | Yes | |
| Upload your own images | Yes | Yes | |
| Google image search | No | Yes | |
| Classy stock photo library | Yes | Yes | |
| Giphy - search/use animated GIFs | Yes | Yes | |
| Twitter - embed any tweet | No | Yes | |
| Facebook - add images | No | Yes | |
| Instagram - add images | No | Yes | |
| Sound files | No | Yes | |
| YouTube videos & set start/end points | No | Yes | |
| In-tool image editing (crop, filters, text) | No | Yes | |
| 16 types of lead fields | No | Yes | Qzzr only supports basic text, email, other fields. |
| Optional or mandatory forms | Yes | Yes | |
| Connect to any marketing tool (on all plans) | Yes* | Yes | Qzzr: $10K plan only. Riddle: all plans. |
| Connect to any data system with webhook (all plans) | No | Yes | |
| Send leads to Google Documents | No | Yes | |
| Import your own forms | No | Yes | |
| Display your videos or ads | No | Yes | |
| Full creative control - all plans | No | Yes | Qzzr: $24 and $199/mo plans offer only limited options. Riddle: all plans. |
| Select background patterns | Yes | Yes | |
| Accessibility features (hearing/vision-impaired) | No | Yes | |
| Customize social text | Yes | Yes | |
| Add your own branding | Yes | Yes | |
| CSS editor - full control over your quiz styling | Yes* | Yes | Qzzr: $10K/month plan only. Riddle: $249/month. |
| Team templates - save/apply your own style combinations | No | Yes | |
| Wordpress plug-in | Yes | Yes | |
| Google AMP support | No | Yes | |
| Drupal plug-in | No | Yes | |
| Customize embed width | Yes | Yes | |
| Lazy loading images | No | Yes | |
| Include quiz text to enhance your SEO | No | Yes | |
| PDF reports of quiz statistics | No | Yes | |
| Refresh ads on quiz page | No | Yes | |
| Doubleclick and other pixel support | No | Yes | |
| Facebook pixel support | No | Yes | |
| Google Tag Manager | No | Yes | |
| Display your banner ads below your quiz | No | Yes | |
| Place your own video ads | No | Yes | |
| Multi-user team features | Yes | Yes | |
Quiz maker comparison: customer service
Creating a great set of quiz tools is just the start. You also need to provide world-class support to all of your customers – both large and small.
Qzzr gets decent reviews for their support – but they only offer chat support to paying customers and logged-in users. They really push you towards getting a demo – instead of being available to answer quick questions from casual browsers.
We put Qzzr to the test – and got this reply from their support, showing they would be available in three hours:
By comparison, at Riddle, customer support is literally a company-wide mission.
We're big believers in the power of 'word of mouth' marketing. We've made it a point to provide awesome customer service – so our community becomes our biggest advocates.
Seriously – we're big customer service geeks. Everyone from the CEO down generally races each other to respond first. Our founder Boris wrote a blog about this – he's a big believer that software companies should replace their support teams with their executives and other team members.
See what our customers say: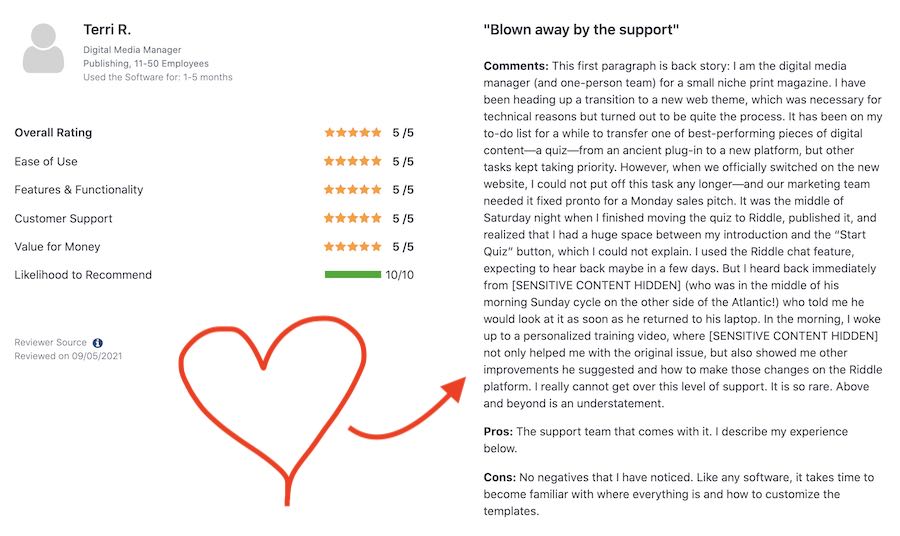 (We're not above appealing to our team members' pride – we run a weekly 'Helper Hero' trophy for the person who answers the most customer requests. Winner gets beers!)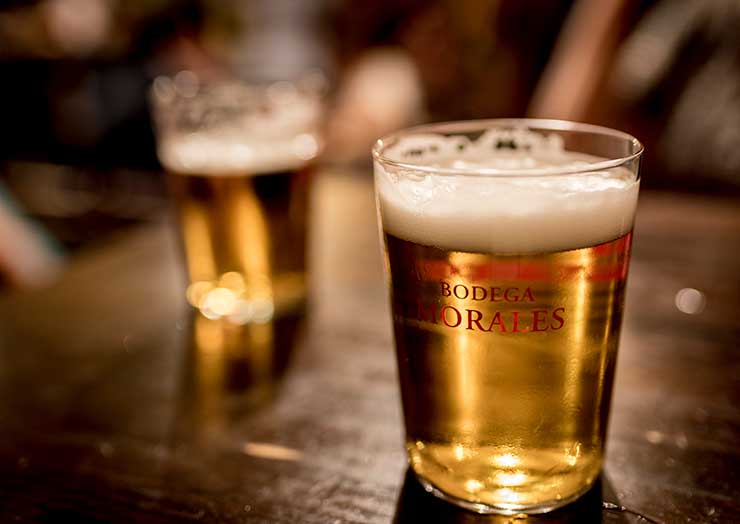 ---
Qzzr and Riddle – which is free to try?
At the end of the day, both Riddle and Qzzr let you create excellent quizzes – but we hope this quiz maker comparison tempts you to give us a shot.
Want to see Riddle quizzes in action? You can view 23 of our favorite live quiz examples from our top partners such as the BBC, Red Bull, the Chicago Bulls, and CNN.
(Psst… and unlike Qzzr, you don't need to arrange a demo call – just click 'Create a quiz' and try all the features of our quiz tools for 14 days – no credit card required.)
Any questions? Just give us a shout at hello@riddle.com– and watch how fast we respond. Our average time to reply is about 1 minute and 47 seconds – how's that for fast? 🙂
We're based in Europe – and are online from 2am to 5pm EST / 7am to 10pm GMT.
******************
Video transcript
(We love to add transcripts for any video walkthroughs we do – it's part of our approach of being a fully accessible quiz maker. Transcripts are helpful for people who use screenreaders and other devices.)
Hi there. My name is Mike – I'm one of the co founders here at Riddle. And in this video, I'm going to give you a quick walkthrough of Qzzr and Riddle. Now, both are online quiz maker tools, and they're both quite good in terms of their specific use cases.
In our quiz maker comparison, we're going to walk through when Qzzr might be appropriate or when you might want to look at Riddle. Now, obviously, this is the Riddle site, so we're a little biased in that we think Riddle is capable and quite good.
But Qzzr is a very capable software application, so we're not going to bash them. We're just going to walkthrough and just show you different options, hopefully saving you time, so you don't have to sign up for one of their trials if it's not appropriate for what you're looking for.
Okay, first off, some limitations about this online quiz maker comparison. When we went to Qzzr, we wanted to sign up for a free trial. However, they would only let us sign up for a basic trial. You can see on their pricing page that you can only sign up for their basic plan.
So those are the only features we can review.
This is weird. Because if I wanted to test out their Pro or their $10,000 enterprise plan, I'd have to sign up for a demo. So I have no idea what they offer, besides this features list. You have to schedule a demo and then ask for pricing.
With Riddle, by comparison, we prefer to give any interested users a free, full-featured trial. You can just sign up no credit card required. You get access to all our features across all our plans. We figure that's better because you get to kick the tires, try out the tool, and make sure it's what you want without having to give your credit card.
Now that we've signed up, let's dive into the different options. Now, Qzzr, as the name indicates, focuses on quizzes. And they have three solid options here.
First off, they have their outcome quiz, which what we call a personality test.
Basically, you answer a number of questions, and at the end you get a result. "What city should you live in?" Oh, you should live in Paris. Or "What products should I buy?" We recommend you buy this.
The graded quiz has right or wrong answers, such as "How much do you know about cyber security?". It asks right or wrong questions and at the end, you get in this result – 'Well, you got eight out of ten correct. That means you're <this result>.'
And lastly, the checklist quiz. This is really neat. We really like this one. This quiz format lets you tick off the number of choices that apply to you.
So Qzzr might give you, like, ten choices, and you tick off the ones that apply to you. And at the end they say, "Okay, well, this means you're this <result>."
For example, if you ask "How many cities have you traveled to?" – a user might tick off 20 out of 30 options, and get a result "Wow, you're well-travelled!".
At Riddle, we feature the personality test and graded quiz – but have a much wider range of interactive content formats beyond Qzzr's laser focus on quizzes.
Beyond quizzes, we also give lots of response options where you can collect information from the audience, get their feedback, get their opinions. So we have an outcome quiz, which we call a personality test.
At Riddle, we also have what they call graded quizzes, but we call them scored. We have four types of graded quizzes there, plus we include a range of 'Response' formats where you can ask different types of polls or surveys or reaction polls or upvote list.
We include branching logic if you want to ask different questions to different users. To be fair, Qzzr offers conditional logic as well – but only with their $10,000 a month plan, which is insane.
(Sorry, that's just a little rant on my part.)
Now, I'm going to start with a what they call a graded quiz, which is a right or wrong quiz. Now, the Qzzr quiz engine is based around a bread crumb approach (similar to Riddle), where you start off with a cover page.
In this case, you just type in a title. It's kind of strange. You actually can't specify a main image just for the title, which is weird because often quiz makers will want to add a title image as the visual 'hook' for people to take their quiz.
Let's compare with Riddle.. we'll just start here with a graded quiz. I'm going to use a cyber security example.
We have a title card, and we let you really customize how that looks. This is important because the title card is the cover of your quiz, and that's what's going to get people to click and engage.
Next, you have to say, "Well, okay, well, what does this result mean?" And in this case, I've done two silly quiz results – either 'You're a Star Wars expert' or 'You're a Star Wars newbie', depending on how many answers I get right.
When it comes to adding answer images and result images, Qzzr is quite limited.
You'll see here, I'm going to start over with my Qzzr quiz. I'm going to take away an image. Now, this is the result, and I can give some additional information here, which is cool.
However, when it comes to images, I can only search in Pixabay (which is an image library), so you can grab images like this, or you can go on to your computer and upload quiz images.
Another weakness with Qzzr is that their online quiz maker only supports images and GIFs. You can't add any video or audio.
But we do like their overall user interface design – it's really slick. It's crisp and clean, but it's just very rudimentary in their features, especially in this Basic plan that we were forced to demo.
Looking at Riddle, let's go to our first question here – "What's the most secure password?". I'm going to clear the image that we've chosen. Now you can see that I have lots of options. I can upload images or GIFs, but I can also go to Google, I can go to Pexels, which is like their Pixabay. I can go to Giphy and get GIFs, which are really good for boosting quiz engagement.
The other thing you can do with Riddle is use a lot of video and audio options, which turn your quizzes into more of a multimedia experience. So watch what happens iI click on our video/audio tab, you've got YouTube, Vimeo, MP4 videos, and also upload MP three audio.
And what's really neat is you can also set… I'll grab another Star Wars video. I have no idea what this video is, but we shall see. But you'll see here we can set it to 'auto play', saving a click by your audience.
And you can also say, "But I only want to show a certain point. I want to show 10 seconds to 15 seconds and ask a question about it." Instead of having to upload and use the whole clip, you can just use just a bit.
Okay, back to Qzzr. So we have the two outcomes, which are great.
Next, let's get to the questions. So here you can actually add a main question image. In this case, I just grabbed a Star Wars image and then they let you choose either text answers. In this case, we have four choices, or you can do image options.
But again, it's just text or images. No other options.
Looking at this quiz maker comparison, Riddle lets you do more – you can use single or multiple-choice questions. You can add images or audio or video, or you can go with just text.
We also let you use free text questions so you can actually make people type in the correct answers, which adds an extra level of difficulty.
This is great for quiz contests – to make people really show they know what they're doing. And again, we give you lots of different ways and options on that.
You can also have questions worth different points. So easy questions could be worth one point, but harder questions could be worth five, six, seven points.
And one key weakness in our opinion with Qzzr is that if quiz takers often to know the answer after they take a quiz. I want to know what I got right or wrong.
In both quiz makers, Qzzr and Riddle both let you actually show the correct answer.
However, Riddle actually lets you add images and videos to the correct answer as well. So by comparison, if you go to our preview section and answer our question here's that GIF. I've made my choice about the most secure password. And you see here, this is a much more immersive answer – using a GIF and text in the explanation section.
You can also have a little video saying, "Oh, let me explain why you got it right or wrong."
Qzzr is much more of a lightweight quiz engine – "I'm just going to give you a quick text answer. I can't add images, I can't do anything else."
And then last, when we get into the configure section, this is where we were a little hamstrung because we couldn't actually use some of these extra features because we didn't have access to their trial.
But if I want to change the appearance… yes, so Qzzr has quite limited customization options. What they do is give you kind of the standard image choices. You can't even actually pick a hex color to match your brand.
You can't even specify the color of the background. Sure, you can add one background image for all the questions – I'll use Pixabay and I'm just going to grab Star Wars.
But that's used across all the Qzzr quiz questions.
However, we do like Qzzr's design of having this nice background with text on top. That looks really cool. But again, it's quite limited in what you can do by comparison.
When you get to Riddle's 'customize' section, we give you lots of options. And let's just go to the color section. So, for example, background colors, you can pick the actual specific hex color you're looking for.
You can suggest specify font colors. And you can also do lots of things like, I want to change fonts. What font do I want to use? I want to add custom fonts and all this other stuff. Just look at all these options at Riddle offers.
It seems that Qzzr has just said, "You know what? We're going to keep this nice and easy and light and friendly and just limit the options for our users."
So in this case, I've removed the background, and that seems to be it. Let's see what other options we have. I can randomize questions and answers, which is quite nice.
And here's that 'show instant feedback' feature, where you can actually show why the question was right or wrong, but that's pretty much it.
Oh, when it comes to social sharing with Qzzr – this is another weird thing is that you can add a share image, which is nice. So if you have a particular image you want to use that's? Great.
However, you can't go back here and say, "Well, I want to have this particular image shared for this particular quiz result. And this other image shared for this other result."
With Qzzr, it's either all or nothing. One image for every share result, which is a bit strange.
In Riddle, what we've done is for each of these results you get a different share image. In this case, the quiz result is "You're a high risk for cyber security." And this is the share image I want to go out with this because it's a great little gift about Shaggy from Scooby Doo.
Someone who's at low risk, you know, gets this Star Trek GIF using the character Data. So we give you options to choose that.
That's pretty much it. So we'll dive in real quick about the other quiz types, and then we'll wrap things up.
Okay, so, again, looking at the Qzzr quiz types here, I'm actually just going to pop in here and look at this personality test I made "Where should you travel to next?".
This is a personality test, and the mechanism is very similar. Cover page, outcomes, things like that – however, a weird thing is that there is not a lot of subtlety in how you map the results. It's all or nothing.
In my example, I have two results. I have Rome and I have Paris. Now, if I ask a question and say, "Okay, well, you're feeling hungry, where should go?" If I choose both Paris and Rome for this particular answer, they're equal. There's no way to add subtleties about it really should be more Rome, because Rome pizza is phenomenal. But Paris might have some pizza, so it could be that Paris needs some points as well.
By comparison, Riddle gives you a more subtle weighting scoring approach. So you'll see here in this management personality test, we have collaborative, authoritarian and mentoring as our management styles. Suppose we ask a question saying, "Hey, you're going to lead a meeting, what do you do?"
If someone answers, "Well, I'm going to utilize brainstorming activities." That is definitely a collaborative thing. So we're going to max out the points for that result type. We're giving 20 or 20 possible points. But a mentoring manager – this is still applies to them a bit. So I'm going to give them 15 points.
You can do this on every answer choice and give subtle weights… next choice – changing strategy, more of authoritarian mentoring, maybe a little bit.
We think is a lot more flexible and useful in terms of recommending products or coaching and assessments and things like that. Again, going back to their dashboard, this quiz is actually pretty cool, but we do like this one a lot.
The checklist quiz is brilliant, and that it's very simple. You just type all these choices, and then you actually just give a result based on their overall results.
Our example checklist quiz is "How many Star Wars movies have you seen?" It's so simple – but it's really engaging. We actually like this Qzzr format.
In this case, I'm just going to give the outcomes – either "You're a Jedi", or "You must study harder". But this is a cool little quiz.
Again, very limited customization options like the other Qzzr formats, but you just pick these options.
So lightweight, fun and fluffy. But again, a very useful tool.
When it comes to publishing your Qzzr quiz, you get an embed or just non-responsive iFrame, plus you get a link.
That's pretty similar to what Riddle does.
You'll see here that you can publish it and you'll get a link, and then you can embed this on your site. We do give you some more options in terms of you can include all the text of your questions, all that rich text that you've been typing about answers and explanations. And we can include that in the meta information on your page to benefit your search ranking. So if you have a big quiz, this could really help your site boost.
And we have some other little features to make sure your quiz displays properly on your site. We've got lots of other ways to embed into Squarespace and WordPress and all sort of stuff.
So again, more options with Riddle.
When you get to Qzzr's statistics, they have a pretty basic quiz funnel. I'm gonna be blunt, they have a completion rate and how many times it was taken and average time per user – but that's pretty much about it.
Riddle's quiz analytics engine is much more sophisticated. We're used to dealing with partners like the BBC and the NFL and a whole bunch of other folks. And if you get to our statistics module, you'll see here that we offer a really rich and customizable.
I'll show you an example here. This is one of our partners, and you'll see here that we've got millions and millions of views, and you get conversions and you can track social shares.
You can also go into a particular quiz to dive in and actually see "How are we doing?".Actually, I want to see how are we comparing from last week to this week? So you can compare date ranges. You can also download things. So again, Riddle's much more of an enterprise quiz maker product where you can actually really get some good data.
You can also look at our drop-off funnel to see "Where am I losing people? Is there a question that's not engaging my audience enough?"
But anyway, that is a super high level and super-fast quiz maker comparison – looking at Qzzr vs Riddle.
If you have any questions about the two, please let us know in our support chat.
Our pricing is a lot more reasonable, and all of our plans are unlimited, so there's no limit to how many quizzes you take or make, how many emails you collect and all that other stuff. And even our most important, our most expensive plan is only $200 a month. And our pro, which is fully white-labeled, is just $50/month.
When you're making a quiz maker comparison between Qzzr and Riddle, we think you're getting a lot more for a lot less money.
And the last thing we always like to finish with – is if you have any questions at all, just use our support chat. We're big customer nerds here – you'll get myself, my co-founder Boris, or our entire team racing to respond in under about two minutes.
If you send a message, all our phones will go off – we might be at the pub, but we're going to race to answer you right away. I should confess that there's a monthly beer competition involved but it's also because we like being super fast to respond.
Okay, that's Qzzr. That's Riddle.
Any questions, just give us a shout over on Riddle with our support chat. Thanks so much!