7
min read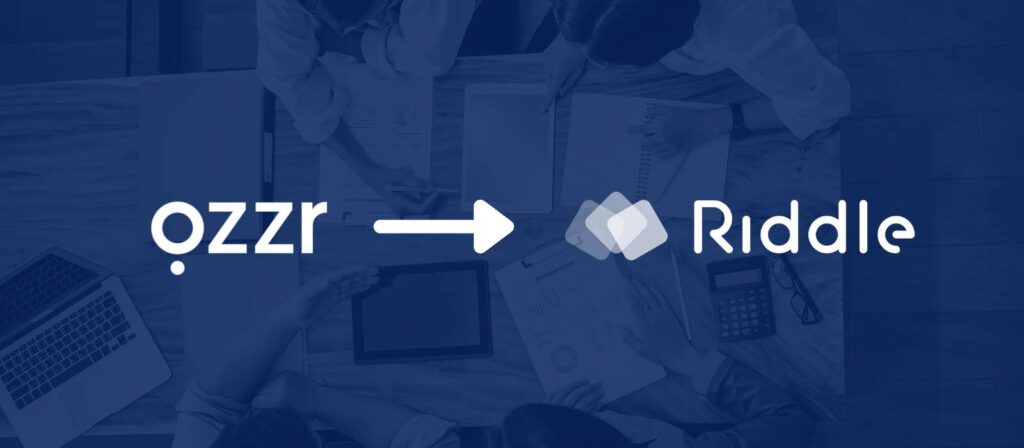 We're incredibly excited to have Qzzr joining Riddle's interactive content platform. That's two great online quiz makers under one roof!
But we know you might have questions, so we created this FAQ to help.
Don't see your question below?
Please ask us on support chat. We're super-fast to respond.(Riddle is EU-based: we're online from 8 am to 9 pm German time / 3 am to 3 pm EST.)
Migration timeline
Oct. 19
First test run for the Qzzr-Riddle migration tool
Oct. 24
Stop editing content on Qzzr. Migration to Riddle.com begins
Oct. 25-30
Download all leads and stats
Oct. 31
All content will be moved to Riddle.com, Qzzr is not working anymore
From Oct. 31
Edit content and create new content on Riddle.com +
Re-Authenticate Mailchimp and tweak webhook endpoints
Here are the key dates involved with bringing Qzzr over to Riddle:
Oct 19 – Riddle: first test-run for the Qzzr-Riddle migration tool
Oct 24 – Qzzr customers: You'll need to stop all editing of content on Qzzr. Migration to Riddle.com begins.
Oct 25-30 – Qzzr customers: please download all leads and statistics. Riddle will be backing them up but it's wise to make a copy for yourself.
Oct 31 – Riddle: all Qzzr content moved to Riddle.com. Qzzr is now offline.
Nov 1 onwards – Qzzr customers: You will be able to edit and create new content on Riddle.com.
(Please note: the migration is a complicated process so these dates might be delayed slightly.)
What is Riddle?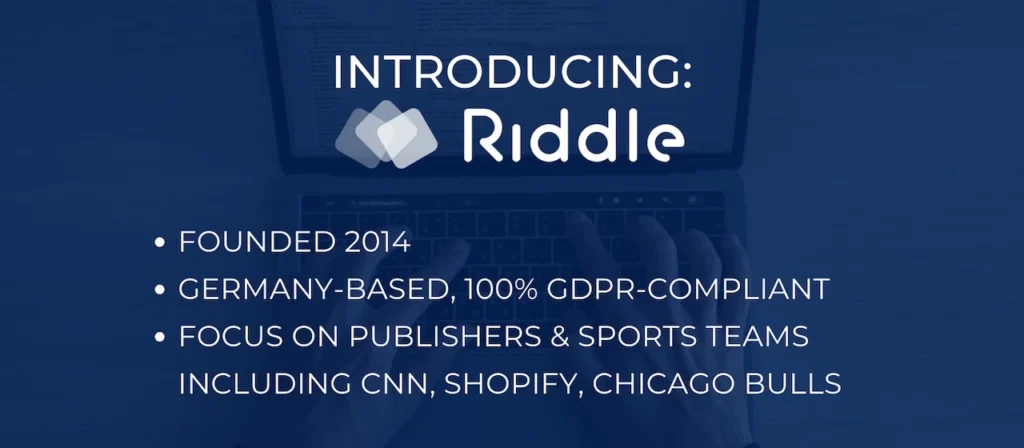 Launched back in 2014, Riddle is a flexible, easy-to-use online quiz maker that's used by thousands of top publishers including CNN, Spotify, Oxfam, the Chicago Bulls and more.
Using our block-based quiz builder, you'll be able to create powerful quizzes, personality tests, polls, and surveys – each with flexible scoring options, branching logic, and lead generation.
We're based out of Germany and are passionate about data privacy. That means we're fully GDPR/CCPA-compliant:
Directly connect with your CRM: our quiz takers' personal data can go directly to your database (not our servers).
No audience personal data collected: just like Qzzr.com, we don't add trackers or cookies that gather personal information about your audience.
No cloud- or U.S.-based software: Riddle operates our servers in Luxembourg and Germany, instead of using AWS or Google Cloud. We rely on self-hosted analytics (no Google), and even built our own billing software when we couldn't find a GDPR-safe one on the market.
FAQ @ Qzzr + Riddle
Why is Qzzr joining Riddle?
It's a bit like reuniting two long-lost brothers.
Riddle and Qzzr are two very similar online quiz maker platforms. We both launched around the same time, and have placed a priority on easy-to-create, polished interactive content.
Joining forces made sense all around. We loved Qzzr's expertise in audience engagement, lead generation, and content design.
And with our launch of Riddle 2.0, we were in a great place technically to merge the two platforms – keeping all of Qzzr's customers' content online while offering Riddle's wider range of tools and formats.
What will happen to my quizzes?
Our team at Riddle is working flat-out to quickly migrate the accounts, content, and data from Qzzr's active subscribers to our platform.
The plan is to bring over all Qzzr users and accounts directly into Riddle by November 1st.
We plan to migrate your content to allow you to seamlessly continue working on your quizzes without replacing embedded content on your site.
However, there are quite a few technical details that we need to work out in regard to the embedded content, so please watch this space as we get closer to the migration.
If you have Mailchimp connected to your qzzr quiz or if you are using the webhook, please read the separate FAQ on that topic below as you will need to take some important actions.
Will I need to re-embed?
Please see above. We are trying our best to migrate all content to keep all embedded content working.
Will my Qzzr log-in still work?
Yes. We like keeping things simple – you'll be able to use the same email address and password.
Will I need to make any changes to my quizzes after the migration?
Yes. There are two things you will need to change.
1. Qzzr to Zapier: If you connected Qzzr to Zapier, you will need to reconnect your quiz with Zappier and set up a new Zap. You can either keep on using the webhook method or switch to the Riddle Zapier app. Here is our documentation on how to use Zapier with Riddle.
If you miss this step, none of your leads will be lost though. We are automatically setting up a "save to Riddle" option so you can download your leads in CSV or Excel format and import to Mailchimp.
2. Qzzr webhook: If you are using the Qzzr webhook, you will need to work on your endpoint as we send webhook data in a completely different format. Please check out our webhook documentation.
Don't worry, if you have a data collection form in your Riddle, we will also enable our "save to Riddle" option by default to make sure no leads get lost.
With this option, all form data will be stored encrypted in your personal space on our webserver. No one but you, not even our CTO, will be able to read or decrypt your lead data.
Where will my data be stored?
Your data will be stored on Riddle's owned-and-operated, highly secure servers in our Frankfurt, Germany data center, with live backup to our servers in Luxembourg.
Content delivery is fast – our customers experience speedy load times worldwide.
We're serious about data privacy. Full compliance with data regulations like the EU's GDPR or California's CCPA is a key feature of all plans with Riddle. For detailed information, please read more about our GDPR setup.
Will anything change about pricing?
No – we're big fans of being transparent and fair about pricing. Riddle will honor the current pricing for all Qzzr customers, even if you are on a 7-year-old plan.
Plus, you'll get more for your money with Riddle.
All of Riddle's plans offer unlimited traffic, quiz creation, and leads (more info).
We'll map each Qzzr customer to a comparable plan on Riddle.
Since Riddle doesn't have a 'Basic' plan, we thought the fairest thing would be to 'promote' each Qzzr customer according to what they pay. We know we initially said that we will use the plan names and upgrade users to a higher plan on Riddle, but after deeper analysis we are finding that sometimes a Qzzr Team user might be paying less than a Pro User depending on the details of the plan.
To keep it simple, we are looking at what you are currently paying with Qzzr. We'll then pick the next more expensive plan on Riddle. But, of course, you will keep the old price as promised.
Bottom line? You'll get way more features for what you are paying right now.
Examples:
> Qzzr Basic at $24/month = Riddle Pro (with extensive customization, logic, and more)
> Qzzr Pro at $50/month = Riddle Pro (with extensive customization, logic, and more)
> Qzzr Pro or Qzzr Team at $150 – $250 /month = Riddle Team ((includes CSS, custom fonts, multiple users)
> Qzzr Team at $1000/month = Riddle Enterprise (designed for larger companies)
Will my data be migrated to Riddle 1.0 or Riddle 2.0?
We will migrate your Qzzr data to Riddle 1.0 – and you'll be to create and edit the content there.
Riddle 2.0 is set to launch towards the end of November and has an entirely different data structure from how your Qzzr quiz is built. We decided to play it safe and move your quizzes to Riddle 1.0.
You can also try out Riddle 2.0 now (there's a 'Try now' link on the 'My riddles' screen), and use 2.0 for new content once it comes out of beta.
Will my data be safe with Riddle? (Hint: Yes! We're 100% GDPR-compliant.)
Based in Germany, our team is passionate about data privacy. We're 100% GDPR-compliant, with all of our servers based in Germany and Luxembourg.
Riddle does not use any cloud-based storage or software, so all of your quiz takers' personal data stays with the EU. We operate our own servers in banking-grade, highly-secure data centers.
Our passion for privacy extends to every aspect of our business.
Take analytics and billing. We dropped Google Analytics because of their data collection policies for our self-hosted Matomo tool. When we couldn't find a good SaaS billing tool that was genuinely GDPR-compliant, we went ahead and built our own tool.
Take a look at our very short cookie list. On the audience side, we never collect personal data (not even IP addresses).
We use a few more (minimal) cookies for our quiz creators – around session tracking and other key features.
Riddle is also designed to let you seamlessly send your leads' data directly to your CRM or database without being stored with Riddle. Your data privacy lawyers will love that – it means you can save sensitive data directly with your company.
I am using custom fonts and custom CSS on Qzzr – will that still work with Riddle?
Unfortunately custom fonts and custom CSS are 2 components that we cannot migrate automatically. Please reach out to our support staff via the on site chat or via hello@riddle.com. Riddle has a different way of serving custom fonts as we will host your font on our servers for faster delivery. You can read more about custom fonts here.
Riddle also uses different CSS classes, so your custom CSS from Qzzr will not work without changes. Custom CSS is part of our Team and Enterprise Plan and we will be happy to assist you in creating new CSS. You can find more info about custom CSS in your Riddle quizzes here.
What quizzes, polls, and surveys can I create on Riddle?
Qzzr has an awesome quiz engine – with a distinct look and feel that we've always admired.
We'll be incorporating much o that into Riddle, but you'll also gain access to Riddle's wider range of interactive formats.
All Qzzr customers' content will be mapped to the matching Riddle type – plus you will also be able to use our extensive library of 15 content types: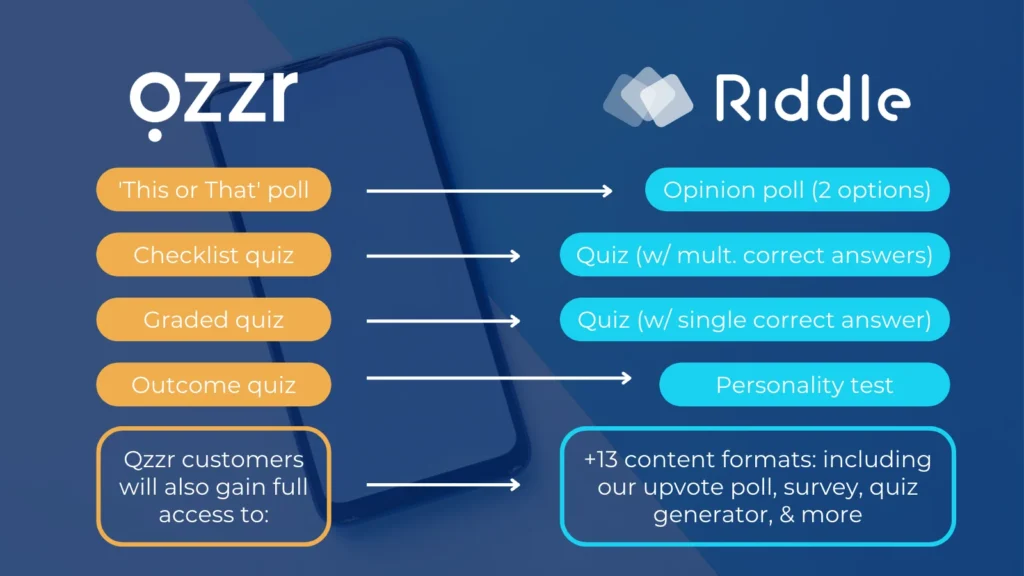 Can we help with any questions about Qzzr and Riddle?
If you have any questions about Qzzr joining Riddle, please don't hesitate to ask us on our support chat.
We're big (huge!) customer support geeks at Riddle.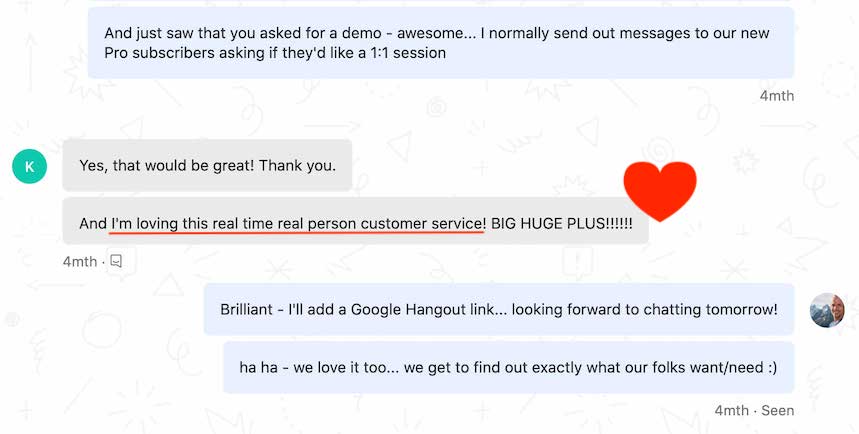 We don't outsource support.
Instead, everyone at Riddle (from our CEO Boris on down) races to respond to questions first.
That means you'll get an answer… fast.
We love hearing from our community – most of our ideas for Riddle 2.0 came from collaborating with our customers.