Having people visit your site once is only half the struggle. Your next challenge? Getting them to come back – turning them into repeat visitors. That's where Riddle comes in – you can use our quiz maker to quickly create a online poll sequence. Publish them every day – and encourage your audience to vote each round to help pick the eventual winner.
The BBC used Riddle quiz maker to power their online poll sequence
The BBC did this for 2018's World Cup – using Riddle's surveys to power their very clever "World Cup of Kits" online poll sequence: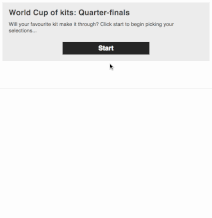 Running every few hours, this all-day event had voters pick the winners between classic soccer uniform face-offs.
The first round showed 16 pairings, such as Brazil '70 vs. USA '94. The BBC then quickly made a duplicate version of the survey – showing the eight winners.
The next rounds showed four and two face-offs, until the BBC audience arrived at the overall winner.
The benefits of an online poll sequence
Running an online poll sequence will help you with a range of marketing objectives. Key benefits include:
Increase your site's page views (more ad views = more revenue)
You have a stream of timely, interesting content to use on your social media.
Get more social word of mouth (these types of polls and surveys get people fired up)
Boost your site's SEO (Google likes popular sites)
More visits = more opportunities to turn each voter into a paying customer.
Creating your own online poll sequence
Okay, so now that you know why you should create an online poll sequence – here's what you should do, step-by-step:
Pick a subject – choose something that arouses strong emotions across your audience. For example, a marketing community might get people to "Vote for your favorite commercial of all time!" – while a book publisher could challenger their readers "Which was the best Harry Potter book – EVER?".
Decide on your online poll format – between surveys, ranked lists, or opinion polls
Hide vote counts – we recommend turning off the vote counter for each poll or ranked list for your audience in the More+ tab. Instead of immediately showing the outcome, build suspense – and make each user come back when you announce that round results on social media, etc. Our surveys already don't display the results after each vote – so you're all set.
Add a lead form – use this online poll sequence as an opportunity to grow your marketing list. Include an optional form using our lead generation form builder asking for each user's email address, and then send out each round's results – with a link to the next round.
Publish your online poll sequence – now that you've created round 1, put your quiz on any page or post with the Riddle embed code. Be clear about when each round ends – and when the next round will be published.
Spread the word on social – we recommend giving your audience advance notice about the contest, as well as making a big fuss on your site and social media when you launch it. Don't forget to constantly update your social media feeds with funny comments/shares about the contest.
Once you get the results from your first round's poll or survey, you'll need to make the next round.
The good news? Riddle quiz-makers' 'duplicate' option makes this easy.
Create an online poll sequence to engage your visitors – a summary
There you have it – an easy way to create an online poll sequence to turn your site's audience into repeat, word of mouth sharing fans.
With just a few steps, you can grow your audience and earn more money in the end!
If you have any questions – or ideas on how to create an online poll sequence that suits your own site, just drop us a message via our site's support chat (we're wicked fast at responding) or email (hello@riddle.com)
If you don't have any questions, then what are you waiting for? Create your first online poll sequence with Riddle quizmaker now!