Overview
Both Try Interact (TryInteract) and Riddle are some of the most popular online quiz creators around – which quiz maker should you choose? TryInteract vs Riddle?
It's no secret – online quizzes flat-out rock at engaging online viewers and turning passive visitors into active leads.
Read our full review of TryInteract vs Riddle – we'll compare these two quiz maker options across 45 (and more) features, to help you decide which is best for your particular needs.
Comparison points
Quiz / poll / survey formats
Customization options & data integrations
Pricing / customer support
Data privacy / GDPR-compliance
(Being transparent, this post is on Riddle's blog – so we're obviously fans of Riddle. But don't worry – both are really good quiz makers. It's just a question of which features and capabilities will best match your own particular use case.)
But: Both quiz creators are excellent – you just need to pick the one that suits your particular requirements.
What's your main focus – engagement or lead generation?
First, some background about quiz marketing we dive into discussing Riddle and TryInteract in detail.
Marketers turn to online quiz creators to accomplish two marketing objectives – engagement vs lead generation. And each quiz maker has their own approach about what works best.
On the engagement side, quiz maker developers have to balance creating innovative quizzes, lists, and polls (to engage their customers' audiences) with getting more traffic through social sharing on Facebook, Twitter, and other networks.
Lead generation is a natural fit with quizzes – and lets you add an optional sign-up form between the questions and the user's results.
This is a great opportunity to present a special offer or reason to sign up for more information – and then send that data to your email marketing tools for automatic follow-up messages to convert a lead into a happy customer.
TryInteract – overview
TryInteract (AKA Interact Quiz Maker) is one of the major players in the online quiz maker and lead generation space.
They place a huge focus on lead generation and growing your email list. The TryInteract mantra is "Interact is a tool for creating online quizzes that generate leads, segment your audience, and drive traffic to your website." With this in mind, it's clear TryInteract has spent a lot of time on the lead generation side.
They've developed a good range of native integrations to leading email and marketing software – but with some serious caveats.
TryInteract proudly says they support 37 integrations to popular tools like ActiveCampaign, MailChimp, and Constant Contact. But many of these are not native integrations.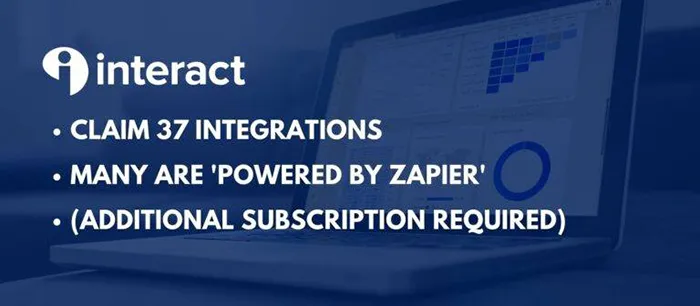 Moreover, this focus on data collection means TryInteract hasn't put as much focus on the engagement side of the equation.
Comparing TryInteract vs Riddle, TryInteract offers a much more limited range of formats.
Try Interact used to be a middle-of-the-road quiz creator – featuring six options. However, Try Interact recently discontinued their polls, giveaways, and surveys, so now they only provide three flavors of quizzes: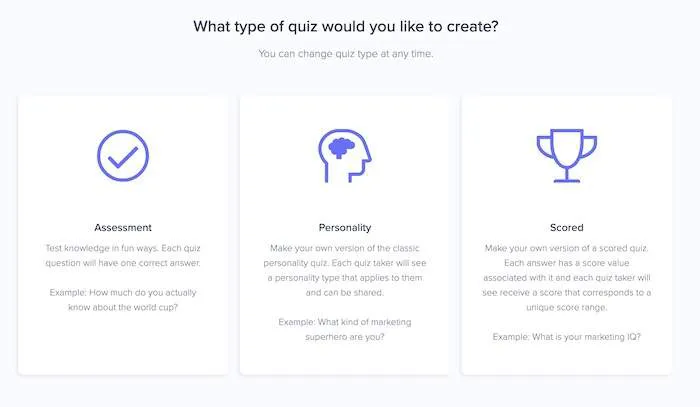 Their scored quiz is pretty solid – it has a good range of customization and scoring options around asking right or wrong questions, suitable for most marketing use cases. We have to admit that we were a little confused by their assessment quiz though. It seems like a hybrid of scored quiz meets personality test – but we weren't sure how to use it.
And we like Try Interact's personality test module – it was easy to use and understand. However, it's designed for basic personality tests/assessments only. They don't use a subtle, weighted scoring system – with TryInteract, each answer counts the same.
Riddle uses a much more flexible weighted response system!
Riddle – overview
Riddle takes a different approach. We believe that marketers and publishers need a wide range of quizzes in their tool kit – to keep things fresh for their audience.
You can create 13 types of question blocks and 17 lead-form fields – ranging from a personality quizzes to lists, our branching logic quizzes / polls, our image-based 'tap and find', 'order it', and more.
That's a heck of a lot of options – your audience will never suffer burnout from seeing the same type of quiz over and over. This will keep your quiz engagement statistics high as you grow your email list – such as quiz starts, completes, and lead opt-in.
We've taken a different approach to quiz lead generation. Comparing Riddle with TryInteract, we have native integrations for many common email marketing tools like ActiveCampaign, MailChimp, and AWeber. However, our quiz software supports 3,000+ other marketing tools like Constant Contact and ClickFunnels through our Zapier app or webhook options.
Zapier makes it easy to connect your online quiz to so many tools – no coding required. And from a resource perspective – that's much more efficient than constantly updating and supporting dozens of native integrations.
This lets us focus our development resources on our far wider range of quiz types, customization options, and media types (videos, audio, GIFs). This means you'll have a richer pool of creative tools to craft your quiz campaigns.
The benefit? Riddle can devote more dev resources to new quiz types and customization options.
Want to see our quiz software in action? Check out these live quiz Riddle examples – from our partners including the BBC, Red Bull, and CNN.
Creating a quiz – TryInteract vs Riddle
Both tools make quiz creation fairly easy – you can be up and running in no time. While their personality quiz is straightforward, TryInteract confused us with their 'scored' vs 'assessment' types of quizzes. They're pretty similar – and could have been combined into one TryInteract quiz type.
Assessment quiz: you get one point for each quiz answer. But you have no flexibility in creating results – TryInteract just splits the points evenly.
By comparison, Riddle gives you much more creative freedom – you can use our sliders to assign any point breakdown to any result.
TryInteract vs Riddle – what types of images, video, and audio?
Quizzes have come a long way since the days of text-only questions. Today's audience is used to a multi-media online experience – they want (and expect) to see images, animated GIFs, and video or audio clips in their online content.
TryInteract media options
TryInteract has taken small steps to make adding images easy – currently, they support:
Giphy – animated GIFs
Unsplash – stock photography
Upload your own images
Riddle media options
Our team at Riddle has made it easy to add multimedia to any of our quiz, poll, or survey types.
We support a much wider range of tools, giving you much more creative freedom to improve your quiz performance and boost conversion rates.
Our image options include:
Google image search
Pexels – great stock photography
Giphy – animated GIFs
Upload your own images or GIFs
Audio/video/social options:
MP3 audio: add your own audio clips to any question or answer.
Vimeo: embed your video – play just a short clip with start/end times.
YouTube: embed any video – just copy/paste the URL. Set custom start/end points.
MP4 video: skip the middleman – upload your own video clips
Twitter: you can embed any tweet directly into your quiz, for super-topical content by celebrities worldwide.
TryInteract pricing & data privacy
TryInteract pricing
At first glance, we liked how the TryInteract quiz maker offers a free plan – but then realized it doesn't include lead generation or email collection, and there's no support. That makes it useful for 'fun' quizzes – but not for marketers.
TryInteract pricing is across three paid tiers, and it's pretty competitive – however, their Lite and Growth plans do not offer unlimited leads. Instead, they have a monthly cap on how many leads per month are included in these two plans.
That can hurt small to medium businesses – especially if their quizzes go viral. You could end up being forced to upgrade to cover a traffic spike.
TryInteract & GDPR
For data privacy, we were doing some research and saw this in-depth review by Quiz-Maker-Review.com about TryInteract.
Want the high-level summary? – TryInteract is NOT GDPR-compliant!
We recommend you check that review out – it breaks down how:
TryInteract adds cookies and tracking scripts to all of your quizzes (collecting the data from each quiz taker without consent)
Stores your leads' personal data in the U.S. – violating the GDPR (and putting you at risk for fines from the E.U.)
No data processing agreement – a key requirement of the GDPR
No opt-in feature if using their Facebook Pixel.
Riddle pricing
Okay – next up in our TryInteract vs Riddle comparison, let's take a look at Riddle's pricing and GDPR/CCPA compliance.
We have a simpler (and cheaper) pricing model at Riddle – it's based entirely around features.
All our plans are unlimited – unlimited quizzes, quiz takers, and leads per month. You simply pick the plan you need – and create away.
We found this fairer and much more transparent – especially for the budget-conscious small firms and startups among our quiz maker community.
And all our plans feature our famous customer support. We don't outsource our help desk or have a customer support team.
Instead – everyone at Riddle helps with support; you'll see our founders race our developers to answer questions first.
And all our plans feature our famous customer support. We don't outsource our help desk or have a customer support team. Instead – everyone at Riddle helps with support. You'll see our founders race our developers to answer questions first.
Riddle & GDPR
In terms of data privacy, Riddle is a fully GDPR-compliant quiz maker (as well as California's CCPA):
Riddle's online quiz maker is 100% EU-based including our servers in Germany and Luxembourg.
We don't use any US cloud storage (like AWS)
We never add cookies or a tracking script to collect personal data from your audience.
Heck, we even use self-hosted finance software and analytics (so your audience won't get tracked by Google).
Online quiz lead generation with TryInteract vs. Riddle
TryInteract is a capable online quiz maker – especially for basic quiz marketers. Their team has made it pretty easy to create a quiz with a lead form – and integrate leads into your marketing tool like HubSpot.
However, the TryInteract lead generation module lacks flexibility and the advanced customization most modern marketers demand.
For example, let's take a look at their lead form creator. Here's a sampling of standard features missing from TryInteract's quiz maker:
You can only change the text and color for the button.
No ability to change or format the other fields – not even the 'call to action'.
You can't add images or change form background.
What you see is what you get – a fairly effective lead generation form, but one that can't reflect your site or brand.
TryInteract does have a good way of helping users create a form in their quiz, then configure settings to send each lead to their marketing software. TryInteract takes you through six steps, from form building to data integration and mapping, then on to testing the connection.
Riddle on the other hand offers you 100% flexibility with 17 different lead fields that you can use.
We give you the possibility to create exactly the lead form that matches your usecase! Plus you can customize the look & feel to fit to your brand.
In-depth review of TryInteract vs Riddle
| Feature | Typeform | Riddle | Comments |
| --- | --- | --- | --- |
| 5-star customer service for all users | No | Yes | Interact limits lower plans to help docs or email – Riddle offers the same 5 star customer service to everyone. |
| Scored quizzes (with right/wrong answers) | Yes | Yes | |
| Personality tests (each result based on all answers) | Yes | Yes | |
| Standalone lead generation form | No | Yes | |
| Four types of polls | No | Yes | Typeform has standard polls – but not upvote lists and other formats. |
| Surveys (with data export) | Yes | Yes | |
| Social stories (where quiz meets blog post) | No | Yes | |
| Social sharing (Facebook, Twitter, WhatsApp, Messenger, LinkedIn) | No | Yes | Typeform: Share link only – can't customize results message (e.g. "I got X of Y on this quiz!") |
| Conditional logic | Yes | Yes | |
| Multilingual | Yes | Yes | Typeform: 25 languages | Riddle: 67 |
| Different quiz layouts | No | Yes | |
| Single and multiple correct answers | Yes | Yes | |
| Free text responses | No | Yes | |
| Score as you go – or at end of quiz | Yes | Yes | |
| Correct/incorrect answer explanations | Yes | Yes | |
| Custom 'correct/wrong' messages and other quiz text fields | No | Yes | Typeform offers some – but not many fields |
| Random question and answer order | No | Yes | |
| Rich text formatting: include links, lists and emojis | No | Yes | |
| Hide vote totals | No | Yes | |
| Hide percentages | No | Yes | |
| Automatically close polls (by date/time) | No | Yes | |
| Unroll quizzes | No | | |
| Show multiple personality results (X% for #1, Y% for #2, etc.) | Yes | Yes | |
| Quiz statistics – track starts, completes, leads, shares | Yes | Yes | |
| Detailed quiz stats – by question and results | Yes | Yes | |
| Optimize quizzes using 'engagement graph' | Yes | Yes | |
| Add multimedia | No | Yes | Typeform: Rich media only in main images, not answers. |
| Timed quizzes | No | Yes | |
| Upload your own images | Yes | Yes | |
| Google image search | No | Yes | |
| Classy stock photo library | Yes | Yes | |
| Giphy – search/use animated GIFs | Yes | Yes | |
| Twitter – embed any tweet | No | Yes | |
| Facebook – add images | No | | |
| Instagram – add images | No | | |
| Sound files | No | Yes | |
| YouTube videos & set start/end points | No | Yes | Typeform: No start/end points – must play entire clip |
| In-tool image editing (crop, filters, text) | Yes | Yes | |
| Collect unlimited leads and user responses | No | | |
| 17 types of lead fields | No | Yes | |
| Optional or mandatory forms | Yes | Yes | |
| Connect to any marketing tool (on all plans) | Yes | Yes | |
| Connect to any data system with webhook (all plans) | No | Yes | |
| Send leads to Google Documents | No | Yes | |
| Import your own forms | No | Yes | |
| Display your videos or ads | No | Yes | |
| Full creative control – all plans | No | Yes | |
| Select background patterns | No | Yes | |
| Accessibility features (hearing/vision-impaired) | No | Yes | |
| Customize social text | Yes | Yes | |
| Add your own branding | Yes | Yes | |
| CSS editor – full control over your quiz styling | No | Yes | |
| Team templates – save/apply your own style combinations | No | Yes | |
| WordPress plug-in | Yes | Yes | |
| Google AMP support | No | Yes | |
| Drupal plug-in | No | Yes | |
| Customize embed width | No | Yes | |
| Lazy loading images – improve quiz speed | No | Yes | |
| Include quiz text to enhance your SEO | No | Yes | |
| PDF reports of quiz statistics | No | | |
| Refresh ads on quiz page | No | Yes | |
| Doubleclick and other pixel support | No | Yes | |
| Facebook pixel support | Yes | Yes | |
| Google Tag Manager | No | Yes | |
| Display your banner ads below your quiz | No | Yes | |
| Place your own video ads | No | Yes | |
| Multi-user team features | Yes | Yes | |
Any questions? Just ask us!
And hey – if we can answer any questions about TryInteract vs Riddle , just drop us a note at hello@riddle.com – or using our support chat.
We're big customer support geeks – from our CEO Boris down, our whole team races each other to answer questions… it's part of our 'customers are king' philosophy at Riddle.