3
min read
Personality tests are the most viral of all quizzes. It's for one reason – personality tests let people discover something new about themselves, then share their results with their friends. With Riddle's extended results option, our online quiz maker lets your users dive deeper.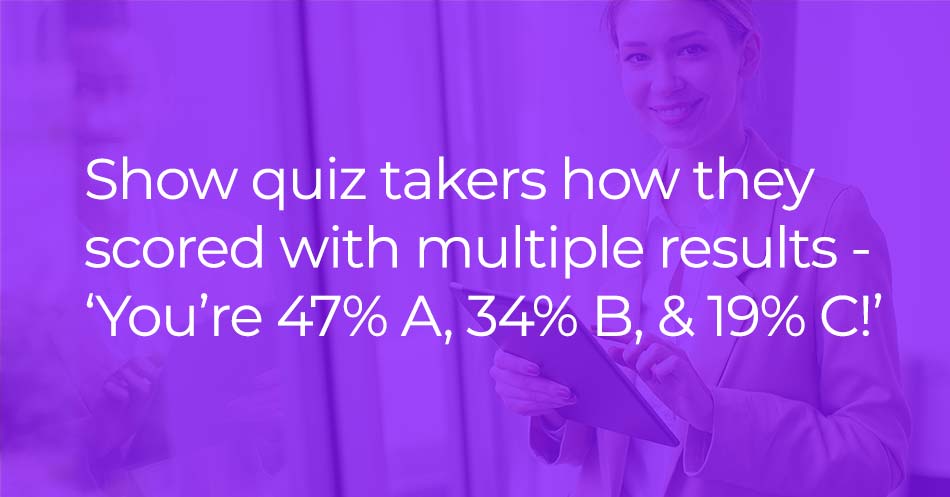 Beyond their main result, each person can now see how they scored on all the possible result types – for a more complete quiz experience.
For example, imagine you had a personality test called "What type of dog are you?". Using the extended results, a user could see their top result 'You're a labrador', as well as their scores for the other possibilities ('You're 65% pug, 42% poodle, etc.).
These deeper results are better for engagement – people love seeing how they rank across all the possibilities. Plus, y0u'll see a boost in social virality – seeing all the possible personality types is a great prompt to get people to share with their matching friends.
Personality test – extended results (video walkthrough)
Our co-founder Mike whipped up this handy video around all our quiz maker's extended results.
Personality test – extended results in 4 easy steps
Create a personality test on Riddle
Select 'Customize'
Then the 'More options' tab
Switch on 'Extended overview'
We've designed Riddle's online quiz maker to be incredibly flexible, and this feature is no different. You can customize almost every aspect of the extended results section to match your unique needs:
Show extended overview – this hides the user's standard 'primary' result from test, and just shows their list of personality types.
# of personalities in overview – choose how many personality types to include, beyond the main result outcome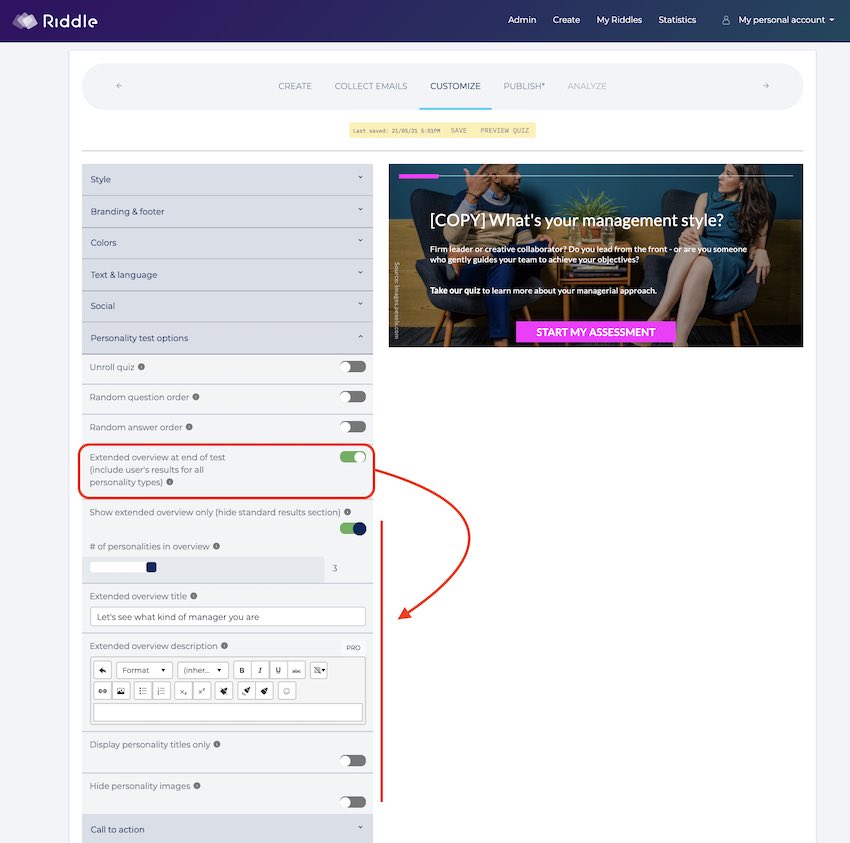 Extended overview/description – you can add in your text introducing and explaining your extended personality results section.
Display personality titles only / hide personality images – these options are ideal if you'd like to keep your personality test compact. Hide each result description or images – to minimize scrolling by your audience
Hide % of each personality result
We're very happy to add this feature – it was a very popular request from our quiz maker community.
Now you have more even flexibility in how you display your extended personality results.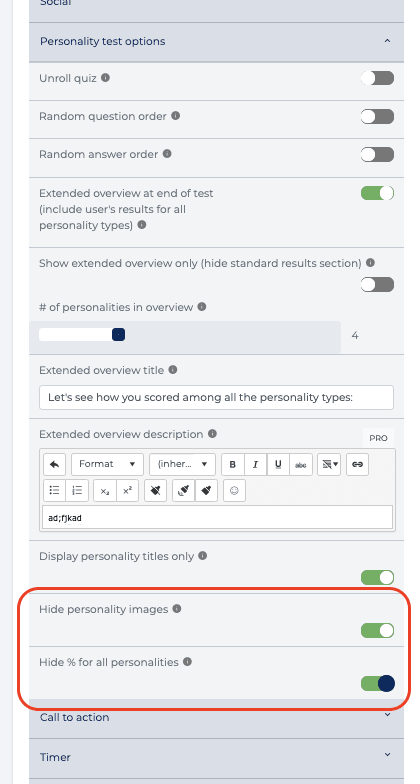 For example, imagine you have a 'Which Star Wars character are you?' personality test:
Default: Your quiz will show the extra results as 38% Yoda, 31% Han Solo.
Now: You can choose to hide the score – so users would only see "Yoda", "Han Solo", etc. in the titles.
Any questions about extended personality results?
Hope this helps – but just give us a shout at hello@riddle.com… we quickly read and respond to every message.
(Seriously – we love being super-fast to respond… put us to the test!) 🙂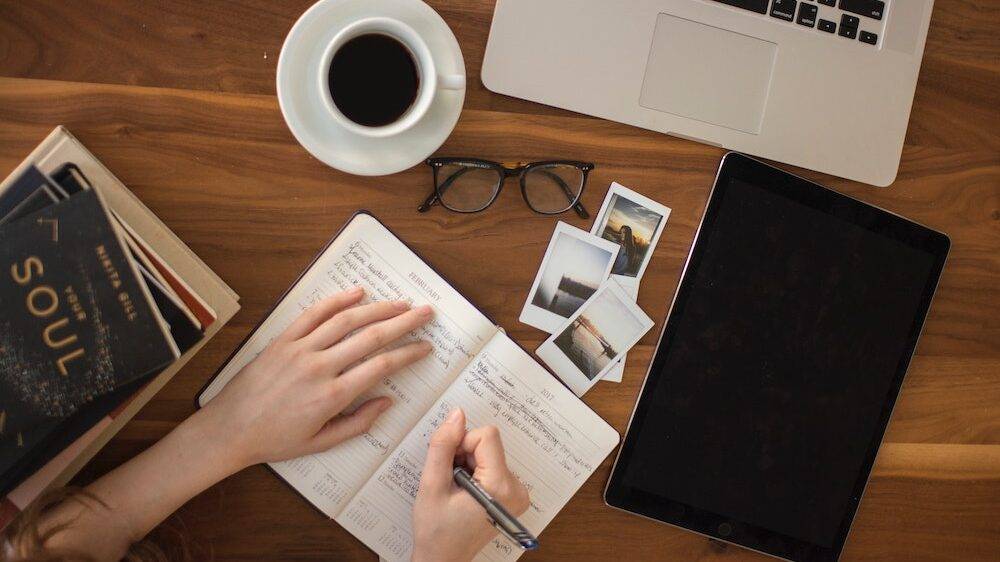 Video transcript
(For you folks who prefer a quick scan or read, vs. watching a video – here's our transcript of our extended results walkthrough video.)
Hi there, my name's Mike and I'm one of the co-founders here at Riddle, and I'm going to give you a quick walkthrough on how you can use our extended personality results to give more insights into the personality quiz for your audience.
Obviously you're going to want to create a personality test in this case. I'm going to use just our simple 'What management style are you?' template. And you're next going to need to go to the customize step and scroll down a little bit to personality test options.
Now, normally with a quiz, you get one answer or one result saying, "OK, you're an authoritarian manager", "You're a team player"… things like that.
But in this case, we are going to turn on an extended results overview and then we give you the option of showing "How many extra results beyond the first one do I want to show in this case?"
Now because I have three possible results, I can show a max of three result types.
I want to show them all in terms of best practice. If you have like 10, I would only show the top three or four. And then there is some additional copy to explain to the user what these different results are.
And then you have some additional options if you want to hide images or only show the quiz title to keep everything nice and compact. In this case, I'm going to keep that off.
Now I'm just going to go through our quiz real quick and I will pause this video to save you time – annnnnd now we're back.
So here is the last question. I'm going to skip our lead generation form, but here are the results. So this is the main result, saying I'm an authoritarian manager, but then it's going to break it down into those extended results. So, "You're 40 percent authoritarian, but you're also 30 percent collaborative."
Isn't that much more interesting?
So you have these two influences in your style and also you're a bit mentoring. Oh, that's interesting. You see how this gives more entertainment, but also insights into your quiz takers.
There you have it. If you have any more questions about creating a great personality quiz, using our online quiz maker, or whatever, just give us a shout on support. We love to help and we are all super, super fast to respond.
All right, thanks so much. And… Happy Riddling!