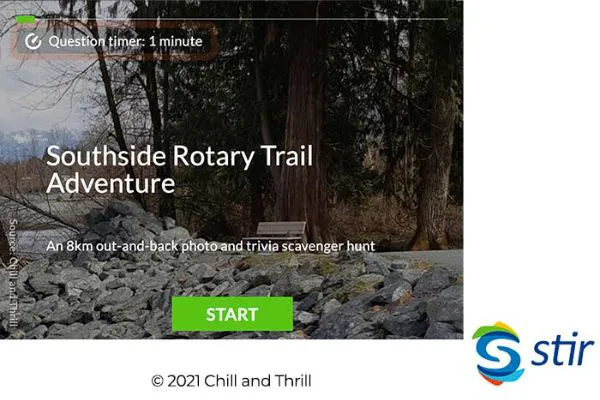 Stir marketing created this Riddle quiz to let their readers participate in a mix of digital and offline scavenger hunt
Stir Marketing helped their client Chill and Thrill use Riddle quizzes to power their hiking virtual scavenger hunts , promoting the use of local trails in British Columbia, Canada.
Users answer questions and take selfies to complete each step of their quiz scavenger hunt as they walk, hike or run along local trails.
Pairing online and offline engagement – each Chill and Thrill quiz is an immersive experience that educates as it entertains.
The bonus? Creating a quiz is easily scalable – Stir Marketing can quickly create new modules as their client ramps up their campaign, with no coding required.
This Riddle quiz was created by Stir Marketing (for their client Chill and Thrill) so that they could:
– Grow their audience – quizzes are the most viral shared content (AdWeek)
– Engage their visitors – visitors who take a quiz stay 37% longer on your site