Want to see all of the new quiz features and improvements for Riddle?
We update this overview constantly, and are adding new features to our quiz maker and lead generation platform almost every week.
Have an idea how we can make Riddle better? Drop us a line at hello@riddle.com or leave a comment to this post. We read and reply to everyone!
Or you can upvote your favorite feature here.
Upcoming new quiz features:
Show correct answers at end of a quiz: We get asked a lot – "Can I wait to show the correct answers until the end of the quiz, not after every answer?" So we've added this option to give you more control over the quiz experience for your audience. Why? Showing correct answers after your lead gen form will improve your completion rates – users are far more likely to fill in their details so they can see their answers.
Improved lead generation tools: from integrating more email automation tools to a dramatic enhancement to field types, formatting, and styling.
New Dashboard and Statistics: We are re-designing the entire creator interface, adding lots of cool new stuff.
New Riddle Type – March 8th, 2017
Interactive story quiz: We are super excited about our new interactive story quiz. Inspired by the 'Choose your own adventure' books, you can let readers choose their own path. Instead of the same set of questions, each user gets new questions based on their answers. Note: this new Riddle type is currently in Beta – we'll be adding more features over the next few weeks to make it even better.
AWeber conversion pixel: Big thanks to our eagle-eyed community! You let us know that our shiny AWeber integration was missing an important option to add a Conversion Pixel. It's just been added – now you can build quizzes with AWeber lead capture and use this pixel to help optimize your marketing spend, tracking where each lead comes.
Security improvements: Based on our recent security audit, we've added a captcha to the reset password form. Not as flashy as our other changes – it does mean Riddle will be even more secure.
Refer a friend to Riddle: Want to earn money by referring new customers to Riddle? Our new Referral Program is live in a closed invite only version. Want to be an early user? Let us know at hello@riddle.com
New quiz features – Jan 21st, 2017:
More lead generation opt-in fields: Keep your lawyers happy. Now you can include whatever combination of opt-in/opt-out fields they require for you to run a contest or lead generation on Riddle.

Add up to five opt-in fields to your lead generation forms (your customers can agree to contest rules, receive communications by email/phone/SMS, or more)
All text fields can be customized to your needs
Each field can be mandatory or optional.
All data can be connected to your data or CRM system (or downloaded by XLS, CSV) – we're happy to help with that.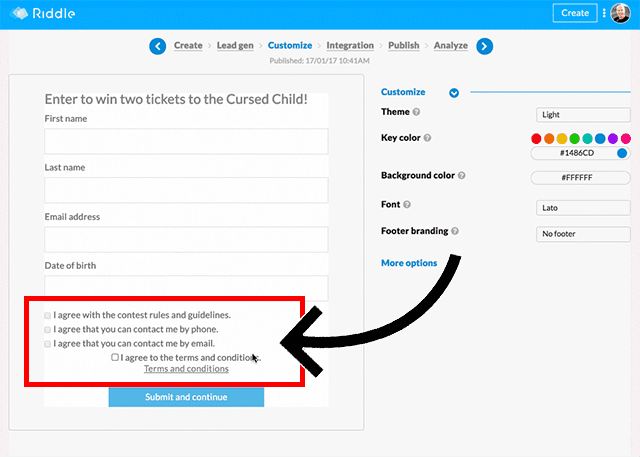 Building a foundation for (continued) awesomeness: It's not glamorous, but our tech team has tackled a few niggling bugs, and more importantly, embarked on the process of re-doing our site architecture. This will pay off – we'll have a faster back-end that will enable us to rapidly iterate and add more quiz builder and lead generation tools.
New admin tools: Continuing with our team's priority of customer service, we've built out admin tools to allow everyone at Riddle, from CEO Boris on down, to seamlessly help out with the vast majority of customer question. The benefit for our community? We can answer, fix, and help out with almost any question you throw at us. 🙂
New quiz features – Jan 8th, 2017:
General performance updates: To steal a line from our 80's favorite movie Ferris Bueller, "Life (at Riddle) moves pretty fast sometimes…" We took advantage of a relatively quiet December to tidy up our code base and fix some minor bugs that our community told us about. The good news is that Riddle now runs faster and even more smoothly – and now we're geared up to get cracking on some awesome new features. Stay tuned…
New quiz features – Dec 6th, 2016:
Updated Enterprise team features: Sometimes your team members forget to finish their Riddle edits before logging out when they're done editing a team Riddle. In this case, the Riddle they were working on remains locked and not available for editing to other team members. To solve this problem, we've added a button that lets you kick another editor out and take over editing yourself. We also set a timer that will automatically allow any other team member to edit a Riddle if it set idle for a minute and a half.
Make it clear if you are on your personal account vs. the team account: If you are invited to a Riddle team, you can enjoy all the benefits of Riddle enterprise (like full CSS  control, custom fonts and more). These enterprise features are only available as long as you work in your team account. The slightly confusing thing is that each Riddle creator also has a personal account where you can keep Riddles that you do not want to share with your team. To avoid confusion, we now show a warning when you switch to your personal account, plus we start you off in your team team account when you are creating new content. That's the most common use case –  it's more fun to work in a team after all. 🙂
New admin feature for teams: Want to move a Riddle in one of your teams to another? No problem – team admins can now move Riddles between any of their teams. We thought this would be useful in case you wanted to move a quiz from say, your 'Marketing' team' to your 'Editorial team'.
New quiz features – November 27th, 2016:
Reset Riddle statistics: One of our favorite new quiz features – this falls into the 'Wow, we really should have thought of this ourselves' category. Big thanks to our community who suggested that having a way to reset any Riddle's statistics would be very helpful. Now you are able to click 'reset' and launch your poll again – instead of having to make and embed a new copy.
New quiz features – November 23rd, 2016:
AWeber integration: True, you can already connect your Riddles to any CRM tool through our webhook or integration with zapier.com. But we felt that AWeber deserves a more native hook into Riddle, especially as they have an outright awesome tagging system.

This is marketing segmentation on steroids and works great with Riddle.
Example: Auto-tag someone in your mailing list based on their quiz result or answer to any question, then have AWeber perform an automated action (like email them, assign them to lists, etc.)  based on the tag – pure magic.
If you have not tried AWeber yet, check them out.

Facebook tracking pixel: Another popular request, you can now add your Facebook conversion pixels to any Riddle. If you're using FB to drive traffic to your site, this will be a big help in helping optimize your marketing costs. You'll know which ads are working to convert to sign ups or paying customers, and direct your ad spend to what works best.
New quiz features – November 15th, 2016:
Alternative Image Formats: Sometimes you just need more space for your art. Now you can use horizontal, vertical and square images – making the entire Riddle look and feel much more flexible. This will be great for all book authors and entertainment fashion publishers, who really struggled with our 16:9 only image formats with book covers or portrait mode for red carpet shots.
Your own text for "play again" button: When creating Riddle, we initially that life's all about 'play'. But our community pointed out that there are some topics where seeing 'Play Again' at the end of a personality tests and or quiz feels a bit weird. Our solution? You'll have total control – change the text or hide it altogether.
Instagram integration: OK, we're pretty excited – now you can grab images from Instagram posts, similar to how you can already embed your Facebook pictures or YouTube Videos. Top tip: Combine this with our 'square format' Riddle layout for maximum impact and general awesomeness.
New quiz features – October 20th, 2016:
Customize the 'right/wrong' quiz text: As part of our Pro and Enterprise Plans we are giving you yet more advanced choices for quizzes. Now you can now change the text that indicates correct or wrong answers for quizzes to suit your site's voice. "Correct/wrong", "Yes!/Not quite", or even a 'Doh!' if you're a Simpsons fan. You can also can hide the big red x or the green checkmark if you'd prefer.
New quiz features – October 12th, 2016:
Start pages optional: This was long awaited by our community – now, you can make the start page for quizzes and personality tests optional. On the customize screen – click on more options, then 'hide the start page' if you want to drop readers straight into a quiz or test. We made this part of our Basic Plan so everyone can use this. Thanks to everyone who asked for this – it's a great option to get users clicking and engaged.
Custom Logos Clickable: A top feature request on our feature upvote list… If you are on the Pro or Enterprise plan you can now add a custom link to your logo. Great if you are using Riddle to run promotions for brands!
Language settings are now part of your team template: No more need to re-set the language every time you create a Riddle in your team (Enterprise Plan only).
Improved Custom Fonts: We've prettied up our custom fonts option – they work even better now, and as a bonus, we've removed the ugly black screen that showed up until you completed all font settings. Meh – who needs that, right?
Custom width embed codes: now you can change any Riddle's width from 640 px to your perfect fit, from 200 pixels wide to 1,200.
Embedded articles: Change color of 'Read Article' link from white to blue for better readability
Ranked list flexibility: You can now hide the total vote count, display percentages or show the total number of votes. People hate to be the only ones voting on a just introduced list. Now you can change how votes are displayed – so everyone will want to dive in and start clicking.
New quiz features – October 3rd, 2016:
Added the personality result to our webhook
Enabled custom result pages
Improved iframe height for embedded custom resultpages
Added PayPal as a payment option
New quiz features – September 26th, 2016:
Added parent frame url to webhook result data. This allows you to track where leads came from in case you are using Riddles on many sites to generate leads.
Improve webhook results for poll
Advanced webhook results for quiz, poll and survey
Google Analytics – IP Anonymization
New quiz features – September 19th, 2016:
Bugfix for the lovely and unfortunately still existent Internet Explorer
Sorted out a nasty bug where the embed did not scroll to top when going to the next question in a small iFrame.
Added custom css and custom font to templating system, allowing our Enterprise customers to save all important Riddle settings in a style template
Allow the team admin to set a default template for the team (go to team settings and click on the cock wheel to select the default template)
Allow teams to rename the template slot. Somehow naming team slots just with numbers did not work out so great 🙂