4
min read
There are a lot of quiz makers out there – and each has their own strengths and weaknesses. Our team has been in the online quiz maker space for over 35 years of combined experience, so here's our quiz creator comparison of the three biggest online quiz makers today – Playbuzz (now EX-CO), Apester, and Riddle.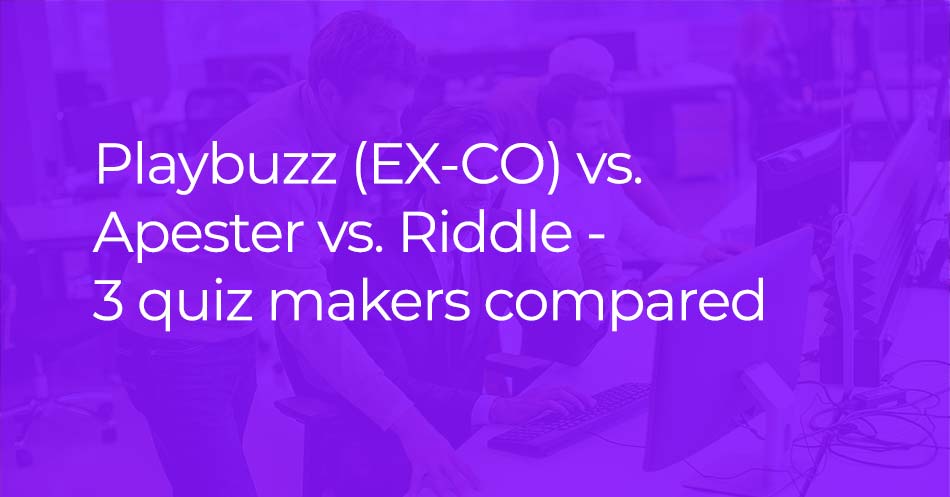 (We've kept this comparison impartial and objective – to help you find the best one for your particular needs.)
You can see and play the same quiz we built on each of the three online quiz makers.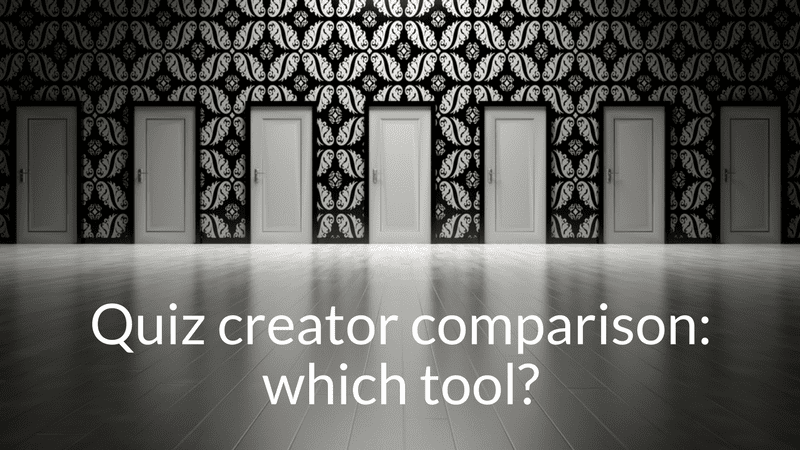 Quiz creator comparison – Riddle:
Key benefits:
Easier to create – make a quiz, lists, or polls in under 60 seconds
14 types of quizzes – keep it fresh with your audience with picture search, 'order it', and more
Rich media options – go beyond just pictures. Add GIFs to YouTube videos and your own audio
Quiz lead generation – drag/drop form builder that connects to MailChimp or any other email marketing tool with Zapier
Actionable insights – understand your audience through collecting data with our quizzes or polls
Extensive customisation – each embedded Riddle is completely white labelled to feel organic on your site, not like a 3rd party widget
Style sheets – apply a global theme that will match your site's brand identity and look/feel, from fonts and colors to button styling and more
Playbuzz quizzes helped set the online world on fire starting around 2012.
For awhile there, you couldn't trip over a major site without seeing a PlayBuzz quiz on it. But they've shifted business models several times since – now the PlayBuzz quiz maker is all about being 'The Experience Company', with a heavy shift on video creation tools and a move away from quiz tools.
Extensive range of quiz creation tools
Very expensive – with very low usage per month
Collects data for their advertising partners
No customization
No business intelligence or data gathering tools
Updated – June, 2021: One of our new customers shared the pricing they received from EX-CO. And frankly, it's insane.
EX-CO / PlayBuzz pricing
$199 -> $999 a month – and even at their most expensive plan, you still only get 70,000 quiz views. And that's not even 70K people who start your quiz – nope, a page load occurs when anyone visits the page with the quiz one it.
Our new customer worked it out that they would be charging him a $1.30 CPM (cost per thousand page impressions) – he would need to double his own ad revenue to justify it.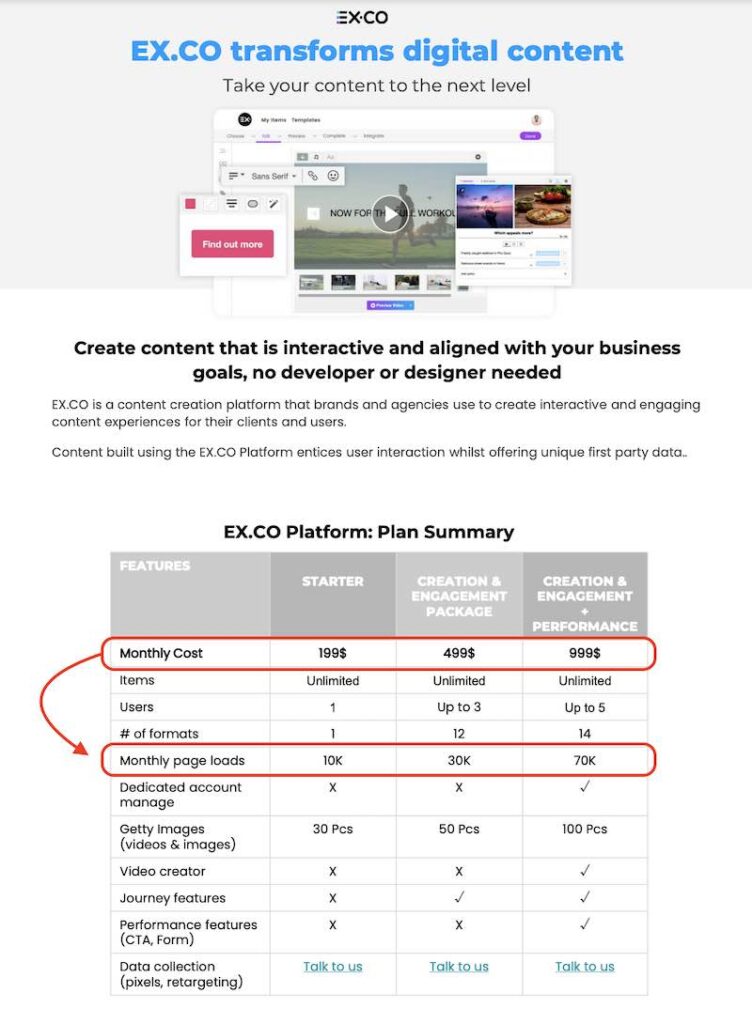 The last of our quiz creator comparison, Apester's quiz maker has also gone through several major shifts in focus – they've shifted from focusing on quizzes, polls, and personality tests. Now, they're a 'digital storytelling company'.
Here's the skinny:
Good design but no customization of fonts/colors to match brand identity
No longer free – AND collects data for advertisers
White labelling options start at their $529/mo plan – that's more than $6,300 a year (!!).
All their plans have limits of page views – from 10,000 to 250,000. That's not quiz starts – that's just visitors to the page where the Apester quiz is loaded. Ouch.
Very limited content types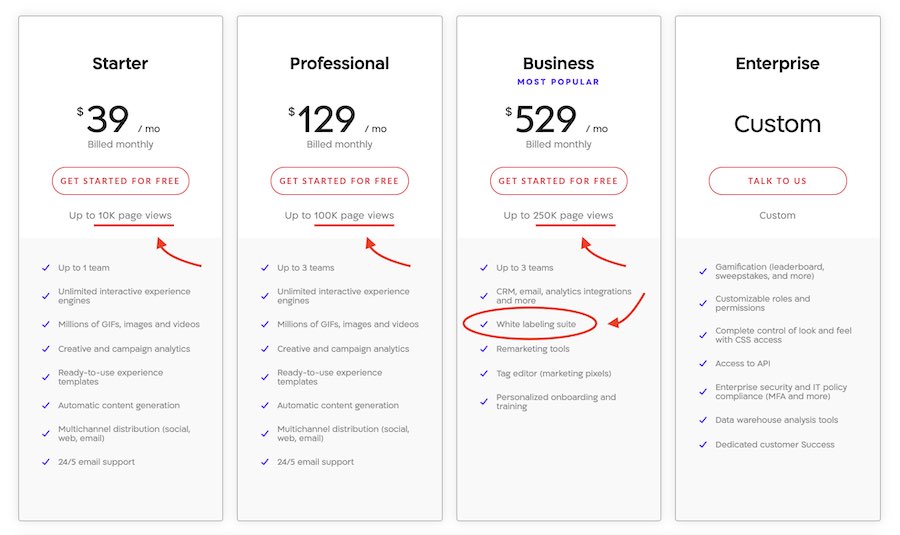 As I mentioned at the top, our team at Riddle have been creating online quiz creator tools since 2014 – and with 35 years of overall experience.
We've created a number of posts to help you choose the right quiz tool, as well as make the perfect online quiz or personality test. We go in-depth, sharing our tips and best practices about everything from the ideal number of questions to crafting the perfect title.
Riddle is more than just quizzes – you can also add branching logic to give each user a unique quiz experience. Plus we've include tools for quickly making engaging polls, lists, surveys, and more – all with built-in lead generation and email collection.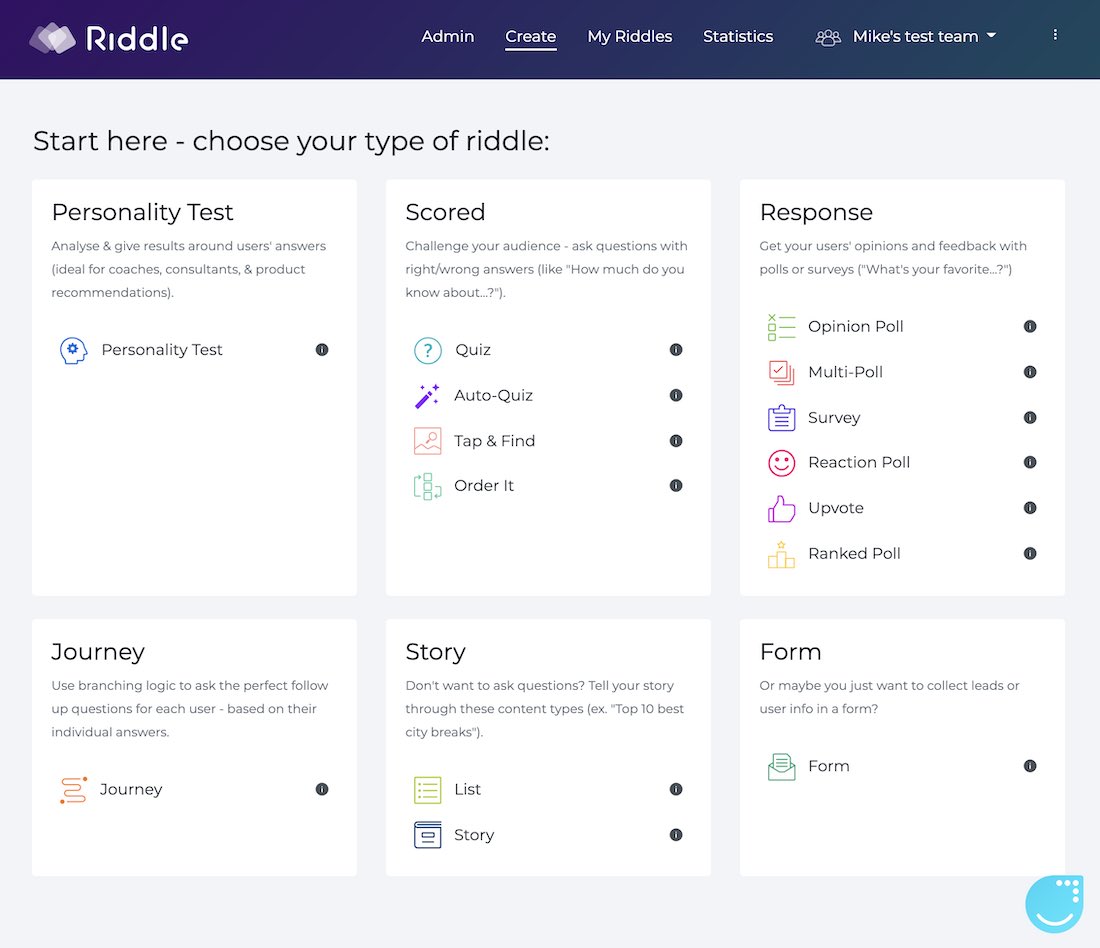 Online quiz creator pricing:
Next up in our handy online quiz creator comparison? Let's talk about pricing.
Apester and EX-CO/Playbuzz are both designed primarily for large enterprise publishers – and their pricing models reflect this.
For example, Playbuzz quizzes start at $499 a month for only 100,000 quiz views (billed in one annual payment) – so that's $5988 a year. Their higher use Enterprise is the classic 'ask us' option – which invariably means negotiation and a longer sales cycle.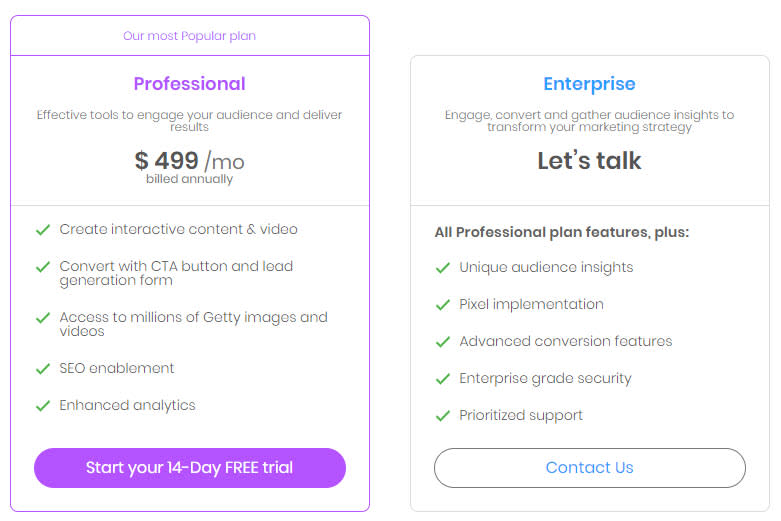 Apester's online quiz maker follows a similar path. They moved away from their free, ad-supported version – and now offer 3 paid plans plus the dreaded 'custom' (which invariably means very expensive) plan.
All of their plans include caps on the numbers of people who see your quiz – starting at just 10,000 page visitors at their Starter plan. Bear in mind that only around 10-30% of page visitors click on a quiz, so that means you're limited to just 1,000 to 3,000 quiz takers a month.

At Riddle, we've taken a different path – offering three quiz maker plans that cost $29 / $49 / $199 a month, all with unlimited quiz views, starts, and leads. You just need to choose which additional features you need for your use case – including CSS editing, custom fonts, and white labelling.
(Editorialising a bit here – but it's our blog after all… take a look at our 'Unlimited leads, quizzes, and views (seriously!)' blog post.)
We're proud of our simple, clear pricing model – and you won't ever pay more if your quiz goes viral.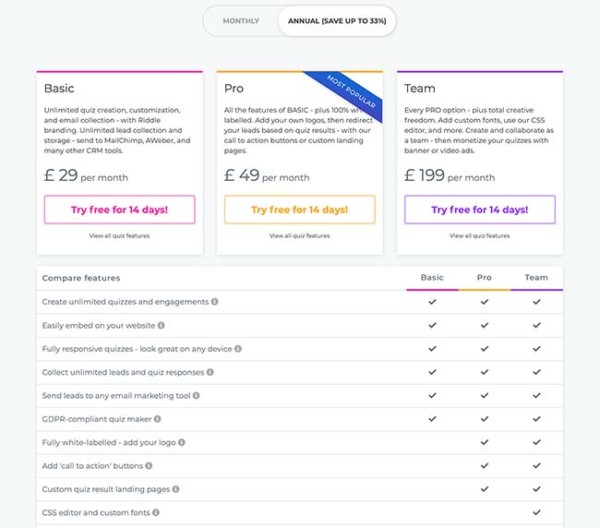 Questions about choosing an online quiz creator – just ask us!
Any questions after reading our quiz creator comparison?
We know it can be tricky choosing between PlayBuzz quizzes, Apester's stories, and Riddle's 15 quiz, poll, and personality test formats – so we're happy to help.
Just drop us a line at hello@riddle.com – we're big customer service geeks.
From our CEO Boris on down, all of our team race each other to answer questions first – so you'll be sure to get a quick answer. 🙂