3
min read
So you've built up a social media following and you're the life and soul of the party but… your followers seem to be a bit shy. They're all sitting around the edges of the dance floor looking at the disco light doing the light fandango over the painfully empty dance floor. A DJ would be spinning an old favourite that everyone knows and loves. What's the online content equivalent of this?  Quick content. Not just content that is quick to make but content that provides a quick, fun enjoyment hit.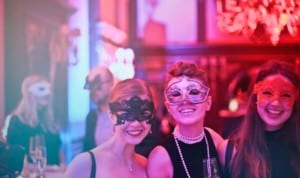 But let's back up a bit first as we need to work out what you want from your followers. It is probably one of these outcomes:
Buying or using your product or service
Signing up for your newsletter
Taking the first step into your sales funnel
Sharing your content or introduce your service to other people
But your followers get bored very quickly if you keep posting about these topics!
So how can I create some quick content that works?
You can write some funny tweets, Facebook updates or post a intriguing photo on Instagram.  They might get liked or shared, and it could earn you some new social media followers. But this is still quite a distance from getting people to come to your web site or blog.
A more effective way is to write a quick poll or list that you link to from your social media posting. This brings people off social media to your site. If you have a blog they can enjoy and interact with the content there – surrounded by your other content that hopefully includes an enticing call-to-action. You can also include a request in your poll or list for their email address to sign up to your newsletter or special offer.
You just need to keep an eye out for news items or situations that catch people's attention around your line of work. Here are a few of our 'quickies' that always gain traffic when they are posted on social media. It might be a few clicks here and there or it could always snowball into a viral event!
Quick content that always gets clicks
You know you work in a digital marketing team when…
The Riddle digital marketing team are spread around the world. Yet we have close connections and friendships – via Skype, Slack and a wide range of digital social media programs. If you work in a digital marketing team you're likely to find lots of these points very familiar!
Your parents have no idea what digital marketing really is
They might claim to know, but they're secretly bemused at how your company makes any money. If someone asks them what you do they will pronounce that: "He works for a web site thingy"
Your friends have no idea what you do either but…
…they secretly think they could do it better.
Playing around on Twitter or Facebook all day and finding funny cat videos. Anyone can do 'digital marketing'. Right?
You're partner almost understands what you do but…
…suspects that a lot of your social media time involves playing or flirting. This isn't helped when you smirk at comments on your phone when you're out together.
You have many, many offices
Anywhere with a chair and 'free' wifi will be grabbed at some point in the week. "Today I'm working from our Costa office." "No, really. I'm just happen to be in a bar because I needed their free wifi!"
There's always a tricky issue with a customer on a completely different time zone to you.
You use a niche selection of verbs
The general population might say "I Googled the restaurant for tonight". You're just as likely to ask a co-worker.
"Can you Slack it to me?"
or
"You should Intercom that."
Team bonding can happen almost exclusively via emojis
You own at least one company branded T-shirt
Bonus points for hoodies!
You stare at the camera on your laptop during video chats
Because if you look any lower than the camera you can:
1) See yourself – horribly distracting
2) See that you look either grumpy or really bored because your face is angled down.
Bonus points if it looks as if you're asleep!
Did we miss anything? Let us know on Twitter https://twitter.com/riddleApp
Quiz Maker – powered by Riddle
Create something quick with our quiz maker tools that will get the party started and grab your audience's attention today!