Right – so we bet you're here because you're excited to learn how to create a quiz that both engages AND helps you collect leads.
Riddle is here to help – with the flexible and easy to use quiz creator that's used by businesses both big (BBC, Red Bull) and small (thousands of solo-preneurs and small start ups).
Let's dive in and help you find the right type of quiz for your unique needs.
What type of quiz should you create?
You need to start here – because each of our 15 type of quiz formats has different strengths.
Some are better are quick engagement – others longer, more insightful assessments that are especially suited for lead generation.
QUIZ: "What type of Riddle quiz should you create?"
Don't want to read on? Take this handy Riddle format picker – built with our journey / branching logic quiz.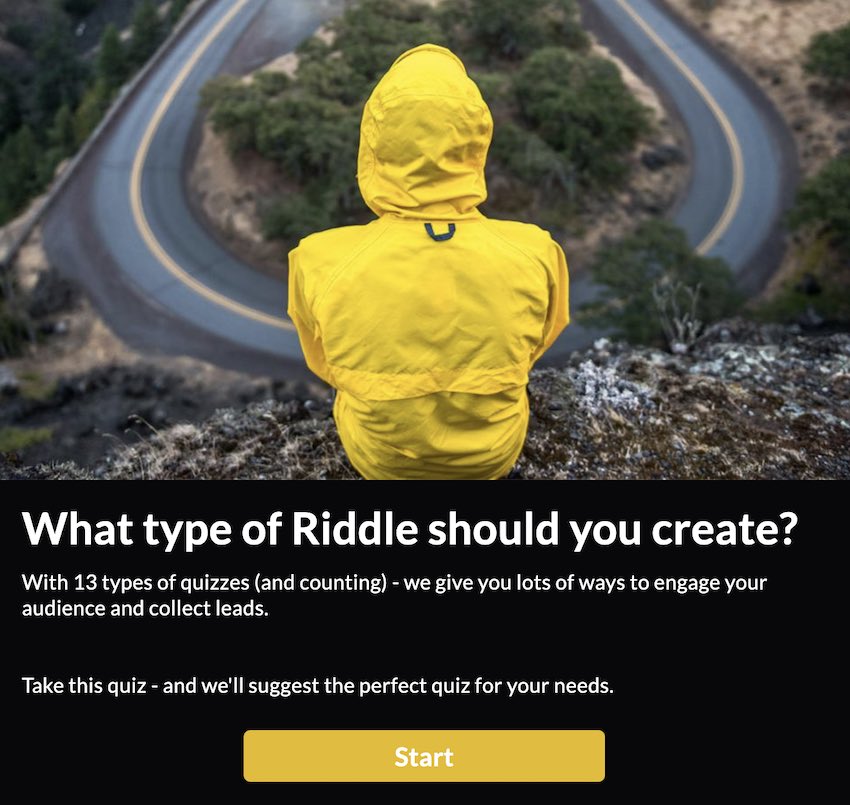 We divide our 15 content formats into three categories – voting, scored/personality, and 'special' (our grab bag for more unique formats).
Voting:
We have several types of polls and surveys. These are designed for quick engagement – easy to create, easy to take. Your audience will love to take them – but they're not quite as well suited to collecting leads.
(Engagement: ★★★★ / Lead generation: ★★)
Scored quiz:
These quizzes all ask questions with right or wrong answers, but in different ways – and give the user a score at the end (e.g. "You're awesome – you got 9/10!").
(Engagement: ★★★ / Lead generation: ★★★)
Personality test:
Our personality test is in its own category – because it's such a unique format. Instead of right or wrong answers, personality tests are perfect for assessments or product recommendations – because they return a result based on all the user's answers.
They take a bit longer to craft – but are well worth the investment, especially for lead generation.
RECOMMENDED: Check out our very in-depth blog post on creating the perfect personality test.
(Engagement: ★★★★ / Lead generation: ★★★★)
And we're always creating new quiz formats – including these more unusual types:
Journey:
Our journey was inspired by the classic 'Choose your own adventure' books – you can each quiz taker different questions, based on their responses.
For example, our 'What Riddle type should I create?' quiz above is a journey – and they're designed for product recommendations ('What car should I buy?') or simulations ('What would you do?').
Story:
Many of our community asked for a quiz type that was more free-form, where quiz meets blog. The story lets you create text blocks, add videos and multimedia, as well as embed any other Riddle formats for maximum flexibility.
Form:
And rounding out our list is our standalone lead form. Our quiz lead generation builder was so popular – people kept wanting to use it by itself, without any quiz questions.
Three rules for a successful quiz
Rule #1: Use a 'can't miss' title
The title of your quiz is like the cover of a book – you need the right title to grab your audience's attention, and inspire them to start your quiz or personality test.
Here's our top tips for creating a quiz title that works:
You can see these tips in action in this gi-normous list of our 143 top quiz titles (with live examples on various partner sites).
Rule #2: Pick good images
Sure, you can create text only quizzes – but quizzes with images perform significantly better, especially for your main quiz title image.
Our suggestions around choosing the best pictures:
Rule #3: The 'Three Minute Rule'
Riddle's easy and fun to use – and it's very tempting to add more and more questions to a quiz.
But with quizzes, less is empathically more.
Create your quiz for people who in motion – or with short attention spans. They might be on a bus, waiting in line at the store, or just bored – but most quiz takers tune out at the 3 minute mark.
Ideal quiz length: 6-8 questions, with 3-4 answer options each.
Note: there are some exceptions to this – people will be more invested around health-oriented quizzes ('Are you really depressed?') or designed for hyper-passionate audiences (like sports). Creating 25-30 questions will work here.